Play Ball initiative showcased in Chicago
Manfred, Granderson among others who attend event to promote efforts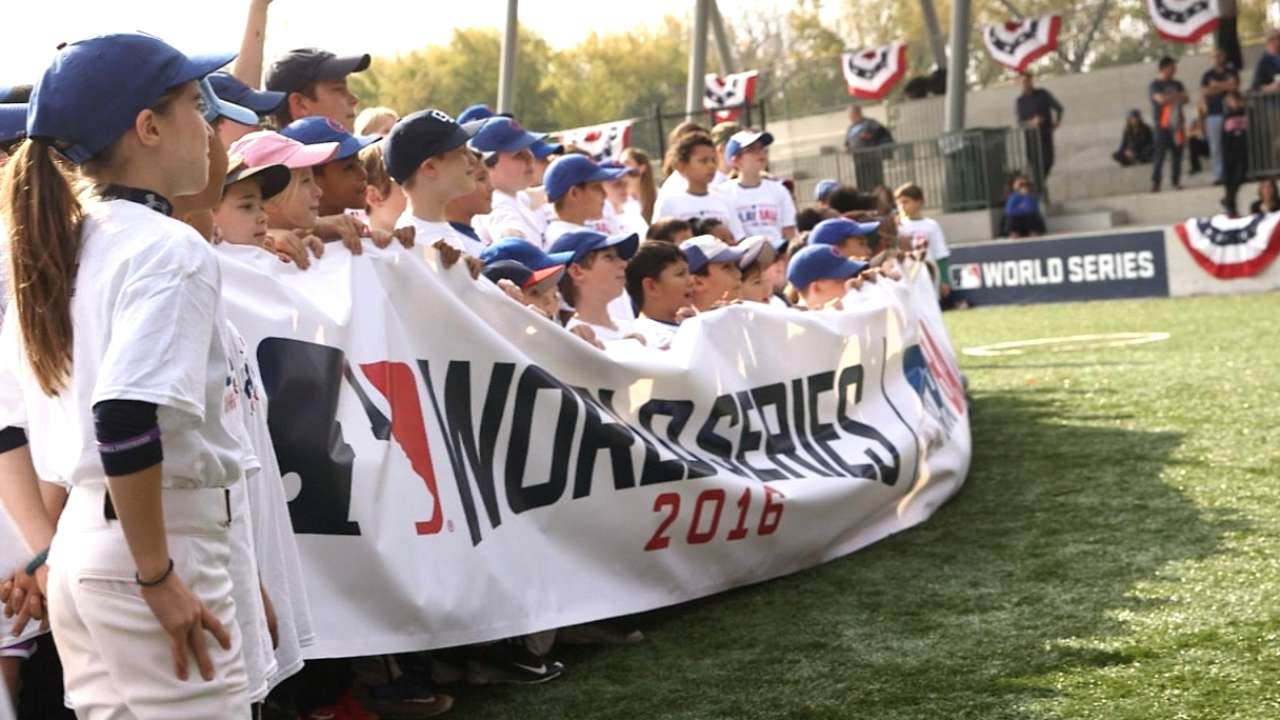 CHICAGO -- A powerhouse lineup of Commissioner Rob Manfred, Chicago mayor Rahm Emanuel, Cubs chairman Tom Ricketts, Hall of Famers Ken Griffey Jr. and Fergie Jenkins, Cubs legends Kerry Wood, Mark Prior and Matt Clement, just-named Roberto Clemente Award winner Curtis Granderson, USA Softball spokeswoman Destinee Martinez and youth baseball champs joined forces on Saturday morning before Game 4 of the World Series to bring Major League Baseball's latest activity as part of the Play Ball initiative to local children with a message of playing the game "anywhere and anytime."
The event was held at Kerry Wood Cubs Field, a brand-new facility brought to reality by the former Cubs pitcher who once struck out 20 batters in a game in May 1998. In addition, Granderson, the Mets' All-Star outfielder, gave Manfred a morning tour of the recently completed Curtis Granderson Stadium at the University of Illinois-Chicago, his alma mater, a facility that he funded with a $5 million grant. These are two notable examples of a commitment in Chicago by local entities to create more spaces where kids really can have fun learning baseball and learning life skills.
"I have one of the best jobs in the world. If you can't be a Major League player, about the best thing that can happen to you is you get elected Commissioner of Baseball if you love the game. And the very best part of my job is events like this," Manfred told the assembled kids in front of him on an unusually mild late-October day. "Events where we get together, get some kids together, introduce them to our great game, give you a chance to interact with the game and realize that you can play baseball lots of different ways. You don't have to have 18 kids and an umpire. Baseball really is fun."
Granderson said "fun" is the operative word. The morning after receiving the prestigious humanitarian award by MLB, he was right back out amongst children, starting at a T-ball station and then moving around to watch them try other various skills.
• Shop for Cubs World Series and NL champs gear
"The good thing is, as long as they're having fun," Granderson said. "Yelling, screaming, that's all you want. I've had people ask me about different camps and clinics, asking, 'Did you see any talent and prospects?' I go, 'That was the furthest thing from my mind.' ... Whatever the activity happens to be, whether it's running, hitting, throwing, catching, you just want them to have a good time at the end of the day."
Over the course of the summer, mayors around the country held more than 205 Play Ball events. Manfred said MLB appreciates that relationship, "and we're going to continue to build it in the years ahead." To Emanuel, it is one demonstration of the overall effort to get kids playing ball.
"All of Chicago is behind the Chicago Cubs, and the Chicago Cubs are investing in all parts of Chicago," Emanuel said. "Last year, the Chicago Cubs and Chicago White Sox sponsored, for the first time ever, a city Little League team and Little League competition with 32 teams throughout the city of Chicago. We had never had it before, so thank you to the Ricketts family and the Chicago Cubs' family.
"We have five of these regional efforts throughout the city, where you can have baseball, football and soccer, a rowing facility, so kids can have an athletic event anywhere, anytime, any season. I want to thank Mike Kelly from the Parks District and Alderman [Ameya] Pawar for all their effort of investing and making sure another generation has a childhood, the experiences they need to grow up and do whatever they want, wherever their dreams take them."
Emanuel said this World Series, such a cause of celebration in Chicago, is also a showcase for these efforts.
"This is exactly what we want to see in the city of Chicago -- kids getting a chance through sports to learn the values of being part of a team, to learn their skillset and to have a nurturing environment with a mentor and have somebody care about them, who taught them not to just have the skills for baseball, but to have the skills that they're going to use for life," Emanuel said. "That's what we want to see. That's why whether it's baseball or any other sport, our professional teams and the players have invested in our kids, and that's what we want to see. [Manfred] has been in awe of what he has seen in the city, both from the fields we have but also the sportsmanship we have, and the camaraderie as well as the competition."
Ricketts told the young attendees to not only watch the World Series, but to also enjoy learning the basics of a sport that those guys play at the most elite level.
"We love it when people watch baseball on TV, we love it when people come to Wrigley Field and cheer on the Cubs, but we really, really love it when everybody plays ball," Ricketts said. "That's what we're here about today. We've got a new ballpark for everyone to play in. The goal is to get everyone out playing ball any way they can, anytime they can.
"Everybody at the Chicago Cubs knows how important it is to get everyone out playing baseball. So what we've done the last several years is put millions of dollars throughout the city of Chicago to build more ballparks. To ballparks like this, ballparks all over the city. We're committed to giving you guys more places to play baseball all over this great city. Our partnership in this initiative is the Chicago Parks District and Mayor Emanuel."
The Kid and @cgrand3 made some kids days at @MLB's #PlayBall event in Chicago today! pic.twitter.com/Nter7VKgeI

- Play Ball (@PlayBall) October 29, 2016
Granderson said the morning tour with Manfred was a capper on a long journey.
"It was really cool, because it's been a long work in progress, getting not only the Cubs to come see it, Major League Baseball, the White Sox, the Players Association, media to get out there and understand what [UIC] coach [Mike] Dee and I were trying to do," Granderson said. "And now, it's there. We have 15,000 kids coming through this year, last year 12,000. All different ethnicities all over the city of Chicago, just coming to be on a college campus, some of them for the first time ever, to just play baseball and have a good time."
Mark Newman is enterprise editor of MLB.com. Read and join other baseball fans on his MLB.com community blog. This story was not subject to the approval of Major League Baseball or its clubs.