Special SU2C moment takes place at Wrigley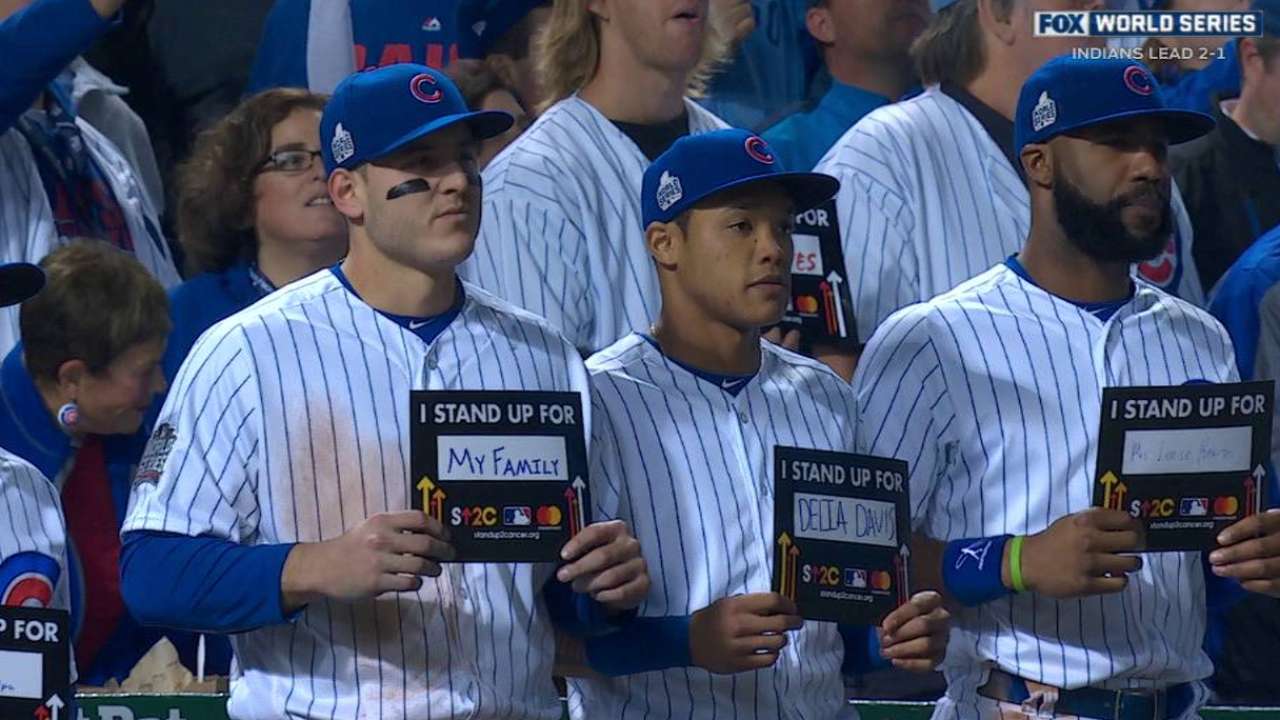 CHICAGO -- Jerry Jaeger was standing with everyone else immediately after the fifth inning of Game 4 of the World Series on Saturday night at Wrigley Field, thinking of his wife, Ann, as he saw what was happening all around him. The longtime Cubs fan was in Aisle 216, Row 1, Seat 2, not far up from where Anthony Rizzo stood and held a sign that read: "I STAND FOR MY FAMILY."
Major League Baseball, Stand Up To Cancer and MasterCard conducted a special in-game moment, with players, umpires, coaches and fans all pausing to hold up placards with the names of loved ones affected by cancer. The powerful moment was aired live on FOX during the Indians' 7-2 victory that gave them a 3-1 lead in the World Series.
"It meant a lot to me because my wife had lymphoma five years ago, and she just got cleared and she's doing great," Jaeger said immediately after the moment, still holding onto the SU2C placard that had waited on all seats. "That was very powerful, and very emotional."
This tradition began during the 2009 All-Star Game in Philadelphia, and it has continued at every All-Star Game and World Series since, as MLB continues to provide a giant platform for a message that it has reinforced since becoming the founding donor of SU2C in 2008. A sellout crowd participated at Petco Park when this was last done in July.
"I think for baseball it's always important to be affiliated, aligned with A-plus organizations," said Commissioner Rob Manfred, who held up a placard, as did his wife. "Stand Up To Cancer is an A-plus organization, not only in terms of its mission, how important it is that we find a cure for cancer, but also their execution. They have a very unique philosophy about how research should be conducted. It's one that makes a lot of sense to me and a lot of people, and I think they've done tremendous work."
The moment was again emotional and inspirational, raising awareness for the need to donate and help fund "Dream Team" scientists that make the SU2C approach so unique. Its groundbreaking initiative was created to accelerate innovative cancer research that will get new therapies to patients quickly and save lives now.
It was an especially poignant moment when fans watched the giant scoreboard and saw that Indians and Cubs players, standing alongside Make-A-Wish children who were brought to the game by MLB as their wish, are affected in the same way as everyone else.
"This is one of those when you have activities in the stadium, sometimes you have to work to get the players involved," Manfred said. "Stand Up To Cancer kind of carries its own weight. Players are happy to be involved because of the quality of work that Stand Up To Cancer does."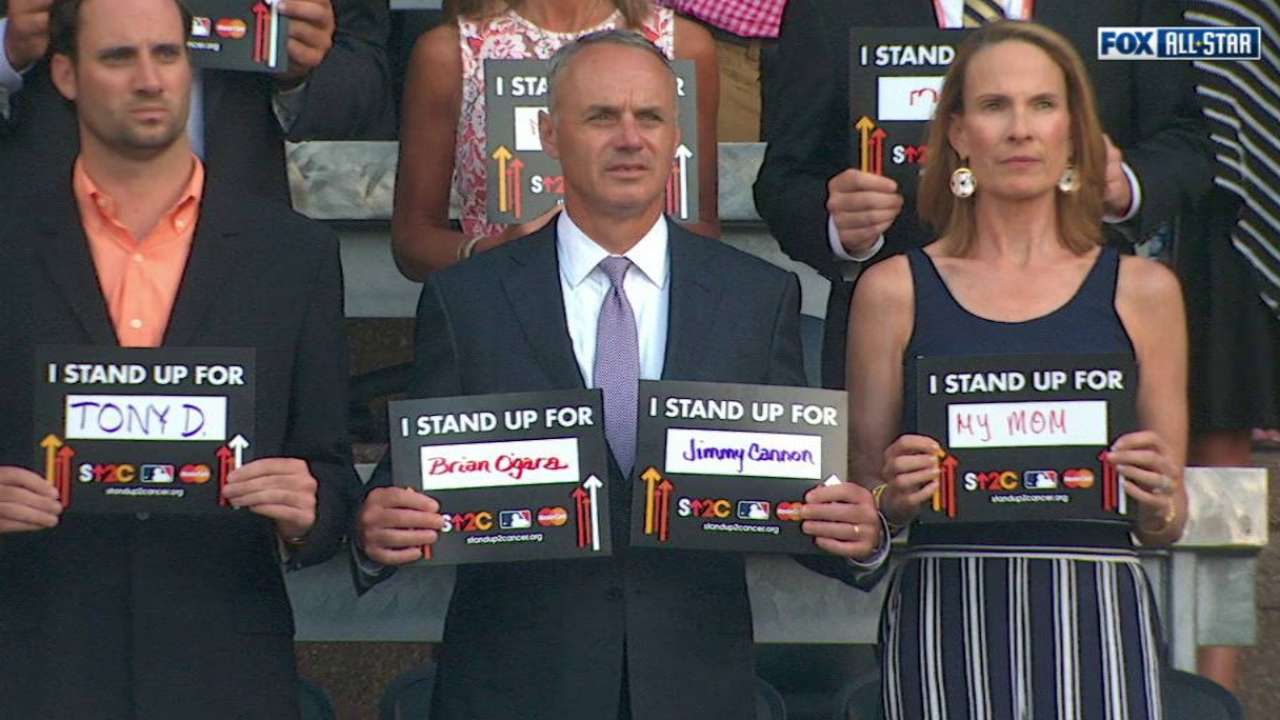 MLB and its clubs have donated more than $30 million and have conducted year-round events to further its alliance with SU2C in the hopes of ending cancer in our lifetimes. You can just look around Wrigley Field tonight and sadly sense the reality that so many people in the crowd are either already dealing with a cancer diagnosis or will in the future.
"It is that form of collaboration that will truly cure cancer," SU2C co-founder Rusty Robertson said. "We recognize that it's the fans who come to these games who really will help us find the cure to the disease."
Mark Newman is enterprise editor of MLB.com. Read and join other baseball fans on his MLB.com community blog. This story was not subject to the approval of Major League Baseball or its clubs.