Ricketts praises fans during Play Ball event
Cubs chairman said it's time to 'pay them all back' for enormous support
CHICAGO -- For Cubs chairman Tom Ricketts, everything was right about the long-awaited return of World Series baseball to the Friendly Confines of Wrigley Field, except for the 1-0 loss to the Indians in Game 3. Now, he said of the team's legendary and fully engaged fan base, it is time to "pay them all back."
On Saturday morning, appearing at Major League Baseball's Play Ball event with many dignitaries, legends and youth players, Ricketts was upbeat and he said he envisions a lot of Cubs fans heading back to Cleveland after this weekend. Chicago trails in the World Series, 2-1, entering Game 4.
"First of all, the park itself looked great, the crowd was great," Ricketts said. "The neighborhood was alive, and obviously electric -- there were thousands of people there. I'd like to thank the city and the police department for making sure that everybody was safe. There were, as far as I know, no real incidents last night, and hopefully we'll get two more nights where everything works as well as last night.
"Obviously you hope to win the next three and call it a series, but hey, [the Indians are] good. They've pitched, they've got speed on the bases, they've got a little power, they know what they're doing. They won a lot of games and they're hot. What we have to do is make sure we bring our 'A' game tonight and just try to work it from there."
• Shop for Cubs World Series and NL champs gear
Ricketts pointed to recent history for evidence of the Cubs' comeback potential.
"We bounced back 2-1 against the Dodgers," Ricketts said of the National League Championship Series. "These guys are not worried. Obviously you don't want to lose a game anywhere in the series; you don't want to lose a game like we lost last night, but you've just got to get over it and come back and play ball."
Cubs manager Joe Maddon had said before Game 3 that "everyone is engaged" in the community over this World Series, and Ricketts seconded the motion.
"It is absolutely unique," Ricketts said. "I don't think there has ever been a fan base and a city that has given as much love to one team as the Cubs are getting right now. We just have to get these games behind us and pay them all back."
Chicago lost 101 games in 2012 and 96 in '13, but Ricketts noted that the five-year plan has come to fruition -- seen in the World Series logos elegantly incorporated into the famous green around the Majors' second-oldest ballpark.
"We had a few years where we had to make good long-term decisions, and that cost us short-term wins," Ricketts said. "But I think everyone sees now that all that was for a purpose, and it's paying off. So we're at the World Series and last night was a tough one, but I think we're going to rally and come back and win this."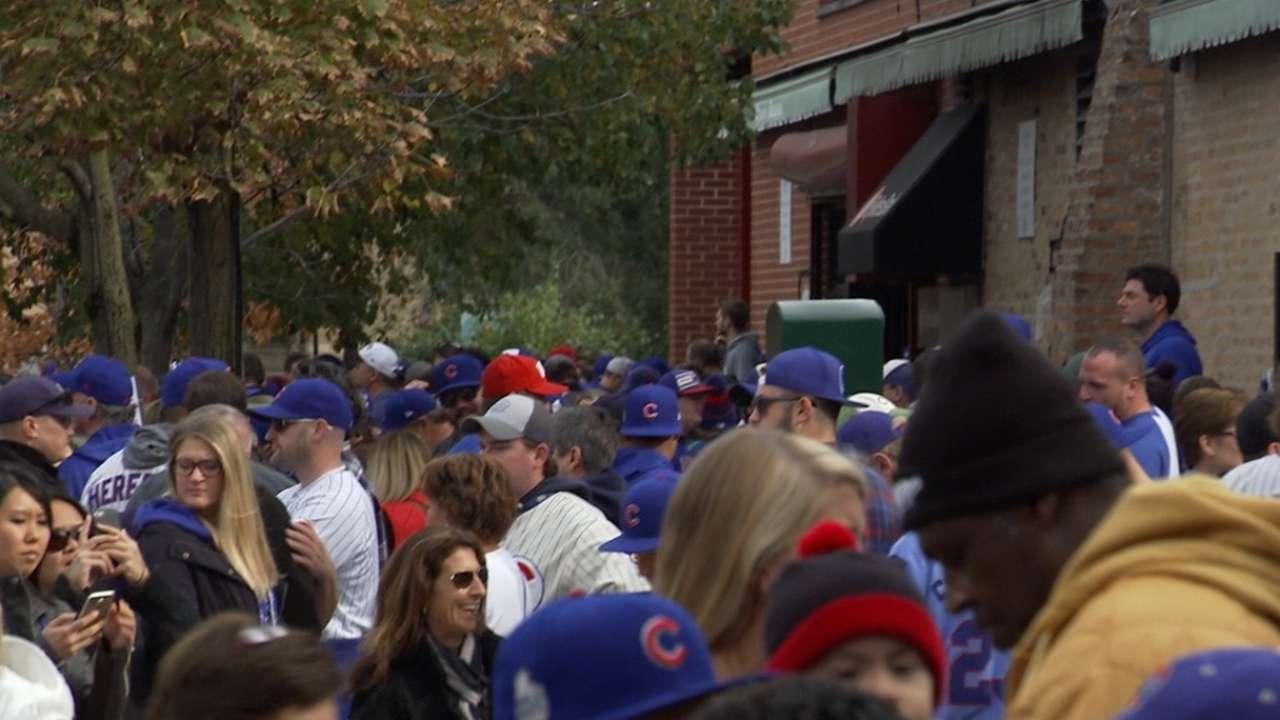 Ricketts chatted with Commissioner Rob Manfred and Chicago Mayor Rahm Emanuel during the Play Ball event at the Kerry Wood Cubs Field facility, and the Commissioner praised Ricketts informally for the massive security presence outside before, during and after Game 3. Ricketts, citing the unprecedented secondary-market prices for World Series tickets at this venue, said, "With people paying $6,000 for a ticket, you're not likely to have a lot of problems."
Naturally, the Indians can render a return to Cleveland moot if they should win Games 4 and 5 and thus clinch their own first World Series since 1948. But contemplating a potential Game 6 and 7 on the road, Ricketts was asked if he is considering a giant-screen watch party in Chicago as the Indians have done for their fans.
"It's a great idea, but it's a little logistically complicated," Ricketts said. "I'll see what our guys think about that, but it's not as simple as it sounds. We'll see what happens."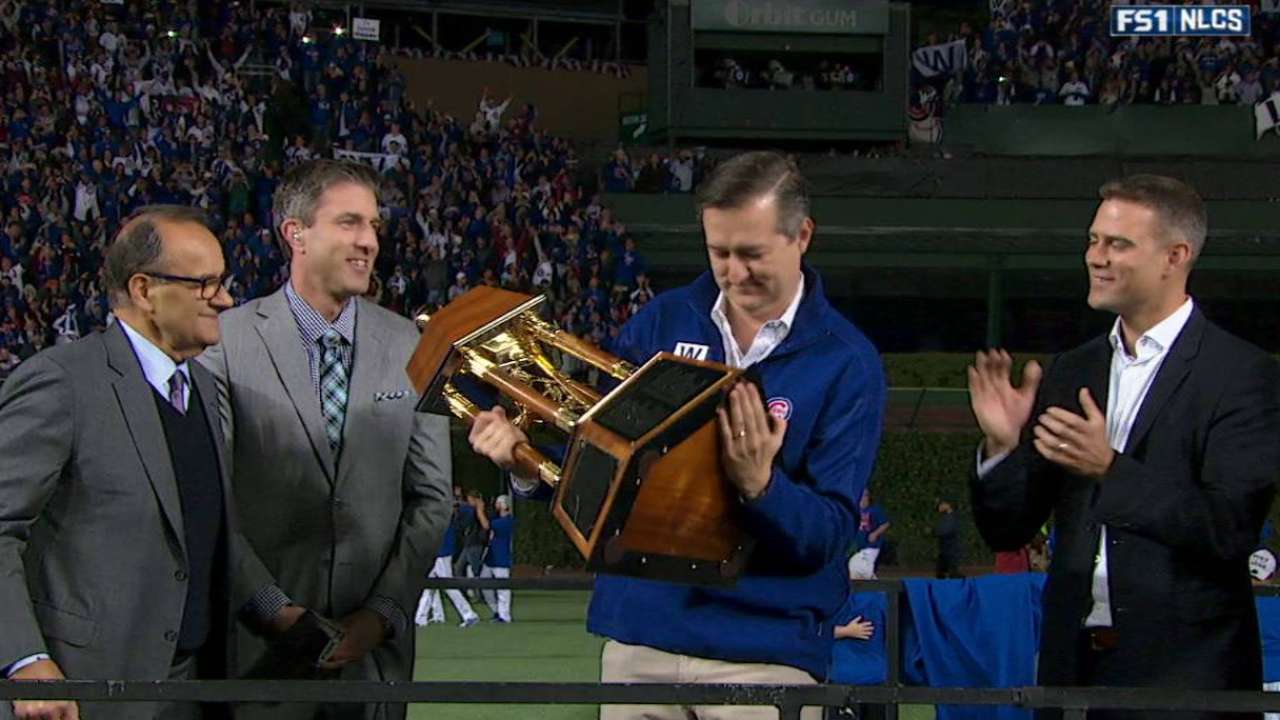 Regardless, Ricketts expects I-80/I-90 to once again become "The Road to the World Series," as the signs said for motorists who returned to Chicago from Cleveland following Game 2. On Thursday, that highway was a virtual Cubs Boulevard, with fans dominating every service plaza between the two cities.
"There will be a lot of Cub fans back in Cleveland," Ricketts said. "There were on Tuesday and Wednesday. So hopefully everybody that was there on Tuesday and Wednesday will be back this week."
Ricketts and the city of Chicago are strong supporters of the Commissioner's initiative to get America's youth playing all types of baseball, detailed at playball.org.
"We want kids to play ball. We want kids to play softball, whiffle ball, anything," Ricketts said. "We have a concern that kids are just not getting out enough. I think it's a great initiative by the league to promote playing baseball, and I am really proud of the initiative by the Cubs to build more ballparks."
Mark Newman is enterprise editor of MLB.com. Read and join other baseball fans on his MLB.com community blog. This story was not subject to the approval of Major League Baseball or its clubs.