Braves looking forward to Opening Day after strong finish
After winning 20 of its final 30 games, Atlanta believes it's turned the corner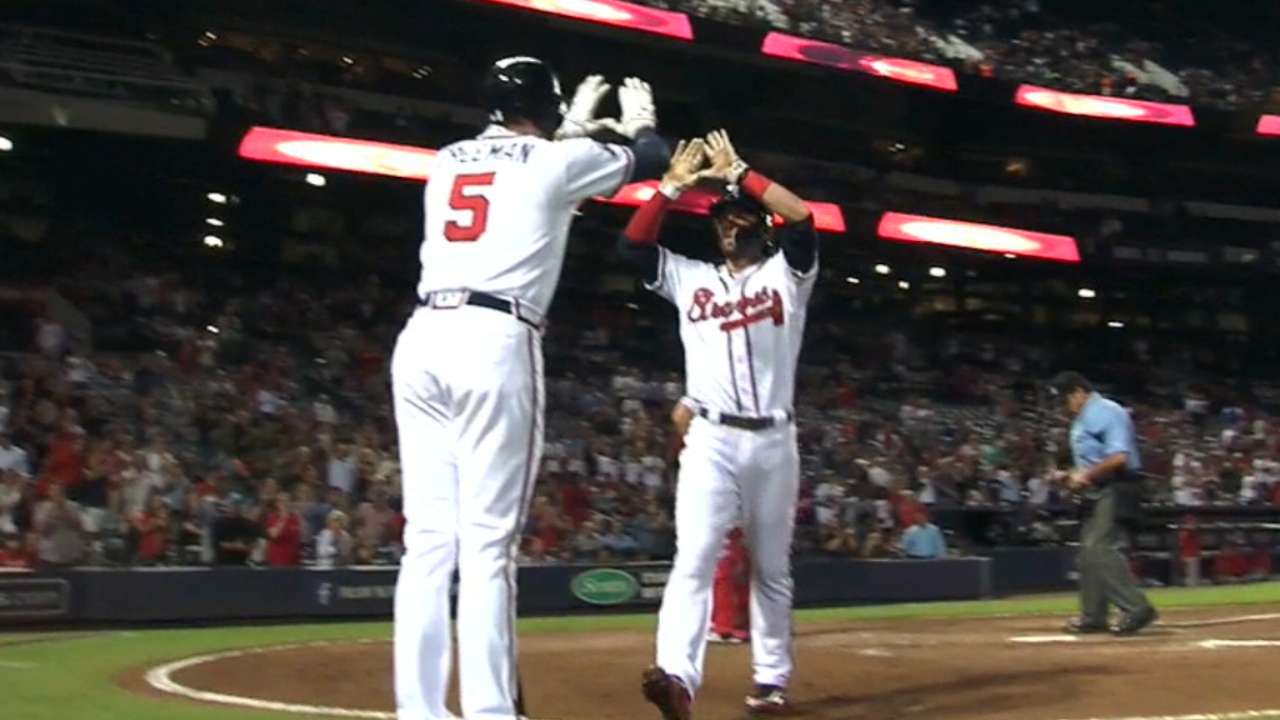 ATLANTA -- Regardless of how the previous season concluded or how the offseason evolved, there has always been a keen appreciation for the anticipation of every Opening Day. Fortunately for the Braves, they enter this offseason with even more reason to be excited about what might unfold once they open the 2017 campaign with an April 3 game against the Mets at Citi Field.
Evaluators have longed warned against putting too much stock in what occurs in September, when expanded rosters are utilized and some teams are either prepping for the postseason or already looking toward the future. But, if nothing else, while winning 20 of their final 30 games -- including 12 of their last 14 -- the Braves certainly renewed some of the confidence that had been shaken during a two-year rebuilding process that is finally providing more hope for the future.
• Braves' 2017 regular-season schedule
Matt Kemp's arrival in early August lengthened the lineup and provided some long-desired protection for Freddie Freeman, who completed an MVP-caliber season in impressive fashion. Brian Snitker altered the mood in the clubhouse as the interim manager in 2016. He will now enter his first full season as a big league manager with the hope that the addition of at least two starting pitchers will provide the Braves what they need to build on this year's late-season success.
Next year's Opening Day game is just one of 162. But the anticipation rooted in this matchup against the Mets will provide a glimpse of what to look forward to next year, when the SunTrust Park era begins with the April 14 home opener against the Padres.
Opponent: The Braves' first challenge next season will likely come in the imposing form of Mets right-hander Noah Syndergaard, who would be making his first appearance since recording 10 strikeouts over seven scoreless innings against the Giants in the National League Wild Card Game. Atlanta has won six straight games at Citi Field, including a Sept. 19 victory during which Syndergaard allowed a season-high five earned runs in just 3 2/3 innings. This will also mark the first game the Braves have played in New York since Ender Inciarte completed his "Game Ender" by robbing Yoenis Cespedes of what would have been a walk-off home run.
Opening Day starter: It appears Julio Teheran will make his fourth consecutive Opening Day start, which would make him the first Braves pitcher to do so since Greg Maddux (1993-96). Teheran returned to form this past season, as he earned his second All-Star selection and allowed two earned runs or fewer in 12 of the 14 starts in which he completed at least seven innings. His best performance came on June 25, when he tossed a one-hit shutout against the Mets at Citi Field.
Opening Day lineup: Using only players currently on the Braves' roster, here is what the team's April 3 lineup could look like.
1. Inciarte, CF
2. Dansby Swanson, SS
3. Freeman, 1B
4. Kemp, LF
5. Nick Markakis, RF
6. Adonis Garcia, 3B
7. Tyler Flowers, C
8. Jace Peterson, 2B
9. Teheran, P
There is a chance the Braves will acquire a catcher who would move Flowers to a backup role. There will also be some question about when highly-regarded prospect Ozzie Albies might be healthy enough to return from a fractured elbow to become the club's primary second baseman. But Snitker at least has the comfort of having a good sense of how the first five spots in his lineup will look on a daily basis.
Three reasons to be excited:
1. The Braves ranked second in the NL (trailing only the Rockies) in runs per game after Kemp's arrival.
2. The addition of two starting pitchers will lessen the burden placed on Mike Foltynewicz, who at times looked like a legitimate top-flight starter this past season.
3. A healthy Arodys Vizcaino could team with Jim Johnson, Jose Ramirez, Mauricio Cabrera and Ian Krol to provide the Braves with impressive depth at the back end of their bullpen.
Mark Bowman has covered the Braves for MLB.com since 2001. This story was not subject to the approval of Major League Baseball or its clubs.