Blue Jays' 2017 Opening Day lineup may have a different look
Club has 9 pending free agents, including sluggers Bautista and Encarnacion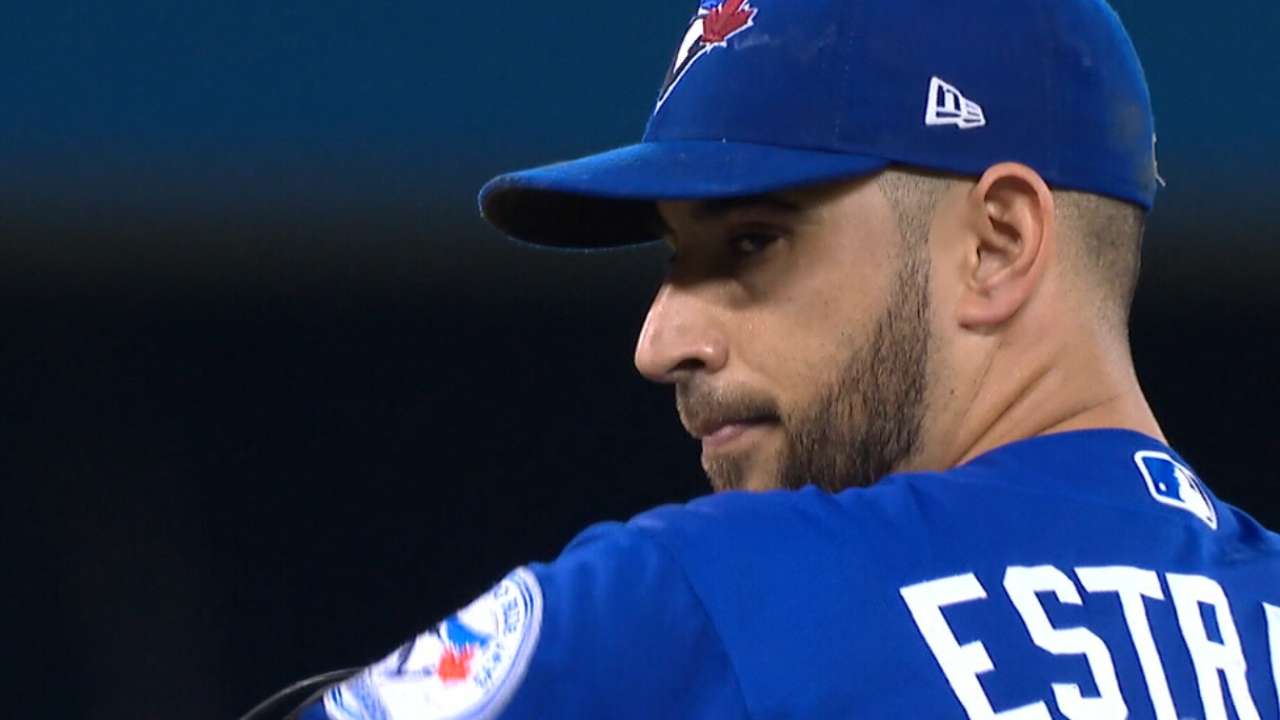 TORONTO -- The Blue Jays are fresh off of back-to-back appearances in the American League Championship Series. But with nine pending free agents, the club has a lot of work to do before similar expectations can be raised for 2017.
The good news, for a team with so much uncertainty, is that the pitching staff remains in good shape. Toronto will bring back all five members of its starting rotation, and there are some promising pieces in the bullpen, as well. No matter what happens this winter, pitching should remain a strength.
• Blue Jays' 2017 regular-season schedule
The challenge ahead lies in the everyday lineup, with Jose Bautista, Edwin Encarnacion and Michael Saunders eligible for free agency. Toronto's lineup could look a whole lot different next season. But this will be more of a retooling process rather than a straight up rebuild.
Here's a closer look at how things currently stand for next year's Opening Day, even though there will be plenty of changes in the coming weeks.
OPPONENT
The Blue Jays are scheduled to open the 2017 season in Baltimore on April 3. It will be a rematch of this year's AL Wild Card Game, between two teams with no love lost for each other. Toronto went 10-9 vs. the Orioles in '16, which is why the Blue Jays won the tiebreaker for home-field advantage in the Wild Card Game. The O's are expected to contend again next season. While upgrading their rotation should be a top priority, if moves are not made, this start will likely belong to Chris Tillman.
OPENING DAY STARTER
The Blue Jays really can't go wrong with any selection they make for Opening Day starter. Marco Estrada has been one of the most consistent pitchers in the Majors over the last two seasons, while J.A. Happ is coming off a 20-win season. Marcus Stroman was the Opening Day starter in 2016 and would obviously love to do it again. Despite all of that, the pick here is right-hander Aaron Sanchez. The California native was the AL ERA leader this season and has the ability to become one of the most dominating pitchers in the game. As long as Sanchez reports to camp feeling healthy, there also should no longer be any talk about an innings limit, after he threw more than 200 innings in '16.
OPENING DAY LINEUP
This is the area where the Blue Jays expect to have the most turnover. It seems all but officially certain that Toronto will not be able to bring back both Bautista and Encarnacion next season. At best, the Blue Jays seem poised to sign one and then address the remainder of their outfield and first-base situation through trades and other signings.
With that in mind, it's hard to predict what next year's lineup will look like. But here's the best guess, based strictly on players who are currently under contract for 2017.
1. Ezequiel Carrera, RF
2. Devon Travis, 2B
3. Josh Donaldson, 3B
4. Troy Tulowitzki, SS
5. Russell Martin, C
6. Justin Smoak, 1B
7. Melvin Upton Jr., LF
8. Kevin Pillar, CF
9. Dalton Pompey, DH
The areas where change can be expected are in right field, left field, first base and designated hitter. That could be in the form of re-signing Saunders, Encarnacion or Bautista. But, if not, expect Toronto to look for at least one middle-of-the-order bat and somebody who can also hit near the top of the lineup. It seems very unlikely that Carrera would begin the year as a starter, but he should find a spot on this team as a reserve outfielder.
THREE REASONS TO BE EXCITED
• Toronto's starting rotation was the best in the AL this season and it should be right there with Cleveland again in 2017. There might be some regression by Happ and Estrada, but no innings limit for Sanchez, a full season from Francisco Liriano and a full year of consistency from Stroman could offset that.
• A wave of changes could be coming to the Blue Jays in the very near future, but good teams have to be strong up the middle -- and Toronto does have some certainty there. Martin, Tulowitzki, Travis and Pillar should all return next season and form a big part of the team's core.
• The unknown: Toronto might not know exactly which players will be on the roster next season -- but with nine free agents, this also marks the perfect opportunity to re-make the ballclub with a lot of flexibility. The Blue Jays will need to make at least a couple of major moves this winter. An active offseason should keep fans on the edge of their seats until next year's Opening Day.
Gregor Chisholm has covered the Blue Jays for MLB.com since 2011. Follow him on Twitter @gregorMLB and Facebook, and listen to his podcast. This story was not subject to the approval of Major League Baseball or its clubs.