Before Game 4: IRL (Tonight, 8 ET on FOX)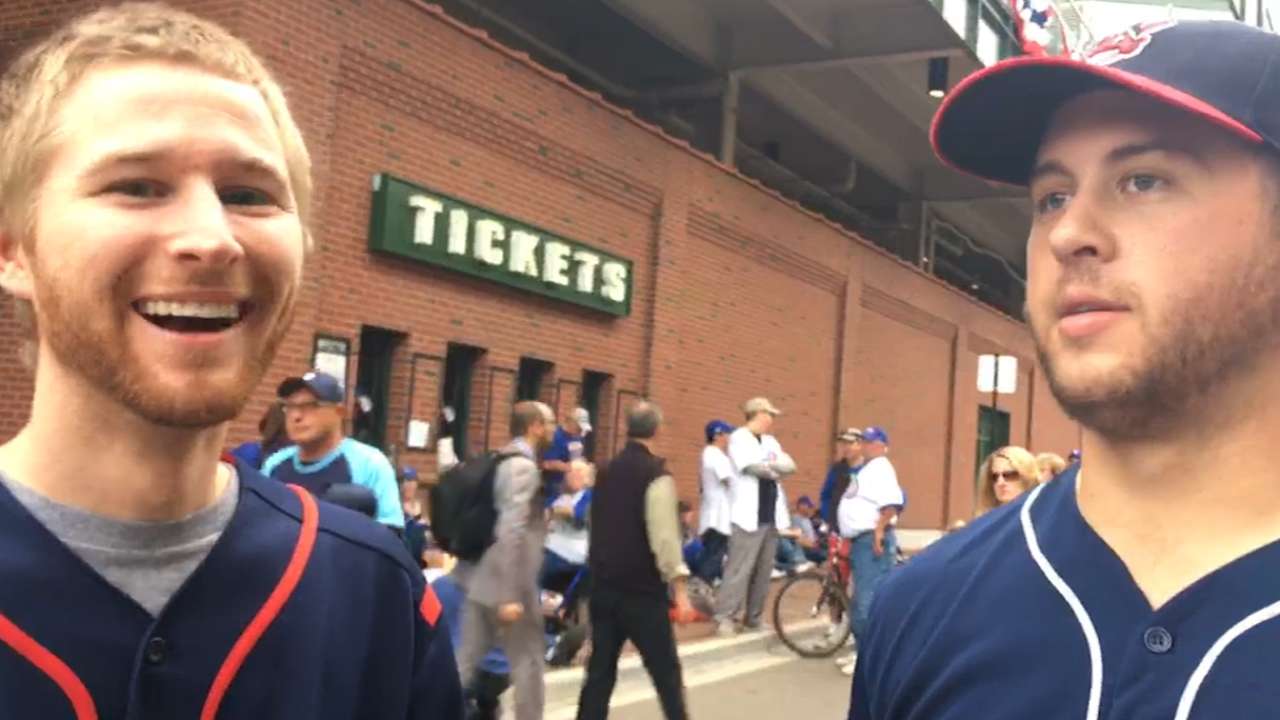 After Friday's thrilling 1-0 Cleveland victory, the World Series moves to Game 4 tonight (7:30 p.m. ET air time /8 ET game time on FOX) with the Indians holding a 2-1 series lead over the Cubs.
There was World Series fever everywhere you looked in Chicago as Wrigley Field hosted its first Fall Classic game since Oct. 10, 1945 in Game 3, and the excitement hasn't abated.
• World Series gear: Cubs | Indians
We're on the scene as Chicago gears up for Game 4:
7:45 p.m. ET: Mayor ready to Play Ball
What does Chicago mayor Rahm Emanuel think of the World Series being at Wrigley Field?

"It's unbelievable. It was a great experience for the city," he said at Major League Baseball's Play Ball event during the day on Saturday. "This is a tribute to the team, the members of the team. They have a pure love and joy of just playing baseball. That's what baseball is supposed to be."
6:02 p.m. ET: All smiles at BP
Members of the Cubs share a laugh while taking the field for batting practice.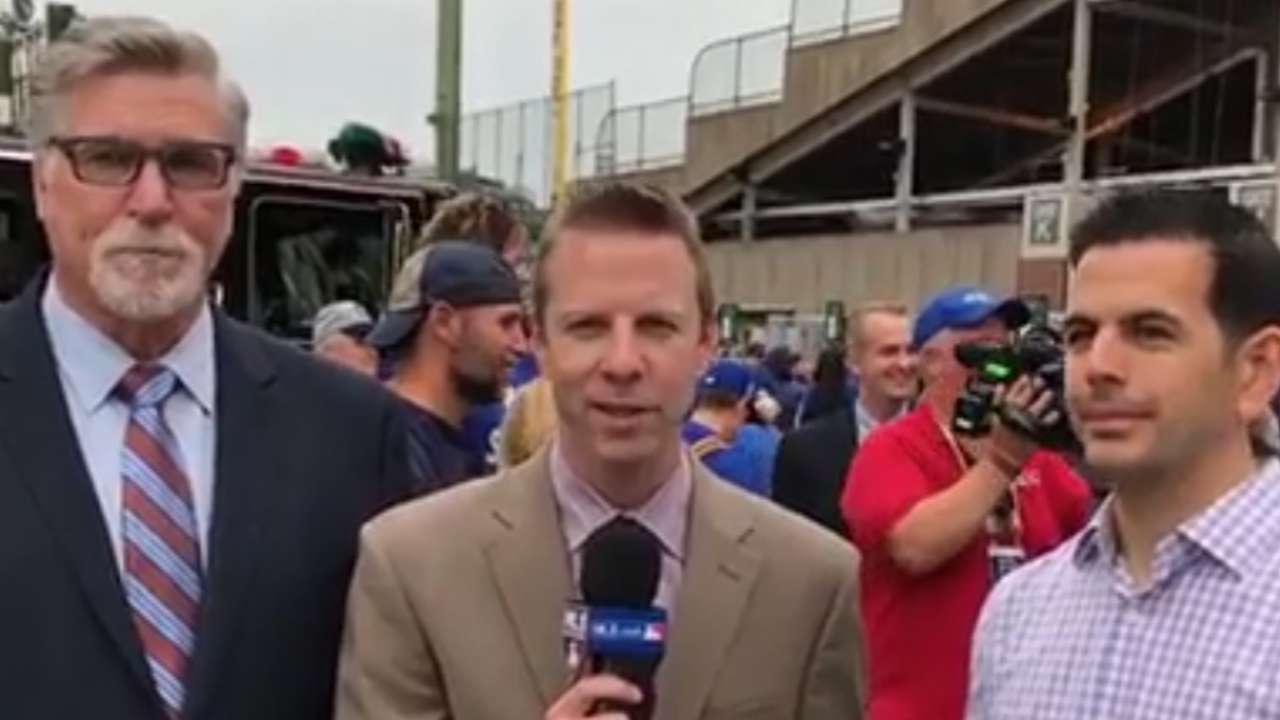 6 p.m. ET: Vaughn on the scene
Reporters interview actor Vince Vaughn, who will sing "Take Me Out to the Ball Game" during tonight's seventh-inning stretch.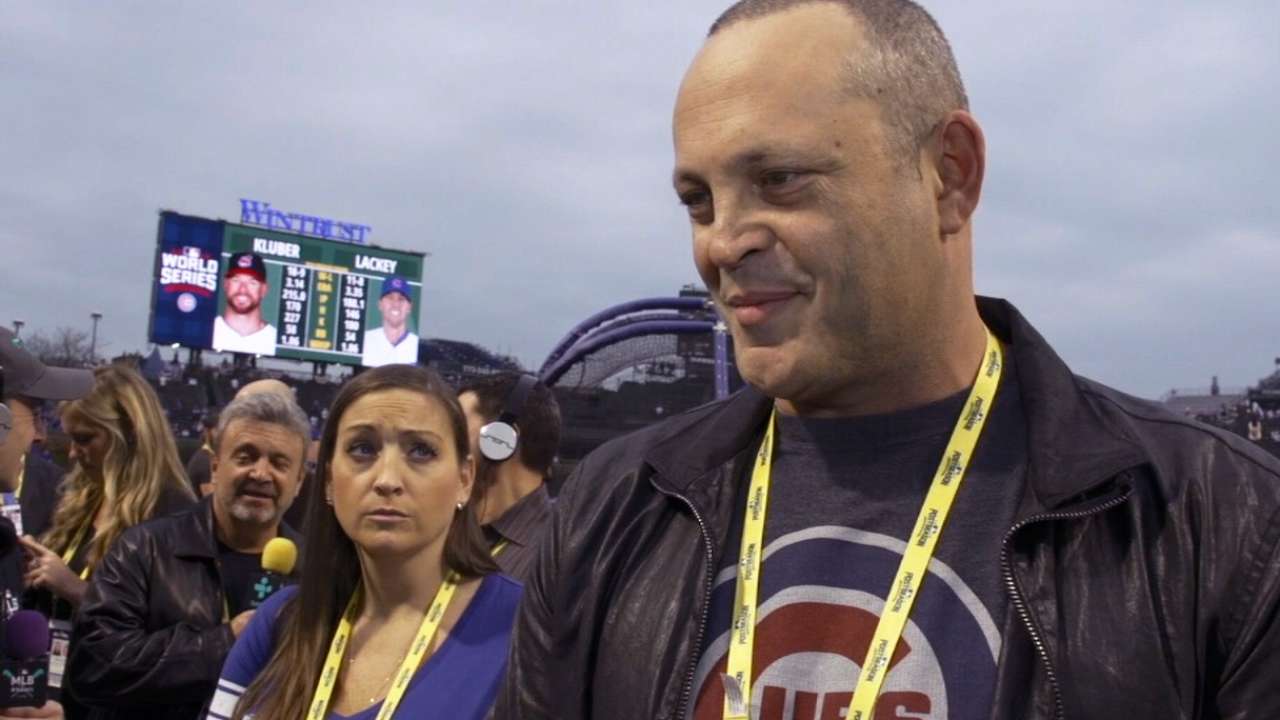 5:29 p.m. ET: Rally ready
Cubs fans, prepared to fly the W in Game 4, show off their rally towels.
5:25 p.m. ET: Strength in numbers
Fans pack the streets of Wrigleyville in anticipation of tonight's Game 4.
4:50 p.m. ET: Building blocks of success
Cubs fans dress up as LEGO figures to fly the W.
4:37 p.m. ET: Never too early
Excited fans line up to enter Wrigley Field well before the gates were set to open.
4:15 p.m. ET: 14-10 = 4
A fan mural hangs at the corner of Addison and Sheffield. By subtracting the numbers of Cubs legends Ernie Banks (No. 14) and Ron Santo (No. 10), you get the total number of World Series wins Chicago needs to go to baseball heaven.
4:12 p.m. ET: Family time
Cubs catcher David Ross plays catch with his children at Wrigley Field before Game 4.
4:10 p.m. ET: Holy cow! Young Harry Carays spotted
Young fans get in on the Game 4 hype by dressing up as the legendary Cubs broadcaster.
2:48 p.m. ET: Marquee matchup
The famous Wrigley Field marquee displays tonight's Game 4 matchup, which begins at 8 ET on FOX.
2:07 p.m. ET: Sound check
Julianna Zobrist, Ben Zobrist's wife, prepares to sing "God Bless America," and John Vincent gets ready to perform the national anthem.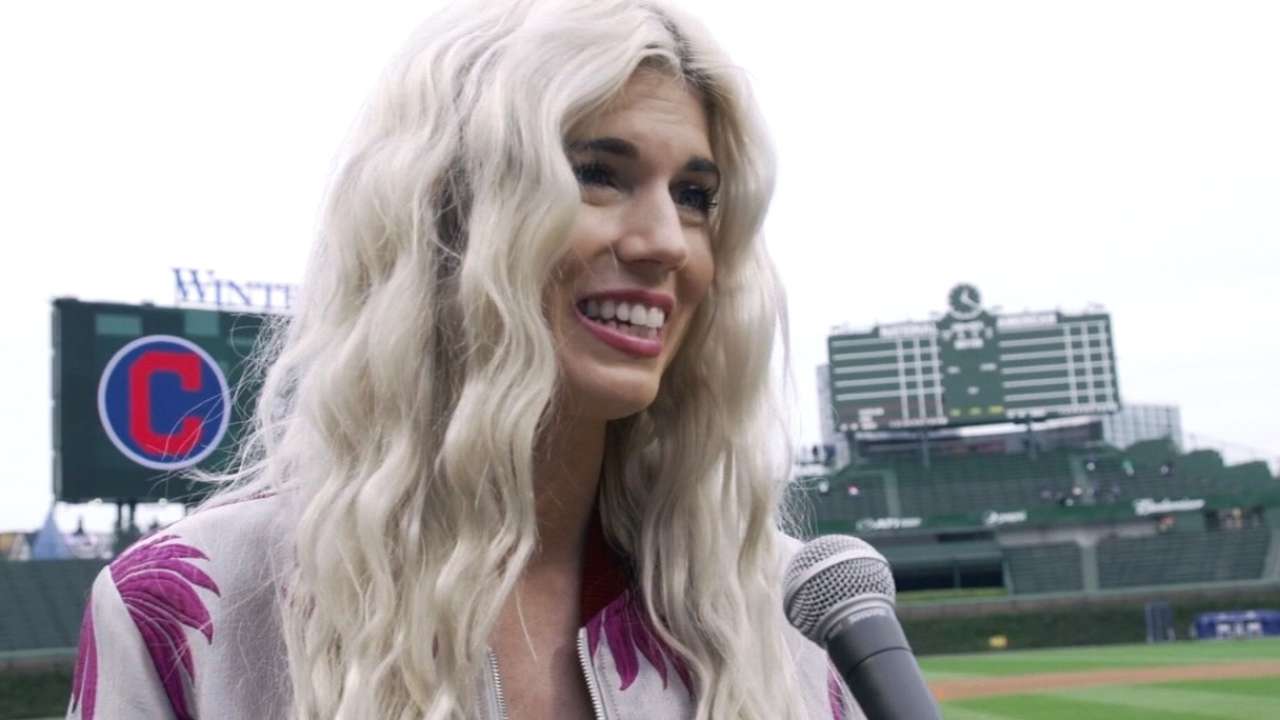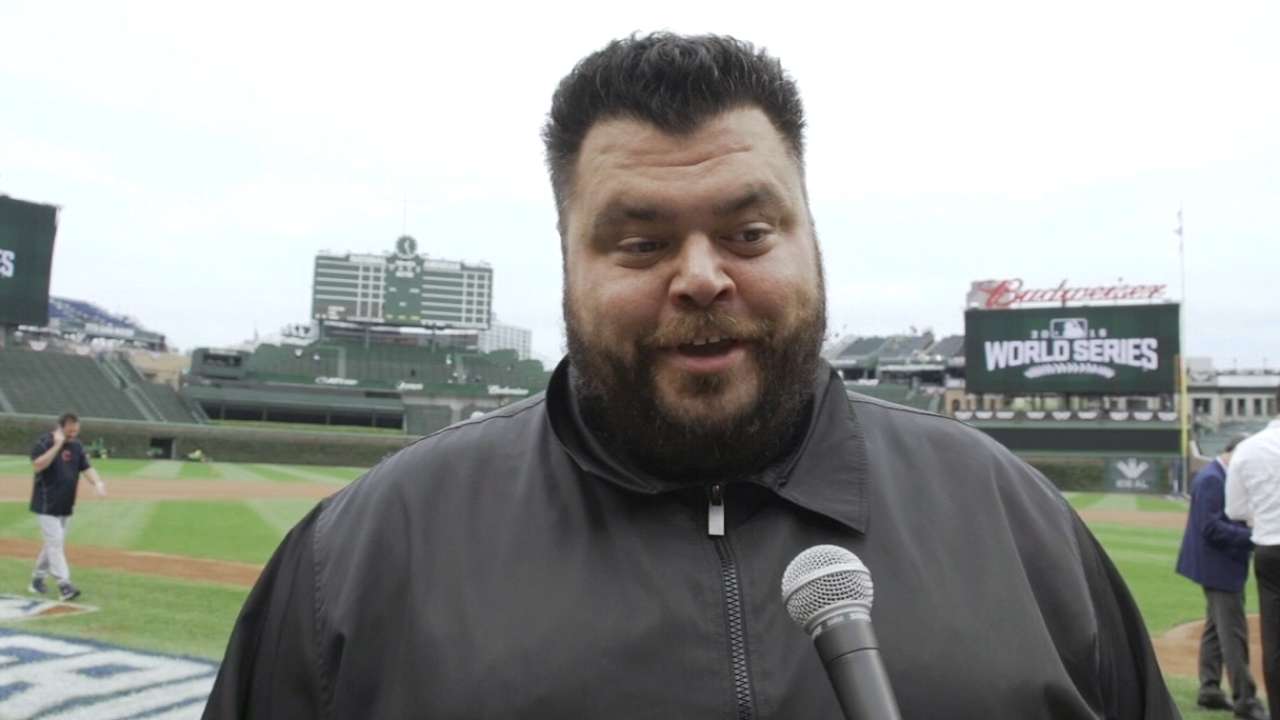 11:55 a.m. ET: Some wise advice
Ken Griffey Jr. speaks to youth players about growing up in a baseball family at a Play Ball event in Chicago: "Never let what-ifs happen to you," the Hall of Famer said.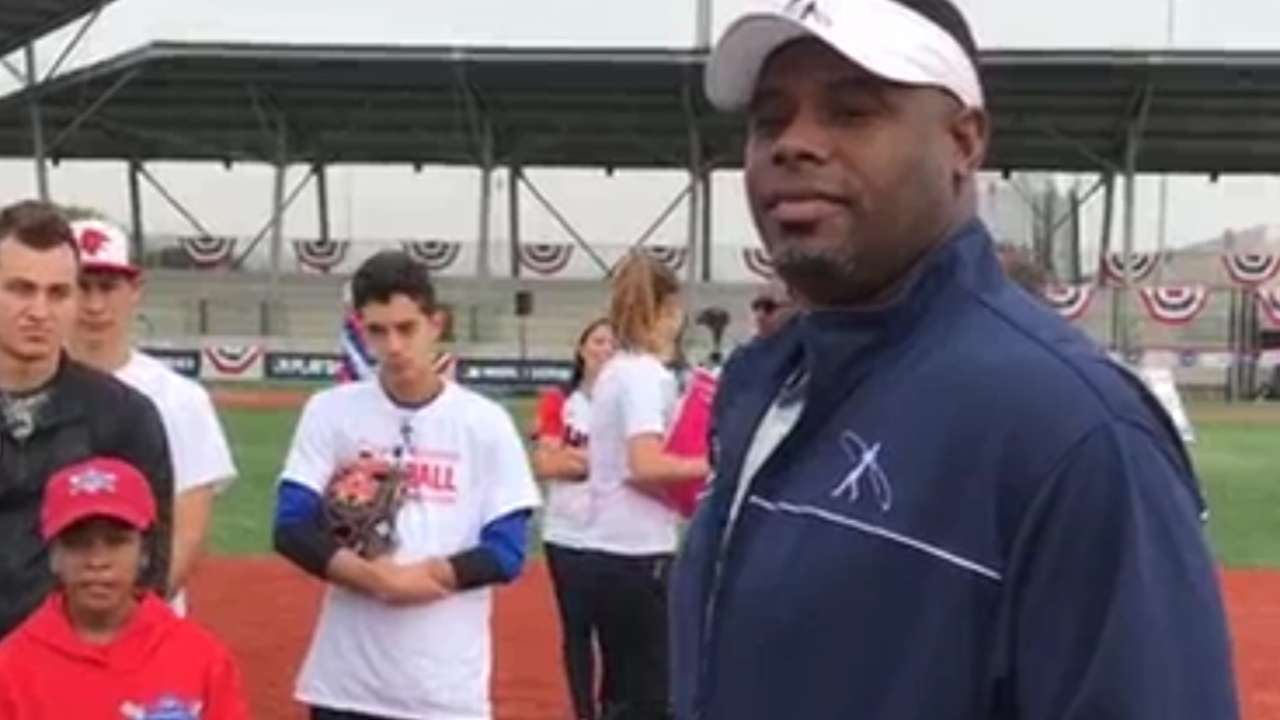 11:32 a.m. ET: Never hurts to ask
Apartment dwellers near Wrigley invite a famous Cubs fan to watch the game at their place.
11:18 a.m. ET: Bar the door
Murphy's doesn't open till 11 a.m. CT, but there's a block-long line to pay $100 cover and watch Game 4 from the famous bar across the street from Wrigley Field.