MLB.com Columnist
Mike Petriello
Statcast of the Day: Crisp's 'perfect' blooper
Veteran's RBI single in 7th had an expected batting average of 1.000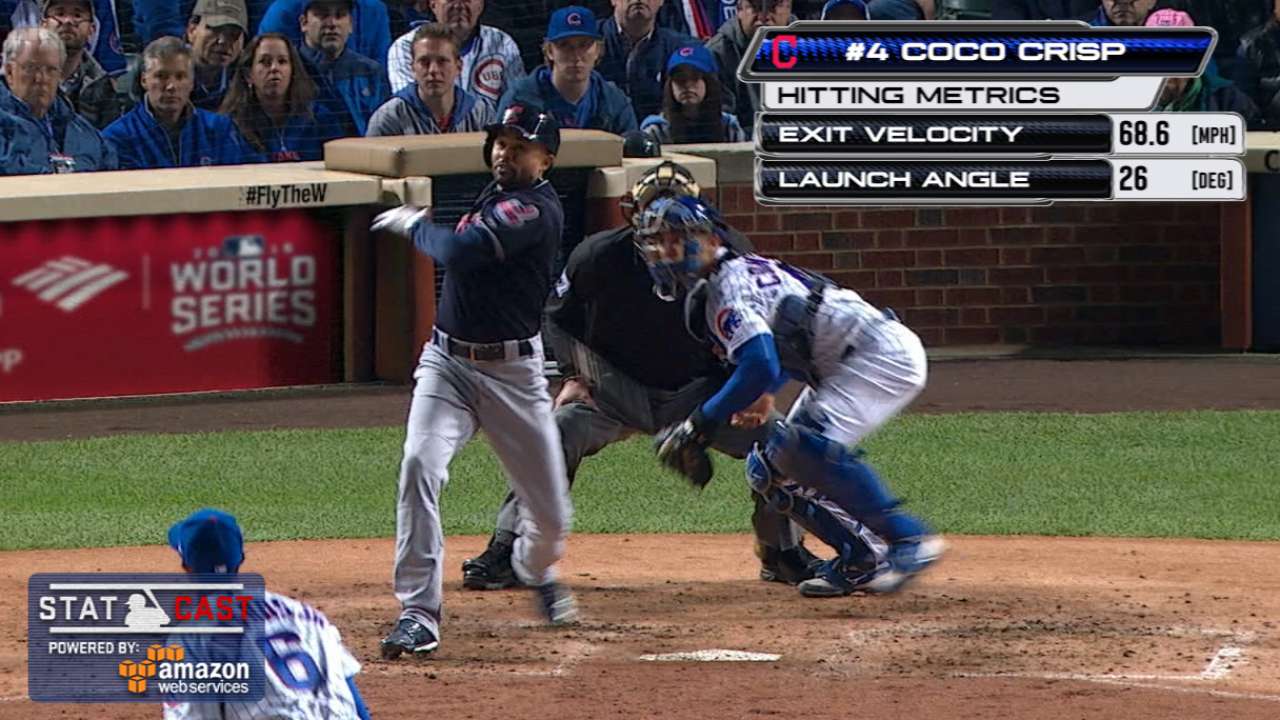 CHICAGO -- So much for the offensive fireworks promised by a stiff wind blowing out to center at Wrigley Field, right? While the wind cooperated, the pitchers did not, as Josh Tomlin led a Cleveland staff that tossed a record-setting fifth postseason shutout in a 1-0 Game 3 victory over the Cubs on Friday night.
The lone run came in when pinch-hitter Coco Crisp lofted a soft fly ball in front of right fielder Jorge Soler in the seventh inning, easily scoring Michael Martinez from third, though Soler was able to salvage something by throwing out Rajai Davis attempting to go first to third. Even with Soler's strong 93.4 mph throw, tied for his hardest of the year per Statcast™, that's actually not the most interesting part of the play, since it didn't stop the go-ahead run from scoring.
Game 4: Tonight, 7:30 p.m. ET air time | 8 ET game time on FOX
Instead, let's focus on how we got to that point. Could Soler have caught the ball? Should Joe Maddon have replaced a tiring Carl Edwards Jr. with Mike Montgomery? And how close did Martinez come to being eliminated entirely when Willson Contreras nearly picked him off on the final pitch to Davis?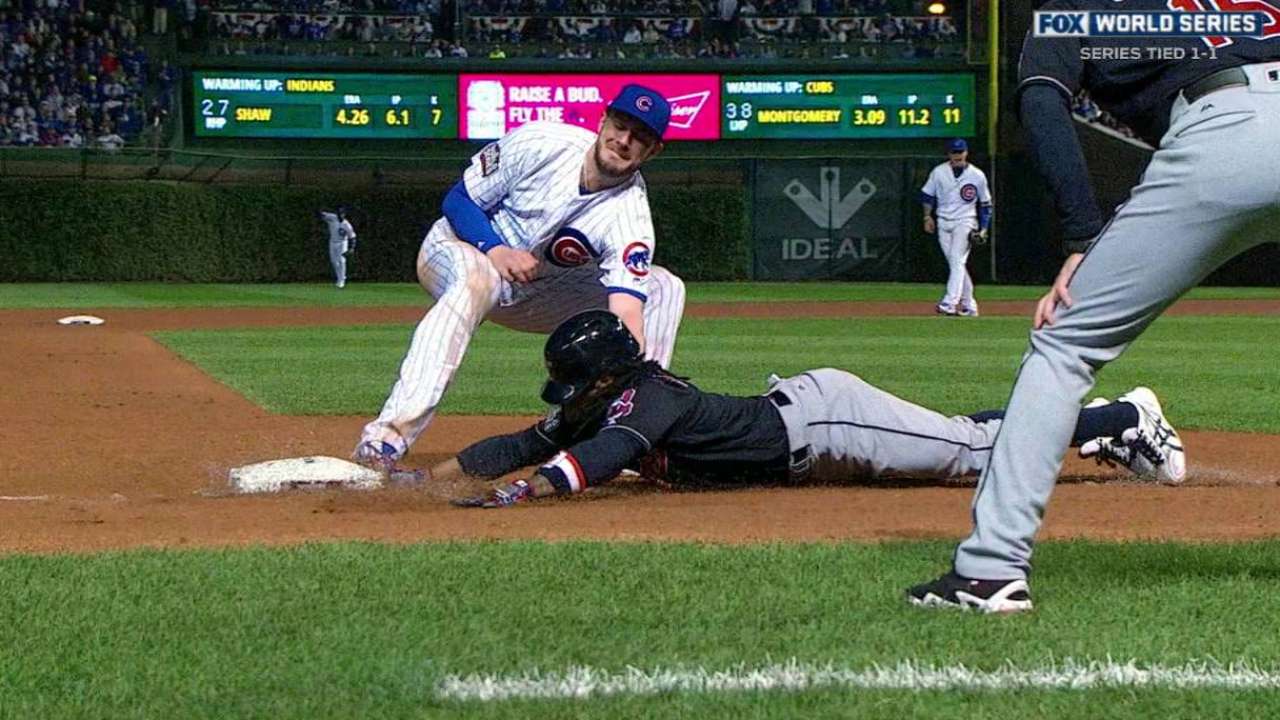 Let's go in chronological order and start with the pickoff attempt.
Martinez was 15.5 feet off of third base when Edwards released the ball, enough that Contreras taking the risk was understandable. While Contreras' throw was a strong 85.3 mph, it was high and back toward second base. Because the catcher delayed slightly in getting the ball out of his glove, his pop time (the time between when the pitch hit his glove and his throw reached Kris Bryant's glove) was 1.63 seconds, higher than his season best time of 1.49 seconds to third base. So while a quicker pop time would have helped, a more accurate throw would have helped more.
• Shop for World Series gear: Cubs | Indians
As for whether Edwards should have been replaced by Montgomery, there's some opportunity for second-guessing. Crisp is a career 99 wRC+ (where 100 is league average) hitter against righties and only 91 against lefties, but perhaps more importantly, there was evidence that the electrifying Edwards was tiring. Into his second inning of work by that point, he'd gone from throwing 96-97 mph when he entered down to 92.6 mph on the ball Crisp hit. That said, Montgomery's career splits are minimal, and Edwards has been one of the more quietly dominant relievers in the game since the All-Star break.
"It was either CJ versus him, or Montgomery versus Guyer, that's it," Maddon said. "And just talking it through, we liked that match-up. That's it. We liked it. So it's one or the other. You have to pick your poison right there. It just didn't work out. But that's what we knew, and we chose that and he got a hit."
Either way, it's not like Crisp came in and hit a rocket, either. The ball was hit at a mere 68.6 mph at a 26 degree launch angle, which gave it all of 221 feet of distance. That combination of exit velocity and launch angle had an expected batting average of 1.000 this year, which is to say that every time it happened (which, granted, was just 17 previous times), it fell for a hit.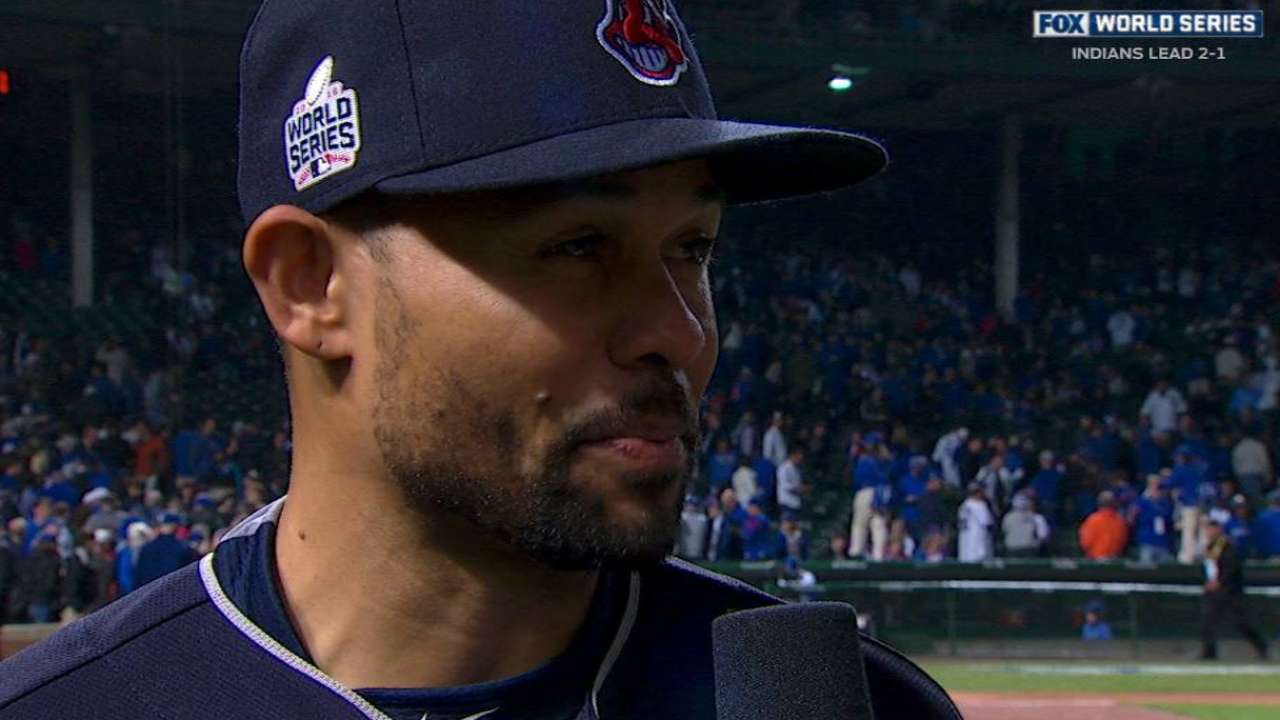 Expected batting average only looks at the batted-ball characteristics, however, and doesn't account for the positioning and/or skill of the fielder, and there's little argument that regular right fielder Jason Heyward is a better defensive player than Soler. Still, it's difficult to imagine that Heyward could have made it, because his average start position is 292 feet away from the plate, and Soler was at 283 feet for this play. He was nine feet closer and he still couldn't get there.
What if we looked at it less from the perspective of the batted ball and more just from the perspective of Soler? In large part, calculating defense is simply seeing how far a fielder is asked to go and how much time he had to do it in. In this case, Soler was positioned 62 feet from where the ball was expected to land, and he had 3.4 seconds hang time in which to get there. If you look at those numbers on our catch rate chart, it is, once again, a hit every time.
So no, Soler couldn't have reached the ball, nor could Heyward, not unless they were positioned much shallower. It wasn't hit hard. It wasn't crushed. It was just hit just hard enough to find that blooper hole that's always a hit. So often, that happens and you don't even notice it. On Friday night, it won a World Series game.
Mike Petriello is an analyst for MLB.com and the host of the Statcast podcast. He has previously written for ESPN Insider and FanGraphs. This story was not subject to the approval of Major League Baseball or its clubs.