MLB.com Columnist
Mike Bauman
Tito willing to take chances to give Tribe edge
Francona's courage to play Santana in outfield shows his belief in Indians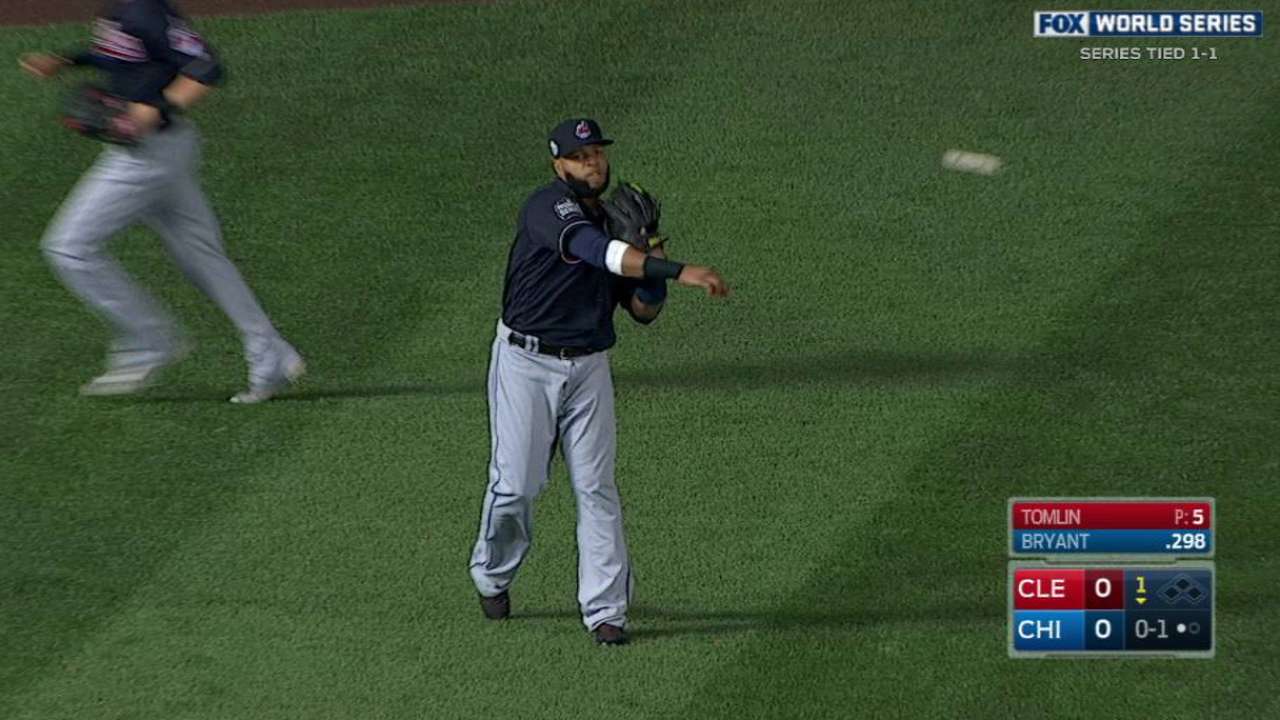 CHICAGO -- The fact that Indians manager Terry Francona started Carlos Santana in left field Friday night did not directly affect the outcome of Game 3. But it clearly established Francona's willingness to take a calculated risk. And it also underscored one of his fundamental strengths as a manager.
The night went well for Francona and the Cleveland Indians. A brilliant series of pitching performances, keyed by starter Josh Tomlin's 4 2/3 shutout innings, led the Indians to a 1-0 victory over the Cubs at Wrigley Field and a 2-1 lead in the 2016 World Series.
• Game 4: Tonight, 7:30 p.m. ET air time | 8 ET game time on FOX
But Francona's use of Santana -- once a catcher, then a first baseman, now primarily a designated hitter -- was a courageous managerial move, and it illustrated one of the reasons that his players have an abiding belief in him.
This situation arises because baseball plays by two sets of rules, one for the American League, one for the National League. In the World Series, the AL team loses the DH when it plays in the NL city. On paper then, the Indians would lose either Santana or first baseman Mike Napoli. Those two were co-leaders in home runs for the Tribe with 34 this season.
• Shop for Indians World Series and AL champs gear
The path of least resistance for Francona would have been simply sitting either Santana or Napoli. This is what the divided DH rule basically dictates in cases of this sort, and it would leave the manager free from an epidemic of second guessing.
Francona chose the road less traveled, sending Santana out to take fly balls in left during Thursday's workout at Wrigley Field. Santana had appeared in only one game in left in the Majors, and that was in 2012.
As Game 3 turned out, Santana was neither the hitting hero nor the fielding villain. He had three plate appearances before being removed in a double switch, striking out once and walking twice. In the outfield, Santana was tested only once, and moved to his left well enough to catch a fly ball by Kris Bryant in the first inning.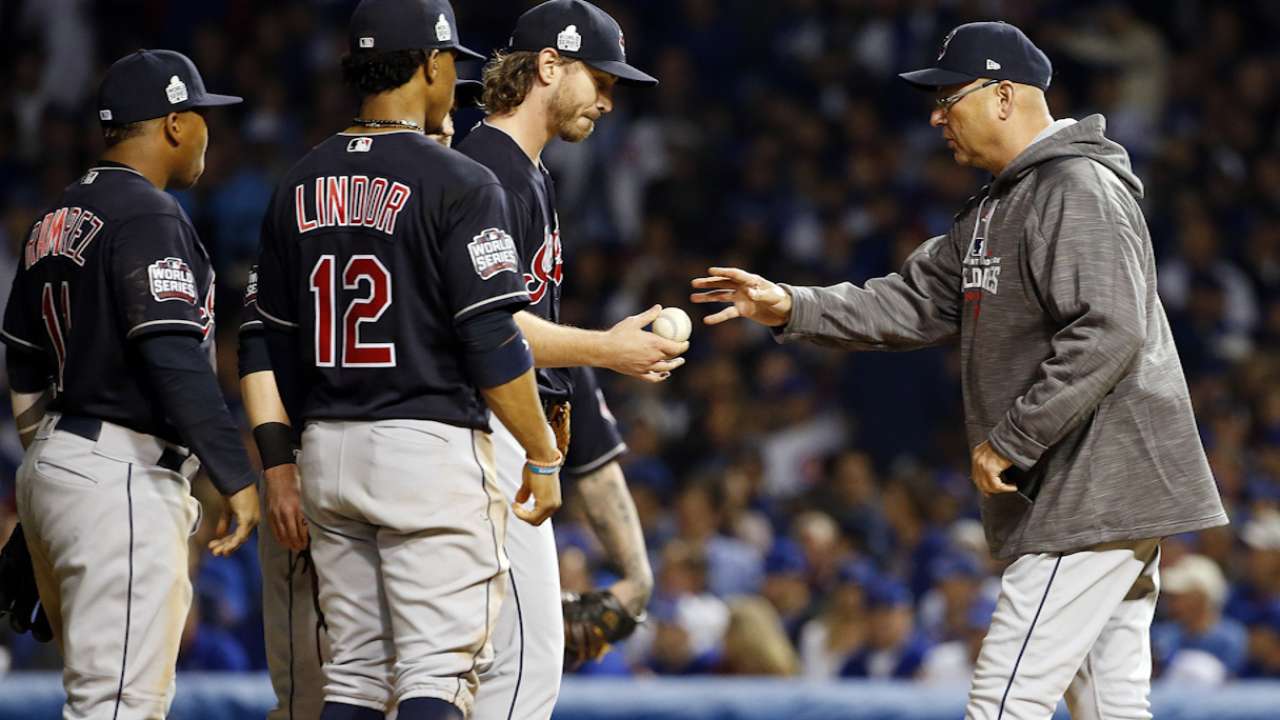 But Francona had made a point that he would take a chance to make his team better on baseball's biggest stage. And before the fact, he took all the pressure off the player involved and placed it directly upon himself.
"Once we qualified for the World Series, I started thinking a little bit, because I knew we'd be [in a National League city] for Games 3, 4 and 5," Francona said. "Even before they announced who they were pitching, I'd kind of start thinking about it. Because the choices are either sit Napoli or Santana. I think the safe thing to do -- or not safe but where somebody doesn't question me -- is to play somebody else in left field and sitting one of those guys.
"I didn't think, when I thought it through, that puts us in the best position to win. We didn't come all this way to try to keep it close. I just think that -- and we said early on before the Boston series that we might have to get a little creative at times. I would prefer to attempt to do that and then see what happens, than play it safe and regret it later.
"And I told Carlos, I said: 'You know, just do your best. And if there's an issue, tell people to come see me because it was my decision.' I don't think that's fair to Carlos, because, again, we'll see how it goes.
"But I wouldn't have done it if I didn't think it gave us the best chance to win."
With his manager doing his best to remove the pressure, Santana felt relatively relaxed about playing left.
"I felt great, I felt fine," Santana said. "I was very focused before the game and I tried my best. I caught one popup and I felt natural.
"After catching the ball, I felt more confident. I understand everybody worried about me, about how I would play in left field. But I'm very confident. Tito, he put me in the lineup and in left field tonight, and I did my job."
There was one other option, which was to play Santana at third base, where he had 28 games of experience in 2014, and move third baseman Jose Ramirez to left.
"We could have thought about that, [but] I thought we were then going to weaken ourselves at two positions," Francona said. "Jose's a much better third baseman than he is a left fielder. Carlos played third ... and we stopped doing it because it wasn't in our best interest. So I just think, probably if you're going to play a position that's not yours, the further away, the better."
Putting a player with truly minimal left-field experience in left field in a World Series game represented an obvious amount of risk. But the way Francona handled this maneuver took the potential damage off the player and placed it upon himself. This sort of thing is one of the reasons he has managed two World Series champions and is two victories away from a third.
Mike Bauman is a national columnist for MLB.com. This story was not subject to the approval of Major League Baseball or its clubs.