With chance to impact G3, Schwarber pops up
Limited to pinch-hit duties at Wrigley, Cubs slugger handled by Tribe's Shaw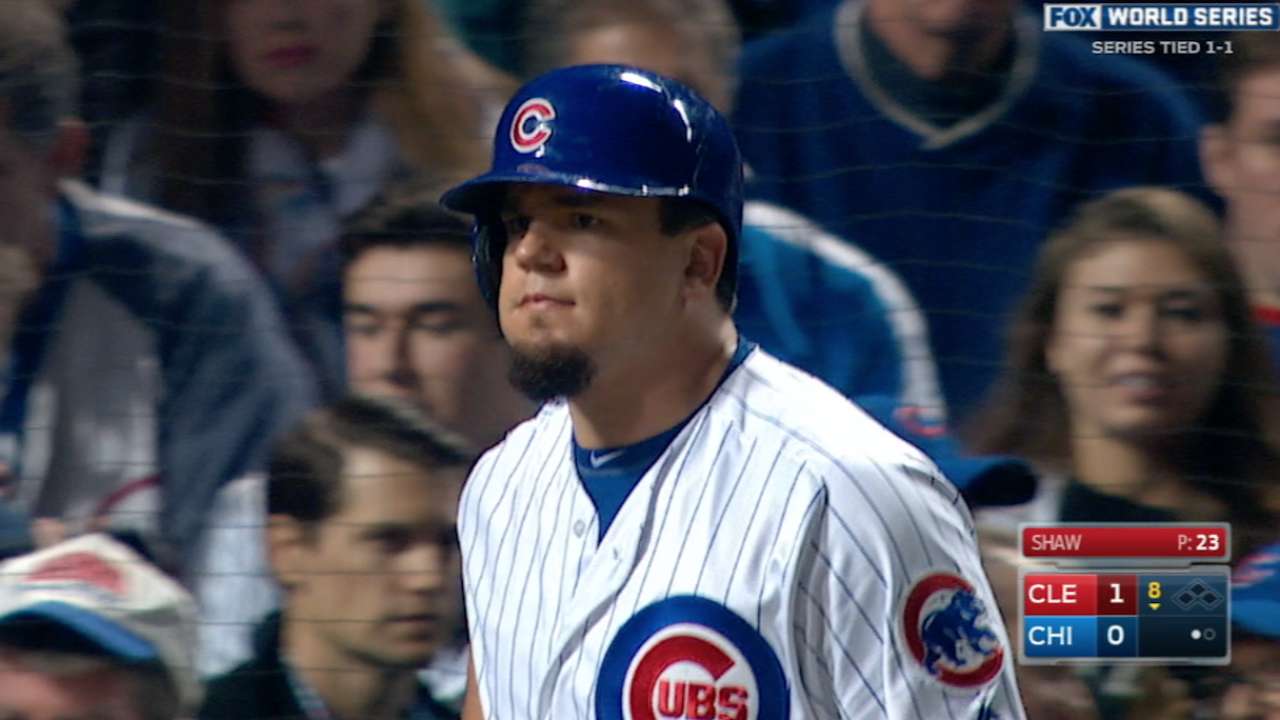 CHICAGO -- A shard of Kyle Schwarber's bat splintered into the air. Dropping the rest of it in disappointment, Schwarber put his head down and jogged toward first base. So much was made of Schwarber's one at-bat, one moment, one chance to influence World Series Game 3. The result was an eighth-inning popup and a 1-0 Cubs loss to the Indians on Friday night.
"It was good to get that out," Indians reliever Bryan Shaw said. "I know he can tie up the game with one swing."
• Game 4: Tonight, 7:30 p.m. ET air time | 8 ET game time on FOX
Schwarber's ability to do so is why the Cubs agonized over his availability for the World Series, watching him spend all summer rehabbing from a torn knee ligament simply to toe the foul line with his teammates. When doctors cleared Schwarber to hit and run the bases, the Cubs plugged him into their Games 1 and 2 lineups as a designated hitter. But back at Wrigley Field, with no such luxury, Cubs doctors refused to clear Schwarber for defensive duty.
So like a caged animal, Schwarber hung out in the home dugout and around the batting cage -- sometimes scouting Indians pitchers with a tablet computer, sometimes stretching or taking practice swings. All the while, manager Joe Maddon schemed about how to use Schwarber in the highest-leverage situation possible.
• Shop for Cubs World Series and NL champs gear
"He was ready the whole game, man," Maddon said. "He was ready."
The problem was that the Cubs never constructed an extended rally against Cleveland's pitching, putting no more than one man on base at a time until the ninth. Maddon wanted a bigger spot. So he waited and waited until the pitcher's spot surfaced in the eighth, at which point he hoped the Cubs could "grab the lead there somehow and not even worry about it."
With the bases empty in a one-run game, Schwarber strode to the plate, Wrigley's faithful serenading him. Watching the ballpark's flags blow out, Schwarber figured anything he hit hard in the air might have a chance.
"But that's not in my mind, though," he said. "I'm not trying to hit the ball out of the ballpark. Just trying to hit the ball hard."
Shaw fed Schwarber four consecutive cutters, busting him inside because he remembered the RBI single Schwarber hit off him on an outside pitch in Game 2 -- one of the 23-year-old's five times on base in nine Cleveland plate appearances. Nothing so impactful happened this time; the fourth of those cutters simply spun inward enough to crack Schwarber's bat, popping him up.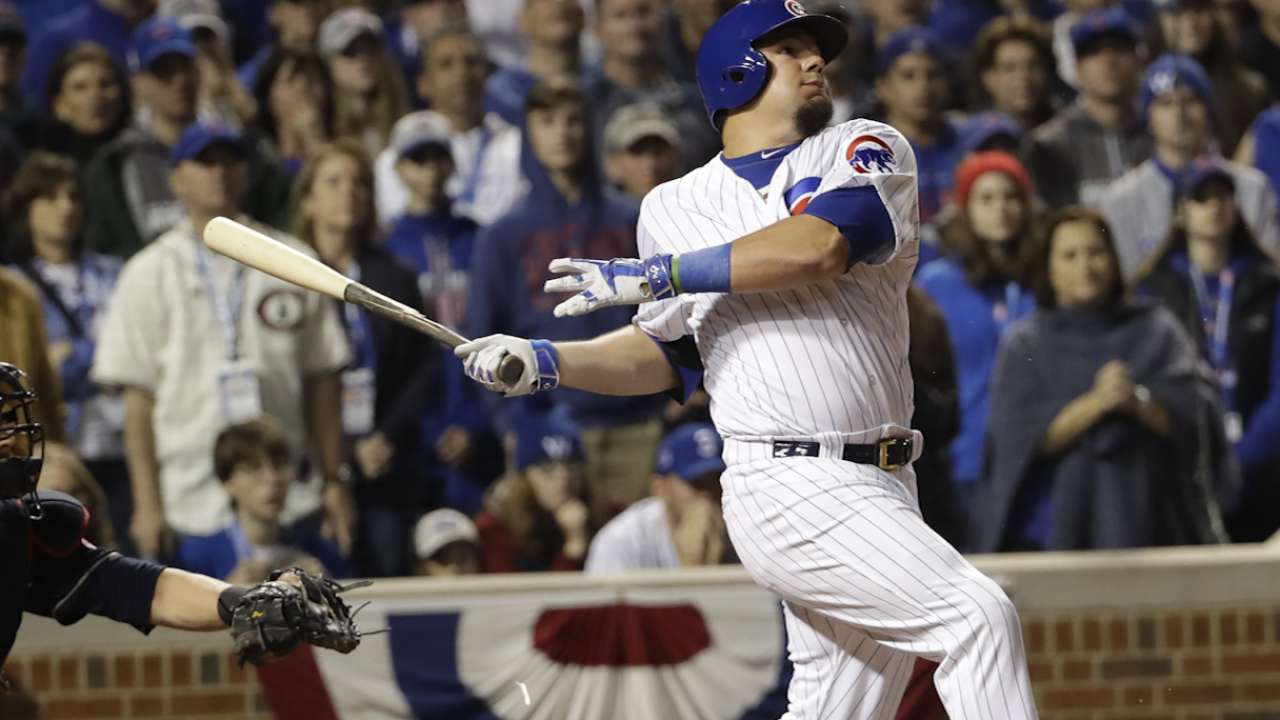 "We were fortunate enough that he swung at that one," Shaw said.
And with that, Schwarber walked back to the dugout, his opportunity for this night complete.
Anthony DiComo has been a reporter for MLB.com since 2008. Follow him on Twitter @AnthonyDiComo and Facebook, and listen to his podcast. This story was not subject to the approval of Major League Baseball or its clubs.