Grimm anything but after inducing big DP
Cubs reliever exults upon escaping fifth-inning jam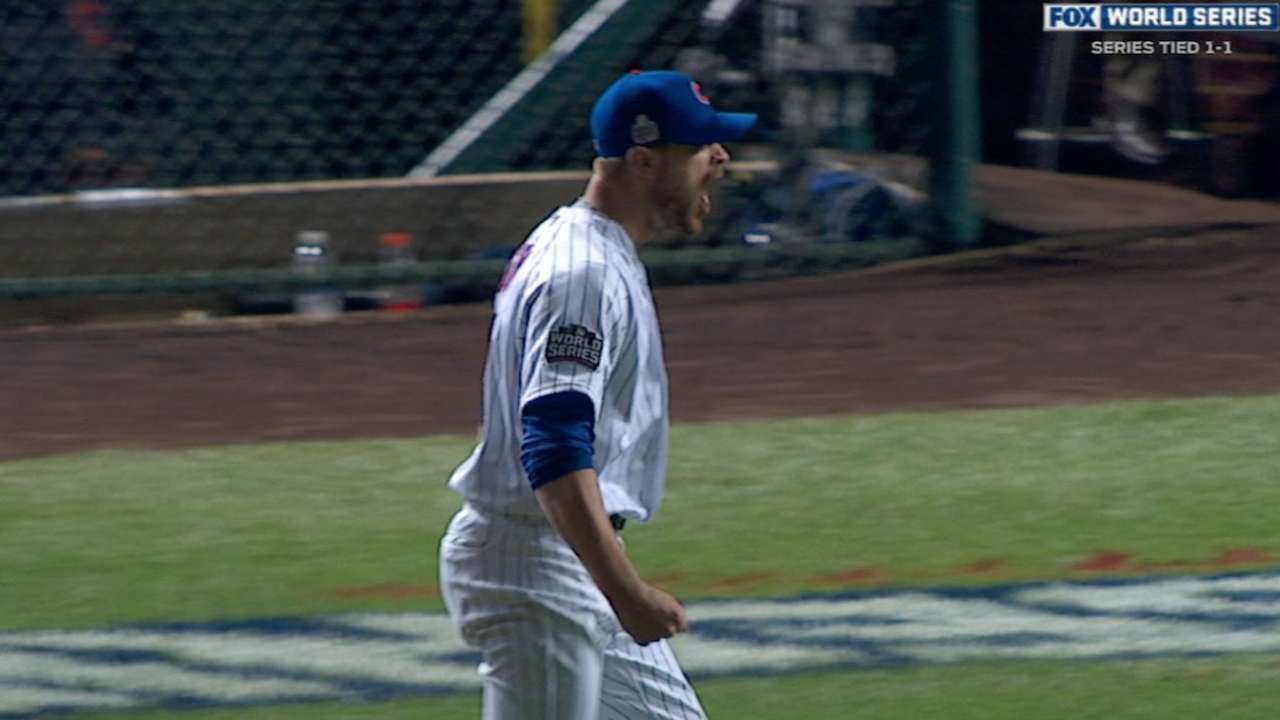 CHICAGO -- Justin Grimm threw 911 pitches for the Cubs this season, then another 54 over his first four postseason appearances. He faced 225 batters and retired roughly 60 percent of them, establishing himself at times as one of Chicago's best relievers.
But Grimm had not induced a double play until the fifth inning Friday night, when Cubs manager Joe Maddon called upon him with one out and the bases loaded in a scoreless Game 3 of the World Series. His sixth pitch was an 81-mph curveball that Francisco Lindor, the Indians' most productive hitter this October, beat into the dirt. Javier Baez scooped the ball up and fed it to Addison Russell, who fired to Anthony Rizzo in the Cubs' eventual 1-0 loss to the Indians.
• Game 4: Tonight, 7:30 p.m. ET air time | 8 ET game time on FOX
Adding to the statistical improbability of the key event was the fact that, in 115 double-play opportunities this season, Lindor was doubled up just 18 times.
Grimm shook his fist with such force that he nearly slipped to the ground. And Wrigley Field shook.
• Shop for Cubs World Series and NL champs gear
"I stayed in the moment and made the pitch," Grimm said. "It played out the way that I wanted it to."
Warming in the bullpen as the Indians rallied in the fifth, Grimm half-expected Maddon to stick with Kyle Hendricks -- Chicago's starting pitcher and Major League Baseball's regular-season ERA leader. Once in the game, Grimm was aiming not for a double play, but a strikeout.
His approach wound up being a clinic on breaking pitches. Grimm threw Lindor three in a row, each one closer to the dirt than the last. Then, after changing Lindor's eye level with a shoulder-high fastball, Grimm threw two more curves to induce the double play.
"His breaking ball, I was getting on top of the baseball and I was trying to get a little more underneath it," Lindor said. "I hit it hard but I hit it straight into the ground."
"That was amazing," Cubs catcher Willson Contreras said. "That was a big double play."
Consider it a major contribution for Grimm, whose swing-and-miss stuff -- he's averaged 11.6 strikeouts per nine innings over the past two seasons -- does not generally garner the same attention as that of Aroldis Chapman, Hector Rondon or even Pedro Strop. Earlier this year, Grimm was inconsistent enough that the Cubs briefly sent him to Triple-A Iowa, where he faced four batters and struck out three of them.
A strikeout would have worked for Grimm in this spot, too. But a double play was better.
"Obviously, I was fired up," Grimm said. "It was a big moment. I was just hoping we'd pull out that win so it was relevant."
Anthony DiComo has been a reporter for MLB.com since 2008. Follow him on Twitter @AnthonyDiComo and Facebook, and listen to his podcast. This story was not subject to the approval of Major League Baseball or its clubs.