Hendricks not sharp, but keeps Cubs in it
Reliable righty escapes early trouble in short outing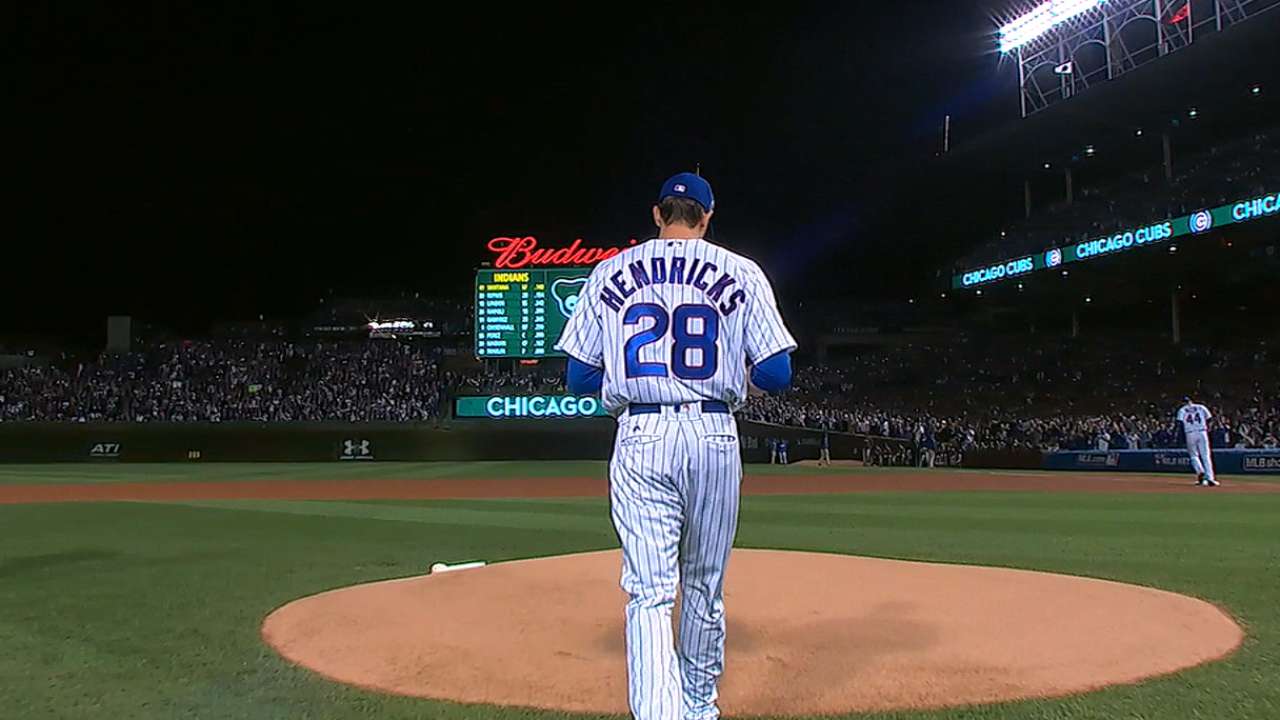 CHICAGO -- All Kyle Hendricks wanted to do was get a curveball across the plate for a strike during an at-bat against Carlos Santana in the fifth inning. But he missed with four of the five breaking balls and issued a walk.
Hendricks pointed to that at-bat as the microcosm of his struggles that told him Friday night was not going to be his night. He hit the next batter and was removed from the game, unable to get out of the fifth inning even though he had not allowed a run. Despite entering Game 3 of the World Series with arguably the starting-pitching advantage, the Cubs fell to the Indians, 1-0, to give Cleveland a 2-1 Series lead at Wrigley Field.
• Game 4: Tonight, 7:30 p.m. ET air time | 8 ET game time on FOX
"I wasn't sharp, but they had a good game plan against me," Hendricks said. "They were laying off some good pitches, putting together good [at-bats]. I didn't have the feel today for myself, so I just had to battle through it."
Hendricks had completed at least five innings in each of his 30 starts during the season, but has not made it out of the fifth twice this postseason. He battled to keep the Cubs in the game, working without fastball command early on, which made it difficult to use his secondary pitches.
• Shop for Cubs World Series and NL champs gear
Still, Hendricks traded zeros with Cleveland starter Josh Tomlin and, with a key assist from a double-play grounder induced by Justin Grimm, had a scoreless outing. He struck out six and walked a pair in 4 1/3 innings, including a key pickoff in the first to quell a Cleveland rally.
"I knew I was going to have to keep us as close as I could because I didn't have my stuff," Hendricks said.
Hendricks became the first Cubs pitcher to start a World Series game at Wrigley Field since 1945, something the club did not worry about him handling because of his ability to control his emotions.
And even though he was not sharp, he gave the Cubs a chance to win, keeping the ball down on a night when the wind was blowing out hard to left field.
"You always want to stay in the game as a starter, but at that point, I mean I wasn't making good pitches, I wasn't sharp," Hendricks said. "If I had been sharp like I was the other day, one of those kind of games, it would have been different. Today I didn't have it."
Jamal Collier has been a reporter for MLB.com since 2014. Follow him on Twitter at @jamalcollier. This story was not subject to the approval of Major League Baseball or its clubs.