MLB.com Columnist
Anthony Castrovince
Shaw's shining moment: Righty takes spotlight
Overshadowed by Miller, Allen, reliever notches five clutch outs in Indians' G3 shutout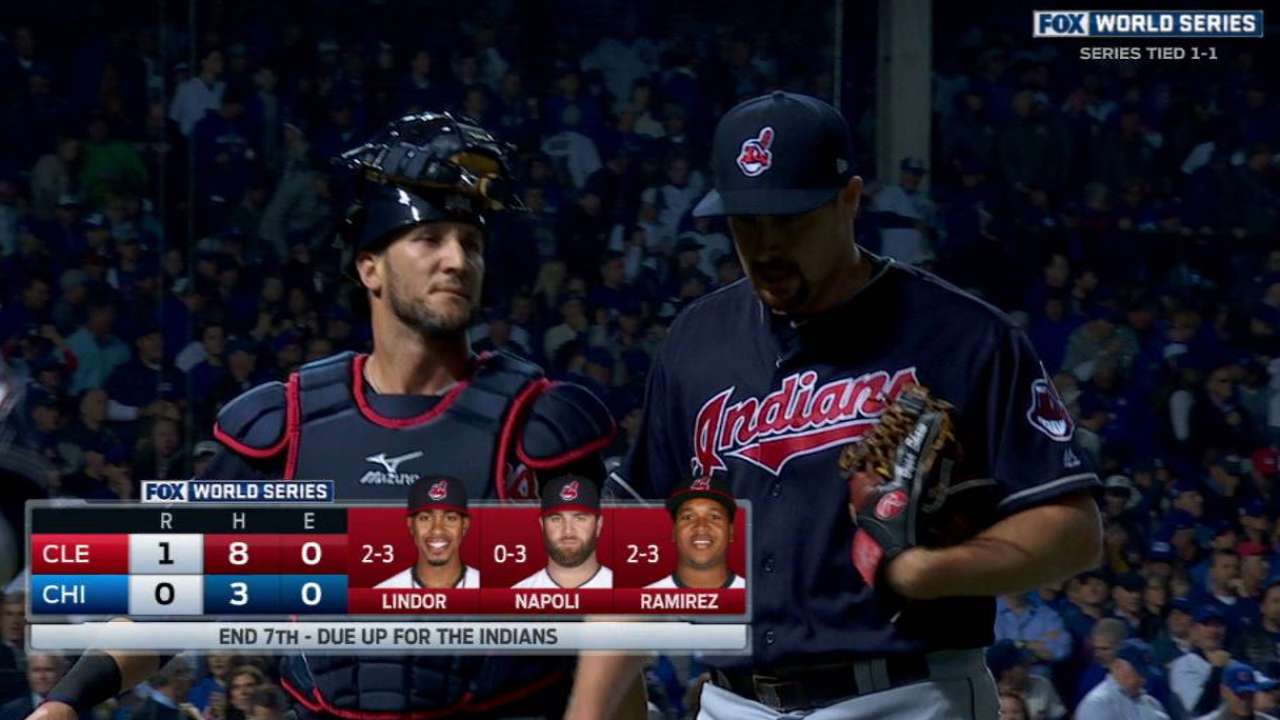 CHICAGO -- In the Indians' bullpen, Cody Allen is the closer, Andrew Miller is the high-leverage hero, and then there's Bryan Shaw. He's the equivalent of what they called Three Tenor member Jose Carreras on "Seinfeld" -- "The Other Guy."
The Other Guy stepped up large in Game 3 of the World Series on Friday night at Wrigley Field. This was a game 71 years in the making, a game that basically turned Wrigleyville into a St. Patrick's Day-like scene from the early-morning hours on and a game in which the Indians were the unwelcomed ones. But they stole a 1-0 win here and took a 2-1 Series lead behind an effective Josh Tomlin, a clutch Coco Crisp, Terry Francona's managerial machinations and, perhaps most important, Shaw's five essential outs after Miller had already been burned.
• Game 4: Tonight, 7:30 p.m. ET air time | 8 ET game time on FOX
This was a national audience's introduction to The Other Guy, whose role is undefined but whose effectiveness and durability is well-established.
"I pitch wherever," Shaw said. "I come out here for our guys, try to get my outs and get the ball to Cody or to Miller or whoever's down there at the time. I try to leave it where it's at for them."
• Shop for Indians World Series and AL champs gear
That's what Shaw did when he was summoned in the seventh.
Two innings earlier, Francona had called on Miller in order to prevent Tomlin from facing the Cubs' lineup a third time, with the added benefit of limiting Tomlin's workload before he pitches again on three days' rest in a potential Game 6. And Miller, true to form, was terrific, getting the final out of the fifth before breezing right through the top of the order with a K cavalcade in the sixth.
But Miller's spot in the order came up in the seventh, with runners on the corners and one out. Surely, the sight of the 6-foot-7 Miller at the plate for the first time in five years would have made for an interesting visual. But the Indians needed a run more than they needed a GIF, and so Crisp was sent up for what turned out to be the go-ahead RBI single to right.
So now the Indians were on the board, but preventing the Cubs from joining them there was a tall task without the tall lefty. The Indians needed a bridge to Allen, and they felt Shaw, who has spent the last four years quietly compiling a 3.00 ERA and .225 average against with the third-highest relief-inning total (282) in the Majors, was just the man for the job.
"He gets better the more he pitches," pitching coach Mickey Callaway said. "If he pitches tomorrow night, he's going to be even better than he was tonight. He pitched four of the five games against Toronto [in the American League Championship Series], and the last outing was his best. He's a freak of nature, he can bounce back every night, and he's got a nasty cutter."
That nastiness was needed in the seventh. Shaw had retired Ben Zobrist and Willson Contreras on successive groundouts, but Jorge Soler hit a fly ball toward that dreaded right-field corner with the brick wall and virtually no foul territory. Shaw was so sure that the ball was going foul that he asked the ump for a new one, only to look back and see the wind blow it back into play with a leaping Lonnie Chisenhall unable to snare it. Soler sneaked all the way to third with a triple, and the Cubs had two-out life.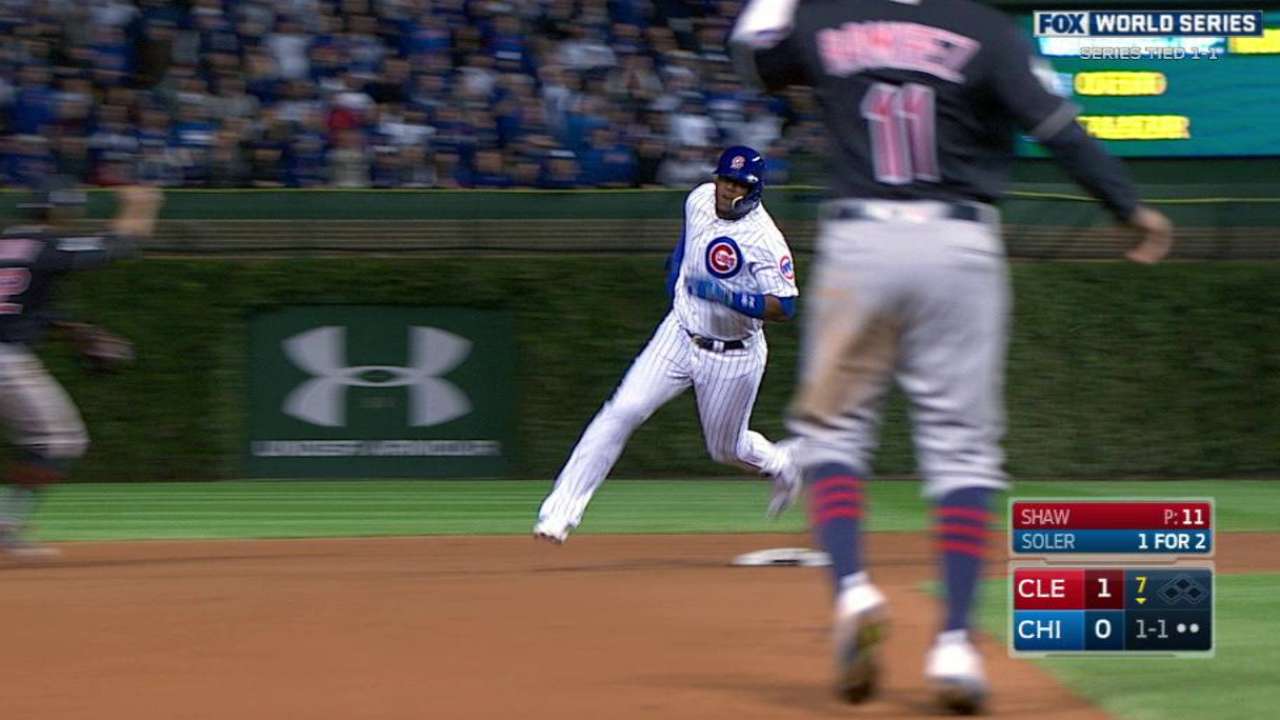 It didn't last. Shaw uncorked three straight cutters to the next batter, Javier Baez, with the last one inducing an easy groundball out to shortstop Francisco Lindor that ended the inning.
"Shaw picked me up right there," Chisenhall said. "That's a metaphor for this team this year, is guys picking each other up."
Shaw himself would be picked up in the eighth, but not before he got arguably the biggest out of the night. After an Addison Russell strikeout to open the bottom half of the inning, Cubs manager Joe Maddon sent Kyle Schwarber to the plate as a pinch-hitter.
Schwarber's successful return from reconstructive knee surgery had been the prime player-oriented story of this World Series, and this was the big spot the Cubs were saving him for. But Shaw cut him down with -- you guessed it -- the cutter. After falling behind 2-1, Shaw threw Schwarber a 93-mph offering up and in. Schwarber broke his bat on contact and popped out harmlessly to Lindor.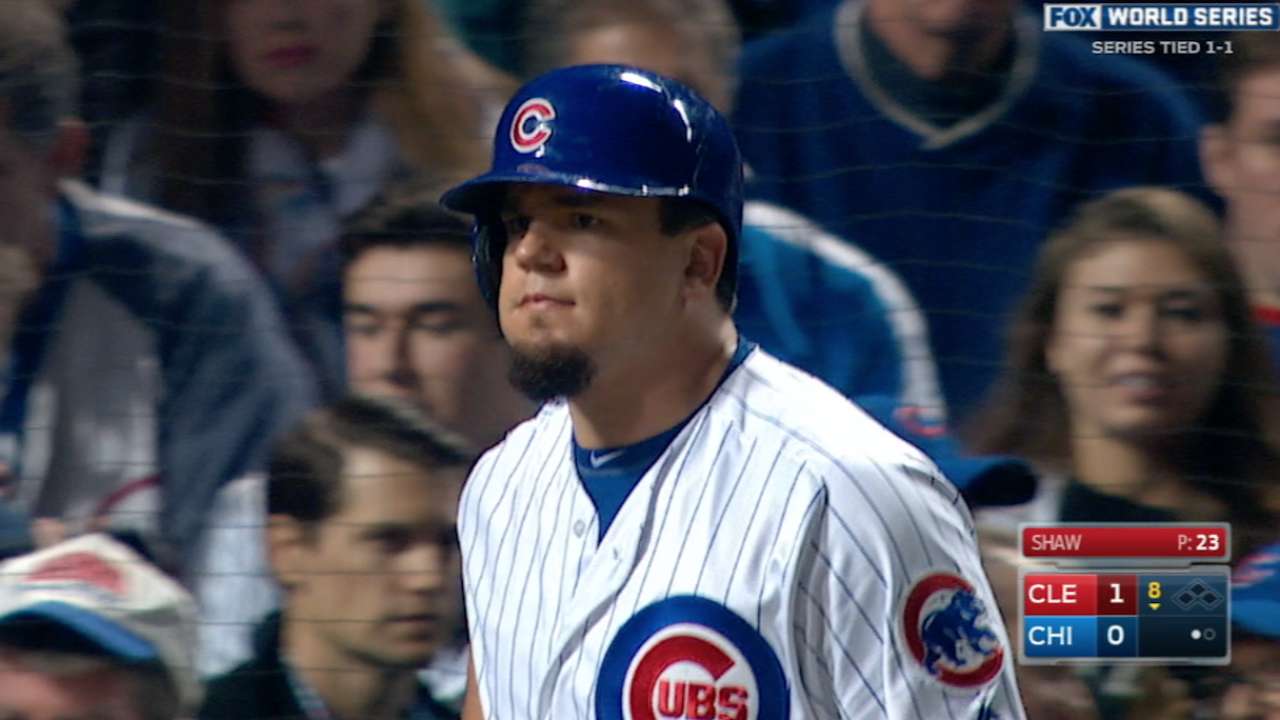 "I had faced him two days ago at our place," Shaw said. "Went in on him for a strike then tried to go away, and he hit the ball up the middle off me. So our plan was to stick with in and, if we got deeper into the count, to change it up. But we were fortunate enough that he swung at that one, and we obviously got the out. It was exciting."
Shaw did run into a little two-out trouble by giving up a single to Dexter Fowler. But that got Francona's wheels spinning again. He went to Allen for what turned out to be a four-out save, beginning with the eighth-inning-ending strikeout of likely National League Most Valuable Player Kris Bryant.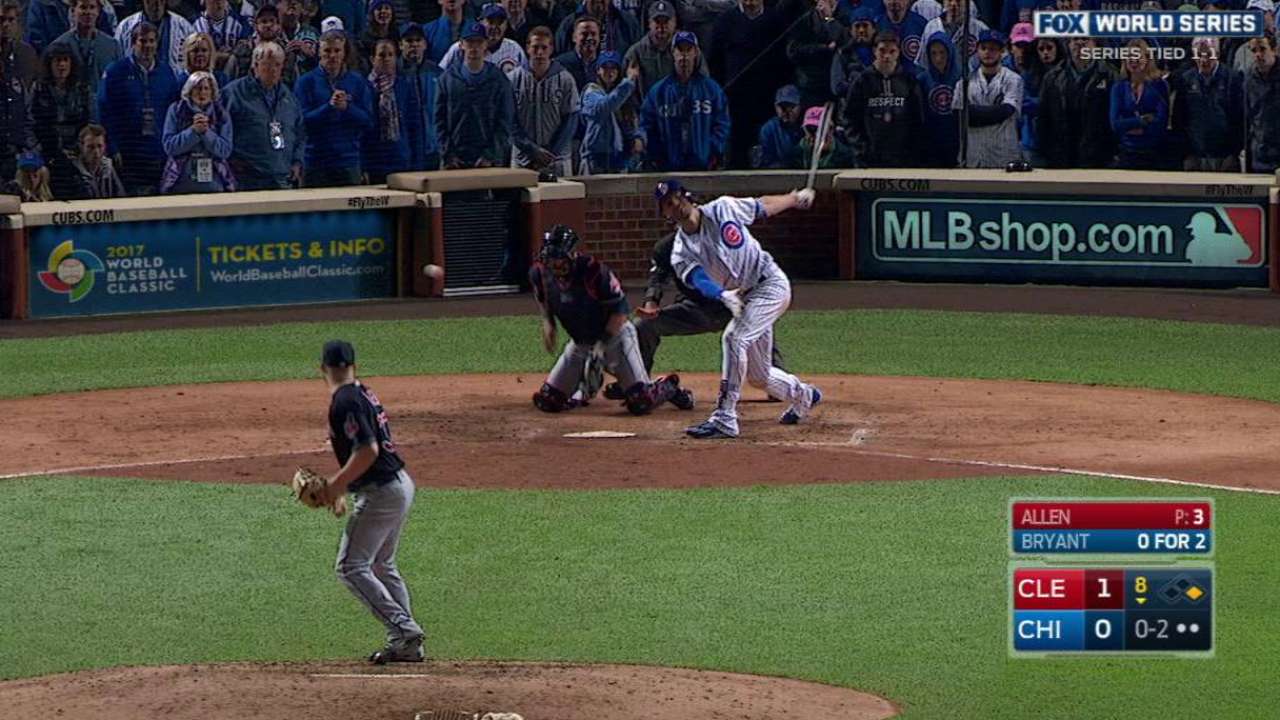 "Shaw was up around 30 [pitches]," Francona explained. "You start getting up to that point and you're facing dangerous hitters, you know, there's a little bit more room for a mistake when you start throwing that many pitches. And I thought Cody holds the running game so well, and I thought Bryan had done a terrific job."
So each of the three principals of the Tribe 'pen had a hand in this one. But for once, the big story wasn't so much Miller, whose awesomeness has come to be roundly expected, but, yes, The Other Guy. This might have begun as a Cubs fans' day to party, but it turned out to be Shaw's time to shine.
Anthony Castrovince has been a reporter for MLB.com since 2004. Read his columns and follow him on Twitter at @Castrovince. This story was not subject to the approval of Major League Baseball or its clubs.