Oct. 28 Terry Francona postgame interview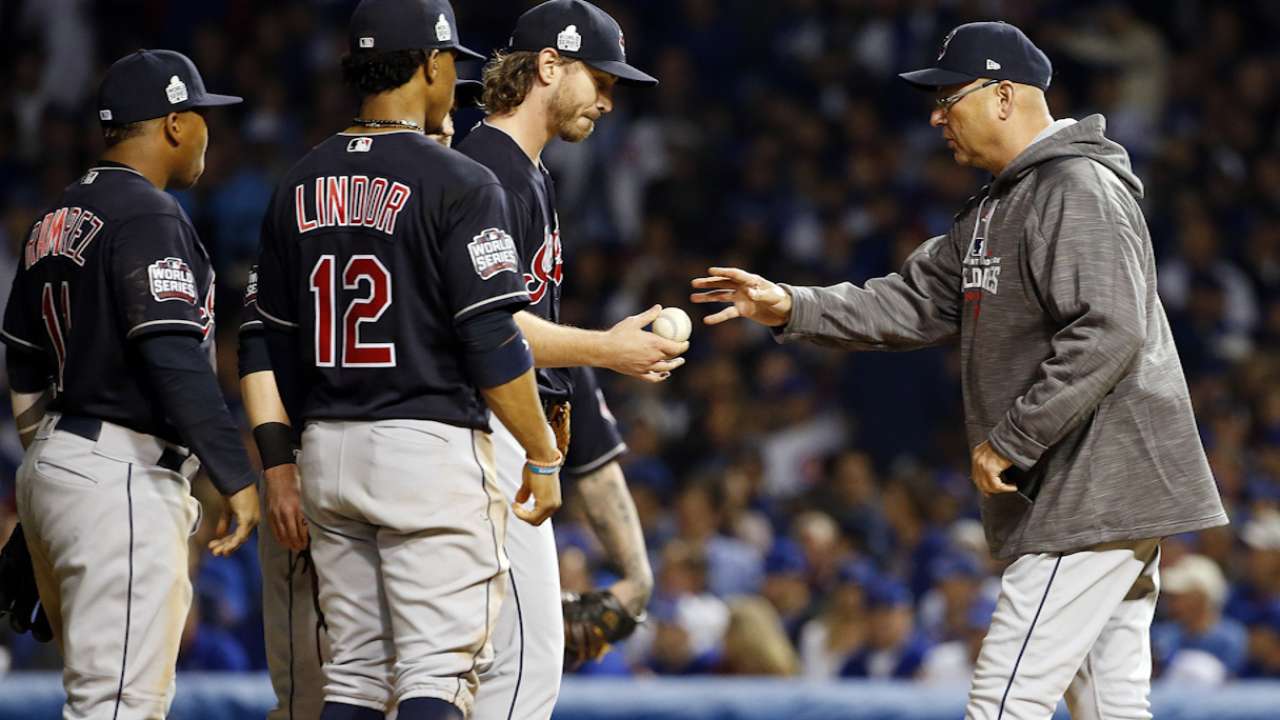 Q. Coco's delivered multiple big hits for you throughout this postseason. Just what do you make of his continued ability to deliver in big spots for you?
TERRY FRANCONA: Wow, I mean, he's done that all year. A lot of it was with Oakland, but we needed something, anything, just to put a run across. And our staff made it hold up, which was a remarkable effort because, boy, I tell you what, to hold that lineup down like that -- and we made some mistakes and still held them down. That's a heck of a win.

Q. Without commenting on either call tonight, replay call tonight, unless you want to --
TERRY FRANCONA: Say that again.

Q. Without commenting specifically on any of the replay calls tonight, unless you want to. How do you feel about replay in general? Would you like to see more or less of it?
TERRY FRANCONA: That's the question after a 1-0 World Series win?

I think they've done a great job with replay. I mean, we all know what it is, and I think it's made the game better.

Q. You've been going to Andrew early through the postseason, but how much did you note tonight with it being in a National League park you might not be able to get the 2 1/3 out of him? And did you know that Shaw and Allen might have to do a little bit more heavy lifting at the end?
TERRY FRANCONA: Well, I don't think we really want to go 2 1/3 all the time. I mean, it's worked out like that, and in the National League it's certainly going to be a little harder, even if you want to. But I just thought that he did what he was supposed to and, again, if he wouldn't have come up to hit, maybe we would have sent him back out. But I think he threw 19 pitches. I was okay with where we were there. That was plenty for tonight.

Q. You made a lot of moves tonight, is this the toughest type of game to manage, and particularly in a National League park?
TERRY FRANCONA: Yeah, that was agonizing. We had Santana playing left field, that's not a left fielder. So that's one move. Then we pinch-ran for our catcher. We needed to win that game in nine or Kluber was going to end up hitting at some point.

As fun of a game as it was to be a part of, that was agonizing because we used so many guys. I think it shows some of the versatility, being able to move Michael Martinez around, and having the confidence in him that he can catch the ball at any position.

Q. How big do you think this is? You come in here, no Kluber, and all the hype here and to play the way your guys did in this atmosphere?
TERRY FRANCONA: I don't know about the hype too much. I mean, I don't think it matters to the guys in the clubhouse like what outside expectations are for this series. I think what's important is what we feel inside there. And I think we've been pretty honest about it the whole time. We know we're going to have our hands full to beat these guys, and tonight was a good example. I mean, that was as close a ballgame as you're ever going to find, and we found a way to manage to win that game. You know, we say it all the time. We want to be one run better. That's about as true to form as you can get.

Q. Tomlin, his dad was here. How impressed were you just by the way he held it all together?
TERRY FRANCONA: Oh, he always holds it together. I think if anything, I don't want to speak for him, but I think if anything he was genuinely excited that his dad was here. But, he always -- he's not going to beat himself. Again, sending him to the mound tonight, we were excited about that. And the fact that his dad was here made it better.

Q. Just your thoughts on with Bryant coming up, to pull the trigger on Allen and go with the four-out save, just your thought process there?
TERRY FRANCONA: Some of it was just to keep the stolen base away, also. Shaw was up around 30. You start getting up to that point and you're facing dangerous hitters, you know, there's a little bit more room for a mistake when you start throwing that many pitches. And I thought Cody holds the running game so well, and I thought Bryant had done a terrific job. That was enough.

Q. With the Almonte situation and knowing he wasn't going to be in the postseason, how important was it a guy to have a guy the caliber of Coco, and what's he brought to you here in these two months?
TERRY FRANCONA: He's got a ton of playoff experience, and our club, we don't have a ton. I mean, Napoli and a little bit. But it's a switch-hitting bat that knows how to play the game, can run the bases. Certainly the bigger the spotlight is not going to get in his way, as he showed tonight, and he's showed a lot of times with us.

I thought that Chris (Antonetti) and Cherney and the guys deserve a lot of credit because it kind of went under the radar, but not in our clubhouse.