Blank you very much! Tribe 1-0 W epic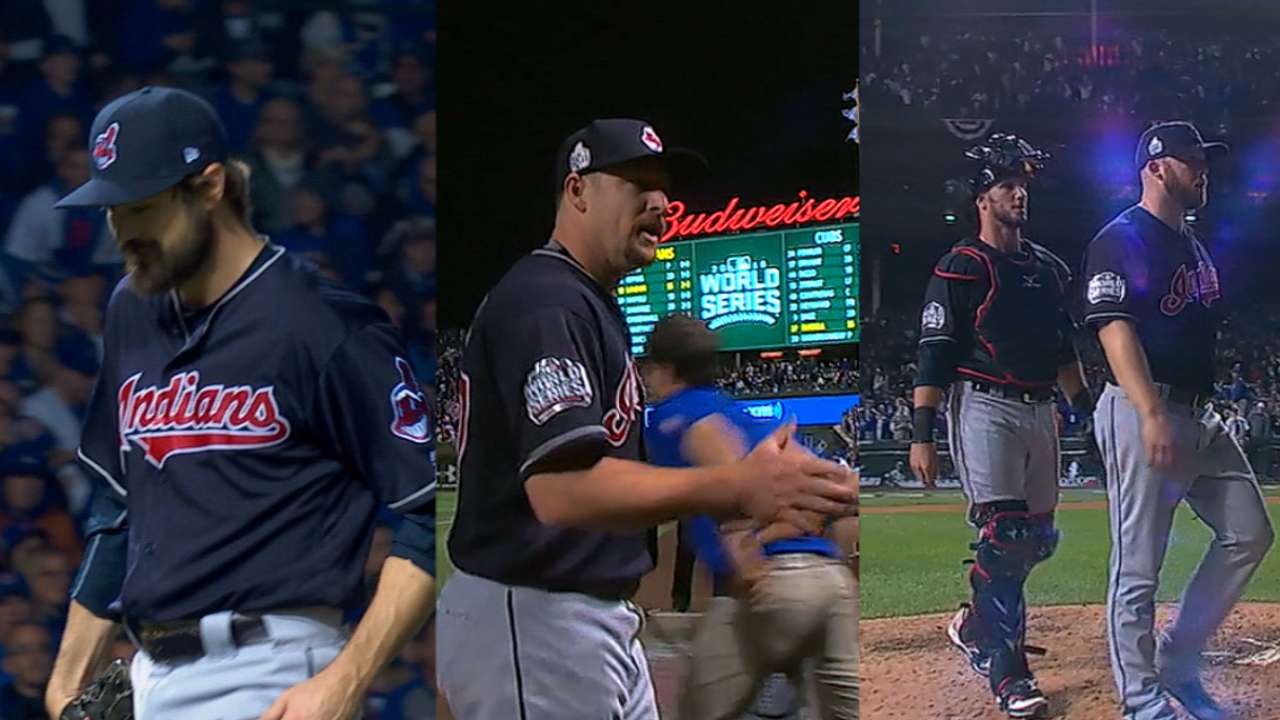 CHICAGO -- With all the attention on the first World Series game at Wrigley Field since 1945, it seems the Indians have been an afterthought. They asserted themselves on Friday night, spoiling the North Siders' long-awaited party.
Coco Crisp's pinch-hit RBI single in the seventh inning was enough to support another stellar showing by Cleveland's pitching staff in a 1-0 victory over the Cubs in Game 3. Led by starter Josh Tomlin and the Tribe's Andrew Miller-powered bullpen, the Indians grabbed a 2-1 lead in the best-of-seven Series.
• Game 4: Tonight, 7:30 ET air time | 8 ET game time on FOX
"I think we've been an afterthought all year long," Tomlin said. "It doesn't bother us. We know we have a group of guys who grind it out and try to play the game we know how to play and don't listen to anybody else."
The shutout was the fifth in these playoffs for the Indians, establishing a Major League record for a single postseason.
• Five alive: Tribe notches record postseason shutout
How important is Game 3? The team winning the third game of a 1-1 World Series has gone on to win the championship 37 of 57 times (64.9 percent), including in four of the past six years.
• Shop for World Series gear: Cubs | Indians
"We know we're going to have our hands full to beat these guys," Tribe manager Terry Francona said. "Tonight was a good example. I mean, that was as close a ballgame as you're ever going to find, and we found a way to manage to win that game. You know, we say it all the time. We want to be one run better. That's about as true to form as you can get."
• Tito willing to take chances to give Tribe edge
The atmosphere leading up to the game was electric. It felt like New Year's Eve at Times Square. Generations of fans who never thought they'd see the Cubs in the World Series started the party outside the ballpark early on Friday, even if they didn't have a ticket for the game. But the ball never dropped, as the Cubs were held scoreless for the fourth time this postseason and never gave the 41,703 in attendance a reason to erupt.
The most shutout losses in a postseason by an eventual World Series winner is three, by the 1981 Dodgers.
• 0 Cubs, 0: Chicago offense comes up empty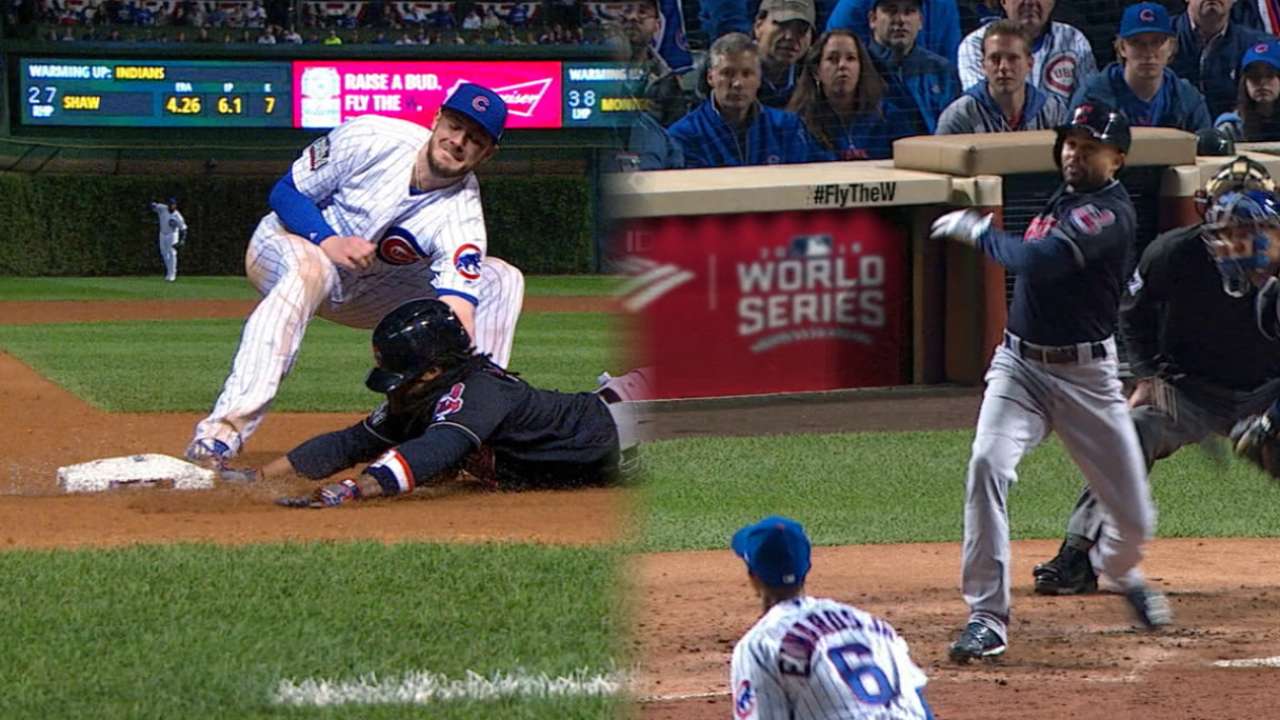 The Cubs' best chance came against Cody Allen in the ninth, when they had runners at second and third and two outs. The Indians' closer got Javier Baez to swing through a high fastball to end the game.
"I think we were trying to speed up things too much today," Baez said. "We have to slow down and play our game, and take it at-bat by at-bat and pitch by pitch."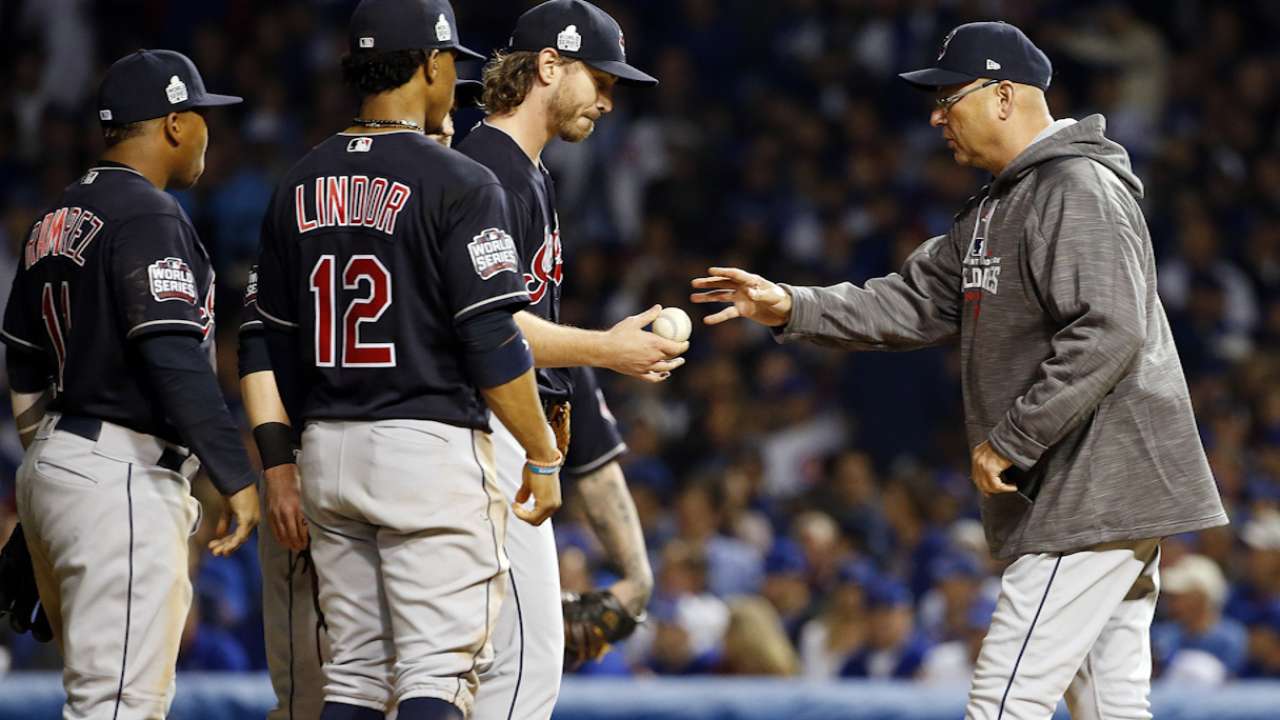 The elements favored the hitters, as the wind was blowing out to left-center at 14 mph, but Cubs starter Kyle Hendricks and Tomlin ignored the flags and induced soft contact. Hendricks did not have a single clean inning, and the Cubs righty was pulled after loading the bases with one out in the fifth. But Justin Grimm got Francisco Lindor to ground into a 4-6-3 double play, which was celebrated with an emphatic fist pump by the reliever.
Tomlin, who was pitching in front of his mother and ailing father, gave up only two hits over 4 2/3 innings before he was lifted for Miller, who extended his postseason scoreless streak to 15 innings, striking out three in 1 1/3.
"He did a wonderful job," Indians pitching coach Mickey Callaway said of Tomlin. "He's pitched so well this postseason, and it's been the same formula: strike one, get ahead, control the count and limit baserunners, especially the free passes. He's such a competitor. Anytime that he has any kind of motivation, he's going to get the job done. He was terrific tonight."
• Tomlin finds comfort in father's presence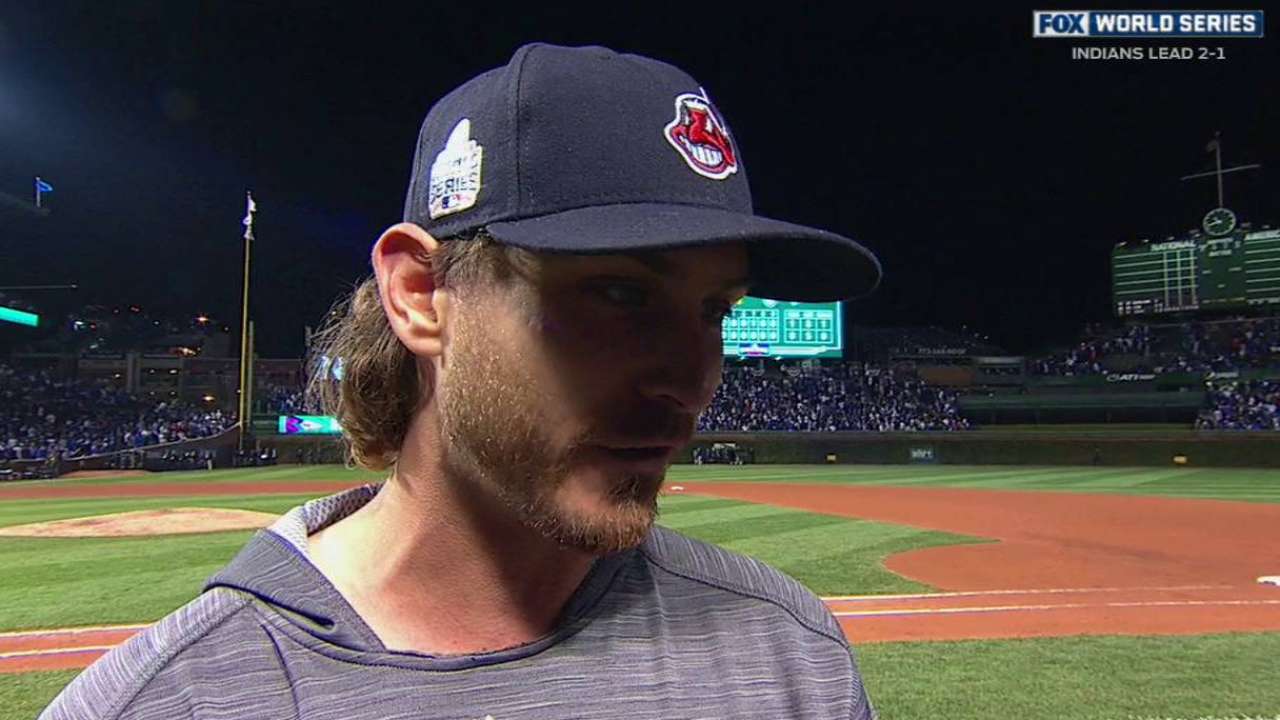 Francona opted to lift Miller in favor of using Crisp as a pinch-hitter in the seventh, and it paid off. Cleveland had runners at first and third, and Crisp smacked an RBI single to right. That was all the Indians needed.
"I know he has some natural cut to his fastball, and I was just hoping to get the barrel to the ball, and I did," Crisp said of his clutch hit off Carl Edwards Jr. "It cut in on me, and I was just fortunate that it dropped in front of the right fielder."
• Pick your poison: Cubs lose gamble on Crisp
Kyle Schwarber, limited to a pinch-hitter role, popped up to shortstop Lindor in the eighth in his only at-bat.
• With chance to impact G3, Schwarber pops up
"I thought it was a well-played game," Cubs manager Joe Maddon said. "I thought we played great defense again tonight. We were just out of the zone way too often. We've got to get our strike zones organized offensively, and if we do, we'll be fine."
• 'We are coming back': Cubs fans remain confident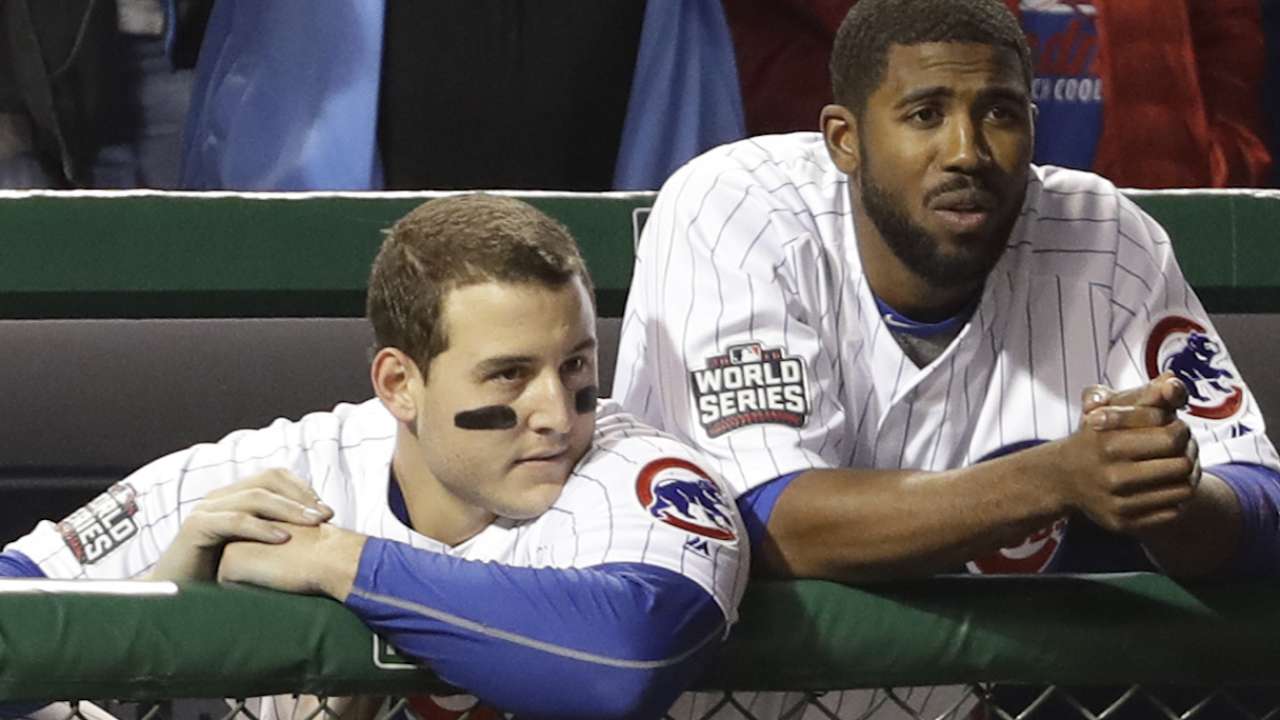 MOMENTS THAT MATTERED
Crisp breaks deadlock: Miller was in the on-deck circle with a helmet on and a bat in his hand in the seventh, but he never made it to the batter's box. After a wild pitch from Edwards allowed Michael Martinez to sprint from second to third base, and Rajai Davis drew a walk to put runners on the corners with one out, Crisp pinch-hit for Miller and pulled a pitch into shallow right field.
"It's just good chemistry over here," Crisp said. "The guys work hard, our pitching did a great job -- and their pitching did a great job over there -- that's what type of Series this is gonna be, it looks like. So we've gotta get them when we can, and fortunately for us, we got one and they didn't today."
• Indians' Crisp > Cubs with RISP explains all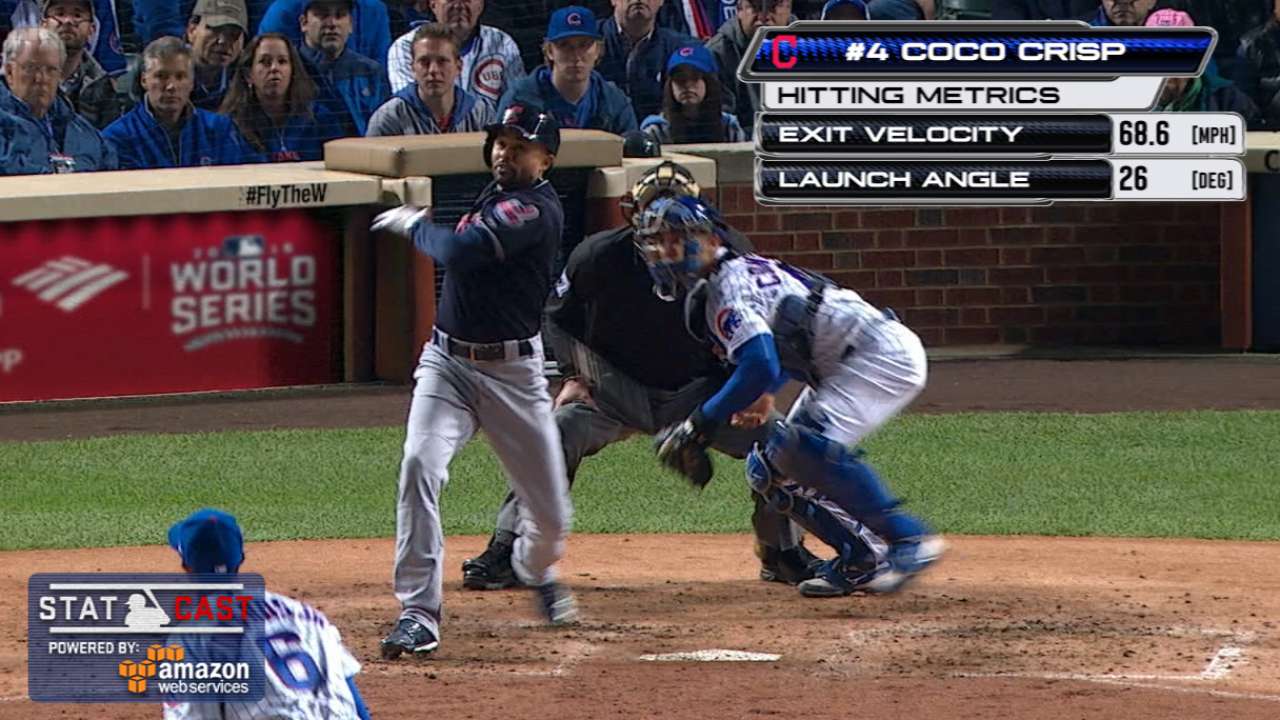 Cubs' last stand: In the bottom of the ninth, Anthony Rizzo led off with a single against Allen. Three batters later, Jason Heyward reached on a hard grounder that ate up first baseman Mike Napoli for a costly error. With Baez in the batter's box, Heyward stole second base to put the winning run in scoring position. With the Wrigley Field audience on its feet, Allen struck out Baez to bring an end to the drama.
"I was trying to hit the fastball but trying to see the curveball at the same time," Baez said. "You have to have one plan. You can't have two plans at the plate. It's a mistake -- you learn from it."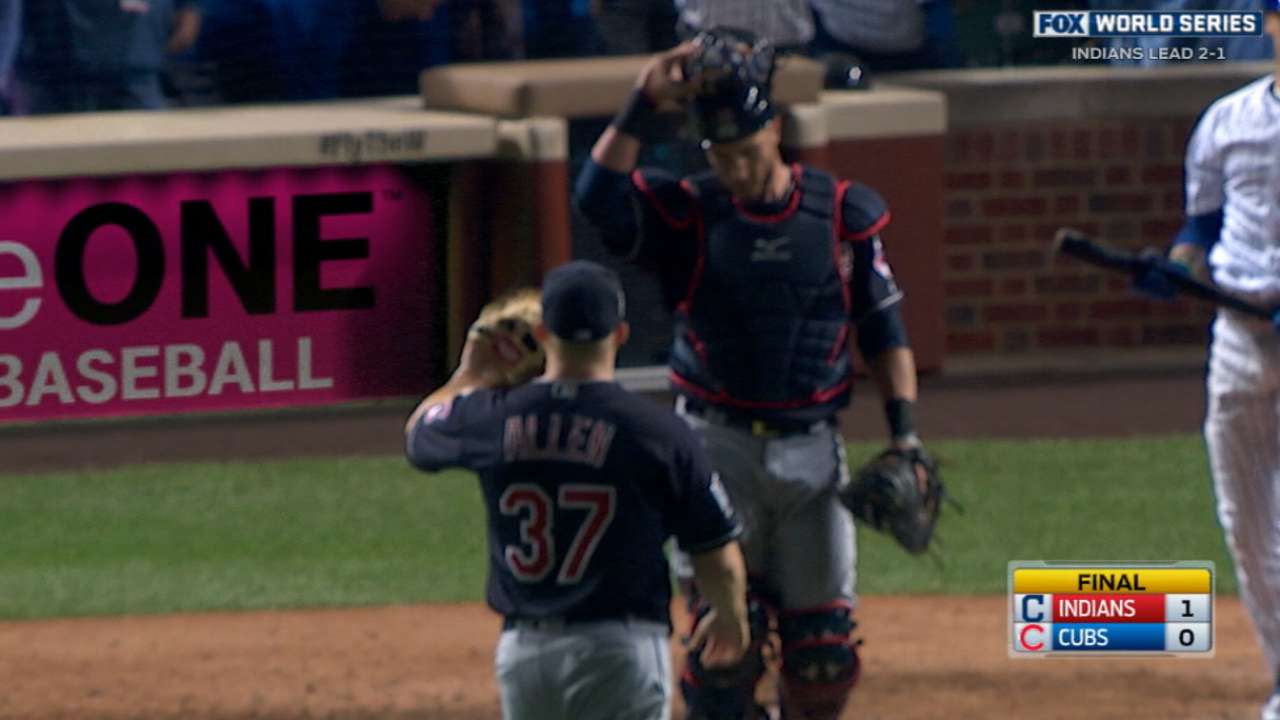 Grimm grounds Tribe: Tyler Naquin opened the fifth with a single, and Hendricks later walked Carlos Santana and hit Jason Kipnis with a pitch to load the bases with one out. At that juncture, Maddon pulled his starter and handed the ball to reliever Grimm. Lindor, who singled in each of his first two at-bats, worked the count full, but then hit a sharp grounder to Baez. The Cubs' second baseman initiated an inning-ending 4-6-3 double play, eliciting a celebratory roar from the Wrigley Field faithful. It marked the first GIDP of the year for Grimm, who had none in his 68 regular-season outings.
"That double play, the way my teammates picked me up," Lindor said, "it was huge. They just told me, 'Keep on going. It happens; it's part of the game.'"
• Grimm anything but after inducing big DP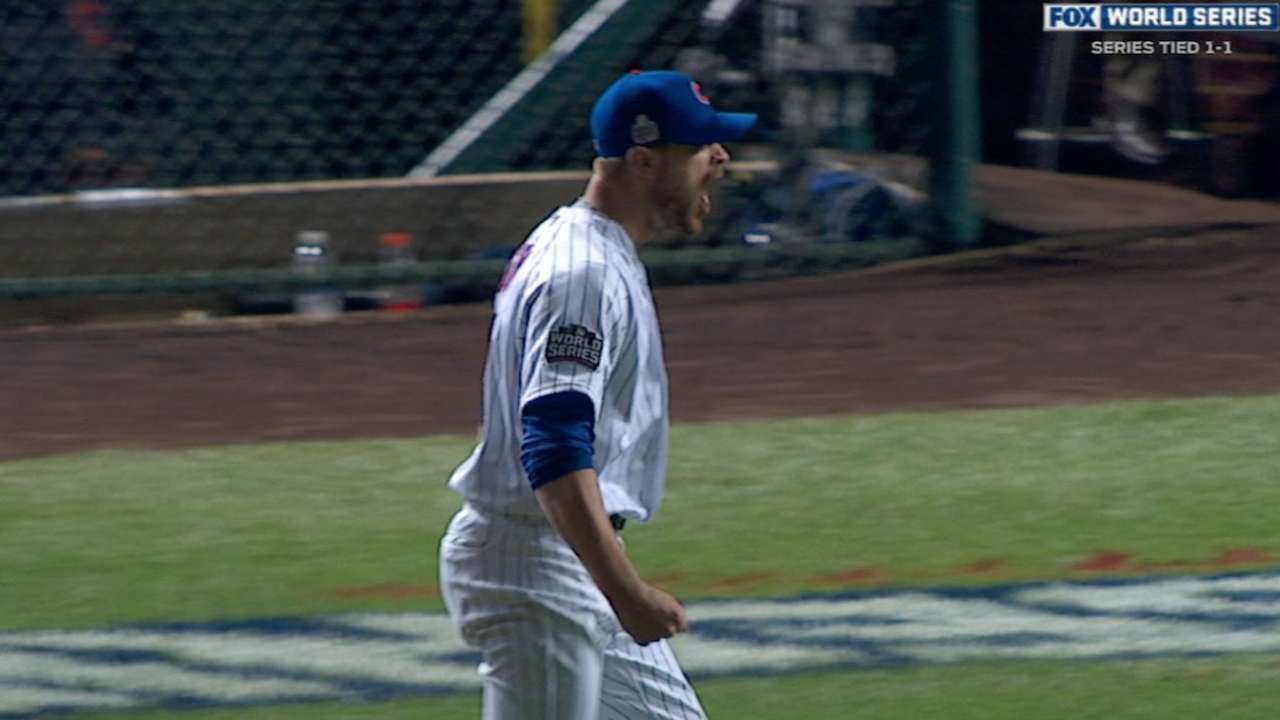 Escape artist: Hendricks dodged some early jams. The Indians had runners at the corners with one out in the first, but he picked off Lindor at first, then struck out Napoli to end the threat. Hendricks got Roberto Perez to ground into an inning-ending double play in the second. In the fourth, Cleveland had runners at first and second when Lonnie Chisenhall hit a grounder down the first-base line. Rizzo grabbed the ball and spun to throw out Jose Ramirez at second. Hendricks then fooled Perez on an 88-mph sinker for a called third strike to end the inning.
"To me, he was trying to be too perfect with the pitches," Cubs catcher Willson Contreras said. "That's why I went out there a few times and told him, 'Don't try to do too much with your pitches. You have enough movement.' He did a nice job."
• Hendricks not sharp, but keeps Cubs in it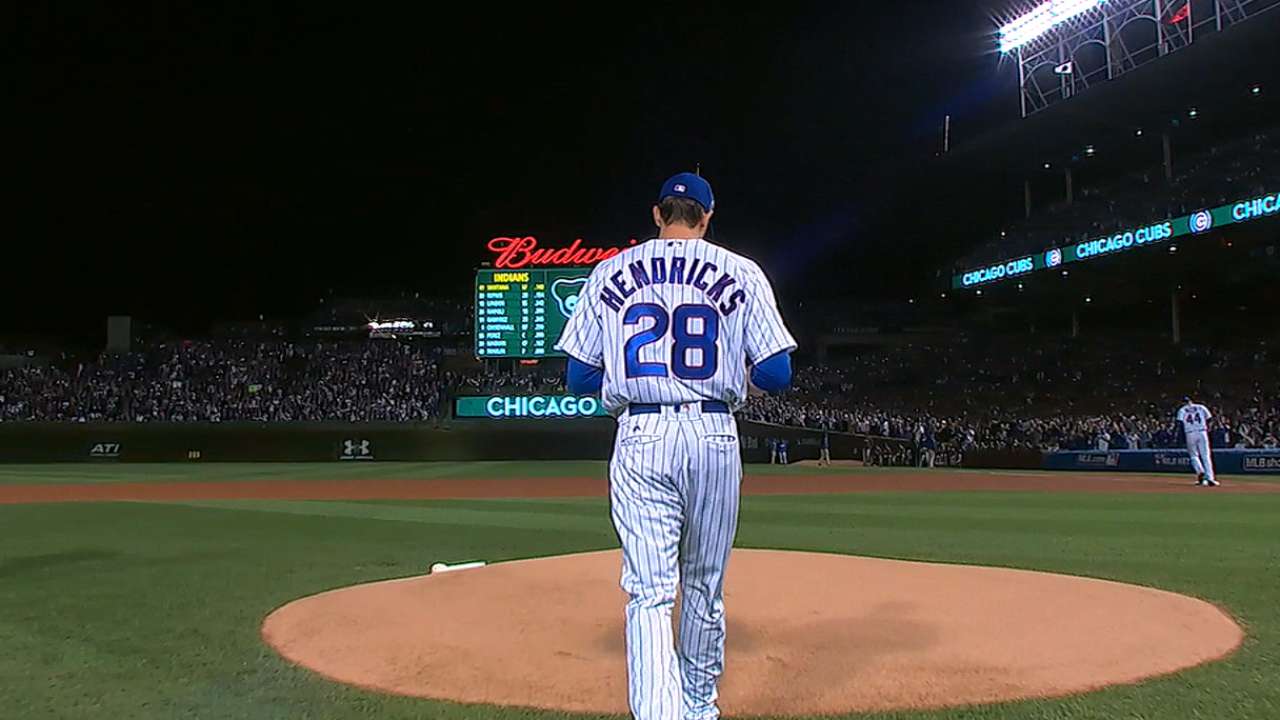 QUOTABLE
"You can't avoid all of the Cubs gear. You can't avoid the billboards, the excitement, the talk of it. Every channel you turn on here is talking about the World Series games, as they should be. This is as good as it gets, and two great teams that haven't had this spotlight in a while. It's special to be a part of. You hope that stuff isn't a distraction, and we've done a good job of that." -- Lindor
"If you win 20-10 or 1-0, it's still a win. It's just about getting that next guy up, and knowing that it takes one guy to do it, and collectively as a team, we're going to do that." -- Rizzo
"When you're facing good pitching, sometimes it happens. We didn't have a lot of opportunities today. Tomlin pitched well, and their bullpen pitched well. We were going to have to beat [Corey] Kluber anyways. We'll get a chance [Saturday]." -- Ben Zobrist, on the Cubs' struggling offense
• Interviews: Francona | Crisp | Allen, Tomlin | Maddon
SOUND SMART WITH YOUR FRIENDS
Miller's three strikeouts gave him 27 this postseason. That puts him one strikeout shy of former Angels righty Francisco Rodriguez's 2002 single-postseason record of 28 for a reliever. Miller's streak of 15 consecutive scoreless innings this October is a postseason record for a reliever.
• Miller sets postseason scoreless relief mark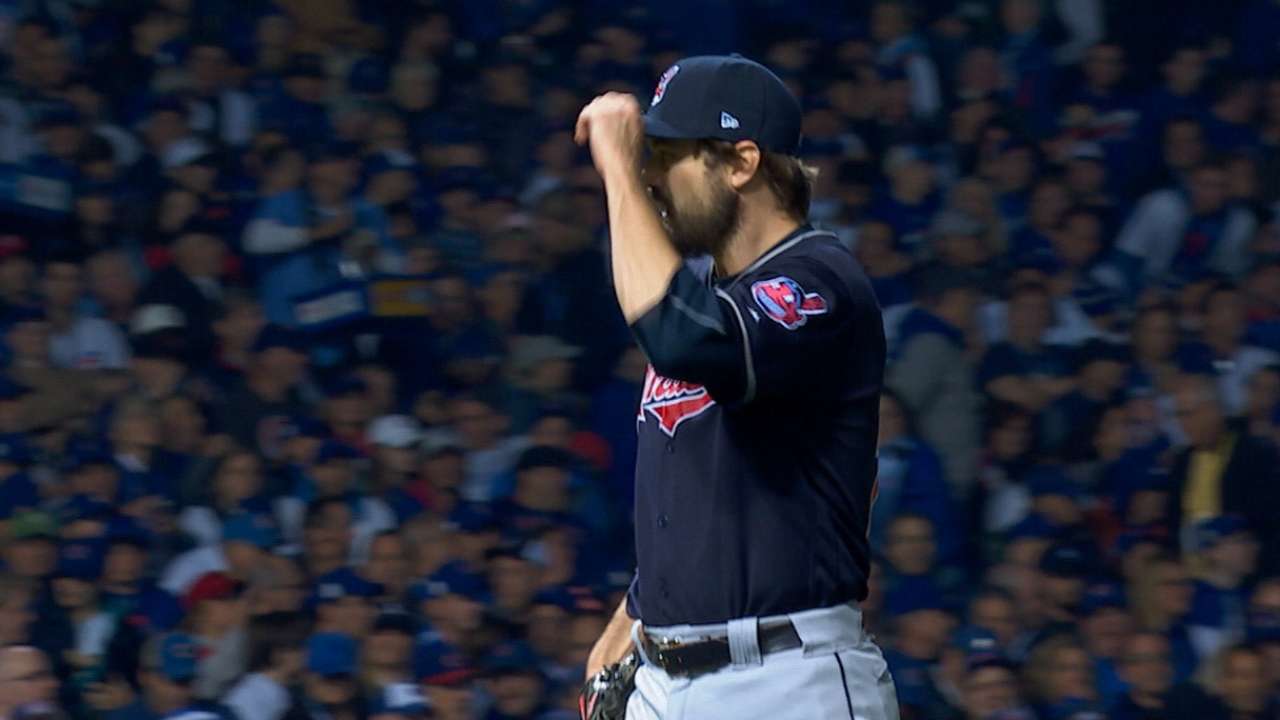 • DYK: Dominant pitching gives Tribe the edge
REPLAY REVIEW
With one out in the first, Kipnis at third and Lindor at first, Hendricks threw to first to try to pick off the speedy Lindor. Lindor dove back to the bag and first-base umpire Marvin Hudson called Lindor safe, but the Cubs challenged the ruling. After viewing all relevant angles, the replay official definitively determined that Rizzo tagged Lindor before his hand reached the bag. Hendricks then struck out Napoli to end the inning.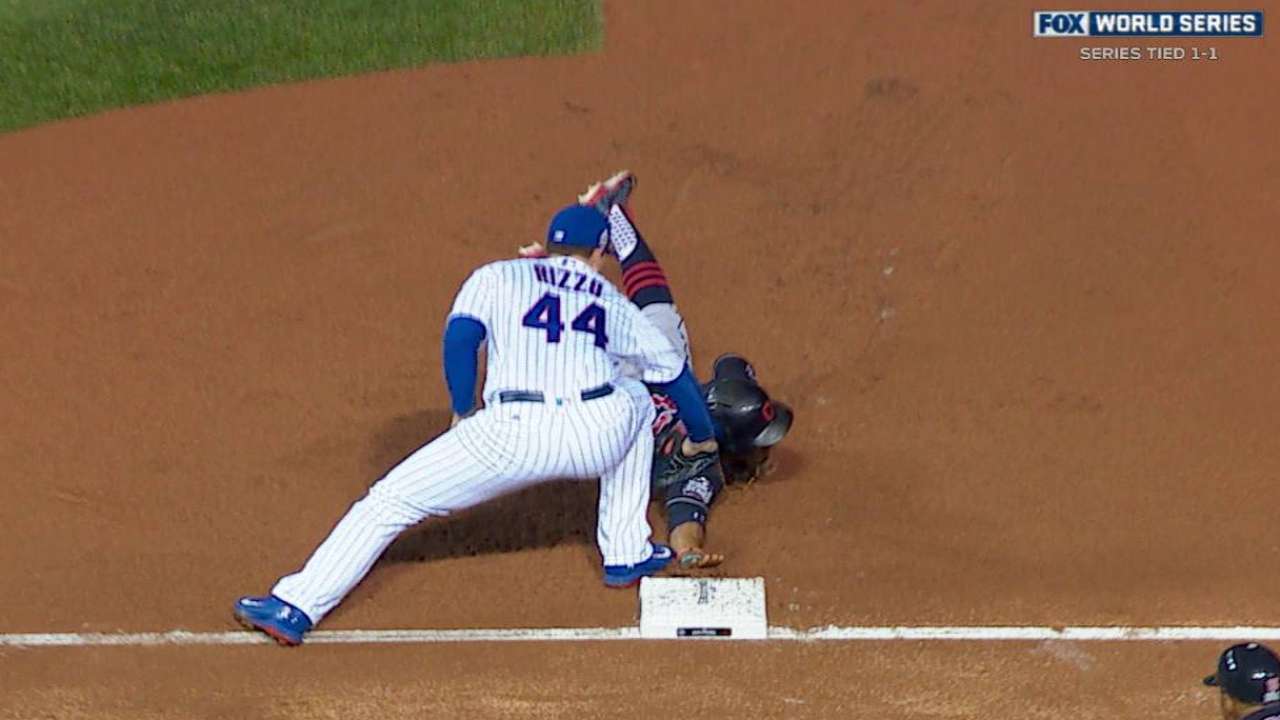 The Cubs also thought they had picked off pinch-runner Martinez at third in the seventh, and they challenged umpire Joe West's safe call. After viewing all relevant angles, the replay official could not definitively determine that Kris Bryant's tag arrived before Martinez reached the bag and the call would stand. Martinez scored moments later.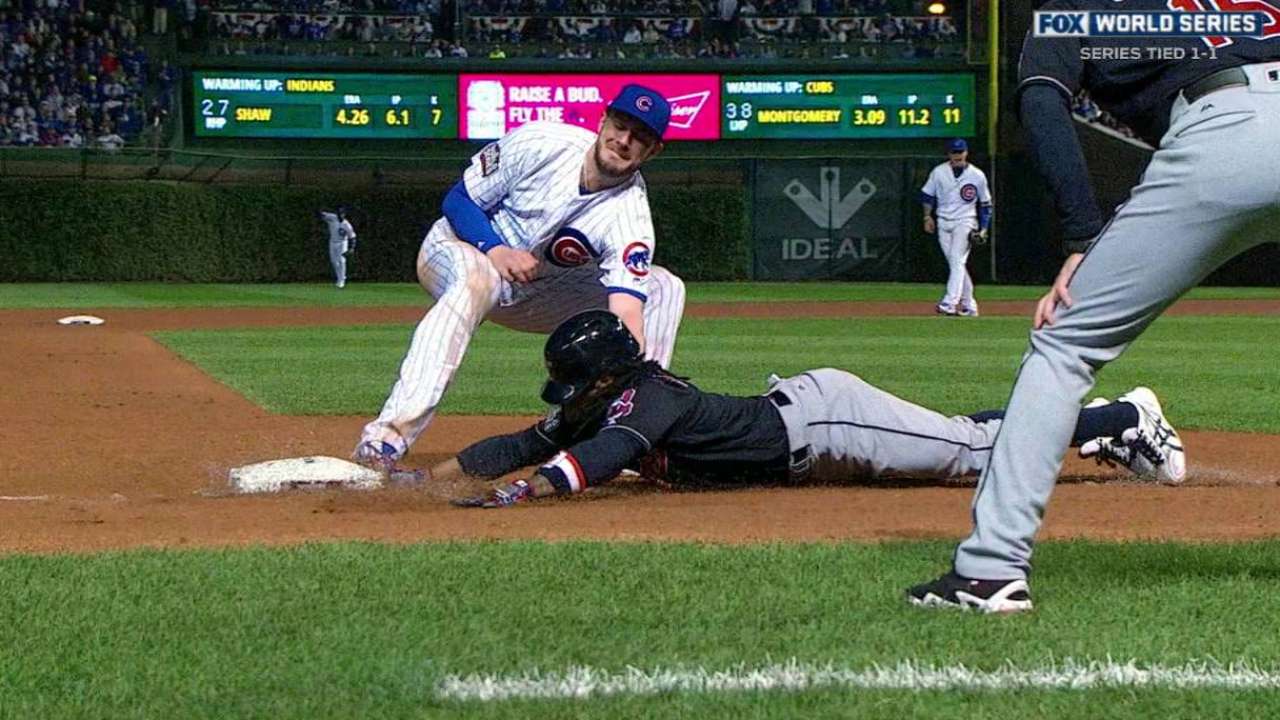 One out later, Kipnis pulled a grounder to the right side of the infield. Rizzo came off first base in pursuit of the ball, which got by him and was gloved by Baez. The second baseman fired it to reliever Mike Montgomery, who stepped on the bag as Kipnis dove in headfirst. Kipnis was ruled out, but the Tribe challenged. After viewing all relevant angles, the replay official could not definitively determine that Kipnis' hand touched first base prior to the ball contacting the interior of Montgomery's glove, so the call would stand, ending the inning.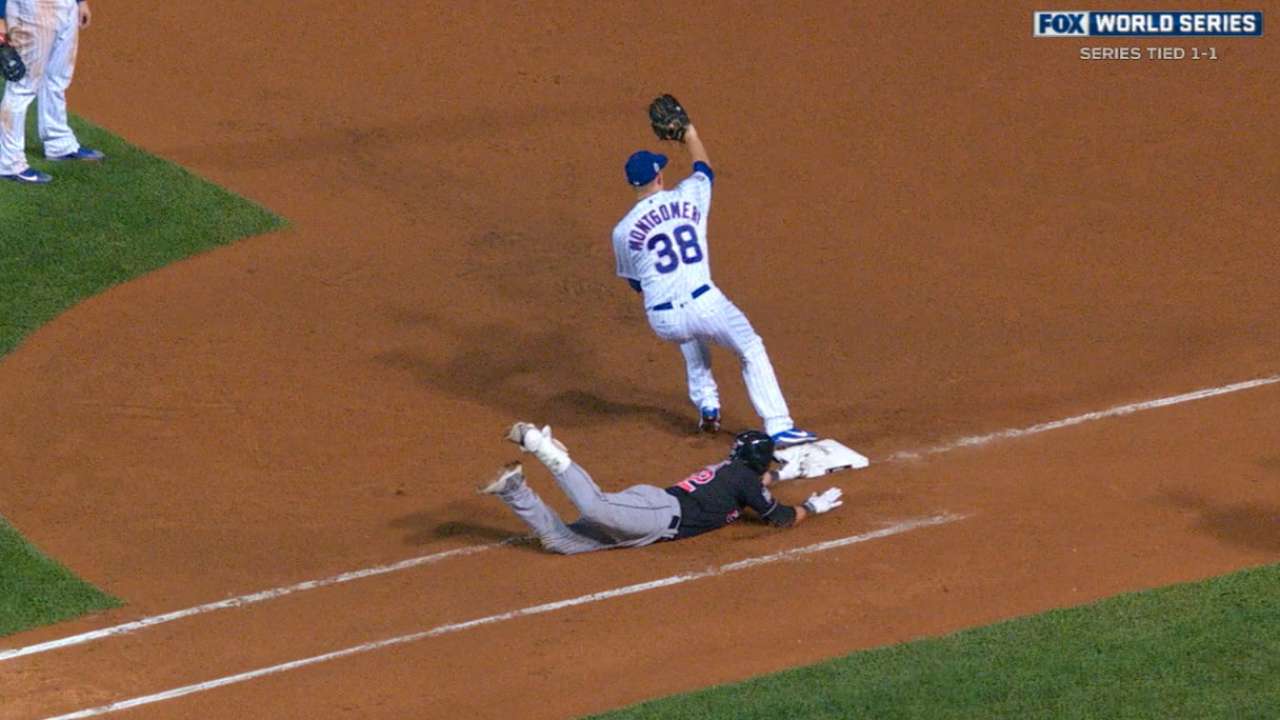 WHAT'S NEXT
Indians: Kluber is set to take the ball for the Tribe in Game 4 at Wrigley Field on Saturday. In the Fall Classic opener in Cleveland, Kluber dazzled the Cubs over six shutout innings, striking out nine and ending with no walks in the win. Kluber, who will be working on three days' rest, has a 0.74 ERA with 29 strikeouts in 24 1/3 innings this postseason.
• Kluber takes sterling resume into Game 4
Cubs: John Lackey will make his fifth career World Series start on Saturday in Game 4. The right-hander, who also appeared in relief twice, has a 2-1 record and a 3.42 ERA in Fall Classic play. So far this postseason, Lackey has pitched four innings in two starts each, giving up five runs. The Cubs have won both games. First pitch is scheduled for 7:08 p.m. CT from Wrigley Field.
Jordan Bastian has covered the Indians for MLB.com since 2011, and previously covered the Blue Jays from 2006-10. Read his blog, Major League Bastian, follow him on Twitter @MLBastian and listen to his podcast.

Carrie Muskat has covered the Cubs since 1987, and for MLB.com since 2001. She writes a blog, Muskat Ramblings. You can follow her on Twitter @CarrieMuskat and listen to her podcast.

This story was not subject to the approval of Major League Baseball or its clubs.