Inbox: Can the Phillies build around Franco?
Beat reporter Todd Zolecki answers questions from fans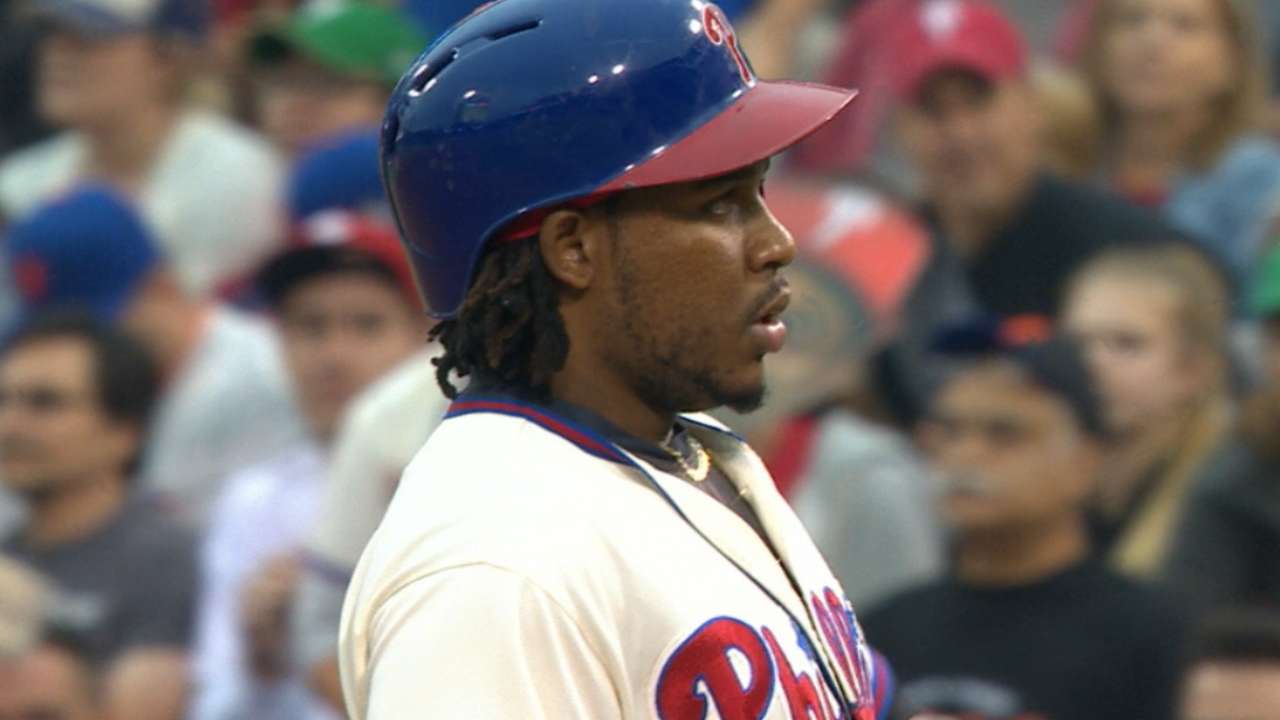 I was very disappointed with Maikel Franco's 2016 season and approach at the plate (always swinging for home runs). I thought he was one of our cornerstones to build around, and now I'm not so sure. Can you convince me Franco is still a piece to build around?
-- Derek S., Lancaster, Pa.
I'm not sure I can convince you, but I can tell you what the Phillies have said. They mention that Franco just turned 24 and this year was his first full season in the big leagues. The Phillies believe Franco will continue to develop as a hitter. That opinion is reasonable, but they certainly need to see more from him in 2017.
After the departure of many expensive veterans and their contracts (Ryan Howard, Carlos Ruiz, etc.), how much money will the Phillies have to spend this offseason?
-- Mike W., Leesburg, Va.
The Phillies will have plenty of money to spend, if they choose, but they are not expected to go crazy in free agency. It seems the Phillies' plan is to fill holes here and there, while being very conscious of the long-term implications of those contracts. That is because the Phillies have their eyes on the future.
Bryce Harper, Manny Machado and other big names could hit the market following the 2018 season. Yes, that is two years away, but at this moment the Phillies want to find out which players currently in their system can actually play. Once they figure out that, they will jump into the deep end of the free-agent market.
• Submit a question to the Phillies Inbox
Of course, that does not mean the Phillies won't pull off a surprise before then. They might. But if I had to bet at this moment, I would say the Phillies' offseason plans include finding a starter to replace Jeremy Hellickson (assuming he rejects the team's qualifying offer), a couple veteran relievers and a veteran hitter or two to help the game's worst offense.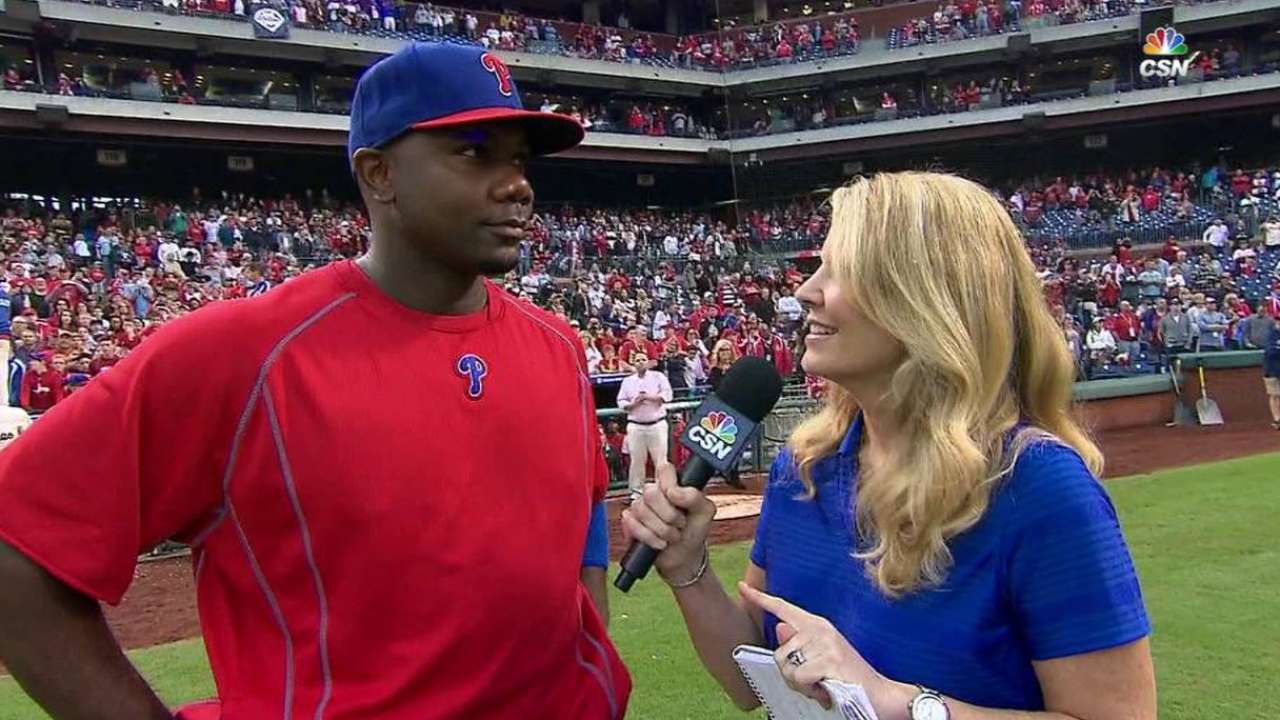 The Phillies need offense. Do you see them buying low on Carlos Gomez or Matt Holliday?
-- Dale M., New Holland, Pa.
Those are two good examples of hitters the Phillies could or should consider this offseason, assuming the Cardinals decline Holliday's $17 million club option. They are veteran hitters with upside that presumably would not require a lucrative, multiyear contract.
What is the projected starting rotation for next season?
-- Jeffrey B., Newtown Square, Pa.
If everybody is healthy, Aaron Nola, Jerad Eickhoff and Vince Velasquez are locks. I expect one veteran starter to take Hellickson's spot. That leaves Zach Eflin, Jake Thompson, Alec Asher, Adam Morgan, Ben Lively and others competing for the fifth spot.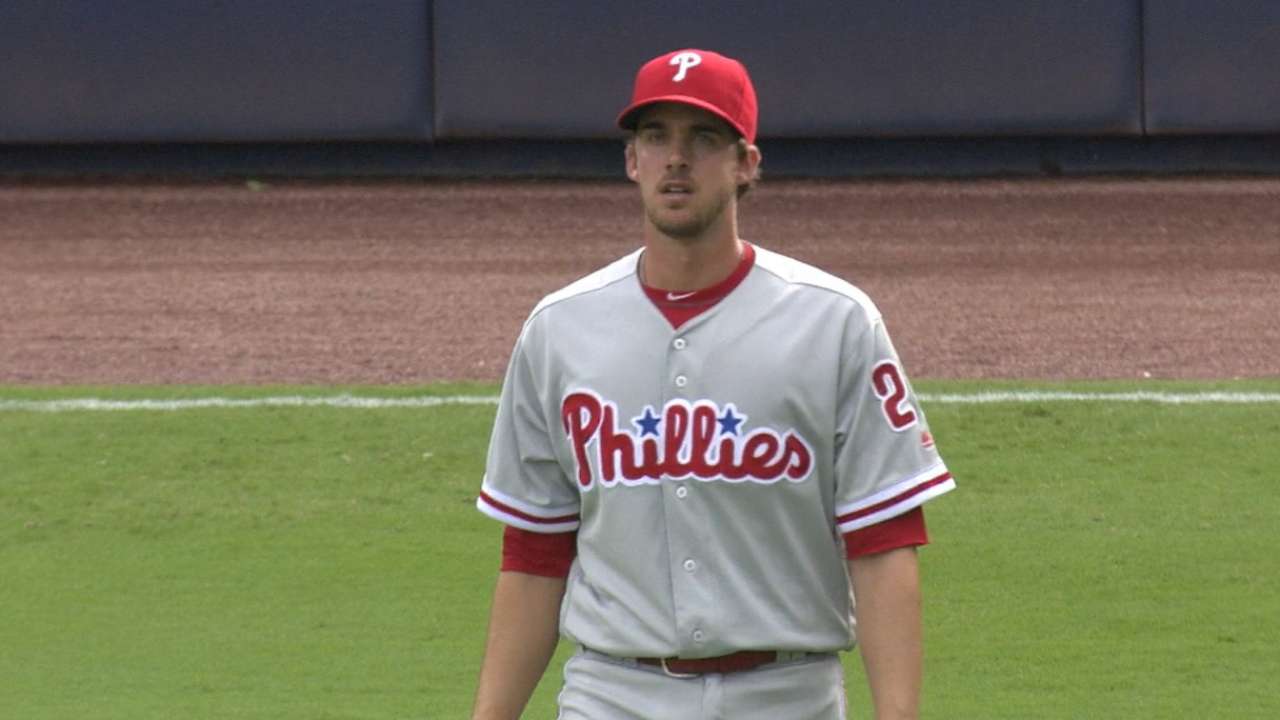 What is Darin Ruf's future with the team?
-- Don H., Manheim, Pa.
The organization frequently mentioned last offseason and during Spring Training that Ruf and Nelson Cruz were the two best hitters in baseball against left-handed pitching in 2015. But after a poor six weeks to open the season, the Phillies optioned Ruf to Triple-A, never to be heard from until they recalled him in September. And once he rejoined the Phillies in September he barely played. Ruf has received some interest from Japan, which might be an option for him. It seems as if the Phillies do not consider Ruf anything more than insurance, if something should happen to Tommy Joseph at first base or a left fielder suffers an injury. But I wouldn't be surprised if he is elsewhere next spring.
Todd Zolecki has covered the Phillies since 2003, and for MLB.com since 2009. Follow him on Twitter and listen to his podcast. This story was not subject to the approval of Major League Baseball or its clubs.