Indians' Crisp > Cubs with RISP explains all
Pinch-hit RBI single plates pinch-runner Martinez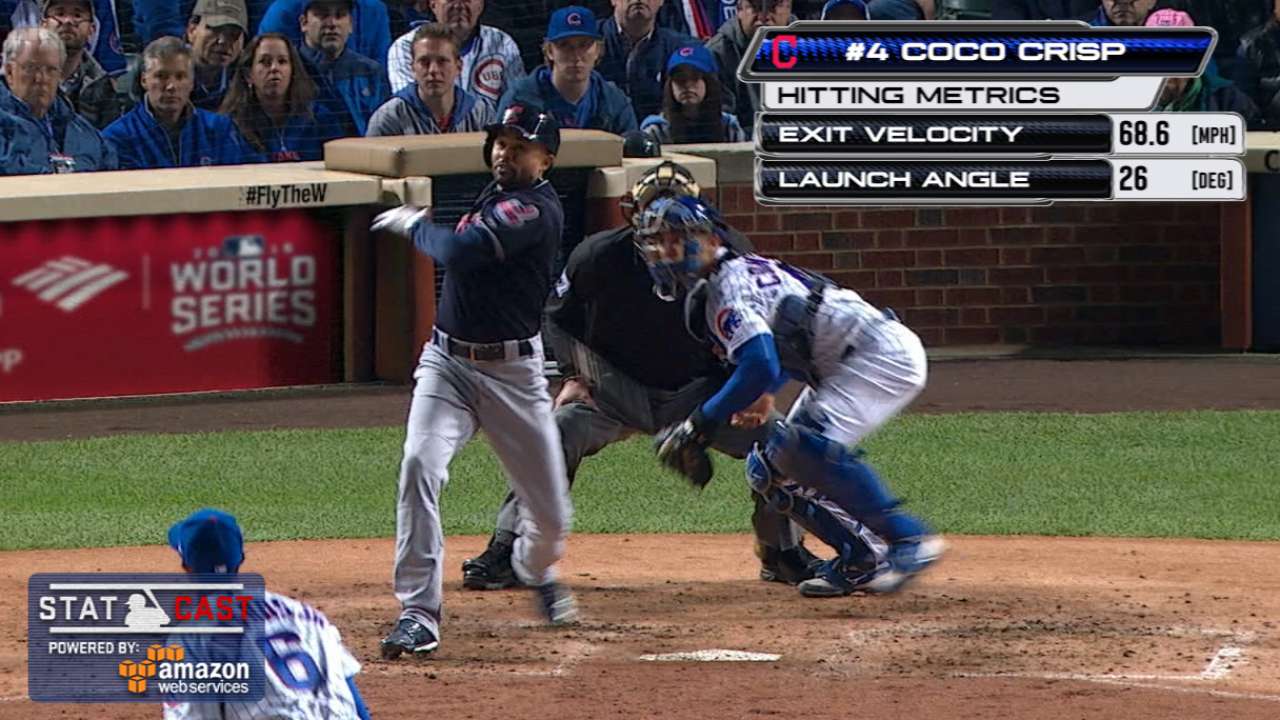 CHICAGO -- Everyone inside the cramped visitors' dugout at Wrigley Field was ready. They knew they had to be available at a moment's notice. Some kept a bat in their hands. Others had their gloves nearby. They all understood that Indians manager Terry Francona was going to lean on everyone.
In the seventh inning on Friday night, Coco Crisp heard his name called, donned a helmet, grabbed his bat and headed to the plate. The veteran outfielder then delivered a pinch-hit, broken-bat single that proved the difference in a 1-0 victory over the Cubs in Game 3 of the World Series. Crisp was the hero, but it was Francona's maneuvering that made the moment possible.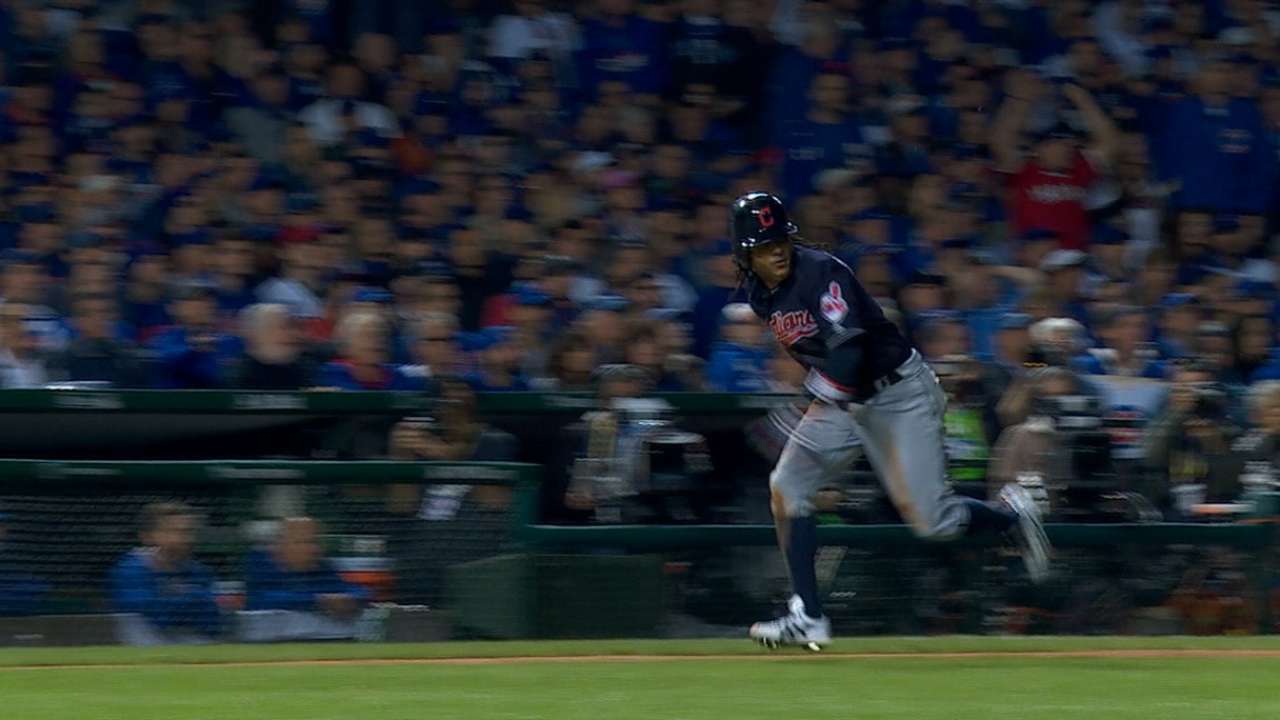 Game 4: Tonight, 7:30 p.m. ET air time | 8 ET game time on FOX
"There's no better manager in baseball than him," Indians pitching coach Mickey Callaway said. "I mean, he's unbelievable. He thinks of everything at every moment."
So many things had to happen in order for Crisp to find himself in the game's decisive situation.
• Shop for Indians World Series and AL champs gear
When the night was over, and Cleveland left Wrigleyville with a 2-1 lead in the best-of-seven Fall Classic, Francona had squeezed every ounce out of his roster. The manager used 17 of his 25 players. There were three left fielders and three center fielders. Francona used both of his catchers and had two players appear at third base. Had the game gone into extra innings, ace Corey Kluber may have needed to bat.
The chain reaction that led to Crisp's pinch-hit heroics actually began with Carlos Santana finding himself in the starting lineup as the left fielder. With no designated hitter available under National League rules, Santana -- a first baseman and DH by trade -- was given a shot at manning left. After starter Josh Tomlin gave the Tribe 4 2/3 innings, Francona opted for a double-switch, ending Santana's part in Friday's festivities.
"Tito, he thinks about and worries about winning the game," Santana said of Francona. "I know we're playing in the National League. We were switching so much. He was talking with the players. He said, 'Be ready.'"
As part of the double switch, relief ace Andrew Miller took over on the mound for Cleveland with a runner on second and two outs in the fifth. Given that the heart of the Tribe's lineup was due up in the top of the sixth, Francona replaced Santana in left with Rajai Davis, who assumed the ninth spot in the batting order. Miller entered the lineup as the new leadoff man.
Francona has been aggressive with using Miller this postseason, and Friday was no different. Even with Tomlin at only 58 pitches, and working brilliantly against Chicago's potent lineup, the manager wanted to keep the Cubs at bay. Miller gave the Indians the best chance of doing that, and considering the tight nature of the game, Davis improved the defense behind the pitcher.
"It was perfect," Callaway said. "I thought we had to do it."
Miller then did what he has done throughout October. The 6-foot-7 leverage weapon escaped the fifth and struck out the side in the sixth. With that performance, Miller now has 27 strikeouts in these playoffs, putting him two away from a single-postseason record for a reliever. The lefty's 15 scoreless innings this postseason are a record for a reliever in one year.
What Cleveland did not count on was Miller potentially having to bat.
In the seventh inning, Indians catcher Roberto Perez led off with a single against Cubs rookie Carl Edwards Jr., and was then replaced at first by pinch-runner Michael Martinez. Tyler Naquin moved Martinez to second with a sacrifice bunt. That brought Davis -- Santana's defensive replacement -- to the plate and moved Miller to the on-deck circle.
Davis heard Miller chirping behind him.
"He was giving me like a, 'Go get 'em, Raj,'" Davis said with a laugh. "I could see him over there winking at me like, 'You better get it done, because I'm not going to.'"
How'd Miller look with a bat in his hands?
"Uncomfortable," said outfielder Lonnie Chisenhall.
"The bat looks pretty small in his hands," second baseman Jason Kipnis quipped.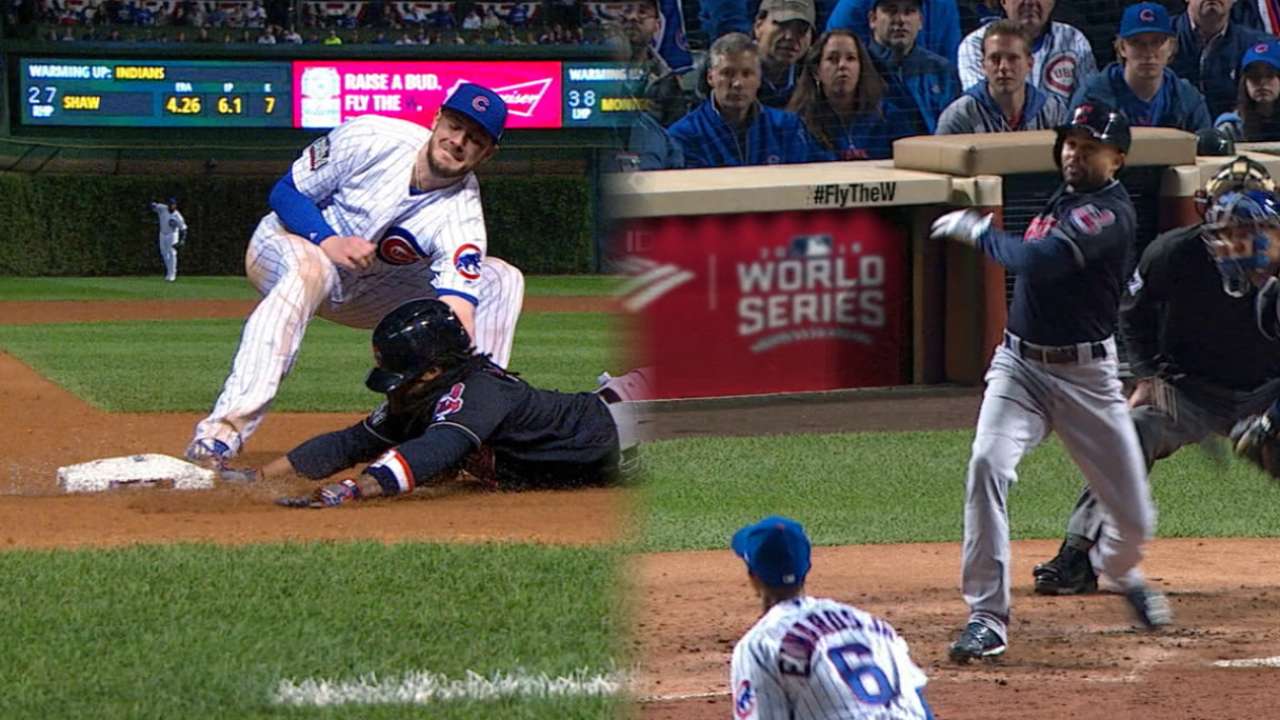 Miller never made it to the plate. A wild pitch moved Martinez to third base and Davis followed with a walk. On the fourth ball, Cubs catcher Willson Contreras snapped a throw to third, trying to catch Martinez by surprise, but the runner dove back into the bag just in time. Third-base umpire Joe West called Martinez safe and a replay review could not definitively determine if third baseman Kris Bryant's tag arrived before Martinez's fingertips touched the base.
At that moment, Crisp was called off the bench to hit for Miller.
The veteran outfielder entered the evening with a 3-for-18 showing in the postseason, but two of those hits were home runs. One came in the clinching win over the Red Sox in the American League Division Series, and the other came in the clincher against the Blue Jays in the AL Championship Series. Now, Crisp has another hit -- a soft liner into shallow right that scored Martinez -- that Indians fans will remember for years to come.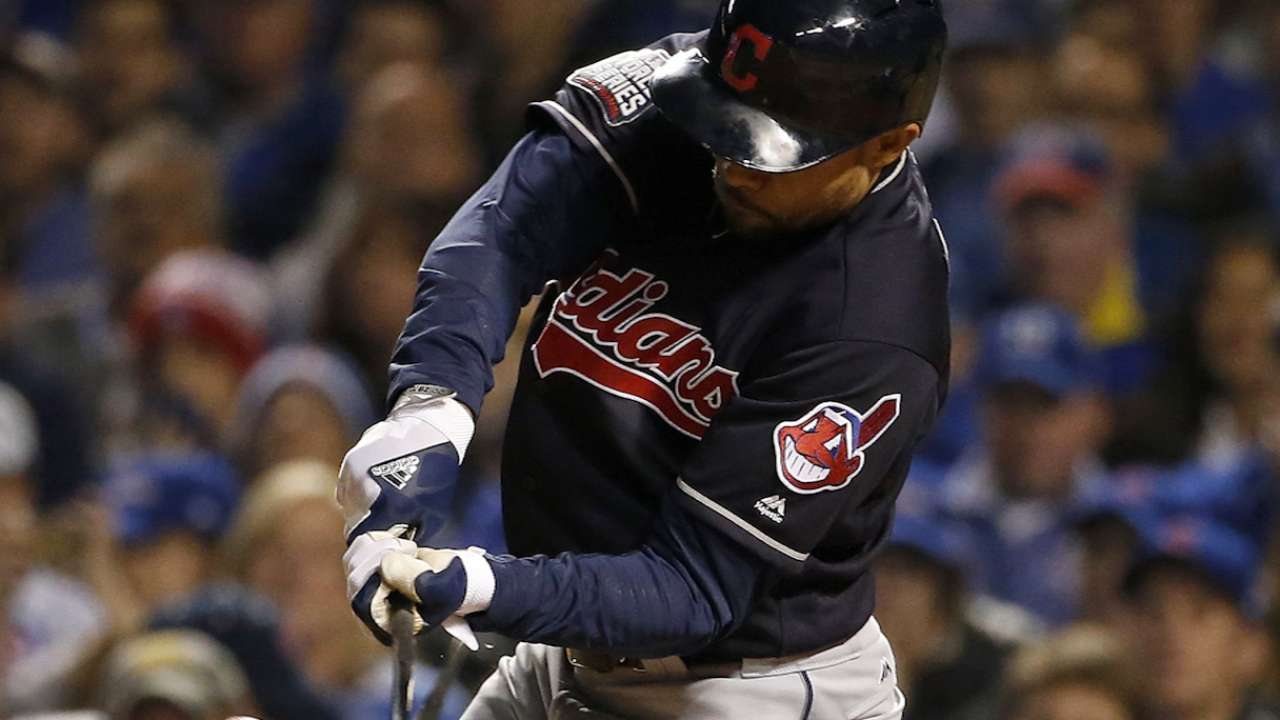 The Indians and Cubs combined for only one hit in 12 at-bats with runners in scoring position. Crisp provided the one that mattered.
"It obviously feels good," Crisp said. "No matter if you get the big hit or lay the bunt down, you want to do something that can possibly help the team. Fortunately enough for me today, it was the hit. But whatever I can do -- defense, maybe a conversation -- I just try to help out in any way possible."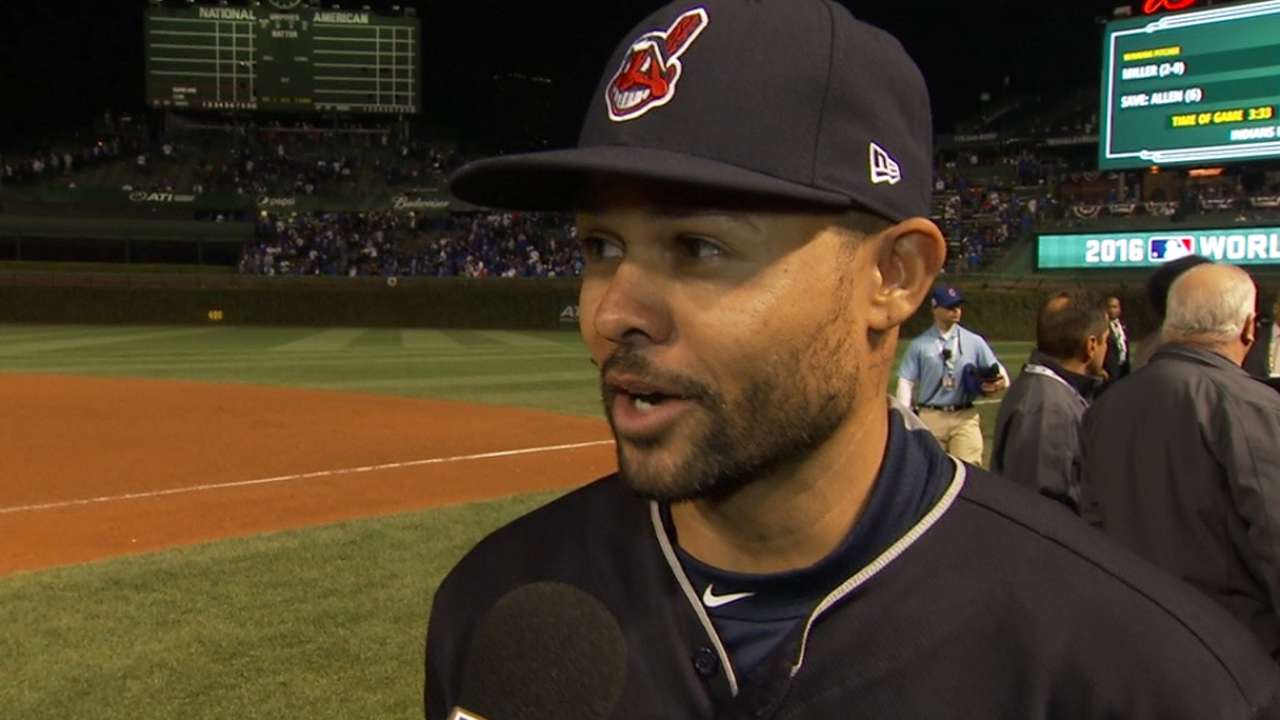 And Francona pulled every lever possible.
"He's been doing it all postseason," Kipnis said. "He's been pulling the right strings, pushing the right buttons. Sometimes, you might not understand moves, but at this point, you definitely don't question them, because you know he's got a plan."
Jordan Bastian has covered the Indians for MLB.com since 2011, and previously covered the Blue Jays from 2006-10. Read his blog, Major League Bastian, follow him on Twitter @MLBastian and listen to his podcast. This story was not subject to the approval of Major League Baseball or its clubs.