After World Series Game 3: IRL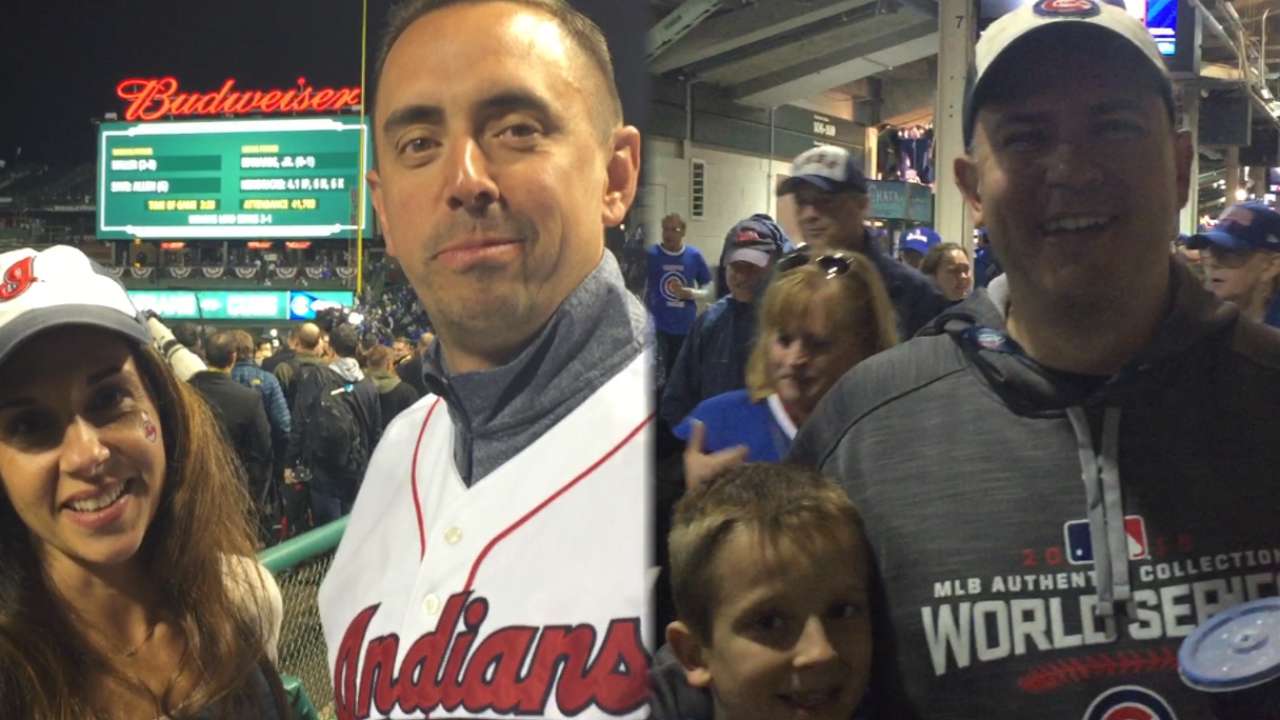 The confines of Wrigley Field proved mighty friendly to the Indians' pitching staff, which shut down the Cubs for a 1-0 victory on Friday in Game 3 of the 112th World Series.
The Tribe overcame the fervor of the first Fall Classic game at Wrigley Field since Oct. 10, 1945, to take a 2-1 lead in the Series. Cleveland sends out ace Corey Kluber for Game 4 tonight, and the Cubs will counter with postseason veteran John Lackey.
• Game 4: Tonight, 7:30 p.m. ET air time | 8 ET game time on FOX
We're on the scene from Wrigley Field:
• World Series gear: Cubs | Indians
12:05 a.m. ET: Worth the trip
Christian Schiller, an investment banker and managing director of Cascadia Capital in Seattle, was in Chicago on Friday to see history being made along with longtime buddy Scott Gilbertson. They sat in Section 206, Row 6, Seats 3 and 4.
"It was epic. Win or lose, we love our Cubbies," Schiller said on his way out, his demeanor similar to so many Cubs fans who left with a loss but a feeling of accomplishment for being here. "Great, tight game, in from Seattle, it was awesome."
"Electric crowd. Everybody was so happy to be here, it was amazing to be here," Gilbertson said. "We're going to win the Series. Catch up here in Chicago and win in Cleveland."
11:45 p.m. ET: For better, for worse
Henry and Marcia Rabinowitz stayed in their seats two rows from the Cubs' bullpen, not really wanting to leave. Then they stood up, and their jerseys told their life story. Side-by-side, they formed the message, "TOGETHER SINCE 1963." He grew up in the Bronx around the Yankees but moved to Chicago 53 years ago, and they married and were all Cubs the rest of the way.
"It was great to be here, but it was very depressing," Henry said. "To lose by one run is painful, painful. But you've gotta believe. We're going to win tomorrow, and then the next night. Coming back. We are going to win this World Series."
They completed each other's sentences, just like in "When Harry Met Sally." Henry: "What highlights? No, it's very historic and I'm keeping my fingers crossed." Marcia: "Just being here was a highlight."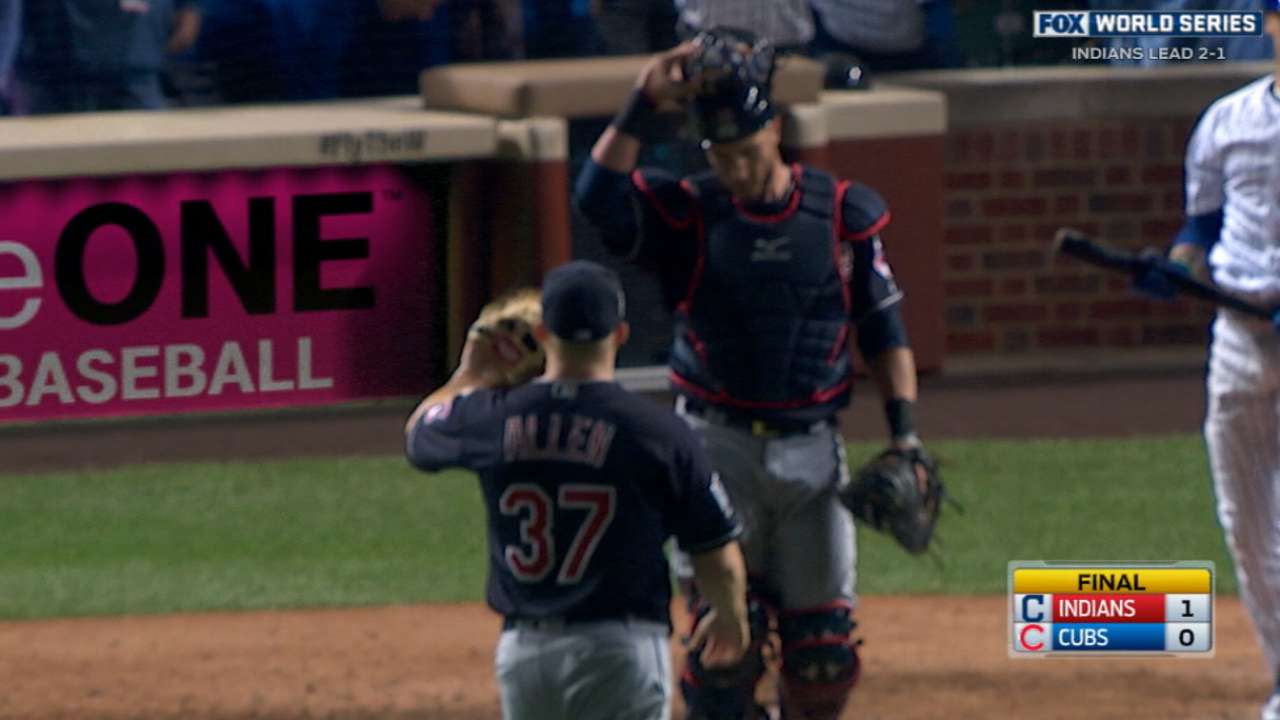 11:41 p.m. ET: Allen locks up Game 3 for Tribe
With runners at second and third in the bottom of the ninth, Indians closer Cody Allen whiffed Javier Baez for the final out of the game, securing his fifth postseason save. The Tribe also became the first team in MLB history to post five shutouts in a postseason.
.@Indians are the first team in @MLB history to post FIVE shutouts in a single #postseason. pic.twitter.com/VNxglj4jME

- MLB Stat of the Day (@MLBStatoftheDay) October 29, 2016
10:47 p.m. ET: Indians end scoreless duel
With runners on the corners and one out in the seventh inning against Cubs right-hander Carl Edwards Jr., pinch-hitter Coco Crisp delivered a single to right field to give the Tribe a 1-0 lead. Crisp was batting for relief ace Andrew Miller, whose 15 scoreless innings are the most by a reliever in a single postseason -- passing Goose Gossage (14 1/3 IP, 1981).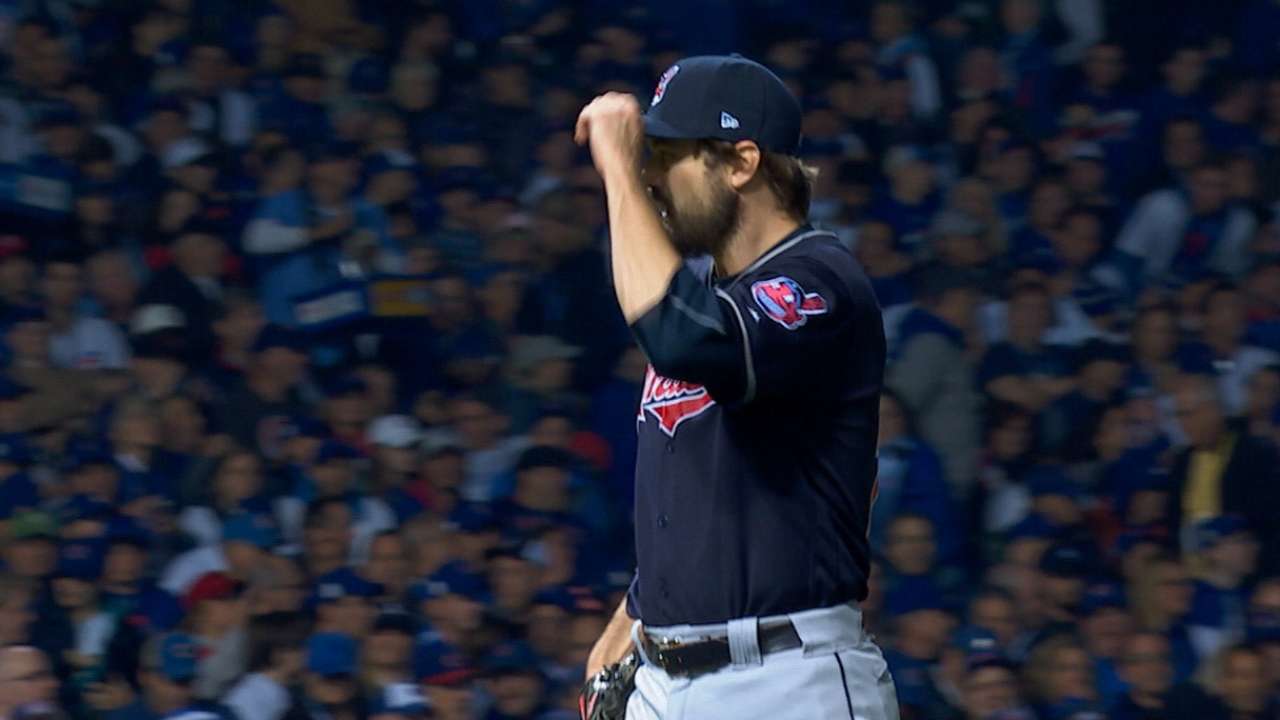 9:55 p.m. ET: Cleveland's house party
Back at the site of Games 1 and 2, Indians fans packed into Progressive Field for a watch party.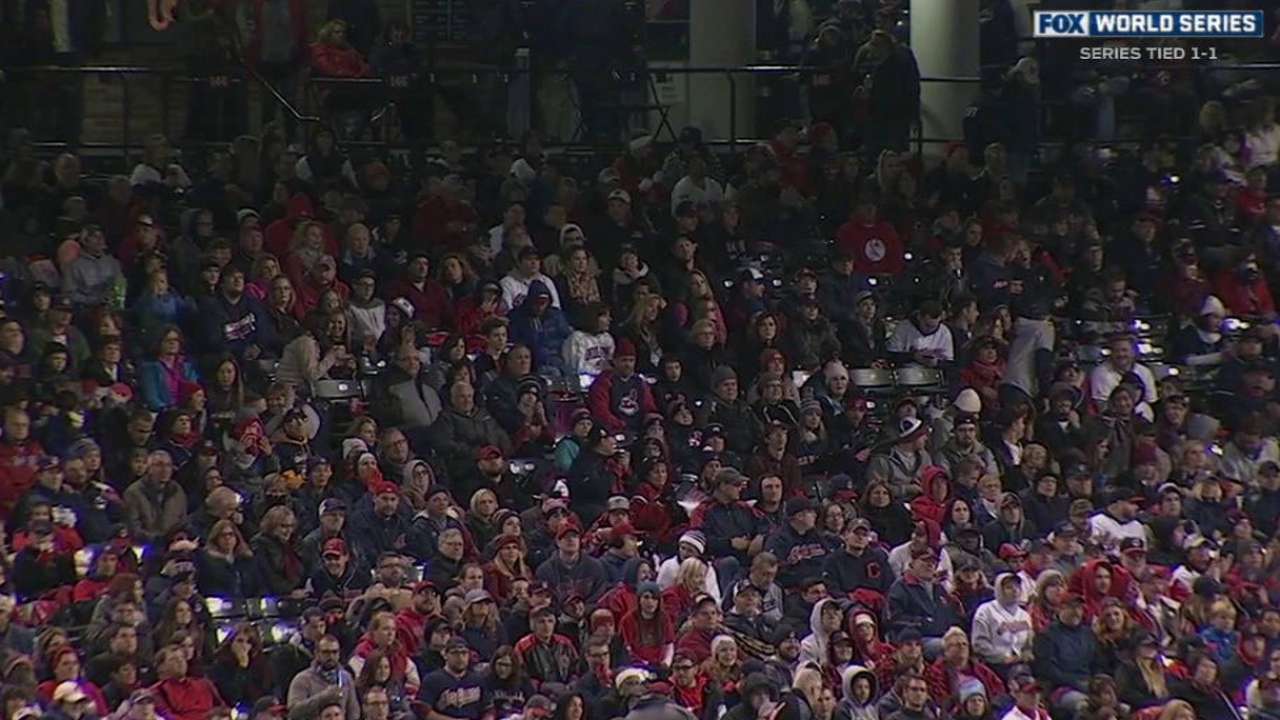 8:19 p.m. ET: Baby on board for the ride
Seven-month-old Jordana was in attendance both in Cleveland and here at Wrigley with her father, Mitch Oppenheim. The wait wasn't very long for her!