Miller sets postseason scoreless relief mark
Indians lefty's 15-frame streak surpasses Gossage, Rivera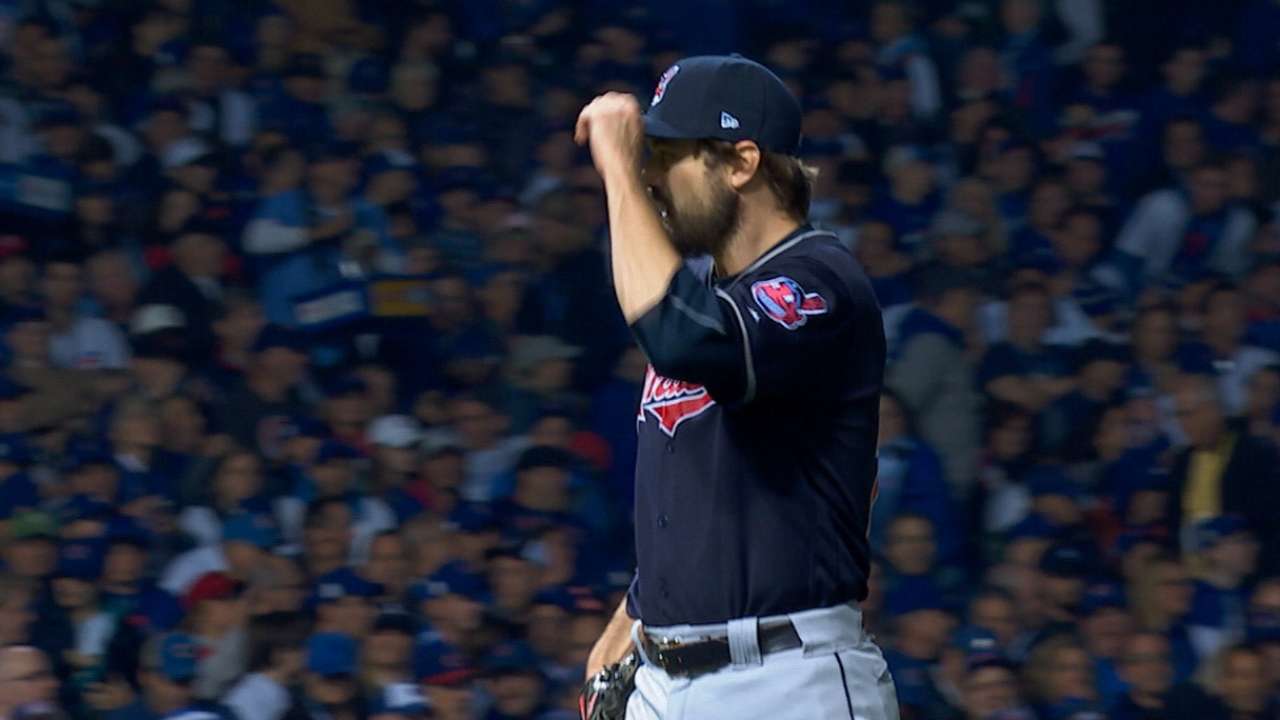 CHICAGO -- The legend of Andrew Miller, Cleveland's reliever extraordinaire, has been well documented this postseason. Now those findings will be etched in the record books as well.
The left-handed Miller made history on an already historic Friday evening at Wrigley Field, setting a record among relievers with 15 scoreless innings in a single postseason. More importantly, his work in Cleveland's 1-0 victory over the Cubs in Game 3 helped the Indians move closer to baseball's Promised Land. They hold a 2-1 lead in the Fall Classic.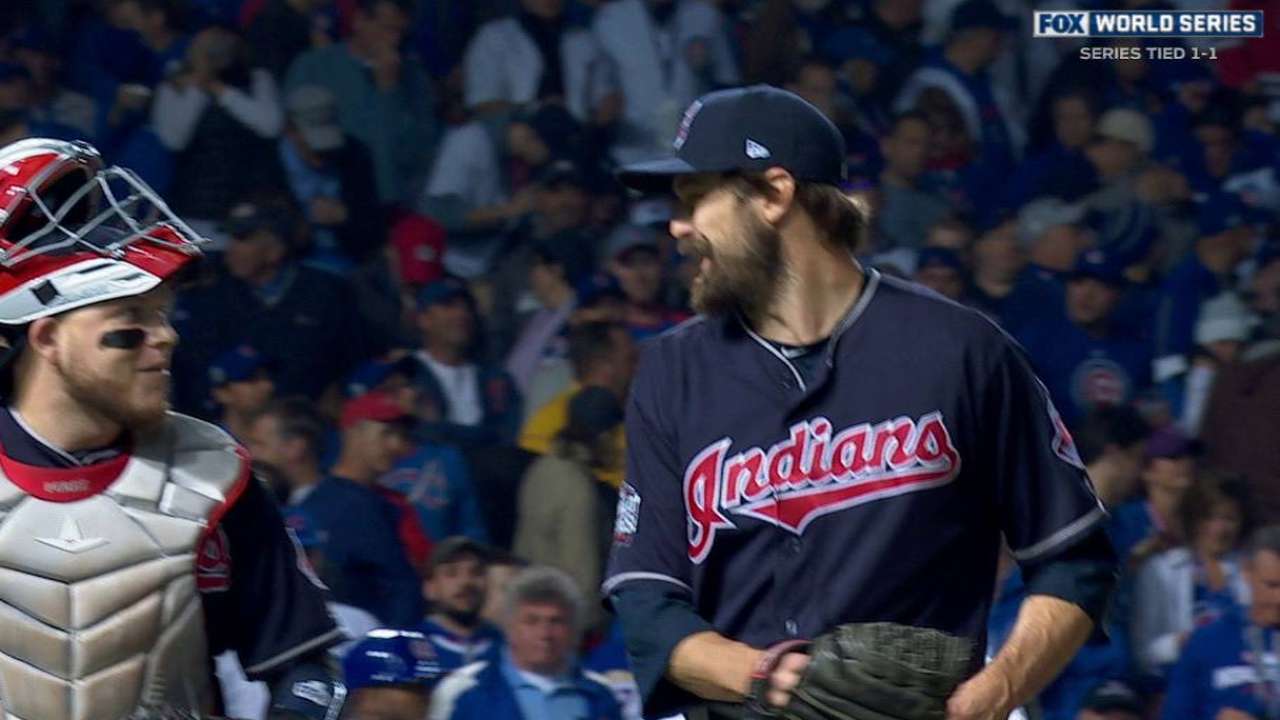 • Game 4: Tonight, 7:30 p.m. ET air time | 8 ET game time on FOX
"This is as good as it gets," Miller said, "and these are two great teams that haven't really had the spotlight in a while. It's special to be a part of."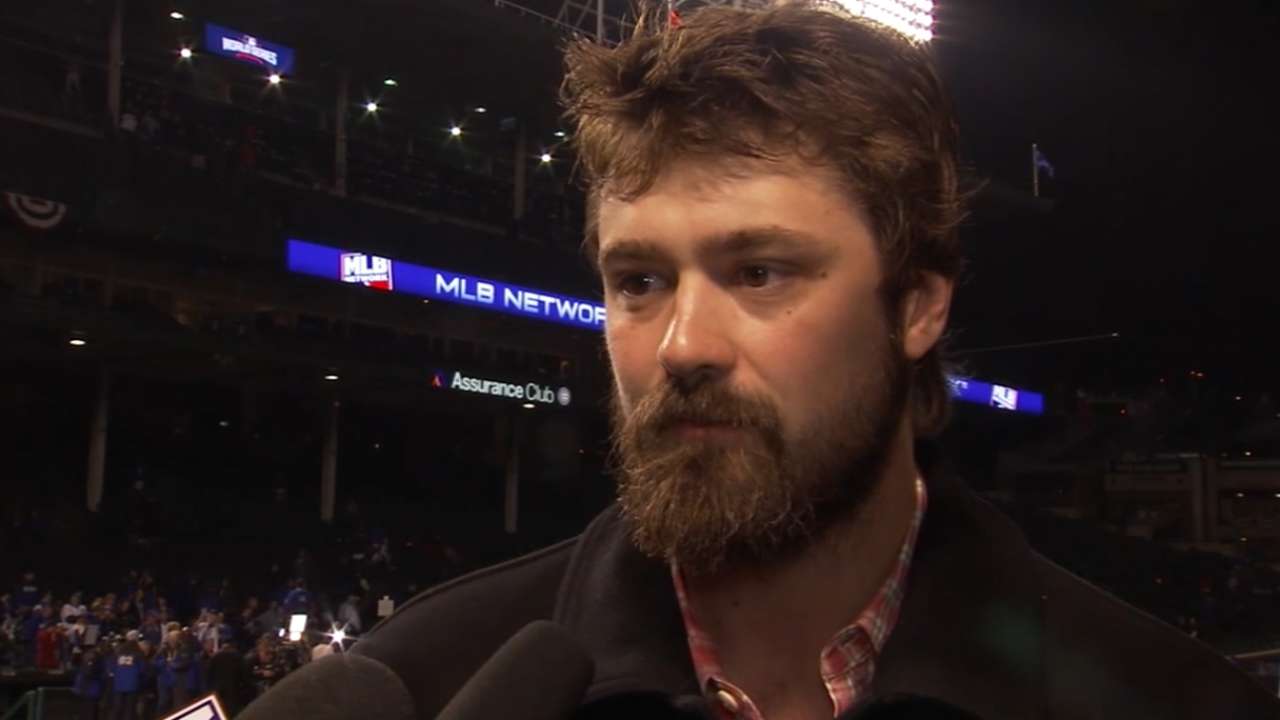 That Miller was at the epicenter of another Indians win, this one a superb, suspenseful showdown in the first World Series game hosted by Wrigley Field since 1945, was hardly surprising. His contributions this October, nothing short of phenomenal, cannot be overstated. Consider Miller's strikeout total alone: 27 in these playoffs, second most in a single postseason by a reliever only to Francisco Rodriguez's 28 with Anaheim in 2002 -- a mark he'll likely shatter.
• Shop for Indians World Series and AL champs gear
Such a delight it is to watch Miller work that it was arguably disappointing to see baseball's best reliever deprived of an at-bat in the seventh inning -- it would have been his first since 2011 -- and robbed of another inning to mark with a zero. There was still entertainment to be found in the possibility, though, as a bat belonging to ex-Indian Tommy Hunter dwarfed in the 6-foot-7 Miller's hands while he squirmed in the on-deck circle.
"Man, he looked real tall, and scared out there," Rajai Davis said of Miller. "But he was giving me like a, 'Go get 'em, Raj.' I could see him over there winking at me like, 'You better get it done, because I'm not going to.'"
With one out, Davis drew a walk against Carl Edwards Jr. to put runners at the corners, presenting one of a bevy of decisions forced on Indians manager Terry Francona in the confines of a National League ballpark.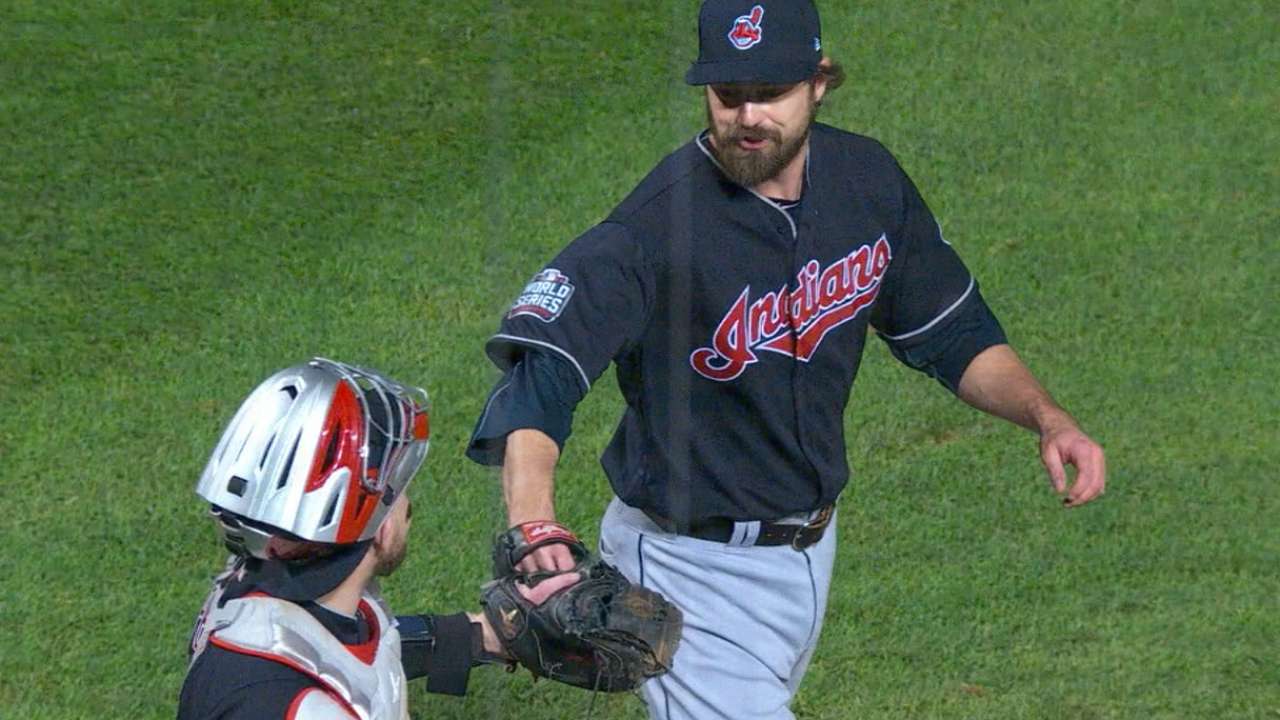 Francona opted to hit for Miller, and the resulting outcome proved twofold: Miller's replacement, Coco Crisp, drove in the game's lone run; and Miller, the ultimate bullpen toy who will predictably be called upon almost every night at Wrigley this weekend, was kept to just 17 pitches.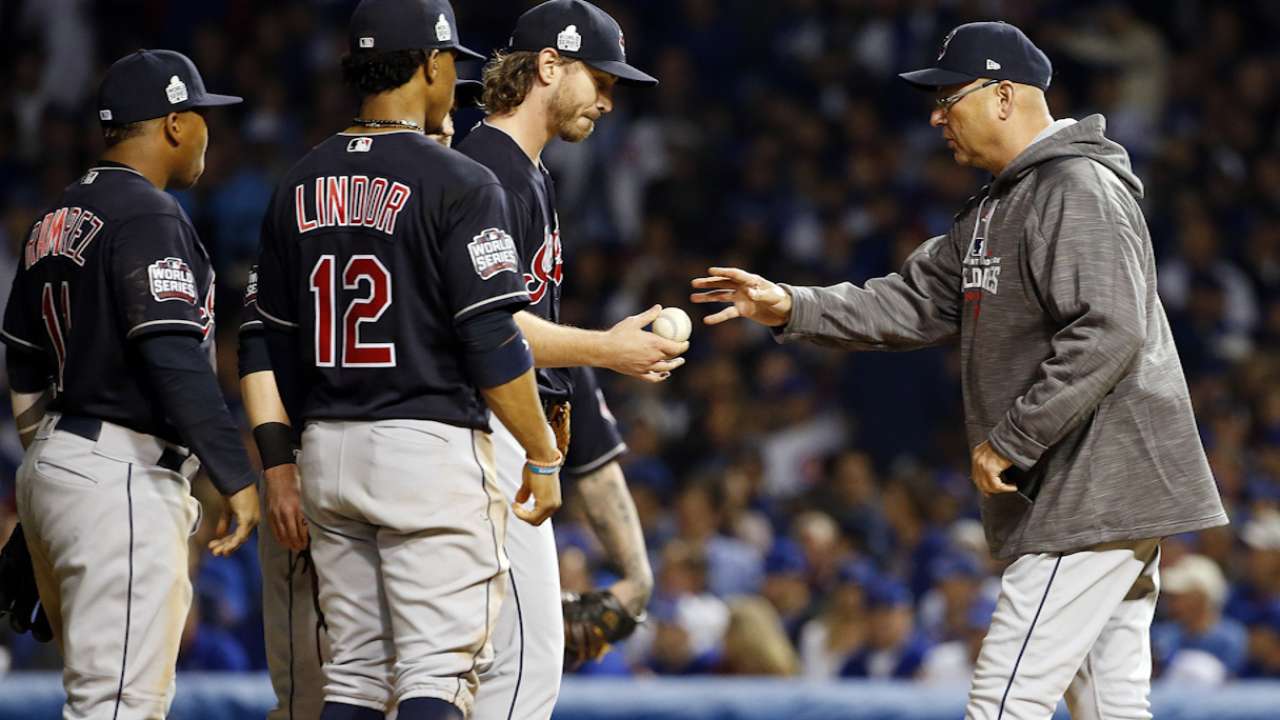 "It's tough," Indians pitching coach Mickey Callaway said. "Obviously, the situation called for it. We had to score a run right there. For Miller to hold them and us not score, it wouldn't have done us any good. Tito's going to pull the right strings and make the right moves, and that was absolutely the right way to go there."
"I was OK with where we were there," Francona maintained. "That was plenty for tonight."
Francona has deployed Miller to maximum effectiveness, and on this night, that meant bringing him in with two outs in the fifth inning, following a gritty 58-pitch performance from starter Josh Tomlin.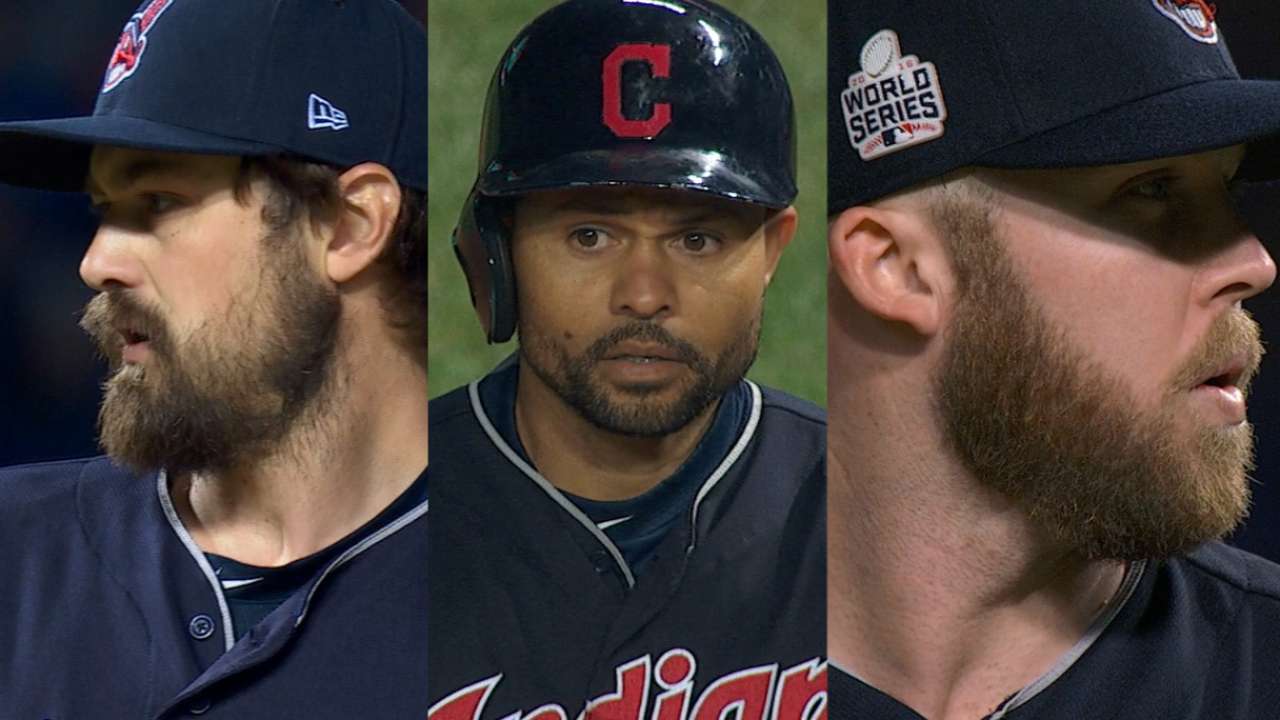 Miller entered with 13 2/3 scoreless innings to his name, and he quickly extended it to a round number by getting pinch-hitter Miguel Montero to line out sharply to right field. He struck out the side in the sixth, victimizing the Cubs with an unfair slider that brought about more futile swings. Along the way, Miller surpassed Rich Gossage (14 1/3 scoreless innings in 1981) and Mariano Rivera (14 each in 2003 and '09) in the record books.
Miller, the MVP of the American League Championship Series, has not allowed a run since Sept. 7.
Had this game been staged on AL grounds, Miller would have surely returned for one more inning, but now he seemingly has an extra one in his pocket come Saturday, when the Indians will start Corey Kluber on short rest. Trevor Bauer will also go on three days' rest in Game 5 on Sunday, magnifying the significance of Miller's availability -- no matter the inning.
"To me, it's the playoffs, so you do whatever it takes, and you have a little extra flexibility because everything is on the line and you're not worrying about tomorrow so much as you are today," Miller said. "You're not worried about next week. A lot of times in the regular season, you're trying to sort things out because there's a much bigger picture. Here it is, we have five games left, so you do whatever it takes to try to win today."
Jane Lee has been a reporter for MLB.com since 2010. This story was not subject to the approval of Major League Baseball or its clubs.