Story eagerly awaits next chapter
Rockies shortstop looks to bounce back and continue to improve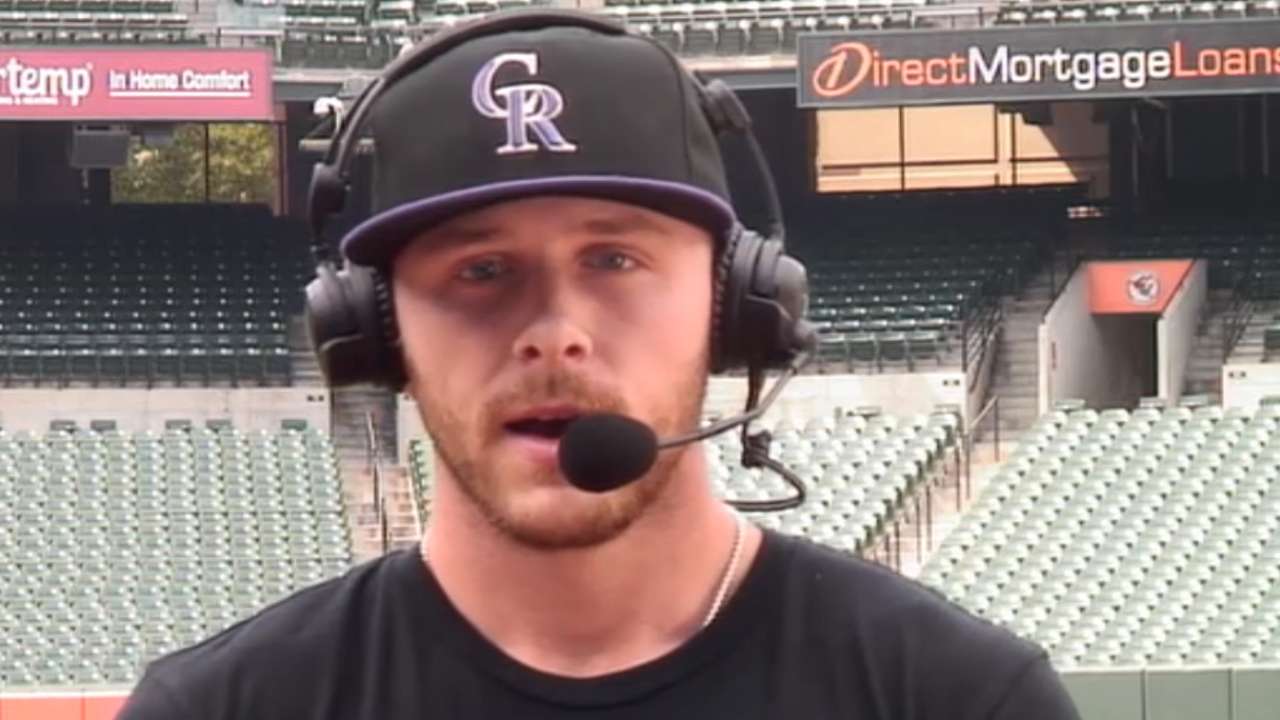 DENVER -- Rockies shortstop Trevor Story's next few months can be boiled down to two simple tasks: get well and dream big.
Story set a National League record for home runs by a rookie with 27 in 97 games before suffering a season-ending left thumb injury on July 30. When the injury occurred, the Rockies were .500 (52-52). Although the Rockies' struggling bullpen would push the team out of contention, injuries to Story and Mark Reynolds (two left hand injuries) didn't help.
But Story, 23, can look back fondly and look ahead enthusiastically. And why not? With both World Series participants sporting 22-year-old shortstops -- the Indians' Francisco Lindor and the Cubs' Addison Russell -- it's not like he or his team are too young for aspirations.
"It's cool to look back at what I accomplished, but I don't really get too caught up in all that," Story said. "My rookie year was really special. I got to learn a lot of things and kind of just see what it's like in the big leagues. I feel really confident about that and this team. It's special to be a Rockie right now. I feel very excited about next year."
Before the injury, Story spent the year locked in a competition with Dodgers shortstop Corey Seager, 22, for the National League Rookie of the Year Award, which almost certainly will go to Seager.
Even with the limited number of games, Story outdid Seager in home runs (27 to 26) and tied him in RBIs (72). Defensively, according to Fangraphs, Story finished with four defensive runs saved (DRS) to Seager's zero. Seager, however, was a key part of the NL West champion team, and outdid Story in batting average (.308 to .272) and on-base percentage (.365 to .341). It sets up what could be years of comparison.
Two-time All-Star third baseman Nolan Arenado, who has tied for the NL home run lead the last two seasons, said Story's career start was impressive in its own right.
"I think he's going to probably do it more than me, if anything," Arenado said. "Comparing me as a rookie to him, he's far more advanced than I was. I can see him doing some special things. He hit 27 home runs his rookie year. I hit 12. He's really far more advanced in knowing himself as a ballplayer than I am."
Story's offseason preparation is about to hit a new stride. After rest and rehab, he should be allowed to start hitting in a couple of weeks.
Story's power was a pleasant surprise because he had not hit more than 20 home runs in a Minor League season. And the Rockies didn't know what to expect defensively.
The Rockies used the 45th overall pick in the 2011 Draft to select him out of Irving (Texas) High School, but in the Minors they tried him at second base and third base because they had Troy Tulowitzki at short. The unexpected deal of Tulowitzki to the Blue Jays in 2015, and the absence of Jose Reyes (now with the Mets) because of a domestic violence accusation, opened a spot for Story this year, and he proved he could handle the position adequately.
Story could be better if he applies the knowledge he developed while watching the season's final two months.
Story could stand to mimic Arenado's biggest development -- understanding and adjusting in the batter's box. For example, Story put up strong run-production numbers, even though he fanned 31.3 percent of his at-bats, second among NL players with 400 or more plate appearances. Story also will work on positioning. Metrics put his range at slightly below average, but his runs-saved total suggests that he is effective nonetheless.
"Most of that was in-game situation-type stuff, and talking to the guys about hitting and little tidbits that I liked, and defense as well -- footwork," Story said. "I like to talk to guys about the mental game. DJ [LeMahieu, a Gold Glove finalist at second base] is a big guy who likes to talk about that stuff. I'm really trying to grow in the mental game this offseason and get stronger and get better all around."
Thomas Harding has covered the Rockies since 2000, and for MLB.com since 2002. Follow him on Twitter @harding_at_mlb, listen to podcasts and like his Facebook page.
This story was not subject to the approval of Major League Baseball or its clubs.