Oct. 28 Curtis Granderson Clemente Award interview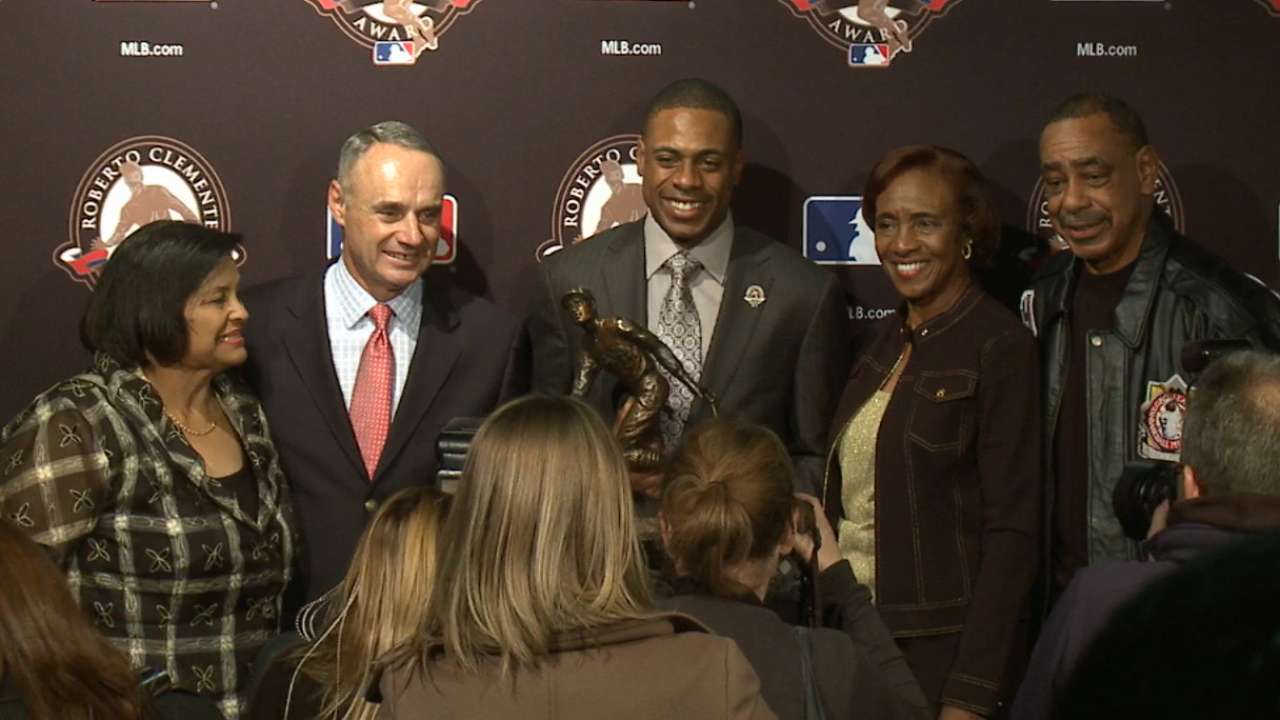 GREG AMSINGER: Good afternoon, everyone. My name's Greg Amsinger from the MLB Network. I welcome all of you to the special press conference for the recipient of Major League Baseball's most prestigious individual player honor, the Roberto Clemente Award.
The Roberto Clemente Award pays tribute to the late Hall of Famer's legacy, achievements and character, by recognizing a Major League player who best represents the game through extraordinary character, community involvement, philanthropy and positive contributions on and off the field. Major League Baseball has been honoring Major League players for philanthropic work since 1971. This special honor was established as the Roberto Clemente Award in 1973 to immortalize the 15-time All-Star after he perished in a plane crash on New Year's Eve 1972, while attempting to deliver supplies to earthquake victims in Nicaragua.
The original name of this special recognition is The Commissioner's Award. So it's fitting that I now welcome our Commissioner, Mr. Rob Manfred, to officially announce this year's Roberto Clemente Award recipient.
COMMISSIONER MANFRED: Good afternoon, everybody. We're all excited to be here in Chicago for Game 3 of the World Series. Baseball has a great tradition of honoring its all-time great players, and obviously Roberto Clemente was one of those players.
Mr. Clemente was a great player not only on the field, but he did great humanitarian works throughout his life. And it's fitting that baseball's most prestigious award, the one we regard to be most prestigious, is named for Roberto Clemente.
At the outset, I'd like to welcome the Clemente family, especially Vera that's here with me. We appreciate you being here at Game 3.
This year's winner is Curt Granderson. He's not only had a great 13-year Major League career, but today he's going to join Willie Mays, Rod Carew, Cal Ripken, Tony Gwynn, John Smoltz, Derek Jeter and David Ortiz as recipients of the Roberto Clemente Award.
The Grand Kids Foundation does unbelievable work: Gives baseball clinics, provides playing opportunities to kids that otherwise wouldn't have those opportunities, and runs great programs devoted to character development.
Curtis has also partnered with some of the greatest members of the baseball family, through his foundation he's been a supporter of the Jackie Robinson Foundation, an organization that's near and dear to the hearts of everyone in baseball.
He also made a $5 million donation to our MLB academy here in Chicago. This is the single biggest donation that's ever been made by a Major League player in support of this program, and Curtis deserves tremendous credit for that donation.
Finally, Curtis has been instrumental in the building of a stadium at his alma mater, the University of Illinois at Chicago that, I guess not coincidentally, is named Curtis Granderson Stadium. How'd you pull that one off? (Laughter).
But I've really had the honor of knowing Curtis for a long time. He's been active in the Players Association; I got to know him there first. And he really is a deserving recipient of this great award. So Curtis, congratulations to you. (Applause).
GREG AMSINGER: Real quick. Thank you, Commissioner. Roberto Clemente's legendary humanitarian spirit has lived on thanks in part to our next speaker. As the MLB Goodwill Ambassador, she continues to share Roberto's message of giving back through service. In fact, today she joined Major League Baseball and the Cubs in visiting kids at the Rehabilitation Institute of Chicago. It is my pleasure to introduce the wife of Roberto Clemente, Vera Clemente. (Applause).
VERA CLEMENTE: Good evening. It is really an honor for me to be here tonight for this special event, and I want to congratulate Curt Granderson for being a new member of the Roberto Clemente Award family.
And I'm very proud and I appreciate that Major League Baseball awards the recipients for the award, and I want to congratulate the organization to have the opportunity to present the Roberto's history for the new members, and even the youngsters that are fans, that they every day to be better than yesterday, and to try to do very positive things in life.
Congratulations from the Clemente family. God bless you.
GREG AMSINGER: Also here with us today are Roberto and Vera's sons, Roberto Jr. and Luis. Thank you for being here.
It's now my distinct honor to offer the floor to our award winner who has the special opportunity to receive this honor in his hometown of Chicago with his parents Mary and Curtis, Sr. in attendance.
Now it should be noted that he is the fourth member of the New York Mets to receive the award, joining Al Leiter, who is here with us tonight, Carlos Delgado, and the late Gary Carter. Ladies and gentlemen, your 2016 Roberto Clemente Award recipient Curtis Granderson. (Applause).
CURTIS GRANDERSON: Thank you very much for this. This is an honor and a privilege to be recognized and mentioned with the Clemente family, with Major League Baseball, the Commissioner coming out here today. Again, very thankful.
What Roberto Clemente stood for, his family is living proof of what it was to not only be a professional athlete, but professional human being. The importance of knowing that his community is what made him who he was, and the reason why he was able to be where he was, and he never forgot that, whether his community was in Pittsburgh, where he played, or his hometown where he was able to go back to in the off-season, or during the season to help out at any time no matter what was going on. Those are the things I strive to do, and learned from my parents as well, just like the Clementes did with their family and everybody in their generation that have taught them the importance of collectively we all become who we want to be.
So my mom and dad did it, Clemente's family has done it, and I'm trying my best to continue to do those great things by helping people in my hometown here in Chicago, the cities I've played in, Detroit, the New York Yankees, the New York Mets; the Spring Training homes I've had a chance to be a part of in Lakeland, Tampa and Port St. Lucie. This is all part of trying of just trying to do the legacy, like Ms. Clemente said, trying to do better each day, making it better for the next group to come up behind you.
The donations and things I've done at UIC with the Grand Kids Foundation was just to give kids opportunities to play in a safe environment. To give black kids a chance to play with white kids, white kids to play with Latin kids, and Latin kids to play with Asian kids. And in part by doing so, we've been able to open up a lot of opportunities just by paving the way for the next group of kids to come in and continue to play this great game of baseball, which gives us an opportunity to be here today.
So, again, thank you very much for giving us this great award, and honor and privilege and being here with such great company. Harold Reynolds and Al Leiter are here today, that I've got a chance to meet numerous times, and they're a high representation of what the Clemente Award is, and I'm honored to get to be a part of them as well. Thank you very much. (Applause).
GREG AMSINGER: We'd like to hold a quick Q & A session for our dais.
Q. Curtis, you mentioned getting this award, does it mean anything more to you being able to accept it in your hometown in front of your parents? How special is that for you?
CURTIS GRANDERSON: First it's 60°, so it makes it even more awesome to accept it here in Chicago (laughter). We know how cold it can be here in late October. But it's really cool to get a chance to be here with my mom and dad, who made me who I am today. Chicago's always been home. Though I've played for teams outside of Chicago, but this is what helped me to get me where I am today.
So to get to do it here in front of basically my home fan base, is really an honor and privilege.
Q. You mentioned your parents. Can you describe the benefits and the things they gave you growing up that has led to this evening?
CURTIS GRANDERSON: I remember seeing my mom and dad when I was younger just being at the house and inviting people over to have food, have drinks, taking clothes that I had outgrown and passing them on to students that my mom and dad had taught that they were going to have kids that were my size that needed stuff. I had outgrown them. Giving teammates of mine rides that they didn't have rides to and from. At that time I didn't think of it as this is their way of giving back, but that's what they had been doing. They had been doing it my whole life. I got a chance to witness it and experience it early on in my lifetime. And as I continue to get older, they're still doing it.
Thirty-five years old, and they're constantly trying their best to take care of those in the community, including myself. I had just finished battling food poisoning and my mom was there taking care of me all last night. They just don't stop, even though they're supposed to be retired.
That's what my mom and dad have been doing it, and hopefully I'll just try to be a little fraction of what they've been in helping out those that they can, and those that I'll be able to help out in the future.
Q. Curtis, you mentioned your responsibility as like a professional athlete and off the field. Who was it that you learned from early on maybe in your career that you pointed to, that you used as an example as you modeled your charitable giving and everything?
CURTIS GRANDERSON: Early on it was Dmitri Young. He was the first guy that I got a chance to watch really closely with the Detroit Tigers organization. He kind of took me underneath his wing and showed me the ropes, just becoming a Major League Baseball player, professional player. I still communicate with him to this day. He was a great person just to get a chance to watch.
As my career continued to advance, I got the likes of working with Derek Jeter and Alex Rodriguez, Robinson Cano, guys that have also done some amazing things for their communities and are constantly finding ways to help out the areas that they've come from or got a chance to be a part of.
And with the New York Mets, David Wright has been the captain for the Mets organization and a namesake in the New York market for a very long time and will be to come. So I've got a chance to be in some great company of guys that have helped show how it is to be a baseball player both on and off the field.
Q. You talked about growing up in Chicago, did you ever think you'd see a time when you'd be at the World Series in Chicago? What team were you rooting for when you were growing up as a kid?
CURTIS GRANDERSON: I'll start with the second question. I was actually a Braves fan growing up. TBS in the '90s kind of did it for me. And part of the reason why I chose the Braves over the Cubs and the White Sox, when I would come home from school, the Cubs would be playing day games and I was excited to see Saved by the Bell. But unfortunately since the Cubs were on, they would be on and I would have my homework done, and I was disappointed that the Cubs were on, and the Braves played at 7:35. So I was excited to see them, plus they were playing very well, so that's why I became a big Braves fan.
But to see the Cubs be in the World Series at this point in time, I knew it was going to happen at some point. I wasn't sure when it was going to happen. Theo Epstein and this organization has done an amazing job putting together some talent from experienced to young guys. We had a chance to battle against them last year. I was looking forward to hopefully doing it again this year. But unfortunately came up a little short, but I am excited to see them out there. It was an opportunity to be three games away.
I'm also a Jason Kipnis fan. I get a chance to work out with him in the off-season. He's from Chicago as well. So I'm kind of torn between him and the Indians, and the Cubs doing their thing here in Chicago. But hopefully it goes seven games, so everybody gets a chance to be excited for a very long time.