MLB.com Columnist
Richard Justice
Granderson truly embodies Clemente Award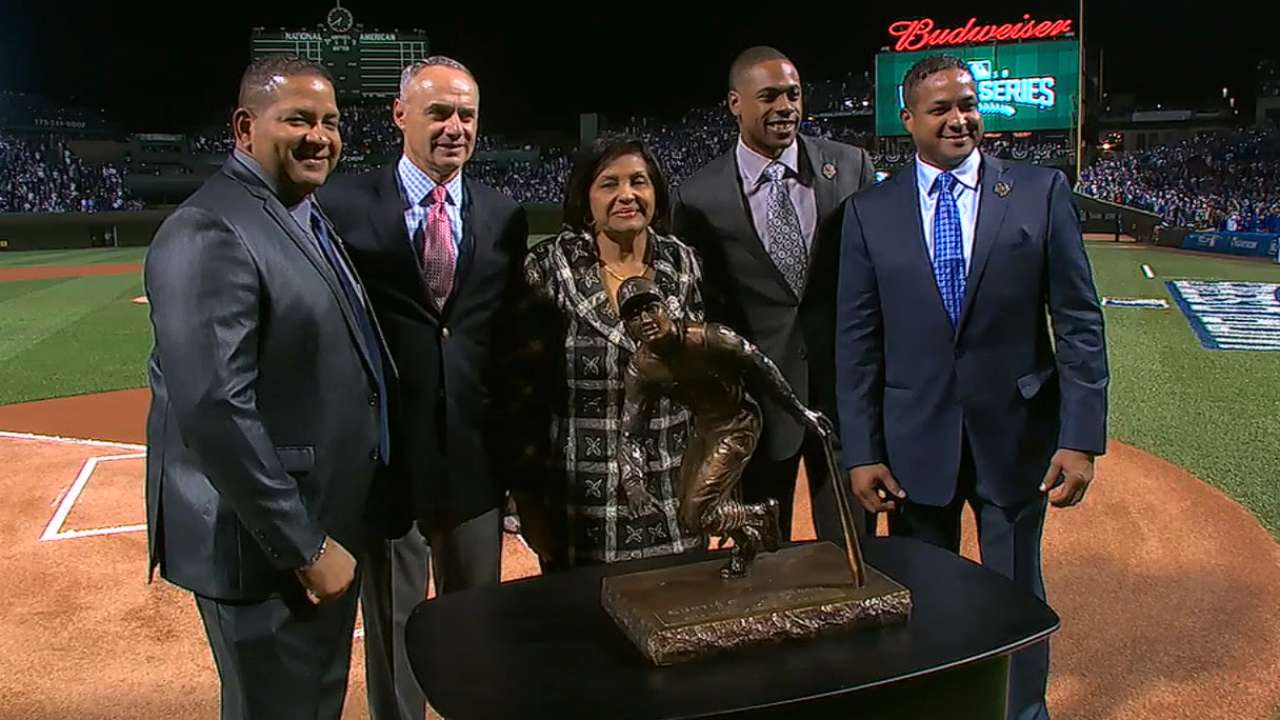 CHICAGO -- Curtis Granderson represents Major League Baseball at its very best. In the end, it's just that simple.
When Granderson was presented with the Roberto Clemente Award before Game 3 of the World Series on Friday, it was further validation of what countless people already knew about the Mets outfielder. That is, he gets it.
All-time Clemente Award winners
Granderson understands his prominence as a baseball player offers him an opportunity to do good. He sees this as his obligation, a lesson passed down from his parents, who sat a few feet away as Granderson accepted the award.
MLB Commissioner Rob Manfred says the Clemente honor is "baseball's most prestigious award." Clemente's widow, Vera, attended the ceremony.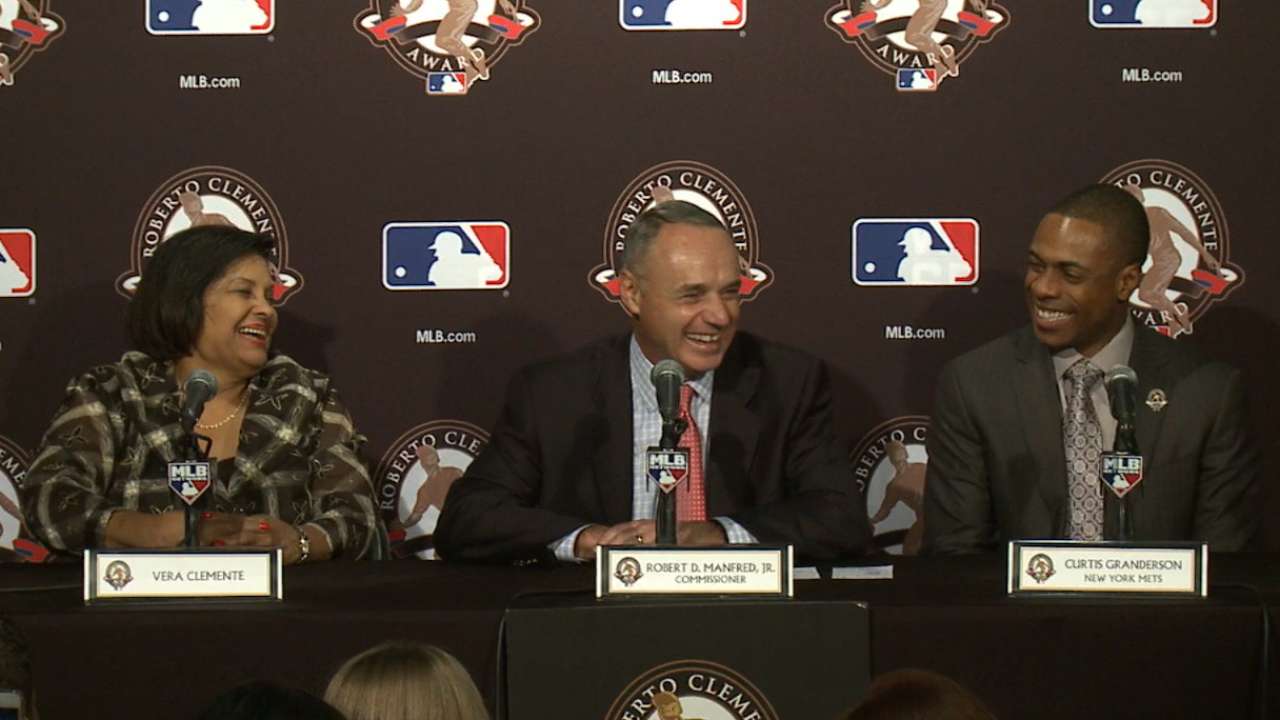 Her husband, a 15-time All-Star, was as passionate about his charitable work as his play. Clemente's death on New Year's Eve 1972 in a plane crash stunned baseball, but it also left an enduring legacy of what a role model truly is. Clemente was on his way to deliver aid to earthquake victims in Nicaragua.
Granderson said his parents were more personal role models as he watched them do assorted acts of kindness through his entire life.
"They're constantly trying their best to take care of those in the community, including myself," Granderson said. "Hopefully I'll just try to be a little fraction of what they've been in helping out those that they can, and those that I'll be able to help out in the future."
Granderson's work has been extensive, including, as Manfred noted, the largest donation ($5 million) to the Urban Youth Academy in Chicago, Granderson's hometown.
His Grand Kids Foundation is involved in baseball clinics and an assortment of other programs related to character development. He has supported the Jackie Robinson Foundation, "an organization that's near and dear to the hearts of everyone in baseball," Manfred said.
Granderson also helped build the stadium at his alma mater, the University of Illinois at Chicago.
"I've really had the honor of knowing Curtis for a long time," Manfred said. "He's been active in the Players Association. I got to know him there first. And he really is a deserving recipient of this great award."
Granderson has been involved in community work in every city in which he has played, and also in every city in which he has attended Spring Training.
"This is all part of just trying to do the legacy, like Ms. Clemente said, trying to do better each day, making it better for the next group to come up behind you," Granderson said. "To give black kids a chance to play with white kids, white kids to play with Latin kids, and Latin kids to play with Asian kids. And in part by doing so, we've been able to open up a lot of opportunities just by paving the way for the next group of kids to come in and continue to play this great game of baseball, which gives us an opportunity to be here today."
Granderson said his original role model for such work was Dmitri Young, his teammate in Detroit early in his career. Partly through Young, Granderson came to understand the privilege -- and responsibility -- of being a Major League player.
Granderson ticked off a list of other teammates he has learned similar lessons from, including Derek Jeter, Alex Rodriguez, Robinson Cano and David Wright.
"I've got a chance to be in some great company of guys that have helped show how it is to be a baseball player both on and off the field," Granderson said.
And that's part of why Granderson is so important to the game. Those lessons he learned from older players are the ones now being passed on to another future generation of players.
It's part of what makes the game so great. A huge part.
Richard Justice is a columnist for MLB.com. Read his blog, Justice4U. This story was not subject to the approval of Major League Baseball or its clubs.