MLB.com Columnist
Anthony Castrovince
As Dad cheers, Tribe's Tomlin terrific
Indians starter stifles Cubs under extraordinary conditions, with father battling serious health issue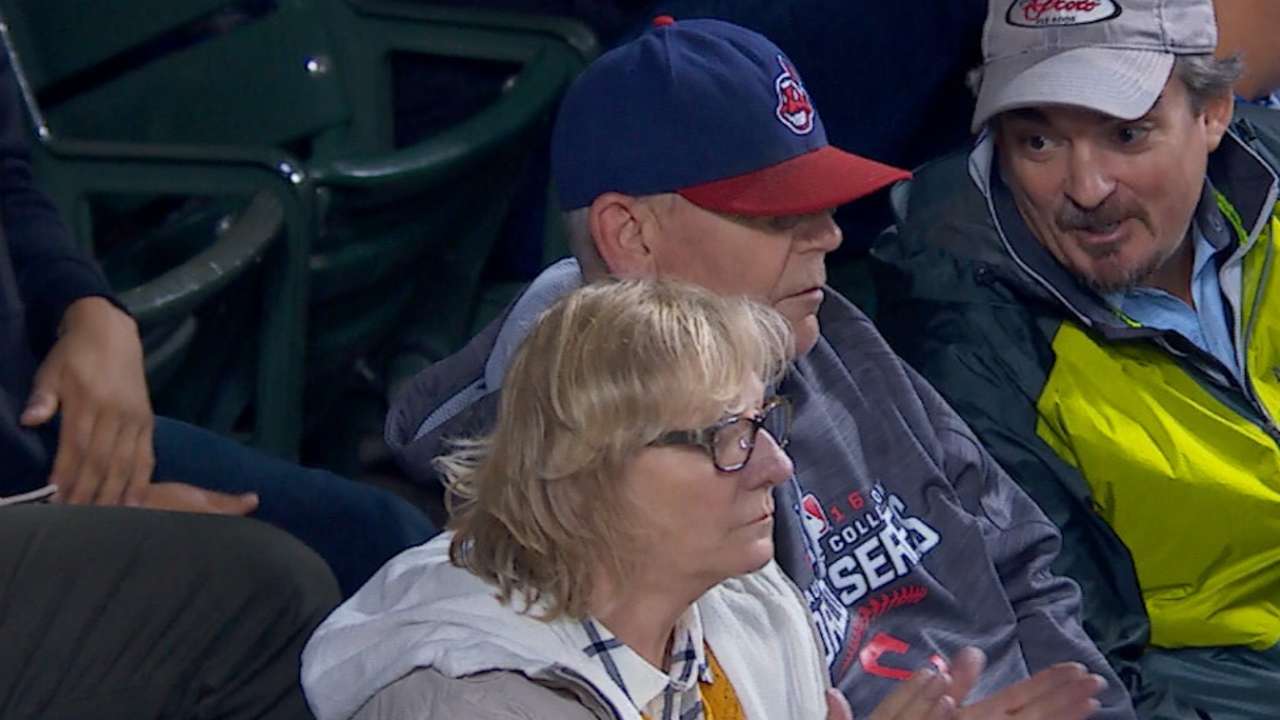 CHICAGO -- The starting pitcher has plenty on his plate in the lead-up to that first pitch. Scouting reports to scour, plans to formulate, conditioning to keep up with. But for Josh Tomlin on Friday night at Wrigley Field, the most important piece of pregame prep might have been that moment when he looked over to Section 122 on his walk to the weight room and made a mental note of where his father, Jerry, was sitting.
"That way," the pitcher explained, "I knew if stuff started to speed up on me during the game, I could look at him and find that comfort and settle back down."
• Game 4: Tonight, 7:30 p.m. ET air time | 8 ET game time on FOX
Tomlin's relationship with his father, who became paralyzed from the chest down in mid-August because of a rare blood tissue abnormality, has been one of the feel-good stories of this postseason. And on this night, in this game, in these extraordinarily unfavorable conditions for a visiting pitcher who struggled with the long ball in the regular season, Tomlin took that story to another level to get the Indians within two wins of a World Series championship. His 4 2/3 stingy innings against a tough Cubs lineup made for the first ingredient of the Tribe's 1-0 winning formula and, of course, a proud pop in the stands.
"Unbelievable," Jerry said. "It was typical Josh, though. He got stuff working and went to work. Great defense behind him and just a lot of confidence in each other."
• Shop for Indians World Series and AL champs gear
Not long ago, the Tomlins weren't confident Jerry would be able to watch Josh pitch in person this October. Josh was able to take a family medical emergency leave to be with his dad in Tyler, Texas, for a couple days after Jerry's life was saved by emergency surgery to treat what is called an arteriovenous malformation. But Josh hadn't seen his father since. And because Jerry was stuck at Dallas' Baylor Rehab Institute, he had to watch his son thrive in his first two starts against Boston and Toronto on this postseason stage not in the ballpark, but in a hospital bed.
Thankfully, Jerry was released from the hospital on Oct. 19 -- Josh's birthday and the day the Indians clinched the American League pennant. And once Tomlin got the word that he'd be starting Game 3 at Wrigley -- the first World Series game in this ballpark in 71 years -- the family immediately set about making travel plans for Jerry and his wife, Elana, to be in attendance.
"It's hard to put into words," Jerry said of the experience. "I didn't know what I was going to say when I got here, and I still don't. The way everything planned out and the way people helped me to get here, man, it's definitely a dream come true. There was no way I was going to miss this."
What he saw was the biggest and best outing of his son's life.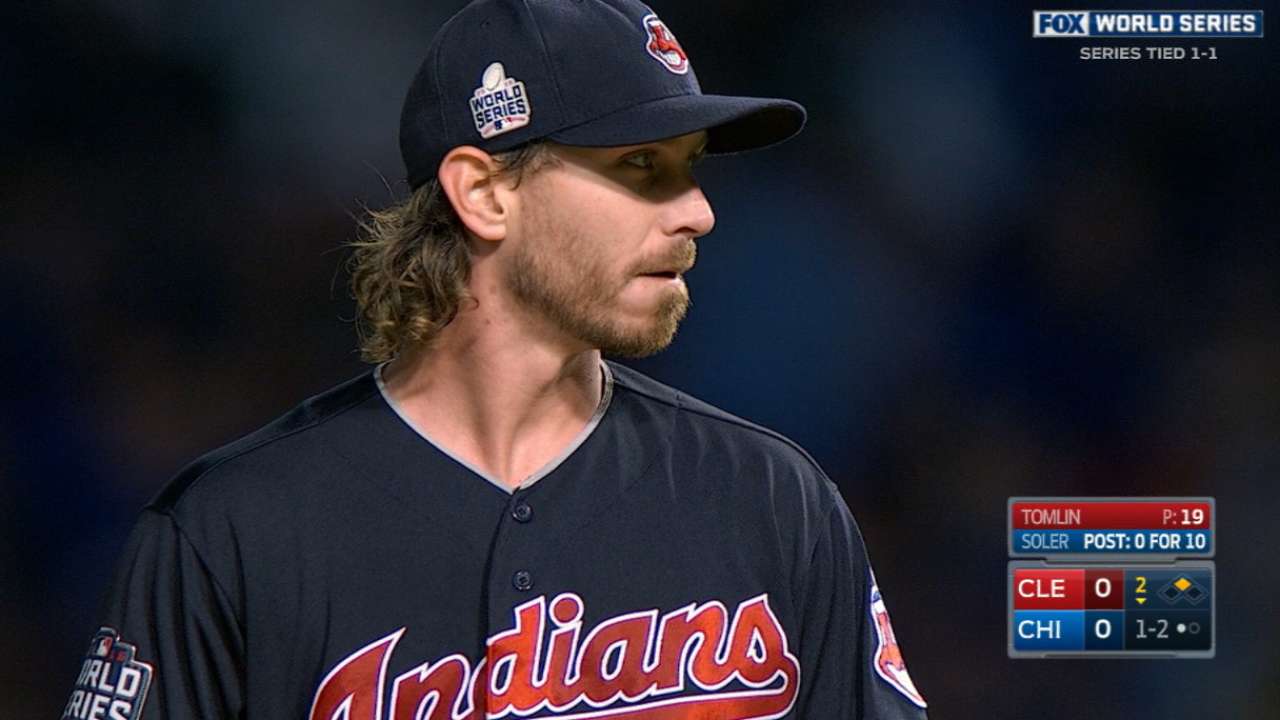 Tomlin was terrific, executing his high-80s fastball and his breaking ball down in the zone and on the outer edge of the zone. In those 4 2/3 innings, he allowed just two hits and a walk that wasn't. Home-plate umpire John Hirschbeck became a Twitter trending topic when he called ball four on a fourth-inning pitch to Kris Bryant that PitchFX confirmed was well within the lower edge of the strike zone, but Tomlin worked his way out of that inning-opening bind by getting three quick outs to quiet the crowd.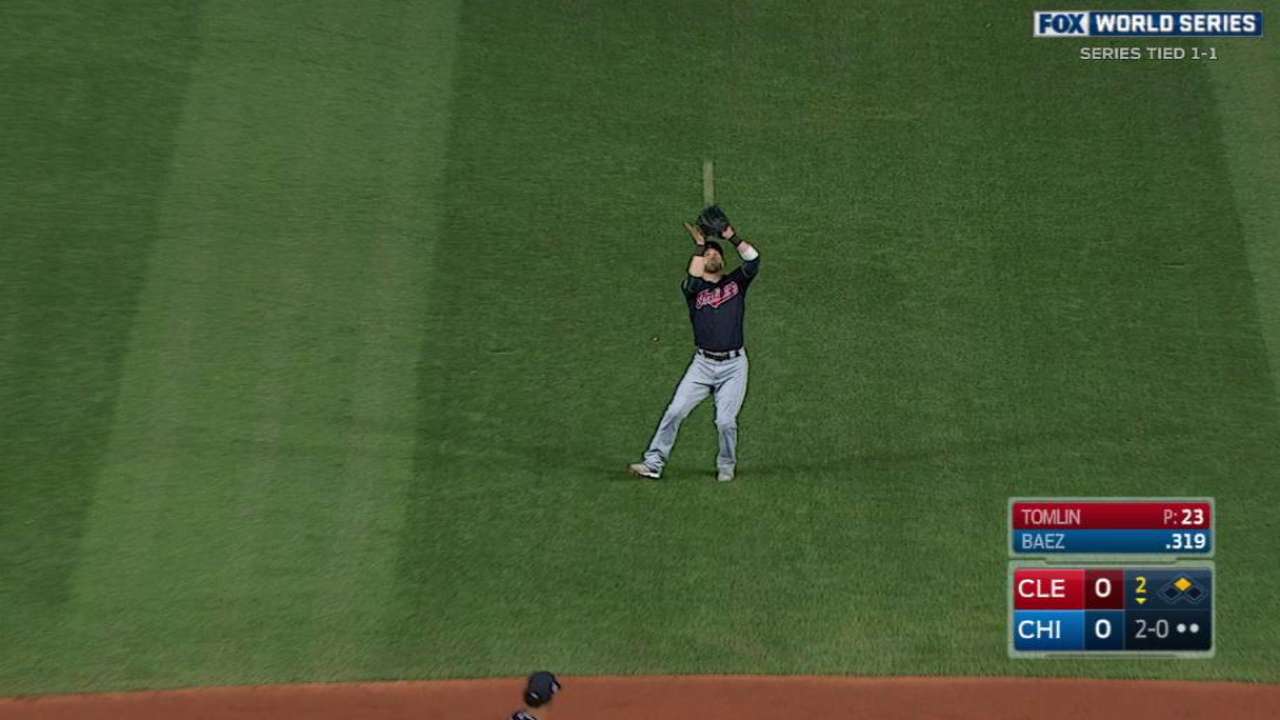 Well, not everybody in the crowd. His dad, who was Josh's high school coach and who Josh refers to as his "best friend," was loving every second of it.
Such execution in the clutch has become Josh's new norm after an awful August in which he posted an ERA north of 11 and dealt with the emotional trauma of the trouble back home. He lost his rotation spot that month, only to gain it right back as the Indians dealt with the effects of losing both Danny Salazar and Carlos Carrasco to the DL in the final month of their playoff push. Tomlin stepped up down the stretch, and, in this postseason, he's allowed all of three runs on nine hits in 15 1/3 innings over three starts.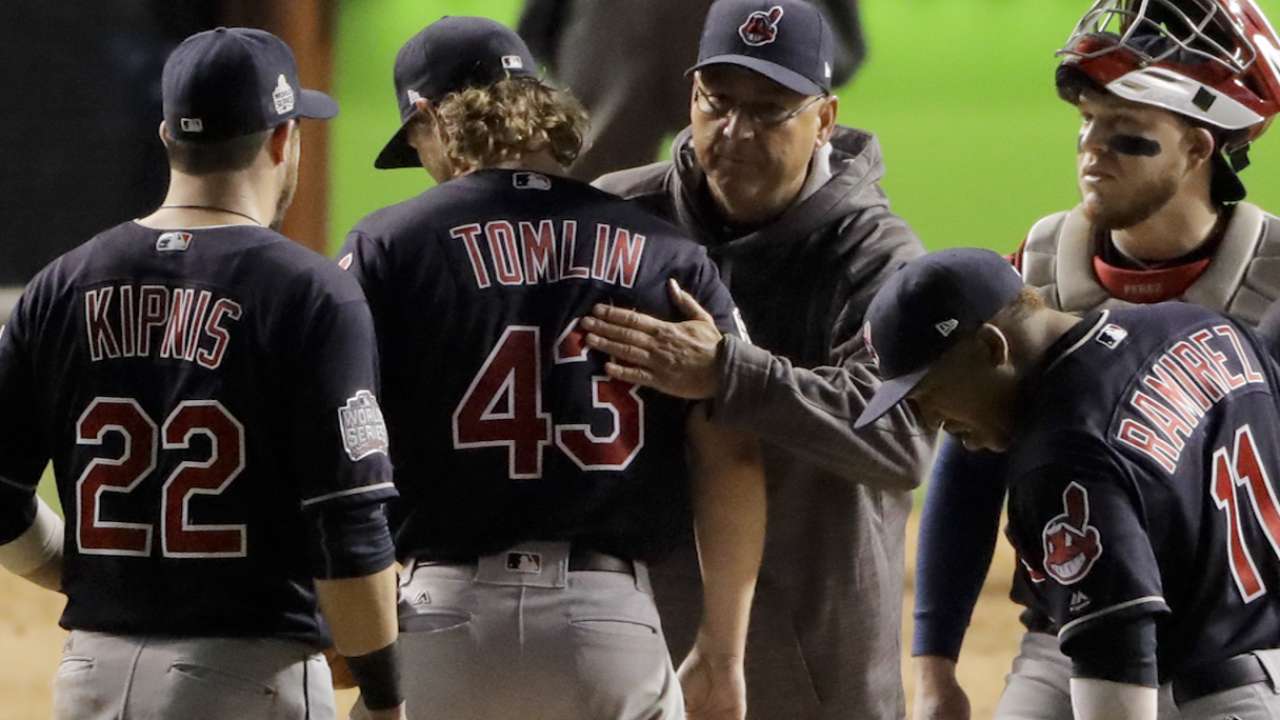 This start was his most impressive yet, because it came in not-so-friendly confines with the wind blowing out fiercely to left.
"I'm finally executing pitches," he said. "The month that wasn't really going well at all, there were a lot of balls over the middle of the plate, a lot of balls on the other side of the plate and there wasn't a lot of execution on offspeed pitches. If I threw one for a strike, it was usually down the middle of the plate. My game's not to go out there and try to be a power pitcher, to try to get guys to take pitches or swing through stuff. It's to induce early contact and weak contact and try to go as deep as I can into a game."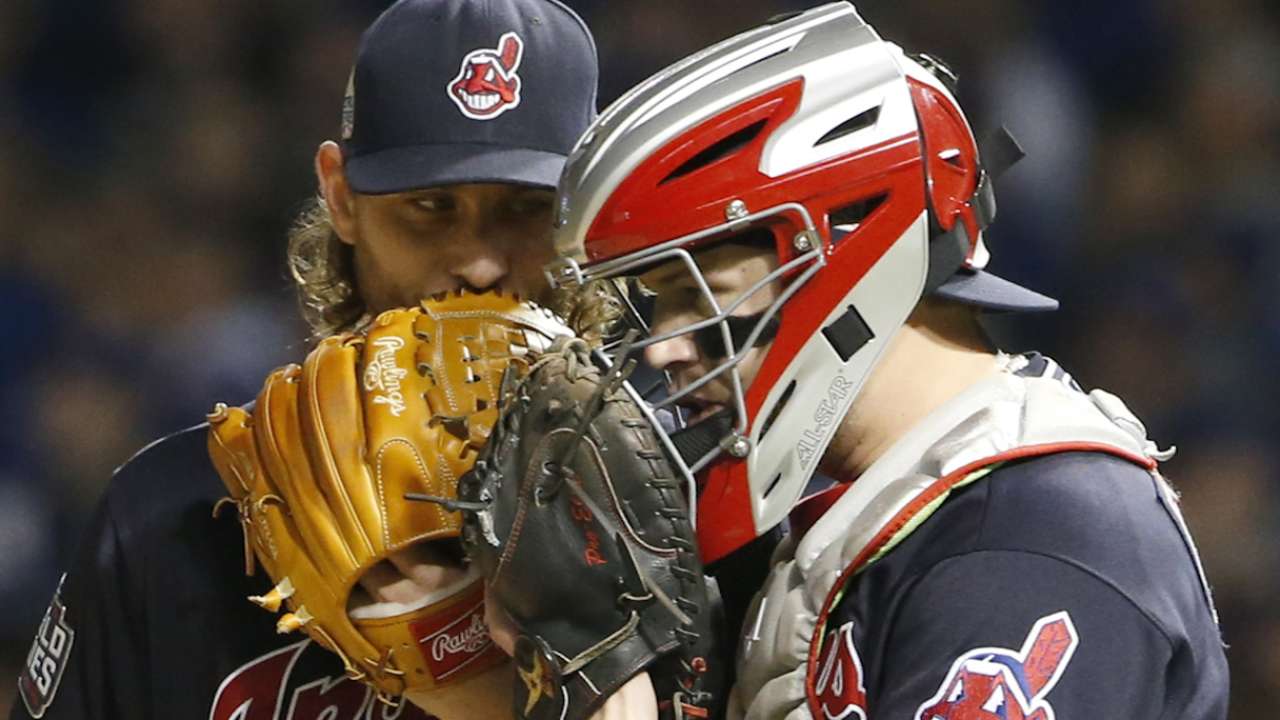 Tomlin didn't go all that deep in this one, but that was by design. Manager Terry Francona opted to go with Andrew Miller as the lineup came back around for a third time, and the move had the added benefit of keeping Tomlin fresh (he threw just 58 pitches) for his short-rest start in a potential Game 6.
So Tomlin did as intended, and he did it with his dad leading a small but vocal cheering section from his wheelchair.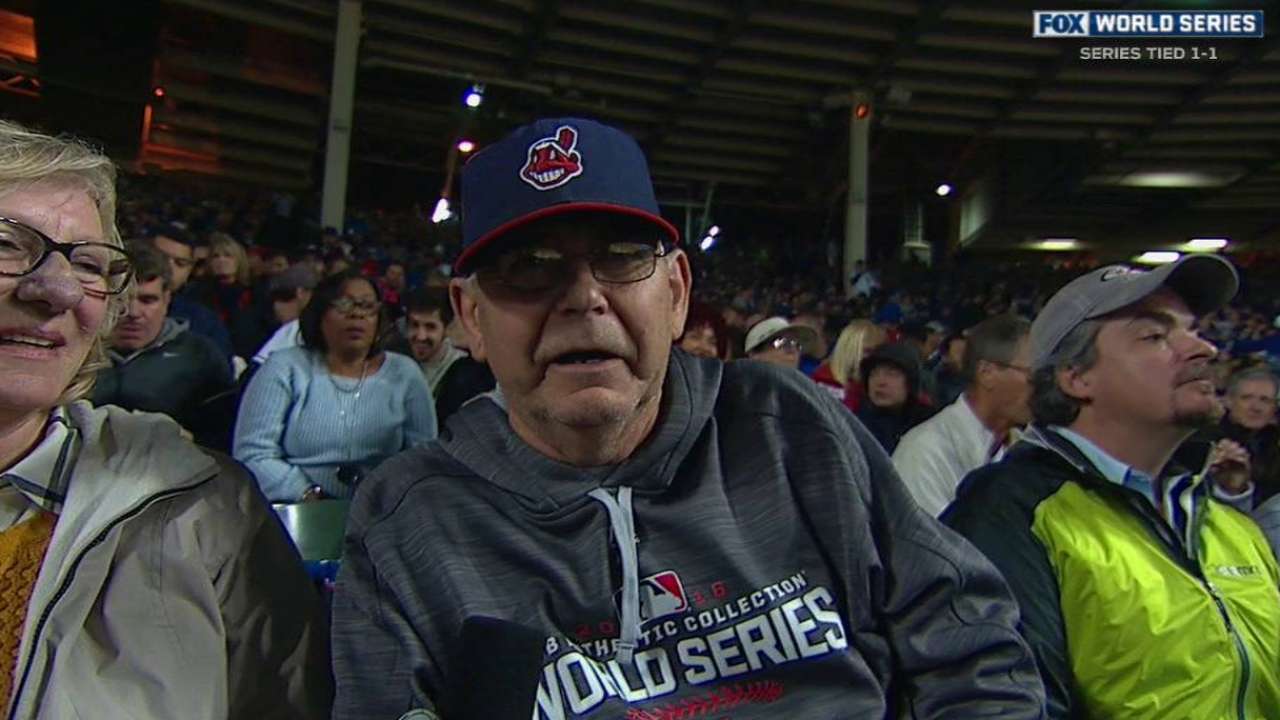 "Very emotional for me," Josh said.
For his parents, too.
"This is a day [Josh] has been waiting for since he was 4 years old," Elana said. "He's been playing baseball his whole life. What more can you ask for than when your kid gets to live his dream?"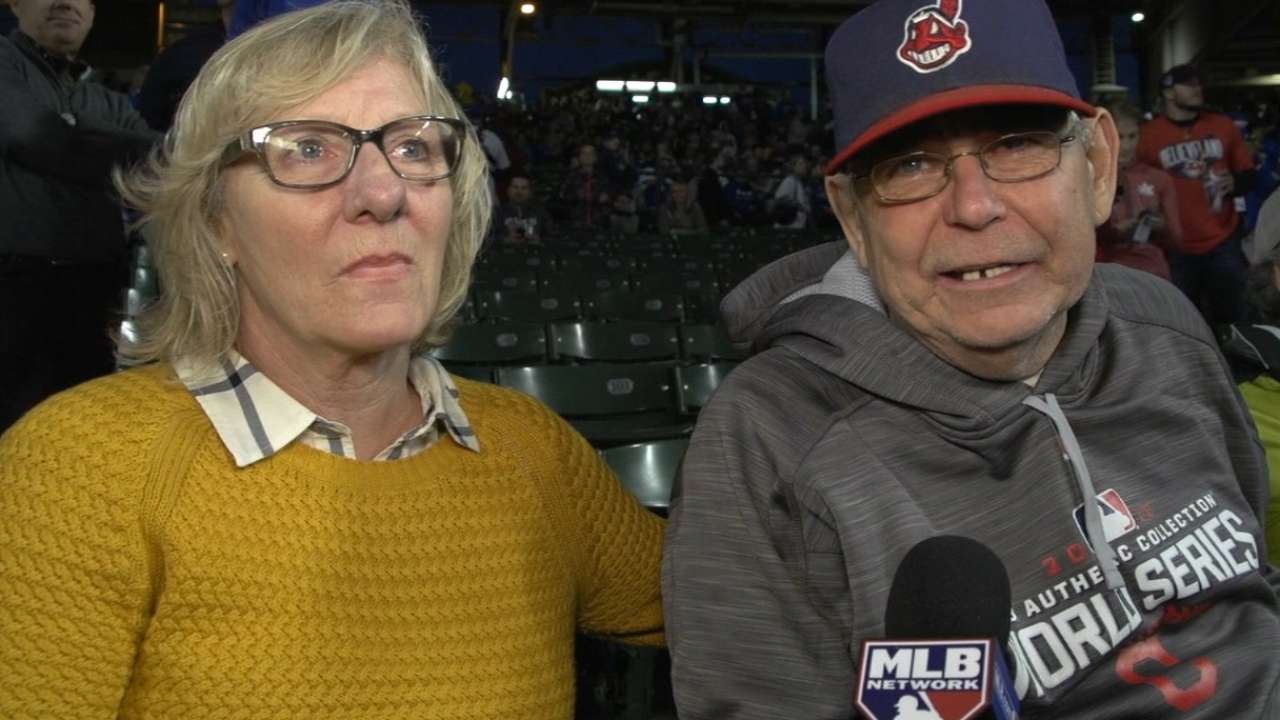 On this night, the dreams of both Tomlin men were realized. Jerry never thought he'd watch his son pitch in the World Series from the wheelchair section. But rather than bemoan the health woes that might leave him forever unable to walk again, he is celebrating his son. And at Wrigley Field, there was plenty to celebrate.
"How," Jerry asked, "could you plan it out or write it out any better than what it is?"
Anthony Castrovince has been a reporter for MLB.com since 2004. Read his columns and follow him on Twitter at @Castrovince. This story was not subject to the approval of Major League Baseball or its clubs.