Pick your poison: Cubs lose gamble on Crisp
Chicago skipper explains decision to have Edwards face switch-hitter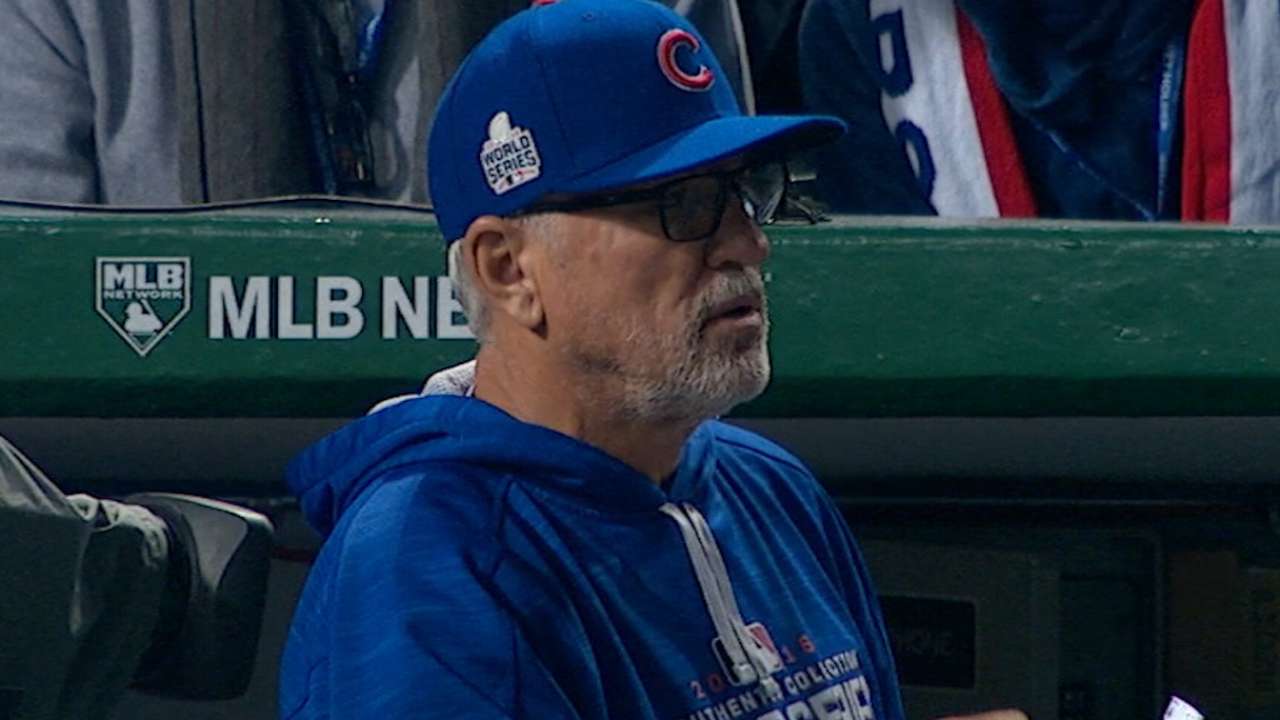 CHICAGO -- Big league managers, like chess masters, have to do more than just ponder their next move. After looking at all their options they have to consider how the guy in the other dugout might counter, then weigh the risks and rewards of each alternative. And do all the calculations in a matter of seconds.
With Game 3 of the World Series locked in a scoreless tie in the top of the seventh inning Friday night at Wrigley Field and the Indians threatening with runners on first and third and one out, manager Terry Francona sent switch-hitting Coco Crisp to the plate to bat for the pitcher.
• Game 4: Tonight, 7:30 p.m. ET air time | 8 ET game time on FOX
Right-hander Carl Edwards Jr. was on the mound for the Cubs. Left-hander Mike Montgomery was warming up in the bullpen.
• Shop for Cubs World Series and NL champs gear
Cubs manager Joe Maddon elected to stick with Edwards. Crisp tapped an RBI single into right, lifting the Indians to a 1-0 win and a lead of two games to one in the best-of-seven series.
Maddon said afterward that he thought if he brought Montgomery into the game at that point, Francona would have responded by substituting Brandon Guyer for Crisp.
"That's it," he explained. "And just talking it through, we liked that [Edwards-Crisp] matchup. That's it. We liked it. So it's one or the other. You have to pick your poison right there. It just didn't work out, but that's what we knew, and we chose that and he got a hit."
Here are some of the factors that could have come into play:
• Edwards has never faced Crisp. Turning him around to bat lefty meant he was hitting from the side from which he had slightly better numbers this season, .236 with a .719 OPS compared to .214/.625 as a right-handed hitter.
• However, Edwards also throws 96 miles an hour. Crisp turns 37 next week and it's possible the Cubs thought he might have a hard time catching up with that heat. As it turned out, the game-winning hit came on a pitch that Edwards -- who seemed to be tiring -- threw at just 92.6 mph, according to Statcast™. It flared over the infield and fell in front of right fielder Jorge Soler. Crisp was also batting just .167 in 18 postseason at-bats coming into Friday night.
• Montgomery and Guyer have faced each other only three times. Guyer is hitless with one strikeout in those encounters but the sample is too small to draw any conclusions from. Besides, he's hitting 4-for-11 (.364) this postseason.
• Another wrinkle would have been to walk Crisp to load the bases. Of course, that would have meant another decision. The next batter for the Indians, Jason Kipnis, hits left-handed. So Maddon would have had to decide whether to bring Montgomery in to face him knowing that, if he did, Francona could still counter by going to Guyer in that situation.
Paul Hagen is a reporter for MLB.com. This story was not subject to the approval of Major League Baseball or its clubs.