MLB.com Columnist
Phil Rogers
Maddon confident in Lackey, bats ahead of Game 4
Cubs turn to veteran righty to try to even World Series against Indians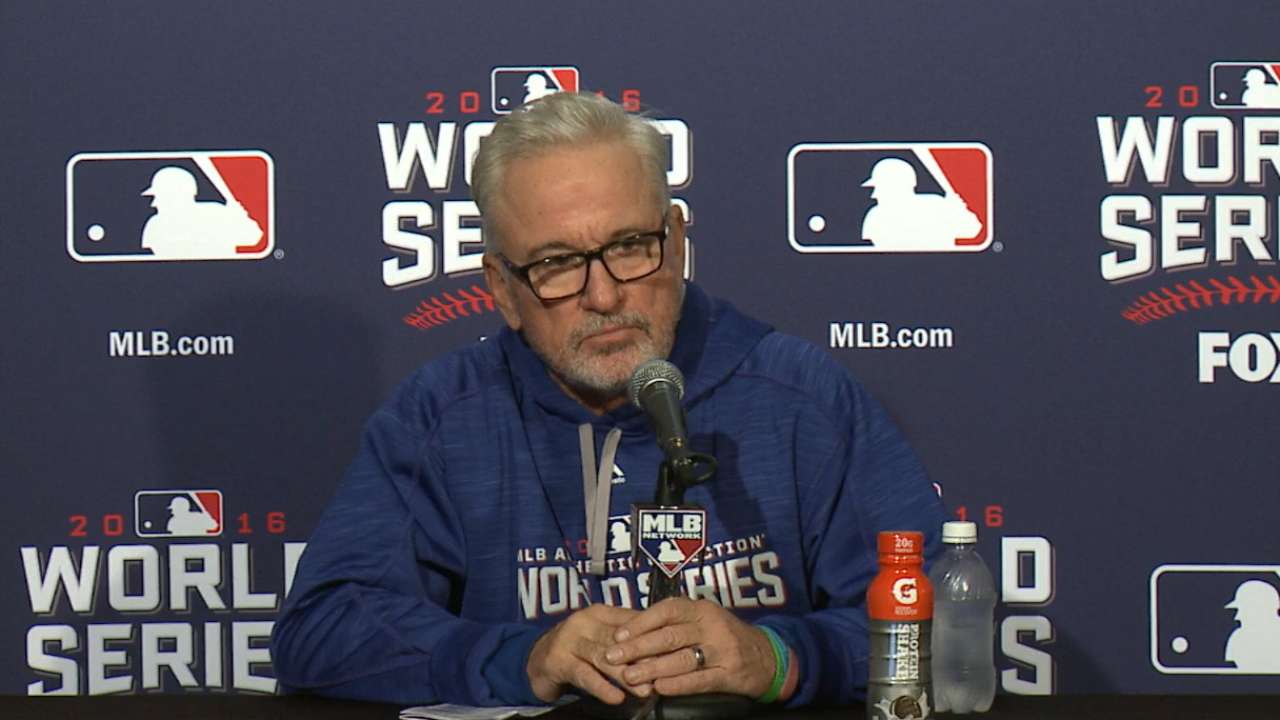 CHICAGO -- Long after the Cubs' 1-0 loss to the Indians in Game 3 of the World Series on Friday night, a four-man crew of groundskeepers armed with shovels, rakes, trowels and buckets of dirt labored on the pitcher's mound at Wrigley Field.
They were getting it ready for John Lackey, and with good reason.
• World Series Game 4: Tonight, 7:30 p.m. ET air time | 8 ET game time on FOX
Lackey will be trying to even the World Series at two games apiece when he starts Game 4 tonight at Wrigley Field, and he'll need all his tricks working against Indians wizard Corey Kluber.
Then again, if the Cubs don't do a better job at the plate than they did against Josh Tomlin and Cleveland's highly efficient bullpen on Friday, it may not matter. They were 0-for-7 with runners in scoring position, dropping them to 4-for-30 in the World Series, and manager Joe Maddon felt his hitters hurt themselves by chasing too many pitches out of the strike zone.
• Shop for Cubs World Series and NL champs gear
This was the exact kind of occasion that Cubs president of baseball operations Theo Epstein had in mind when he signed the 38-year-old Lackey to a two-year contract last December. Lackey has got the most postseason experience among active pitchers, and while he's slipped to the No. 4 spot in Maddon's rotation, he has many good memories to draw on, including that Game 7 win in the 2002 World Series when he was pitching for the Angels against the Giants.
"He's a big-game guy,'' Cubs reliever Justin Grimm said. "He works with a lot of emotion. You've seen him a lot of years. I like our chances. He's going to show up, for sure.''
Maddon seconds that feeling.
"I'm very confident,'' said Maddon. "I really anticipate John's going to pitch well tomorrow. I know he's going to be prepared for it. … I'm very confident in John tomorrow.''
While Kluber will be working on three days' rest after beating the Cubs, 6-0, in Game 1, Lackey only needed to start once each in the National League Division Series and the NL Championship Series.
Lackey has thrown just eight innings in the past 31 days, lasting four innings against both the Giants and Dodgers, so maybe the groundskeepers wanted to have the mound extra firm, knowing he'll be kicking and snorting like one of the rodeo bulls that he co-owns with Jon Lester and some others.
"As far as the rest, yeah, it's kind of been a crazy schedule for me, for sure,'' said Lackey, who was 11-8 with a 3.35 ERA in the regular season. "I feel like ... I'm pitching every two weeks. But I've thrown a little more on the side, off the mound, trying to stay sharp. But once you get into the game, you kind of fall back on the things you've been doing all season, and hopefully you do execute.''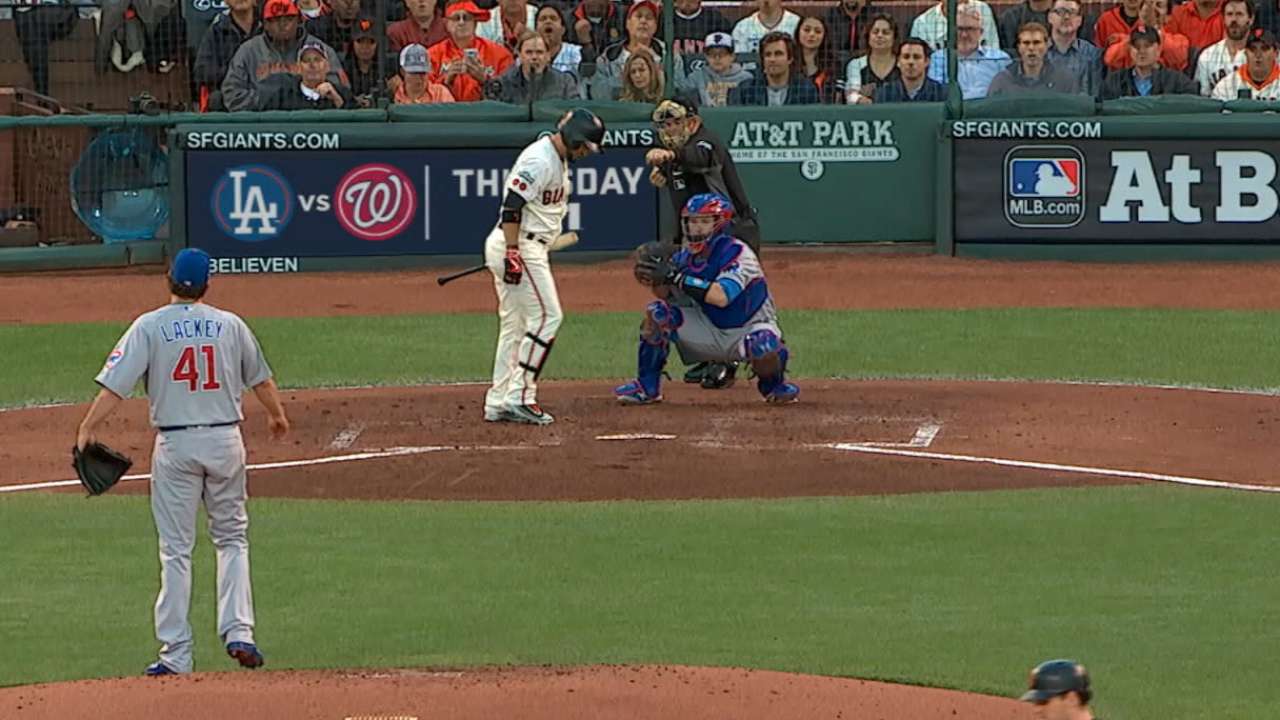 Lackey would love to outpitch Kluber, a fellow Texan who is in the running to win his second American League Cy Young Award.
"This is why you play the game,'' Lackey said. "This is why I'm still playing at this stage of my career, at this age. I'm trying to win championships and trying to be a part of something special.''
Kluber is making his fifth start in this postseason run, and he has compiled an 0.74 ERA. He shut down the Cubs for six innings in Game 1.
While the Cubs bounced back with a 5-1 victory in Game 2, outside of Kyle Schwarber, they've largely been out of sync at the plate. The emphasis for hitting coach John Mallee on Saturday will be to get hitters to not help out Kluber, Andrew Miller and the Indians' other relievers.
"We've got to get our strike zones organized offensively, and if we do, we'll be fine,'' Maddon said. "Just watching some of the replay there before I came over, and a lot of our strikeouts obviously were us chasing pitches. We've got to do better than that. Otherwise, I thought we were fine. We were fine. We played a really good game of baseball; we just did not stay within our strike zones.''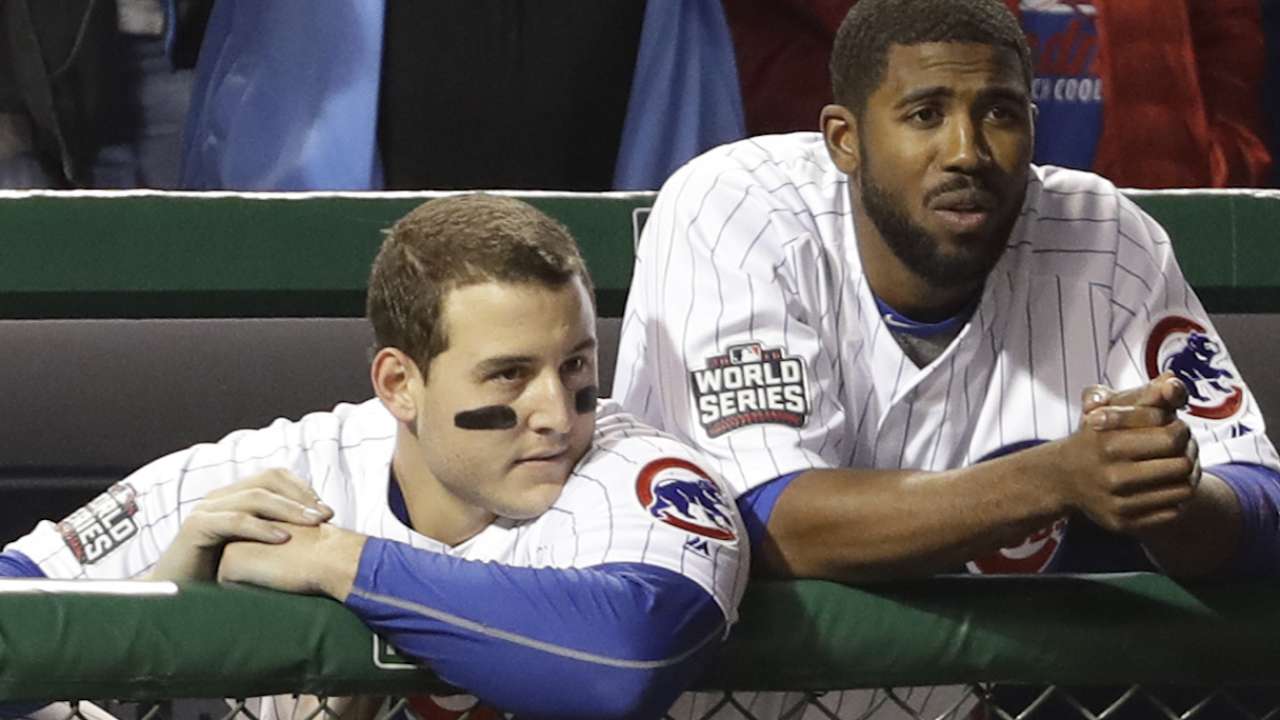 Javier Baez, who was named co-MVP of the NLCS, was dropped to seventh in Maddon's batting order for Game 3 after going 2-for-9 in the first two games, including three strikeouts with runners in scoring position. He was hitless in four at-bats Friday, three times making the last out of an inning with runners on second or third.
That included the last out of the game, when Baez swung through a high fastball for strike three. He is 1-for-9 with runners in scoring position in the three games.
"The first two series, he'd done a really good job of, again, staying in the strike zone,'' Maddon said. "It's really not complicated. I don't remember what that commercial is, but it's not that complicated.''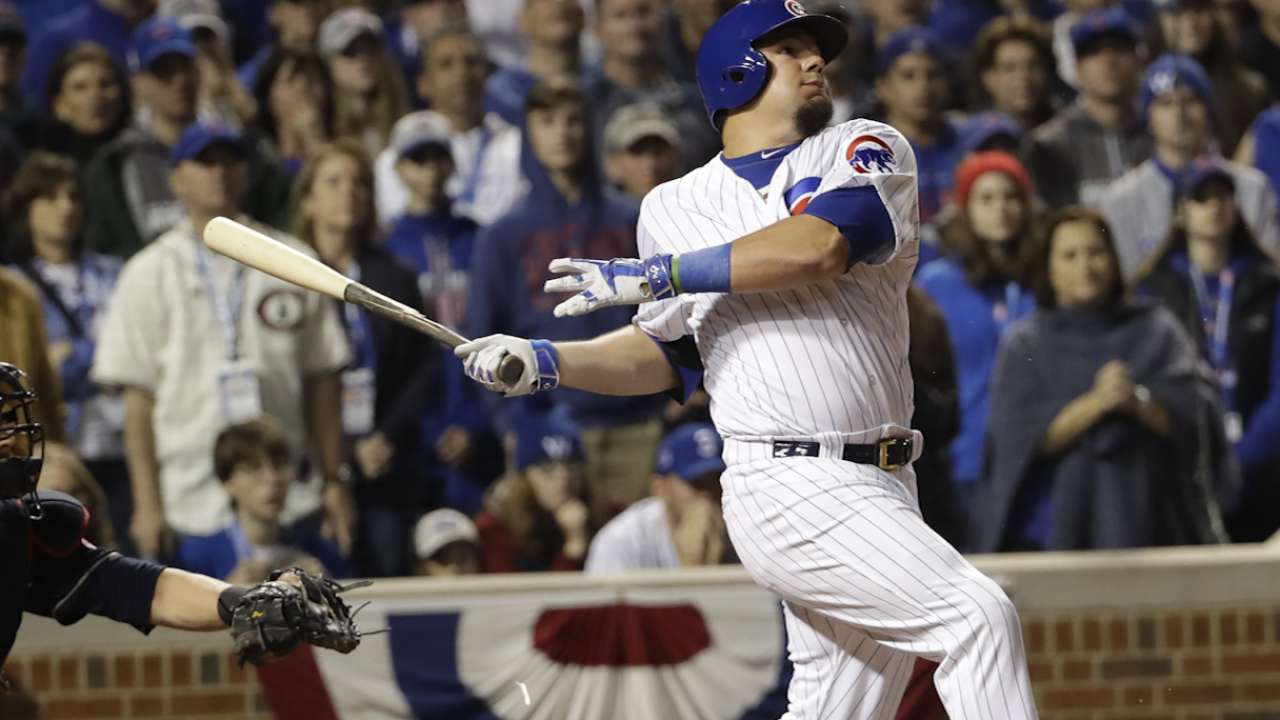 There was such a buzz around Wrigley Field for the first World Series game since 1945 that Epstein said it felt "like Times Square on New Year's Eve.'' Maybe that contributed to the Cubs trying too hard to make something happen, especially with the wind howling to center field.
"I thought maybe the first game here with all the hoopla going on, it may have had somewhat of an impact for our young guys,'' Maddon said. "But I have all the confidence in the world we'll fix it by tomorrow and work better at-bats.''
Their backs aren't against the wall, but they're way too close for comfort.
Phil Rogers is a columnist for MLB.com. This story was not subject to the approval of Major League Baseball or its clubs.