0 Cubs, 0: Chicago offense comes up empty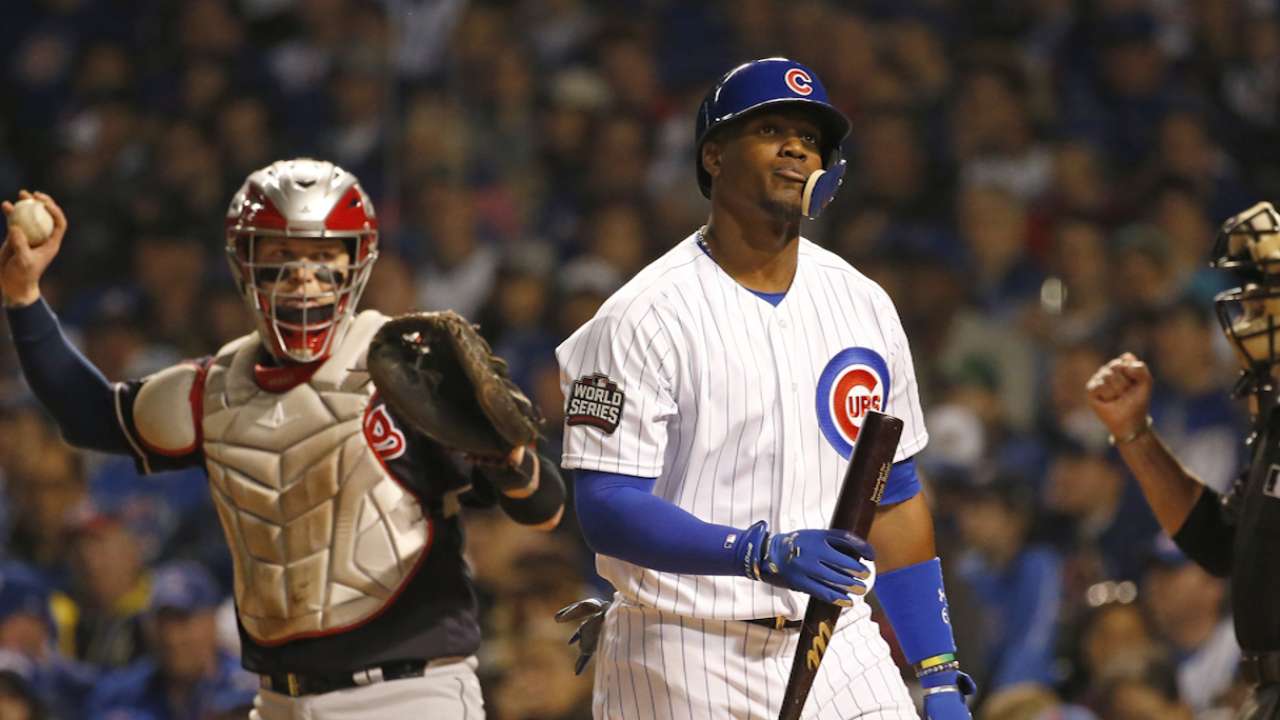 CHICAGO -- The wind blew out in 19 games during the regular season at Wrigley Field, and the Cubs went 15-4 in those games, averaging 9.6 runs per game. On Friday night, they couldn't take advantage of the hitter-friendly gusts or Indians pitcher Josh Tomlin's tendencies.
"The guy's a fly-ball pitcher, the wind is howling out, it's October, so, of course, it's a 1-0 game with a broken bat to win it," Chicago's Anthony Rizzo said. "That's the way this game is. You've got to roll with it, and roll with the ups and downs."
• Game 4: Tonight, 7:30 p.m. ET air time | 8 ET game time on FOX
That "guy" was Tomlin, who stymied the Cubs over 4 2/3 innings and shrugged off 14 mph southerly winds. Tomlin combined with three other pitchers on a 1-0 Cleveland win to take a two-games-to-one lead in the best-of-seven World Series.
• Shop for Cubs World Series and NL champs gear
"I think we were trying to speed up things too much today," said Chicago's Javier Baez, who struck out to end the game, stranding runners at second and third and sending the festive crowd at Wrigley Field home feeling the same as the fans did in 1945 -- the last time the World Series was played at Wrigley. "We have to slow down and play our game, and take it [at-bat] by [at-bat] and pitch by pitch."
Offense wasn't a problem for the Cubs during the regular season. They posted a plus-252 run differential. They were shut out six times during the regular season; they've been blanked four times in the postseason, including twice by the Dodgers in the League Championship Series and now twice by the Indians.
They bounced back against the Dodgers, scoring 10 runs in Game 4 and then eight in Game 5 en route to capturing the NLCS. What does the feast-or-famine stretch of losing 6-0 in Game 1 of the World Series, winning in Game 2, then losing 1-0 in Game 3 mean?
"It just means we're due," Dexter Fowler said.
The Cubs went 0-for-7 with runners in scoring position Friday, totaling five hits.
"When you're facing good pitching, sometimes it happens," Ben Zobrist said. "We didn't have a lot of opportunities today. Tomlin pitched well, and their bullpen pitched well. We were going to have to beat [Corey] Kluber anyways. We'll get a chance [Saturday]."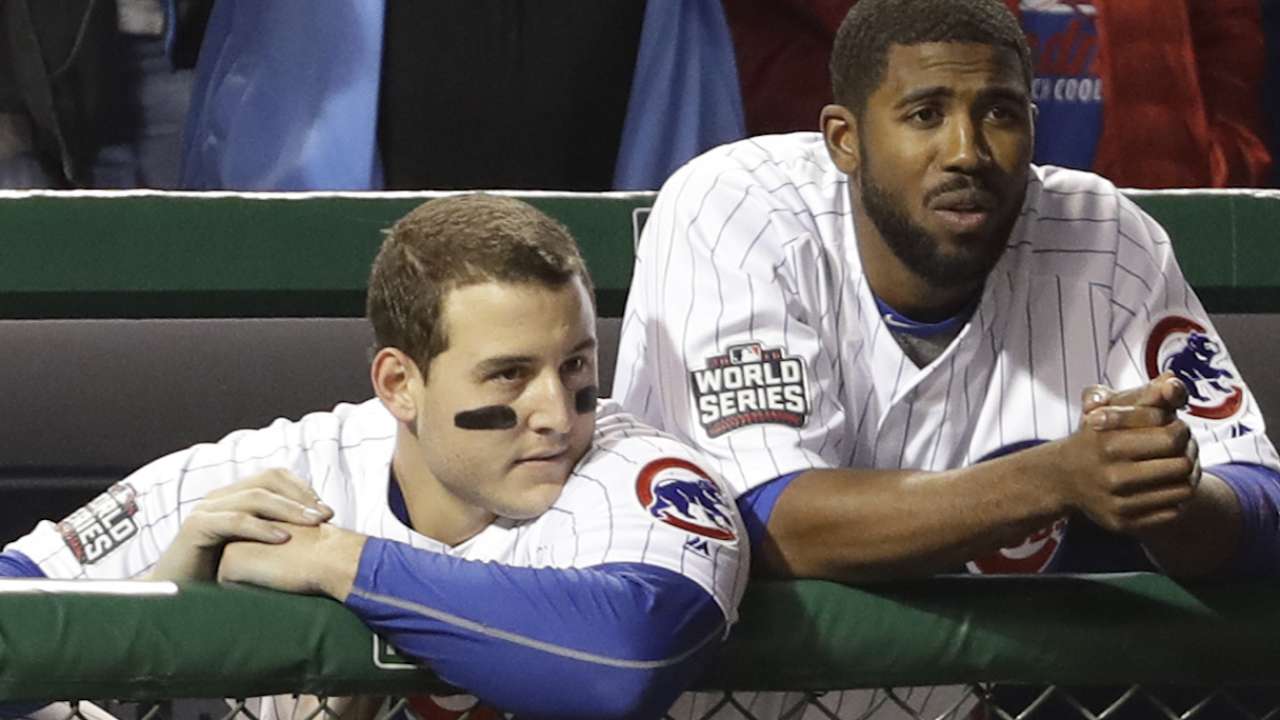 Were the Cubs a little anxious?
"Sometimes it looked like we were taking fastball swings and it wasn't a fastball, it was a cutter or something else at times," Zobrist said. "We just didn't square a lot of pitches up. [Tomlin] did a good job similar to Kluber of starting the ball on the plate, or just off the plate and right on the corners. He did what he had to do."
These weather conditions usually favor the hitters.
"We're out there [during batting practice] and the balls were flying all over the place -- I even hit a few out," Cleveland's Coco Crisp said. "I didn't think [it would be a 1-0 game]. I thought it might be a high-scoring game. On both sides, the pitchers did an amazing job tonight and we just ended up getting the victory because of the one run. What a well-pitched game."
Rizzo didn't feel as if the Cubs hitters changed their approach because of the elements.
"It's just about staying within yourself and trying to put the barrel on the ball and letting whatever else take care of itself," Rizzo said. "When it's blowing in, that's what we do and when it's blowing out, that's what we need to do. I feel we do a good job of having good at-bats and not letting the wind dictate what we do, but, oh well."
The Cubs now have a rematch Saturday against Kluber, who threw six scoreless innings in Game 1.
"If you win 20-10 or 1-0, it's still a win," Rizzo said. "It's just about getting that next guy up and knowing that it takes one guy to do it, and collectively as a team we're going to do that."
Carrie Muskat has covered the Cubs since 1987, and for MLB.com since 2001. She writes a blog, Muskat Ramblings. You can follow her on Twitter @CarrieMuskat and listen to her podcast. This story was not subject to the approval of Major League Baseball or its clubs.