Cubs' Fan of Year Adorno experiences Series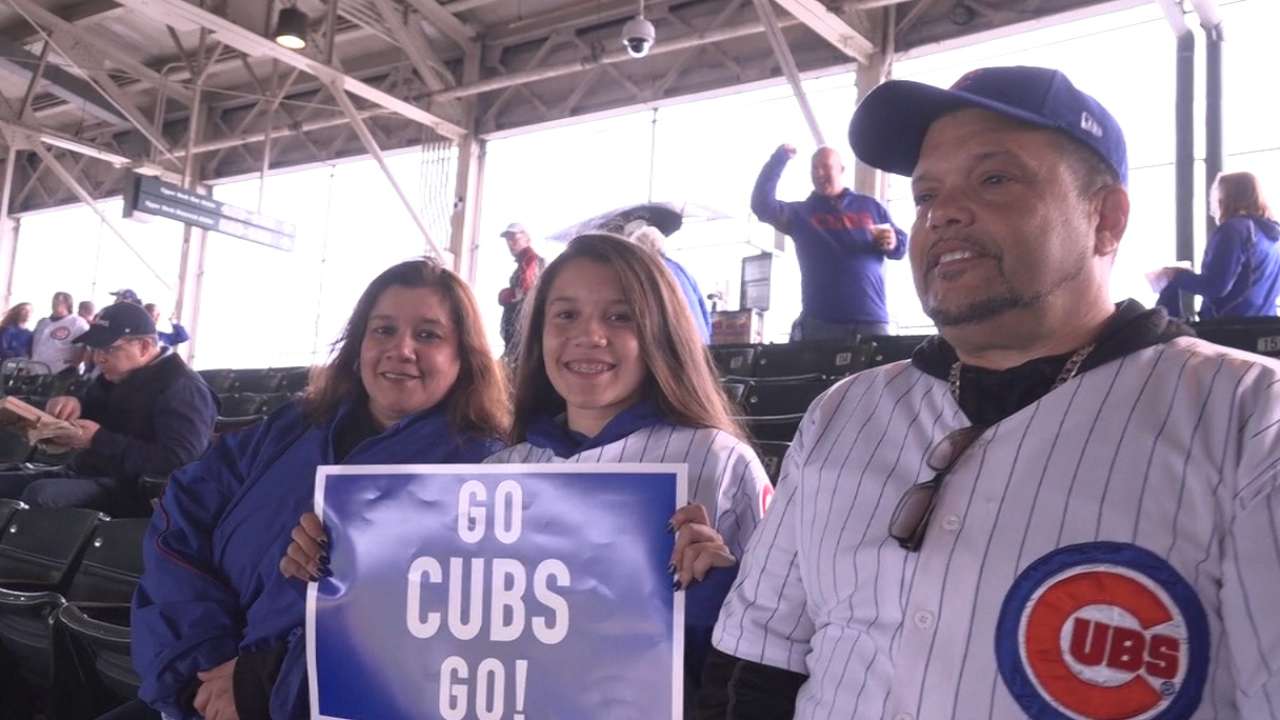 CHICAGO -- "Super Natalie" Adorno posed for a photo in front of the famous Wrigley Field marquee, accepted her prize of a pair of Game 3 tickets from four-time World Series champion pitcher and MLB.com analyst Jeff Nelson, was escorted through the VIP entrance, and then said hi to an usher by first name.
Only 14, Adorno is certainly a familiar face around the Friendly Confines, and especially in Section 527, her home away from home and her vantage point Friday night.
The regular-season-ticket holder was named the Cubs' winner in the inaugural MLB Fans of the Year presented by Esurance. It is a major new award that symbolizes the unique passion and joy all fans of baseball bring to the game, with one winner recognized for each of the 30 clubs.
"It's incredible for me, because I've been a season-ticket holder for four years," she said. "To see how they've grown as a team and to see them now in the World Series, and the demand for tickets with fans who have been waiting out here for two days to get tickets to this game, it's amazing. Since I won MLB Cubs Fan of the Year, I've gotten so much recognition."
• Shop for Cubs World Series and NL champs gear
Also as part of this honor, Adorno was invited by the Cubs to the World Series Gala a night earlier at Navy Pier. That's where she bumped into Cubs chairman Tom Ricketts. She tweeted a picture with him at the Gala, and in fact her constant tweets about being a Cubs fan is a passion they were glad to recognize.
"Mr. Ricketts asked me what I was going to do when I grow up, and then he asked me if I was going to work, and I said, 'No, I'm going to own the Cubs with you," Adorno said. "He started laughing."
Adorno is a freshman at Guerin College Prep in River Grove, Ill. She was brought to the game by her parents, Carlos Adorno and Maria Cuebas of Pleasantville, Ill. As usual, this young fan wore her pinstriped home jersey with "SUPER NATALIE" and the No. 1 on the back.
"I'm just so proud of her," Cuebas said. "This is incredible. We've been Cubs fans forever, and now to see her go through this, it's so nice.
"We always brought her when she was younger, but four years ago when we got the season tickets, we didn't think she was going to take over. She took over. She loves it. She never played baseball. She enjoys it. She really is a big Cubs fan."
"I love the Cubs win or lose, but '2016 World Series champs' sounds a lot better," Natalie said. "I think we have a great chance. Especially this being their home field, they're used to this field."
Major League Baseball and the clubs worked tirelessly to identify the sport's top supporters. Winners whose clubs reach the League Championship Series or Fall Classic received tickets to root for the home team on a late-October night. For fans whose teams were not among the last four standing in the postseason, free tickets await for an April 2017 game of their choice.
The MLB Fans of the Year presented by Esurance program represents the "first inning" of the Esurance MLB Awards, which honor greatness in Major League Baseball and serve as the grand finale of the game's awards season. Voting continues until 2 p.m. ET on Nov. 11 at MLB.com/awards.
Mark Newman is enterprise editor of MLB.com. Read and join other baseball fans on his MLB.com community blog. This story was not subject to the approval of Major League Baseball or its clubs.