Kluber to ride sterling playoff resume into G4
Indians ace dominated Cubs in G1, will be on short rest for 2nd time this postseason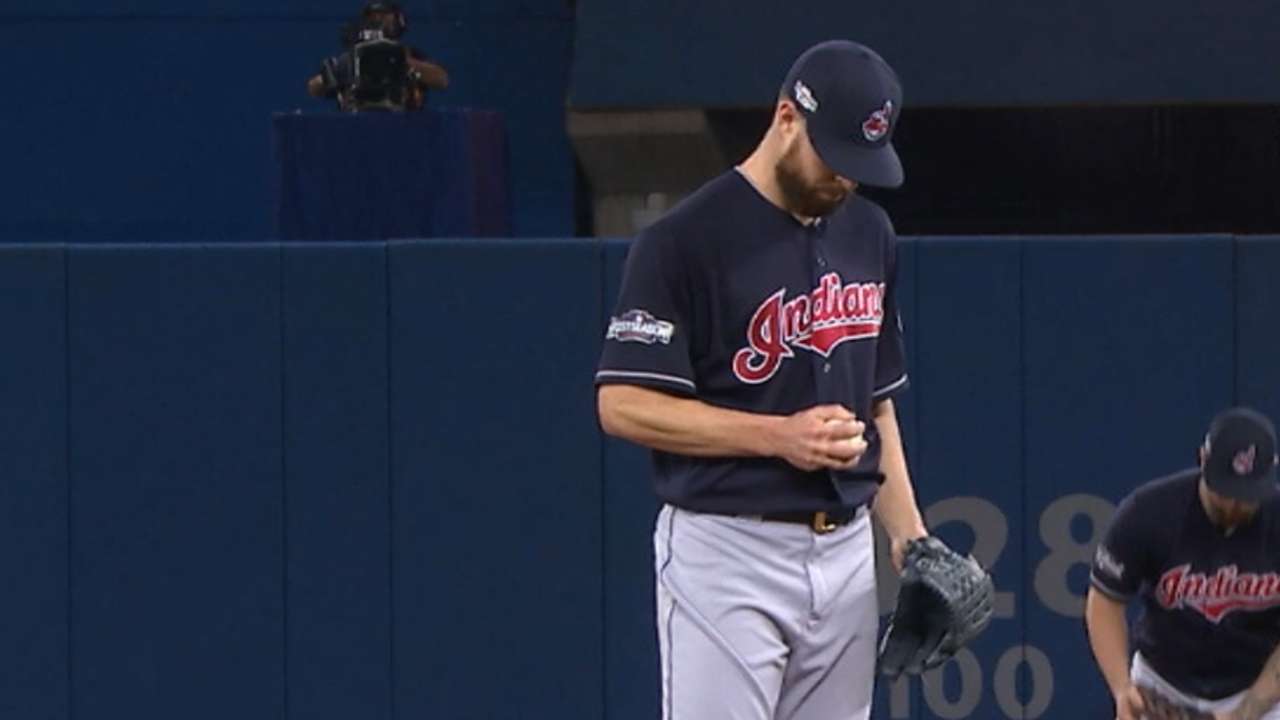 CHICAGO -- Small sample sizes uncover only so much, but Corey Kluber's postseason experience, which features all of four starts, reveals definitive results. Summed up by Indians manager Terry Francona, who will start the right-hander on short rest against the Cubs in Game 4 of the World Series on Saturday: "He's just really good."
Any discussion about the underdog Indians willing their way to a World Series title over a 103-win Cubs club starts and ends with their ace, the gift that keeps on giving for Cleveland, which took a 2-1 Series lead with a 1-0 victory in Game 3 on Friday night. The team winning the third game of a 1-1 World Series has gone on to win the championship 37 times (64.9 percent), including in four of the last six years. While Kluber looks to lead the Indians to a 3-1 Series advantage, Chicago will counter with veteran right-hander John Lackey at Wrigley Field.
• Game 4: Tonight, 7:30 p.m. ET air time | 8 ET game time on FOX
"To this point," Kluber said, "I think that it's been just as fun and exciting as we all imagined it would be."
Easy for him to say.
• Shop for Indians World Series and AL champs gear
Kluber, who could soon take home his second American League Cy Young Award in three seasons, is 3-1 with a minuscule 0.74 ERA and 29 strikeouts against seven walks in 24 1/3 innings this postseason. He thoroughly dominated the Cubs, who went just 4-for-22 against him, in a 6-0 Game 1 victory at Progressive Field on Tuesday, brilliantly spinning six-plus innings.
The Cubs watched Kluber set a World Series record with eight strikeouts by the third inning. He finished with nine, logging just 88 pitches by the time he departed. The moderately light workload should counter the three-day break, which figures to be of no issue for this creature of habit.
The 30-year-old Kluber, who is also expected to take the mound in Game 7 should the World Series extend that far, also pitched on three days' rest in Game 4 of the AL Championship Series against the Blue Jays, allowing his only runs of the postseason -- two of them -- in five solid innings.
"I do think that he's good enough where you give him a task, you give him some time to think about it and get prepared," Francona said, "he's one of the best in baseball. I mean, this kid's routines are impeccable. He works hard. Every time he picks up a ball, there is intent. There's a reason that it's October 28 and his gas tank, the needle's on full. That's a pretty big compliment to his work ethic."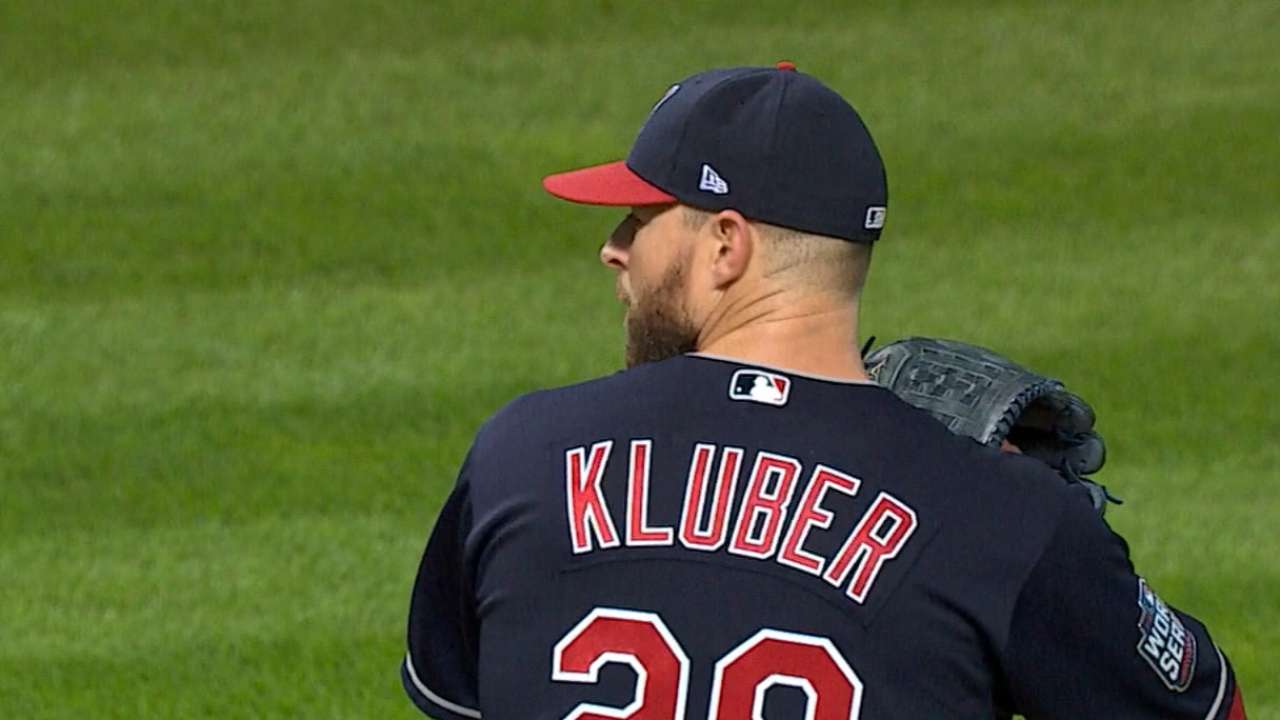 Kluber could become the first pitcher since 2001 (Arizona's Curt Schilling) to pitch in Games 1, 4 and 7 in a Fall Classic. The last pitcher to start three games in a World Series was Chris Carpenter, who did so with the Cardinals in 2011 (Games 1, 5 and 7).
"It's just basically doing the same stuff in one less day," a predictably stoic Kluber said. "I don't really feel like the last time I did it made a big difference in the way I felt the day I pitched.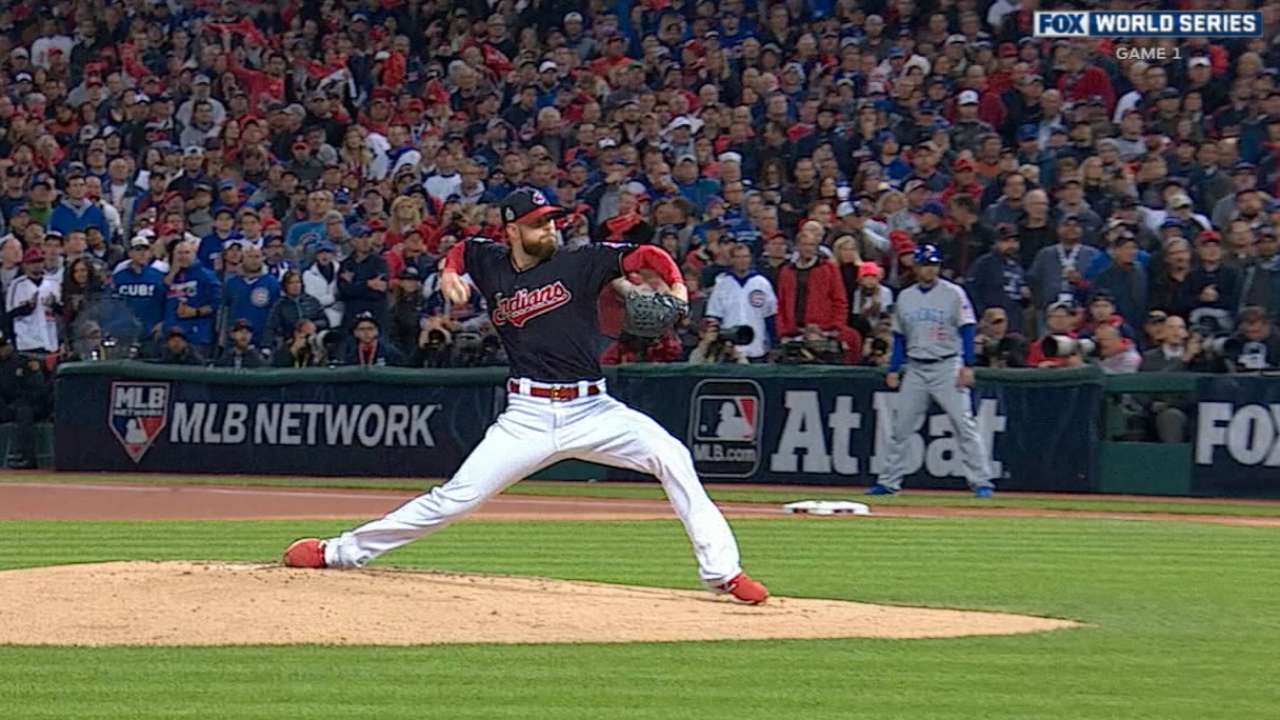 "I think you could probably ask anybody on either team and they're going to pitch whenever they're called upon at this point in time. I mean, it's the last series of the year. It's the World Series. I think you'd be really hard-pressed to find somebody who didn't want to go out there and pitch."
Jane Lee has been a reporter for MLB.com since 2010. This story was not subject to the approval of Major League Baseball or its clubs.