Tito: Santana in LF gives Tribe 'better chance to win'
Manager prioritizes offense in Game 3 at Wrigley Field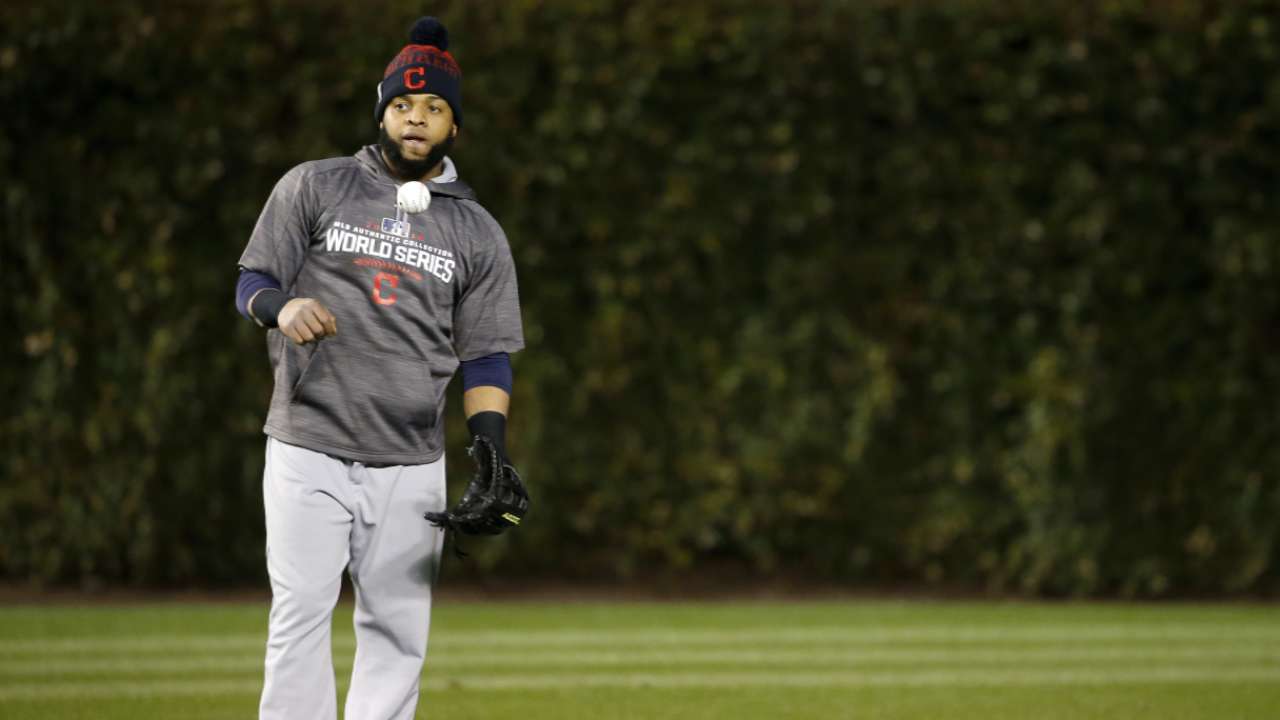 CHICAGO -- With no designated hitter in play during the World Series games at Wrigley Field, Indians manager Terry Francona decided to prioritize offense. After careful consideration, Cleveland opted to start first baseman Carlos Santana in left field for Game 3 on Friday night.
"This is the closest we can get to our team, our lineup," Francona said before the game. "Carlos has been terrific about it. He volunteered. He seems excited. Like I told you guys the other day, if he makes a bad play out there, and it would hurt our chances to win, then come talk to me, not Carlos. I don't think that's fair to him.
"I really think, when it's all said and done, this gives us a better chance to win than not, or I wouldn't have done it. Certainly, it's a little bit of a [risk]. I get that. But I don't think we came all this way to play it safe."
During the regular season, the switch-hitting Santana split his time between first base and DH, while serving as Cleveland's leadoff hitter against righties and the No. 5 hitter against lefties. In 158 games, Santana had a strong year at the plate, belting 34 home runs with 31 doubles, 87 RBIs, 89 runs and as many walks (99) as strikeouts.
• Shop for Indians World Series and AL champs gear
On days Santana has worked as the DH, slugger Mike Napoli manned first for the Indians. Francona wanted to keep both Napoli (34 homers and 101 RBIs this year) and Santana in the lineup against the Cubs. Over the past several days, Santana has been taking fly balls in left field in preparation for the games at Wrigley.
"I feel good out there," Santana said before Game 3. "I'm not going to lose my focus."
While discussing the possibility of playing Santana in left over the past couple of days, Francona has also expressed a distaste for the different league rules on such a big stage. The manager said he would not be opposed to Major League Baseball looking into a universal DH for such games in the future.
"They've done so many really good things," Francona said. "And I know [former Commissioner Bud Selig] is a lot responsible. This would be the one where I disagree. I don't think it makes it a bad game, or things like that. I just don't necessarily agree with this. I just think you set your team up the way you set it up, and then you get to the most important games and you're doing something different."
Other items of note from Friday
• One of the reasons the Indians started Trevor Bauer in Game 2 in Cleveland was to avoid having the pitcher bat under the NL rules at Wrigley Field. After Bauer's right pinkie finger (lacerated on Oct. 13) held up fine during his Game 2 start on Wednesday in Cleveland, there was less concern about him taking the ball and batting in Game 5 on Sunday in Chicago.
"We were trying to keep [Bauer] away from [hitting] early on," Francona said. "There was enough concern about pitching. I don't know quite yet what he can do hitting-wise. We'll see, because I really don't know. Hopefully, he's far enough along where it doesn't interfere, but we'll get to that."
• During Thursday's workout, Francona said there was an "us against the world" mentality among the Indians' players. The manager joked before Game 3 on Friday that he had to remind himself that his team was in the World Series one day earlier, considering how many reporters left Wrigley Field after the Cubs' portion of the workout concluded.
"We had our workout, and everybody had left. It was kind of funny," Francona said. "It was quiet, but dang. I had to remind myself we were still here. You know what? They had 103 wins and it's Chicago. I get it. They're popular as heck. What I care about is our guys in the room. We'll be OK."
• Francona said something will have gone awry if one of the Indians' relievers steps up to the plate to hit over the next three games at Wrigley Field. The manager noted that only the starting pitchers (Corey Kluber, Josh Tomlin and Bauer) have taken batting practice.
"If one of those relievers is hitting, believe me, they're not hitting to win the game," Francona said. "The game will either be out of range, or the risk-reward is just not worth having all of those guys hit for an at-bat. If it happens, it's lopsided."
Jordan Bastian has covered the Indians for MLB.com since 2011, and previously covered the Blue Jays from 2006-10. Read his blog, Major League Bastian, follow him on Twitter @MLBastian and listen to his podcast. This story was not subject to the approval of Major League Baseball or its clubs.