MLB.com Columnist
Alyson Footer
Fans pay respect to Banks before historic G3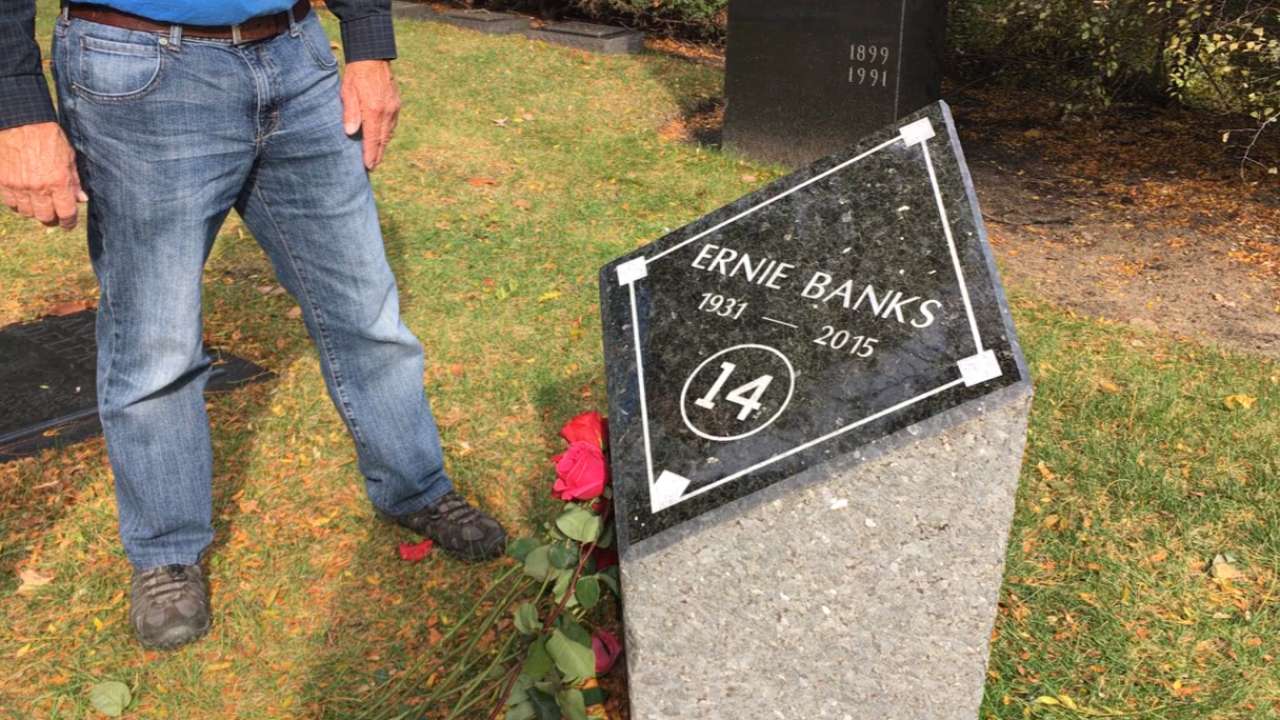 CHICAGO -- Blocks from the hustle and bustle surrounding Wrigley Field on a historic day in Chicago sits a quiet, serene cemetery that has been a necessary stop this week for dozens of Cubs fans on their way to the ballpark.
Graceland Cemetery, located mere blocks from Wrigley Field, which saw Cleveland take a 1-0 victory over the Cubs on Friday to go up 2-1 in the World Series, is where Ernie Banks, Mr. Cub, was laid to rest soon after his passing in January 2015. His gravesite, one of thousands at Graceland, sits in the back of the cemetery. The black marble headstone reads, simply, "Ernie Banks, 1931-2015," with a circle containing his uniform number, 14.
On the ground in front of the headstone lay a half-dozen roses from well-wishers who have stopped by the Hall of Famer's gravesite in the past few days. To the left of the flowers is a lone postcard from Cubs fans telling Banks how much he is missed.
For Cubs fans David Leman, Brian Leman and Kyle Laskie, visiting Banks' gravesite was a logical stop during their four-mile walk to Wrigley that began near Lincoln Park.
"Ernie Banks is a major celebrity in this city," Laskie said. "To stand in front of his grave is historic, especially at a time like today."
• Shop for Cubs World Series and NL champs gear
The elder Leman, David, was only a year old the last time the Cubs played in a World Series. As one of seven brothers growing up on a dairy farm in northwest Indiana, Leman's love for the Cubs began at around the age of 5. His was a childhood filled with an abundance of hard work on tractors and a fair share of sneaking into the milk house to listen to Cubs games.
When their dad finally grew weary of all of the tiptoeing around, he bought radios to keep on the tractors so his kids could listen to Cubs games and still get the work done.
"I've been a crazy Cub fan ever since," Leman said.
Laskie and the Lemans are in the same situation as thousands of fans who have flocked to Wrigleyville all month, but especially this week. They don't have tickets to the World Series, but they are here to soak in the scene and be part of history.
Stopping off to pay his respects to Banks -- David Leman's favorite player -- just added to the once-in-a-lifetime experience.
"Ernie was everything," he said. "I can't imagine him playing on the team today. It would have been so exciting for him. He would have just motivated them to no end. He had so much enthusiasm."
The visit to the gravesite came as a surprise to the elder Leman. He thought the long walk would take them directly to Wrigley, but Laskie and Brian Leman planned ahead to take the detour.
Brian knew his dad would embrace paying his respects to the legendary Cub. It was a father-son moment neither will forget.
"I always said, 'You have to remember the past and understand the future,'" Brian Leman said. "To see the Cubs today is amazing, and the future we're going to have. But you have to look at the heroes from yesteryear.
"Mine's Ryne Sandberg. Growing up, I played second base and it was because of Ryno. We have to remember our history. That's why we came out here, to pay our respects. And to take a little of him back with us to what we're celebrating tonight."
Alyson Footer is a national correspondent for MLB.com. Follow her on Twitter @alysonfooter. This story was not subject to the approval of Major League Baseball or its clubs.