Oct. 28 Joe Maddon pregame interview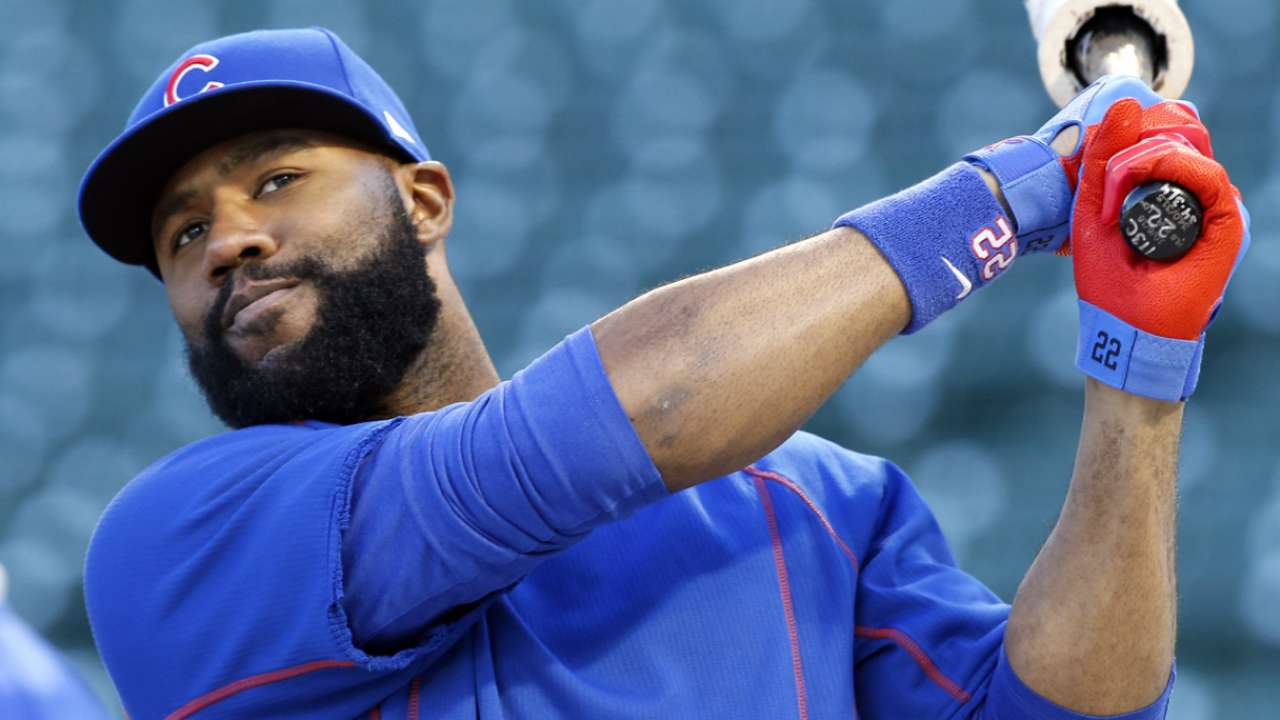 Q. Could you explain your lineup tonight, and does it mean that Jason Heyward will not be starting a game of the World Series, and you'd rather have him as a defensive replacement?
JOE MADDON: Tonight's lineup is based on their pitcher primarily. Their pitcher is right-handed but he has a really strong track record versus lefties. So for tonight I wanted to get Jorge back out there. I thought it was a good match-up.
No, it does not mean that Jason's not going to start at any point. It's just for tonight. Again, I'm trying do this one moment at a time, like I try to do everything else. I know their pitcher tomorrow, but I haven't formulated that lineup yet. All factors considered tonight, I thought Jorge was the right guy to start.
Yes, I do like Jason in the latter part of the game.
Q. Now that you've seen the flags blowing, how do the conditions play out tonight for you guys?
JOE MADDON: Well, walking over here, I've seen it like that before. I know the wind's supposed to get -- is it going to get heavier? It's supposed to get heavier, so that might make it more difficult. What it looks like right now, I've seen. If you make good pitches, you can still pitch here. The difference is that a flyball definitely is going to go out, especially in the left-center gap. It seems to want to go there the most. But there's nothing you can do about it. You just go play the game.
I managed in Midland, Texas; I know what it feels like. I've managed here for two years now; I know what it feels like. It's the same for both sides. You just try to go out there and elicit weak contact as much as you possibly can. But, again, a ball that's in the air sometimes that would normally be an out anywhere could eventually end up in the basket or beyond.
So that's just the same for both sides. There's nothing you can do about it.
Q. John Lackey the last few outings, he's had lots of rest between outings. Could you talk a bit about the pros and cons of this kind of situation. And how much does experience help in this kind of situation?
JOE MADDON: Yeah, he has had a lot of time, plus he's coming off an injury, plus I took him out rather early the last time, too. So part of it I just think coming off the injury that he had, he was still building up some arm strength. Although, and I've defended it with this, I've seen a lot of the same numbers on the gun; fastball velocity, breaking-ball velocity has been very similar to the past.
So I just want to believe that he keeps getting stronger. But there is a certain amount of rust element involved having so much rust. However, I have a lot of faith in John, and I know he's going to be ready to play and pitch. Again, I never worry about him, man. He's been there, done that, and I know he'll be ready for tomorrow.
Q. There's been people streaming into the neighborhood since early this morning, and I'm kind of curious what it was like for you getting to the park today? Has this exceeded what your imagination was for the excitement level here?
JOE MADDON: I guess one of the groups that makes video games could absolutely make a game out of going down Clark Street for the first game of the World Series, the potential of hitting pedestrians or not, running lights, stop signs. Nobody ever stops here. Everybody merges constantly (laughter).
I thought I allotted enough time, and I kind of did. I got here a little bit later than I wanted to. I thought it was great. When you get to that point closer and you see lines everywhere. Lines to get in and out of establishments, I think it's great. And for a second, I was even talking to the guys inside, the altruistic component of all of this. Beyond everything, the game tonight, of course Cubs, we want to win, absolutely. But how about the excitement throughout the industry, throughout the game, and throughout our city? Everybody being engaged in this moment, it's good. It's a good moment for everybody.
So that's not lost on me either. When you're driving down that street today and you see the involvement, you see, I mean I was hearing about the prices just to get into these places and then what you get for it, and the fact that people are flying in just to be at a bar, not even be at the ballpark, that is pretty impressive.
So the whole moment I think is spectacular is the best way I could describe it. But it is, it's different in all the best ways, and it should be absolutely a blast here tonight.
Q. With John Lackey, I know you've known him for a long time. What was it like watching him from the other side when he was in Boston and you were in Tampa. Those difficult years do you think kind of fueled him?
JOE MADDON: When he had some difficult times? Yeah, actually, we got him one time in that game for the Boston Marathon, that 11 o'clock in the morning thing. So I've seen him go through both good and bad. I knew there was something wrong based by the way he was pitching and the fact that his command wasn't as good as it normally is. You knew there was something wrong with his arm. You just knew it. So I'm certain he's grown from that.
The biggest, and I've joked about it, the biggest difference between John now and in 2002 is he's in better shape. He's really taken care of himself well, and that's what I was talking about the numbers on the gun there. They're exactly the same. They're not even close to the same, they look exactly the same as when he was 21 at that time or 22 coming out of Texas, whatever.
So I think the difficult times definitely reignited his fire. But right now I think physically throwing the baseball he's as good as he's ever been.
Q. Your job, obviously, is to win the game tonight. But at what point kind of like you were alluding to earlier, do you take a moment to kind of soak it in, whether it's on the baseline, when you're warming up, or before you get here? How do you balance the all-business aspect of what you need to do, with also wanting to soak in and appreciate the history of this?
JOE MADDON: Again, if you want me to go there, just driving down Clark today, pulling up to Wrigley, and I'm looking at the flags and everybody milling around, I'm thinking to myself, 1945, the biggest difference, obviously, would have been maybe not as many establishments, I don't know that, but no lights on the roof. That's the one thing I'm looking at the ballpark. So I'm thinking it should pretty much look the same even back then, which I think is kind of a cool thought minus the light towers.
So I did. When I got out there today, and again, I've already talked to the media about this in my office, you want to slow it down as much as you can and appreciate the moment. You've got to appreciate the moment and what you're actually going through right now. The sin would be to not do that and have it go so quickly that you don't actually enjoy it. That would be inappropriate.
So I intend to enjoy it. I have. I have. Thank God there's not another round after this, I'll say that. I'm ready for the family vacation. But it's spectacular in all the best -- hyperbole definitely suits right now. Whatever you want to throw out there, it really matches up to what's going on right now. And yeah, I'm going to be on the line. I'm going to be thinking about my dad, and I'll be thinking about a lot of the family members. My wife's here. My mom, Beanie's (Albina), stuck in Philly. I guess there's a problem at O'Hare right now. So she's stuck in Philly. So hopefully she'll get here tonight or tomorrow. But that's tough for Beanie right now, hanging out in Philly airport.
But all this stuff matters, and I'm really going to try not to let it go too quickly.
Q. Through two games in the series what have you seen with Javy's at-bats? And what was the thought process of having him bat 7th tonight?
JOE MADDON: I don't want to give you everything, but, yeah, there's definitely the lineup construction today is based on their pitcher today and what may happen during the course of the game based on my observations from the first two games. Javy's tried to do too much in the first couple games. The foot's getting off the ground, again, too high. Just go back to what he had been do in the previous two series. That's it. That's it. Otherwise he's fine. But the other two slots are just based on in-game potential reactions from their side, and that's why I set it up the way I did.
I mean, Willson, you've seen Willson. Willson don't care. You can hit him one through nine, he don't care. And he's going to be the same at-bat, regardless. That's what I love about this kid. You put him in the four hole, you're going to see the same at-bat. So I just thought versus this team today, versus what they could bring out of the bullpen, I thought he was best suited for the five hole. And then Jorgie, you know, he protects Soler a little bit. If they make a mistake and he hits a flyball, it's going to be a homer. So that's not really complicated. But that's what I was thinking.
Q. You've been a part of a few pennant-winning teams, Angels, Rays and now the Cubs. Of all the teams you've been on, do you feel like this is the most complete team in terms of the way it's constructed, having as many options as you do?
JOE MADDON: Wow, honestly, yeah, it is all of that. But the Rays team was pretty darn good, too. It really was. If you put all those names up against these names and even having a David Price coming out of the bullpen, I think probably starting pitching-wise, yes, here, absolutely. Bullpen-wise, having a guy like Chappy at the end is a difference maker, no question.
Teams on the field, though, I think are somewhat similar. Longo or Jason Bartlett or Aki and Carlos Peña, you could go around the horn there and make a case for Carl and B.J., et cetera. And I'm not trying to denigrate one group or pump another up. I'm just answering your question honestly. I think there are differences. Completion-wise, you talk about the bench here, it's pretty significant. I think right now you're trying to make choices between Jason, Almora, Soler, all these guys you're leaving on the bench, Coghlan, to play somebody else. To have all those options that you like. I mean, there are options that you like that you're choosing to do this tonight, that's probably different.
But for the most part, yeah, if you had to really -- it probably is the most complete group, and it's the youngest group, pretty much the youngest group. That's the part that really blows me away. If you really take a moment to look out there, like that last game and even this game, there's a lot of young, inexperienced players. Beyond today, beyond these next couple days that makes me think just check these guys out in a couple years. The biggest difference, I think, is that they're going to become better hitters, better offensive players.
Their defense will stay the same. Their running speed will stay the same. Their arms, as long as they have good health, will stay the same. The area you're going to see this team even get better is offense.
Q. Who have been the biggest influences on your management style? And somehow have you honed it along the way?
JOE MADDON: Michael Scott, probably the biggest influence. That's The Office for those that don't watch TV.
I often talk about Gene Mauch as a young coach coming up, watching him, and how he used to explain things. He just was loaded with common sense. He would reduce things to the point where it's so obvious but you didn't think about it then. Then he would present it to you and it would become even more obvious.
Organizationally Larry Himes had a lot to do with me organizing my day. As a scout, Larry used to test me constantly. He taught me how to scout and evaluate players. Also, Marcel Lachemann was involved in that, too. Bob Clear's the best coach I've ever been around. He's no longer with us, Bobbalou taught me so many different things regarding coaching the game of baseball. And then beyond that, I think you take bits and pieces away from all the guys that you had, but there's a lot of guys you had that you thought did poorly, and you take a lot from them, also, because you never want to be that way.
So I think it works both ways. You gain experience, and you gain your ability or your ways in regards to doing things from those that are good, but you can really learn from the guys that you think do it poorly, too.
Q. How big of an advantage is it to you to be able to roll four deep in the rotation as opposed to having to go to three men and maybe getting diminishing returns every time they go out on three days' rest?
JOE MADDON: Obviously, it's nice, you're not stretching it by using our four guys. We feel very good about it. Even from the beginning we knew he were we were going to run with it this way. And Jason Hammel's not even available and check out his numbers from this year. Going back to the complete team concept, that's really where it starts, I think, with the pitching. But it's very comfortable knowing that. Also having the experience that they've had primarily out of that whole group. Of course, Jake more recently and Kyle. But John and Jon have been battle tested with all this stuff. It's wonderful. And I mean, you're right. To throw a guy out there on less days' rest, of course they can do well. But that's something that was done more prominently back with Jim Lonborg or Bob Gibson or the guys back in the day that would run them out there more readily. It's just not part of the baseball culture as much in these days.
However, I do like having the solid fourth guy. You would think it would be more difficult for guys coming back on short rest, but you have to play the game to find out.
Q. You mentioned the parallel talent-wise with the '08 team. What about the construction of the mix of the young and the old and being on the rise as well?
JOE MADDON: Yeah, it was. You're right, and that's a good point. Because the reason why I think -- the big reason why this team is so successful and the reason that team was so successful in '08, we had a lot of good players in both places, but the veterans are really the guys that guided the ship. In '08 Eric Hinske, who is one of the coaches here now, and Troy Percival, and Cliff Floyd were really big in regards to doing a lot of the stuff there. Believe me, as a manager, when you have a group within the peer group that's able to carry the message for you, oh, my God, it makes all the difference in the world.
I mean, people don't understand sometimes when we reference that in the papers why you talk about the leadership in the clubhouse and why that's so important, because there's a lot of things I should never hear about. There's a lot of stuff I should never even hear because if I hear it that means there's a stool pigeon out there somewhere. So they're privy to these conversations in the clubhouse, and if they hear something really bad or awry, take care of it. Now we have the group here with David, John, Jon, Miggy, guys in the bullpen. We have so many guys in the bullpen, Stroppy, Ronnie, et cetera, now we have Aroldis. So there's so much of this built in where the young guys are being raised properly by their uncles or whatever, I don't know.
But you need that peer group that brings to their attention when they're going off line a little bit, because I should be the last guy to hear about it if it's working properly. Because if I've got to hear about it, then that means it's not been taken care of. I explained that to the veteran players upfront and they've been fabulous. So strong similarity between '08 and now with that.