Straily settling in with Reds after breakout 2016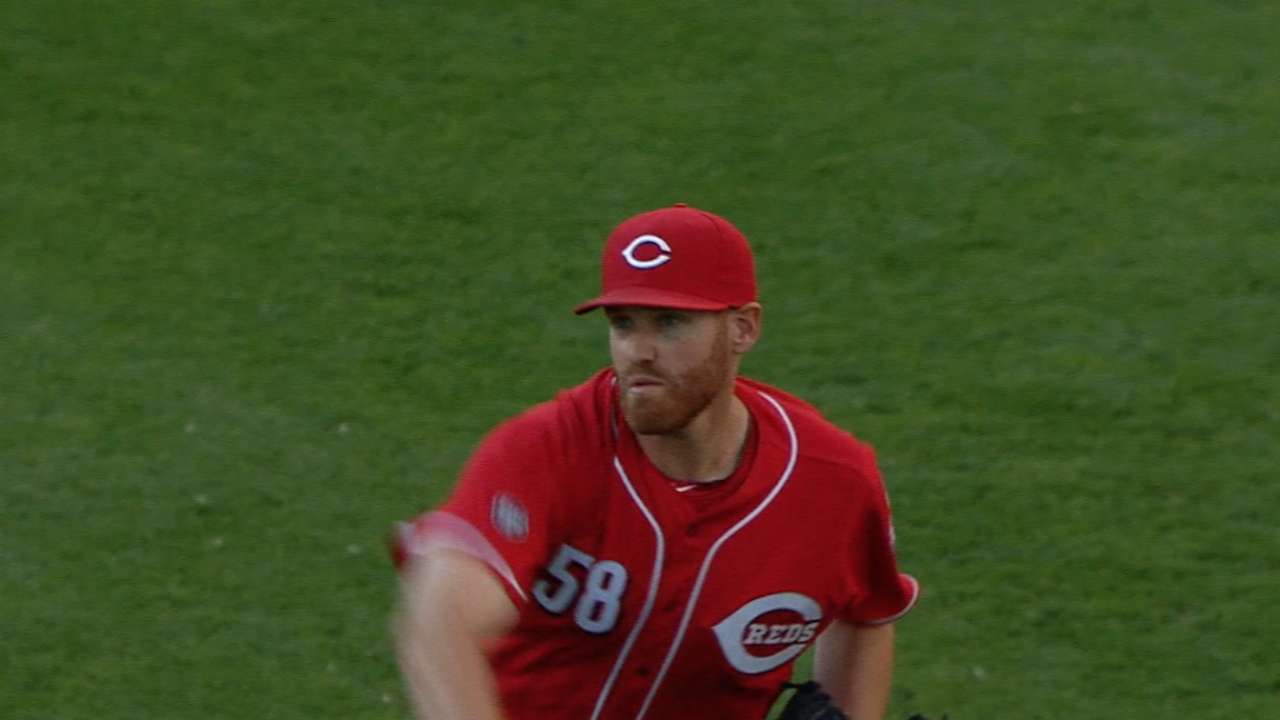 CINCINNATI -- As someone who experienced being part of three different teams during a one-week span in March, pitcher Dan Straily greatly appreciates his more settled situation with the Reds this offseason. Being settled is a feeling Straily certainly earned in 2016 as he heads into '17.
The Astros traded Straily to the Padres in the final week of Spring Training, and he landed in Cincinnati as a waiver claim after camp had already broken. Once he cracked the Reds' rotation, he did not squander the opportunity. The 27-year-old went 14-8 with a 3.76 ERA and 1.19 WHIP in 34 games (31 starts), while working 191 1/3 innings.
"It really just kind of gives you that comfort level, if you will, of having some reassurance going into next year," Straily said on the final day of the season. "The term we would use in baseball is it'd be a 'my job to lose' kind of situation. They haven't told me that, but you just kind of read things."
Straily, who compiled a 10-2 record with a 3.10 ERA over his final 15 starts, joins Anthony DeSclafani, Brandon Finnegan and Homer Bailey as likely locks for the 2017 rotation.
What helped Straily perform well enough to earn one of those coveted spots? First, it was his effort over the previous offseason. He spent time in Washington working out at Driveline Baseball, a facility that emphasizes pitching data in training programs and uses -- among other things -- throwing with weighted baseballs to build shoulder strength.
"I literally can say after 31 starts that I never came in one day and was sore," Straily said. "That's not supposed to be that way. You'd have the little lingering stuff, but there was never a day where I didn't want to pick up a baseball. I felt good the entire season."
Straily did co-lead the National League in surrendering 31 home runs (tied with Max Scherzer), but 24 of them were solo shots. That's in part because he limited his baserunners. Straily walked 73 batters while striking out 162.
Not a power pitcher, Straily instead maximized his pitch quality and deception. For that, he credited catcher Tucker Barnhart, pitching coach Mack Jenkins and everyone's ability of having a feel for what did or didn't work and the data that supported it.
"They helped understand who I am as a pitcher, helping me understand how to use my stuff and not to stray too far from who I am as a pitcher in terms of throwing all of my pitches to both sides of the plate to both hitters," Straily said of Barnhart and Jenkins. "We threw inside changeups to lefties this year. We threw inside changeups to righties. We threw backdoor sliders to both sides of the plate."
According to Statcast™, Straily had a very low spin rate on his changeup -- the average of 1,444 RPMs ranked 80th out of 90 pitchers who threw at least 250 changeups in 2016. Changeups and fastballs with less spin generally have more downward movement. According to the heatmap, Straily was good at locating his changeup down and away to lefty hitters.
The heatmap on Straily's slider demonstrated he could consistently locate it down and away to righty hitters. According to Fangraphs, the right-hander's slider was worth 11.3 runs above average, making it his most valuable pitch.
As for his fastball, Straily's average perceived velocity was identical (89.7 mph) to his velocity (89.7 mph). His extension averaged 6.36 feet -- just above his height of 6-foot-2 -- meaning that he was releasing the ball closer to home plate maybe more than a hitter might otherwise expect. Straily heard from some batters that he has a "sneaky" fastball.
"It was swing-and-miss or not-square-it-up-type of stuff," Straily said. "I knew I had that and didn't need TrackMan to tell me that. But having those numbers behind you reassured me. It helps a guy like me.
"We have the info to show us what spin rates mean and what they do. It's not like we have it all figured out, but you can definitely kind of see certain trends that certain spin access or certain release angles and all this kind of stuff. You're going to be successful if you can repeat it. That was where we found ourselves. We were able to maximize the pitches that I throw by the work that Mack and Tucker did this summer to help me out."
Mark Sheldon has covered baseball for MLB.com since 2001 and has been the Reds beat reporter since 2006.
This story was not subject to the approval of Major League Baseball or its clubs.