Arenado wins 2nd straight Fielding Bible Award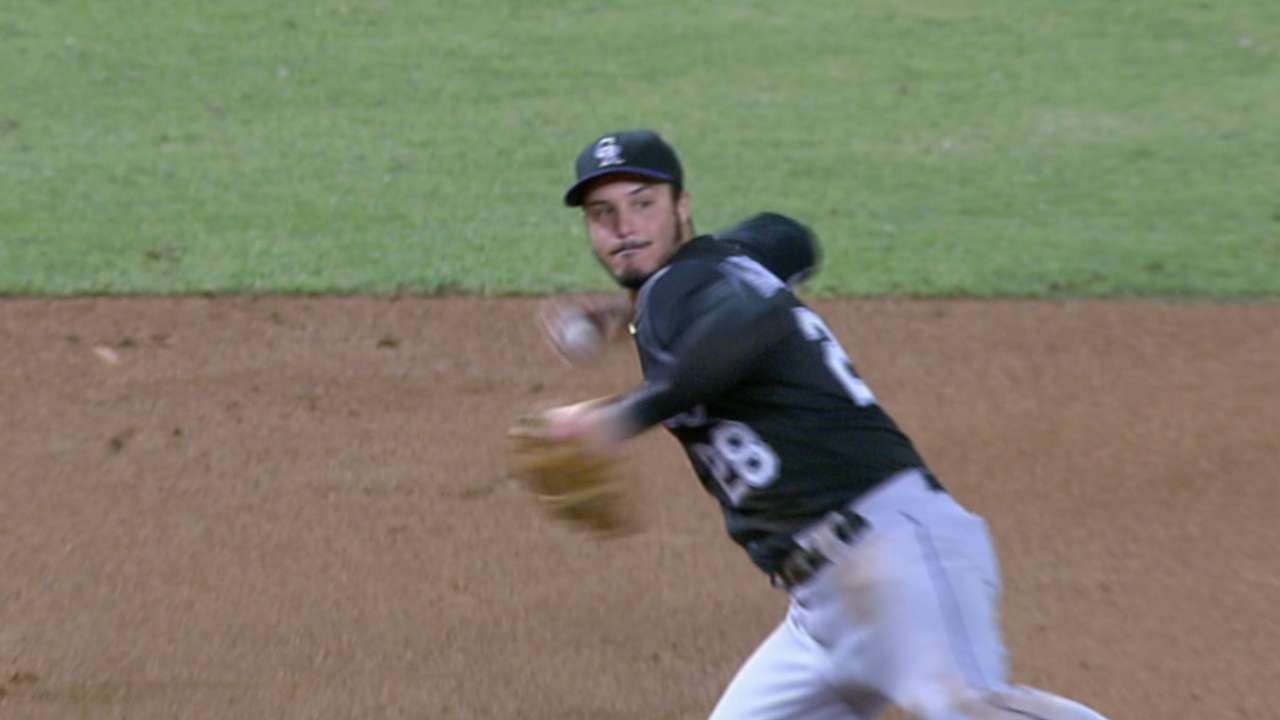 DENVER -- The honors continue for Rockies third baseman Nolan Arenado, who took his second straight Fielding Bible Award, which picks the top player at each position regardless of league. The awards, given by ACTA Sports, were announced Friday and appear in the just-released Bill James Handbook 2017.
Arenado received all but one first-place vote from the 12-person panel of experts, thanks to a scale that credited him with 20 defensive runs saved (the Rangers' Adrian Beltre and the Mariners' Kyle Seager had 15 apiece).
Additionally, Arenado was credited with 75 of what ACTA sports terms as "good fielding plays" -- on which either an out was not likely or the runner would have advanced had the defensive play been merely average (as determined by a range positioning system).
Arenado sets lofty goals. He mans the entire left side when the Rockies shift against a left-handed hitter, instead of shifting to the other side, so he has a higher number of chances than most. Yet he wants to finish a season with fewer than 10 errors. He had 13 in 2016.
"Making fewer than double-digit errors would be nice hard task, but I want to do that," Arenado said. "But my goal is staying consistent, always staying consistent. I never want to waver, never want to drop off of fielding.
"I know as you get older, it's hard to sustain. But watching Adrian Beltre and Scott Rolen for a while, they maintained for a long time, and that's something I'm striving to do."
The Fielding Bible Awards, in their 11th year, are awarded to 10 players -- one at each position, plus a multiposition player.
In addition to Arenado, this year's winners are Giants catcher Buster Posey, Cubs first baseman Anthony Rizzo, Red Sox second baseman Dustin Pedroia, Angels shortstop Andrelton Simmons, Pirates left fielder Starling Marte, Blue Jays center fielder Kevin Pillar, Red Sox right fielder Mookie Betts, Astros pitcher Dallas Keuchel and Cubs multiposition player Javier Baez.
Arenado won the National League Rawlings Gold Glove Award each of his first three years in the Majors, and on Thursday was announced as a finalist for this year's trophy.
Thomas Harding has covered the Rockies since 2000, and for MLB.com since 2002. Follow him on Twitter @harding_at_mlb, listen to podcasts and like his Facebook page. This story was not subject to the approval of Major League Baseball or its clubs.