Durham will be at Wrigley, cheering on Cubs
New Tigers assistant hitting coach pulling hard for Chicago to put 'jinx' in past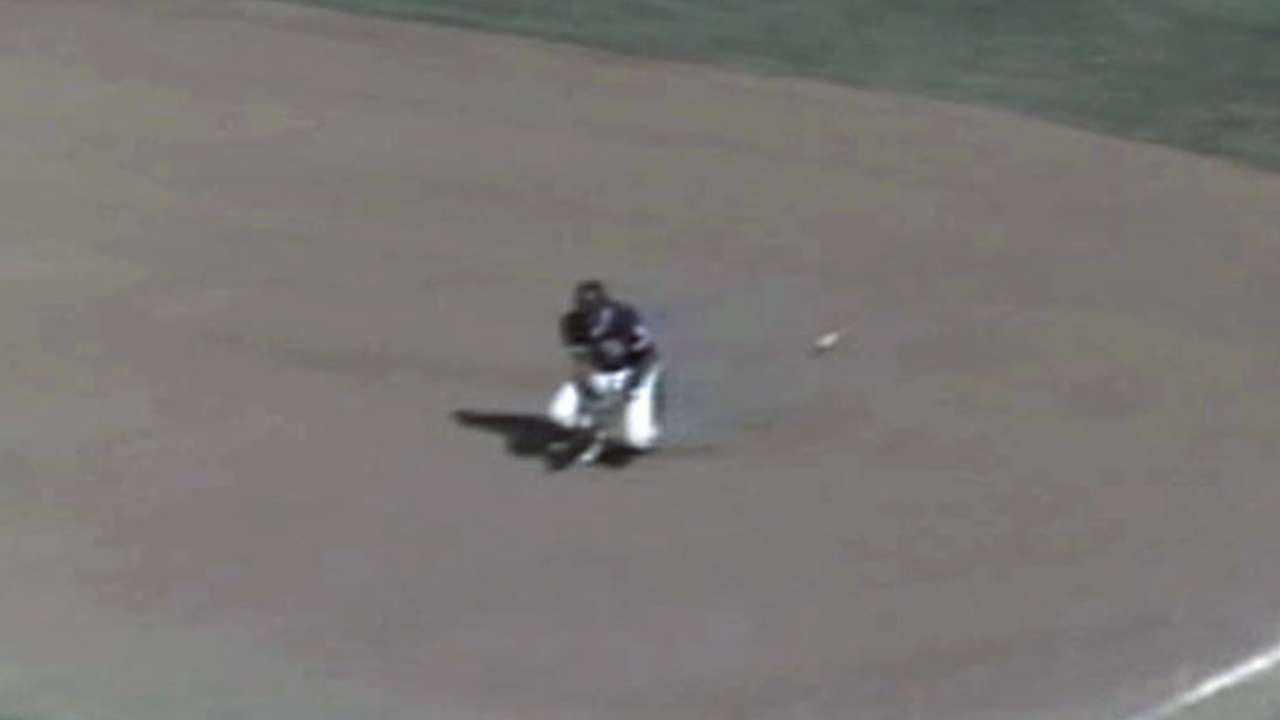 DETROIT -- Leon Durham was just finishing a hitting lesson when the phone rang. He was finishing out his week back home in Cincinnati before hitting the road for Chicago.
The Cubs are in the World Series, and their former first baseman is heading back to Wrigley Field to experience it, as Chicago's legendary park will host the Fall Classic tonight for the first time since 1945 wth the series tied at 1.
• Game 3: Tonight, 7:30 p.m. ET air time | 8 ET game time on FOX
Durham hasn't been back to Wrigley, he said, since his playing days. He hasn't watched a Major League game in any stadium from the stands since he retired. For the first time in his career, he'll be just another fan in the ballpark, even if he has a lot more history in that park than most people around him.
"It's going to be exciting to watch it, and watch it from Wrigley at that," said Durham who played for the Cubs from 1981-88. "I'm going to visualize myself at first base."
When Durham does, he'll be visualizing some of the better plays of his career. He will not be thinking about the infamous error he made in Game 5 of the 1984 National League Championship Series -- a grounder through his legs that cost the Cubs a chance at the NL pennant -- that became a glimpse of the Cubs' postseason jinx.
On the contrary, Durham hopes that the Cubs' success this year can put that unfortunate history to rest.
"I'm praying that they win it," Durham said. "They got [to the World Series], and now they have to win it, because that way I don't have to look at that ball rolling through my legs no more.
"It doesn't bother me, because I know I gave it my best."
Once the World Series is over, Durham has to prepare for another big league return. After two decades of coaching in the Minor Leagues -- including the past 16 years as hitting coach of the Toledo Mud Hens -- Durham is finally getting his chance on a Major League staff. He'll be the Tigers' assistant hitting coach next year under new hitting coach Lloyd McClendon and manager Brad Ausmus.
After several interviews with other managers over the years, Durham finally got his chance from the organization that knows him the best. He is the first coach promoted to Detroit from within the Tigers since 2011, when Mike Rojas became the Tigers' bullpen coach.
"You need some people to be in your corner, find out what you're doing, how you do it," Durham said.
The man in Durham's corner, maybe more than anyone, was McClendon, whose return as the Tigers' hitting coach comes after spending this past season as the manager in Toledo.
For years, they worked in tandem despite being an hour apart. While McClendon coached Tigers' hitters from 2007-13, Durham was working in Toledo. They shared some of the philosophies they learned as players in the 1980s, including being teammates in Cincinnati for a brief spell in 1988.
"It's not so much new or old school," Durham said. "We just try to keep it basic and work with what we have in front of us, getting guys better every day. That's what I've been doing for years."
Expect that to continue in Detroit. Durham is looking forward to taking advantage of the resources available to him in the Majors, from video analysis to opposing scouting reports. But he also wants to keep a hands-on approach, even demonstrating what he preaches.
"I like using video at times, and at times I like the naked eye," Durham said. "And I like to keep myself in some type of shape so I can show them what I'm trying to get them to do."
Even at age 59, Durham keeps swinging. He can't step in the box for the Cubs this weekend, but if he can help the Tigers develop some young hitters along the same path, he'd be happy.
After all these years, he's getting his Major League chance all over again.
Jason Beck has covered the Tigers for MLB.com since 2002. Read Beck's Blog, follow him on Twitter @beckjason and listen to his podcast. This story was not subject to the approval of Major League Baseball or its clubs.