MLB.com Columnist
Jonathan Mayo
Twins in AFL: Gonsalves takes every opportunity to learn
MLB Pipeline checks in on Minnesota's prospects in the Arizona Fall League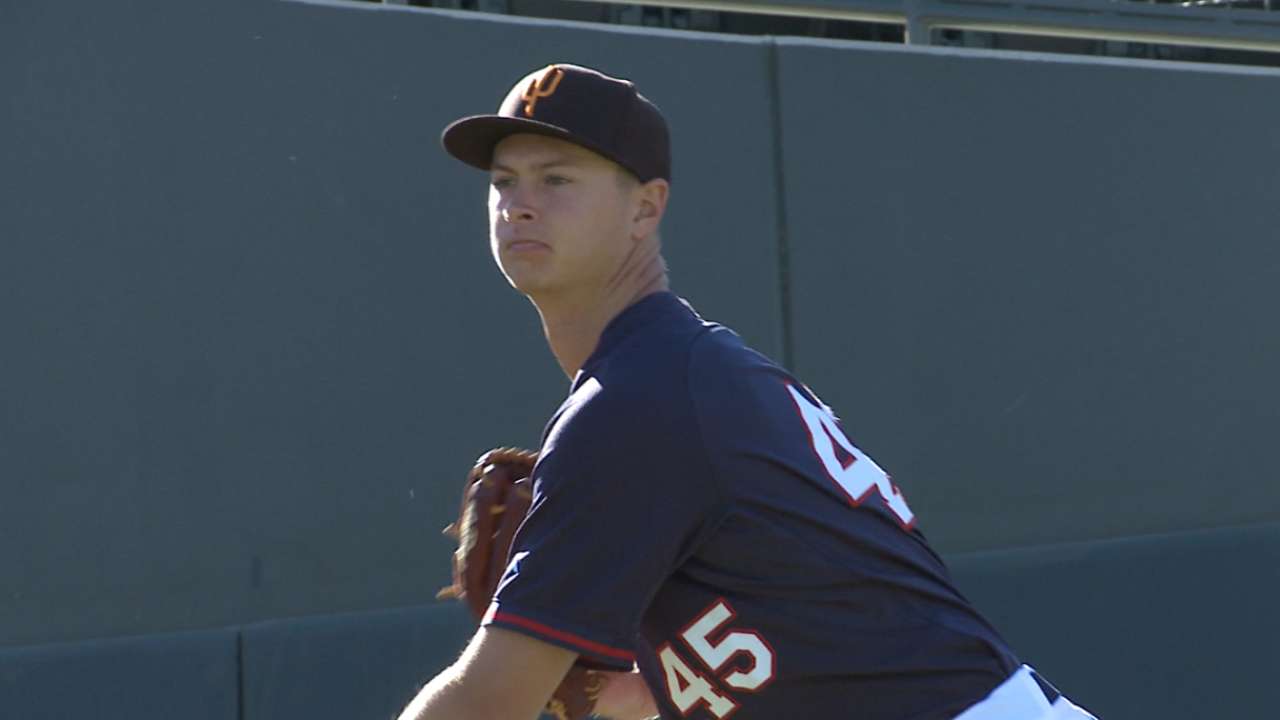 During the 2016 regular season, Twins left-handed pitching prospect Stephen Gonsalves did just about everything a Minor League starter could do. He led the organization in ERA, strikeouts, wins and batting average against. He earned a midseason promotion to Double-A in the process, pitching even better up a level than he did before he was bumped up. For his efforts, he was named MLBPipeline.com's left-handed pitching prospect of the year.
The 22-year-old made 24 starts and threw 140 innings. It would make sense for him to want to shut it down and get ready for 2017. Instead, the southpaw is getting more mound time with the Surprise Saguaros in the Arizona Fall League. Those 140 innings might seem like a nice plateau for a Minor League season. To Gonsalves, it's merely a stepping stone.
• Complete Arizona Fall League Coverage
"I want to get my work in, get those innings in," Gonsalves said. "I only threw 140 innings; I'd like to get about 20 in here. Just building that arm strength to hopefully, in the end, being able to throw 200 innings a year. That's the goal."
That attitude speaks volumes about the Twins' No. 3 prospect (No. 85 on the overall Top 100) and the maturity he brings to the mound. He has plenty of stuff and at 6-foot-5, still has some projection, with a fastball, curve, newly added slider and changeup that missed a ton of bats. But as dominant as he was in 2016, Gonsalves knows his meal ticket is his advanced feel for pitching.
"It's all about deception out there," Gonsalves said. "You have to keep them guessing. I have four pitches I like to say I can throw for strikes most of the time. Being able to mix it up, kind of surprise guys, but in the end being able to throw everything for a strike, keeping them guessing, keep them off-balance and hopefully get a couple of groundouts."
Ever the student of pitching, Gonsalves is using his time on the Surprise staff wisely. Not only does he get more time with Twins pitching coach Ivan Arteaga, who is serving in that role for the Saguaros, he gets to work with all of the arms on the staff from the four other organizations represented.
"We compete with each other; we're changing up grips," Gonsalves said of the pitchers' relationships. "Whoever has the best feel for one pitch, you might want to pick his brain on that, try to develop it yourself. I developed a slider this last year. I'm working with a couple of guys I know who throw those sharp cutters, just kind of mixing it up. My pitch, the changeup -- some of these guys would like to know.
"We're just helping each other out, that's the name of the game. We're all trying to get to the big league level, however we can help each other to get there."
Twins hitters in the Fall League
Tanner English, OF
Mitch Garver, C
Nick Gordon, SS
After a first full season in 2015 that saw him steal 37 bases in 104 games, English appeared in just 41 contests in 2016. He still managed to swipe 12 bags (against zero times caught). The 2014 11th-round pick out of South Carolina is using the Fall League to make up for lost at-bats, prepare for the upper levels and raise his profile as a potential top-of-the-order catalyst.
A defensive-minded catcher who threw out 48 percent of would-be basestealers in 2016, Garver used a solid AFL turn in 2015 to reach Triple-A this past regular season. Garver finished the year with 12 homers and 74 RBIs. While he might fit best as a backup, his ability to have quality at-bats could help him to be a defensive-minded regular in the near future.
Gordon, of course, is the son of Tom Gordon and the brother of Marlins second baseman Dee Gordon. The former first-round pick had a solid season in the Florida State League, where he was more than two and a half years younger than the average position player. He just turned 21 this past Monday (Oct. 24) and was turning heads with his approach at the plate and his steadiness at shortstop.
Twins pitchers in the Fall League
John Curtiss, RHP
Stephen Gonsalves, LHP
Mason Melotakis, LHP
Randy Rosario, LHP
Curtiss made it through Tommy John surgery and later surgery for Thoracic outlet syndrome while at the University of Texas. He joined the Twins as a sixth-round pick in 2014 and after starting 13 games over his first summer and full season of pro ball, he made the permanent move to the bullpen in 2016. He spent most of the season in the Florida State League and finished with a 2.66 combined ERA, a .203 BAA and a 12.5 K/9 ratio. His AFL stint should prepare him for the move to Double-A in 2017.
The Twins initially tried to develop Melotakis as a starter, but after Tommy John surgery forced him to miss the 2015 season, he moved back the bullpen role he excelled in while at Northwestern State. While he was used cautiously in '16, his mid-to-upper 90s fastball and power curve allowed him to strike out 11.3 per nine in Double-A. His time in Surprise could ready him for his first big league callup in 2017.
Rosario had Tommy John surgery back in 2014, and while he threw just 53 2/3 innings in 2015, the Twins saw enough to add the southpaw to the 40-man roster. He topped 100 innings pitched this past season and earned a promotion to Double-A at the end of the season. He worked out of the bullpen for the season's final month, and he has continued in that role with the Saguaros.
Jonathan Mayo is a reporter for MLBPipeline.com. Follow him on Twitter @JonathanMayo and Facebook, and listen to him on the weekly Pipeline Podcast. This story was not subject to the approval of Major League Baseball or its clubs.