World Series Game 3 starting lineups: Indians vs. Cubs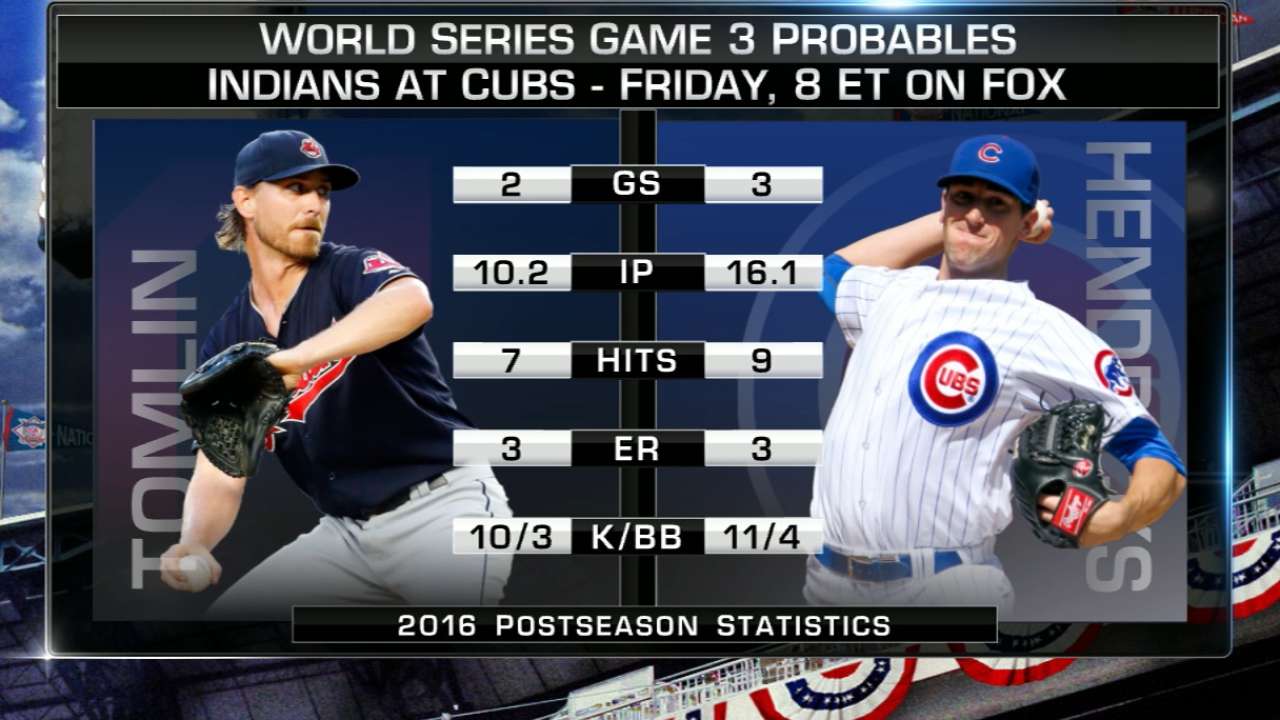 CHICAGO -- Carlos Santana will assume left-field duties for the Indians tonight in Game 3 of the World Series against the Cubs at Wrigley Field. For the Cubs, Jorge Soler will get the start in right field and rookie Willson Contreras will be behind the plate again.
Santana -- a first baseman and designated hitter by trade -- will have to deal with Wrigley's swirling winds and the brick wall beneath the ivy in left, but the Indians believe keeping his bat in the lineup is paramount. Santana went 0-for-1 with two walks in the Indians' 1-0 victory over the Cubs, as Cleveland took a 2-1 lead in the Series.
"You try to figure out, 'OK, what's our best way to win?'" Indians manager Terry Francona said during Thursday's workout. "If we don't play him out there, that's the best way to have nobody second-guessing me. I don't know if that's the best way to win."
Kyle Schwarber, who went 3-for-7 as the DH in the first two games in Cleveland, will be available as a pinch-hitter for the Cubs. Schwarber has made an amazing return after tearing two ligaments in his left knee in the third game of the season, but was not given medical clearance to play in the outfield.
Center fielder Dexter Fowler will lead off and be followed by third baseman Kris Bryant, first baseman Anthony Rizzo, left fielder Ben Zobrist, catcher Contreras, Soler, second baseman Javier Baez, shortstop Addison Russell and pitcher Kyle Hendricks.
The Cubs are continuing their youth movement, with five players under the age of 25 in Bryant, Baez, Contreras, Soler and Russell. Hendricks is 26.
Chicago will miss Schwarber, but its pitchers are 4-for-21 (.190) with two home runs and six RBIs in the postseason so far, which includes Hendricks' two-run single in Game 2 of the NL Division Series against the Giants.
Contreras is batting .360 in the postseason, while Soler is 0-for-10. However, right-handed hitters batted .299 against Indians starter Josh Tomlin this season, while lefties hit .229. Soler may get one into the wind, too. It was blowing out at Wrigley Field, where Soler batted .262 this season.
Santana, meanwhile, moves to left after serving as the DH for Games 1 and 2. Brandon Guyer and Coco Crisp -- who each started a game in left in Cleveland -- will both be available off the bench.
Santana took fly balls in left field during pregame drills in Cleveland over the past few days, and he did so again under the Wrigley Field lights Thursday night. The switch-hitting first baseman has only logged four innings as a left fielder in the Majors -- back on Aug. 12, 2012.
"Carlos is a pretty athletic guy," said Chris Antonetti, the Indians' president of baseball operations. "That's why we've been willing to try some of those [other positions with him]. We're confident that he'll be able to go out there and perform well enough defensively where it'll justify having his bat in the lineup."
INDIANS
Carlos Santana, LF
Jason Kipnis, 2B
Francisco Lindor, SS
Mike Napoli, 1B
Jose Ramirez, 3B
Lonnie Chisenhall, RF
Roberto Perez, C
Tyler Naquin, CF
Josh Tomlin, P
CUBS
Dexter Fowler, CF
Kris Bryant, 3B
Anthony Rizzo, 1B
Ben Zobrist, LF
Willson Contreras, C
Jorge Soler, RF
Javier Baez, 2B
Addison Russell, SS
Kyle Hendricks, P
Carrie Muskat has covered the Cubs since 1987, and for MLB.com since 2001. She writes a blog, Muskat Ramblings. You can follow her on Twitter @CarrieMuskat and listen to her podcast. This story was not subject to the approval of Major League Baseball or its clubs.