Reds have foundation for competitive 2017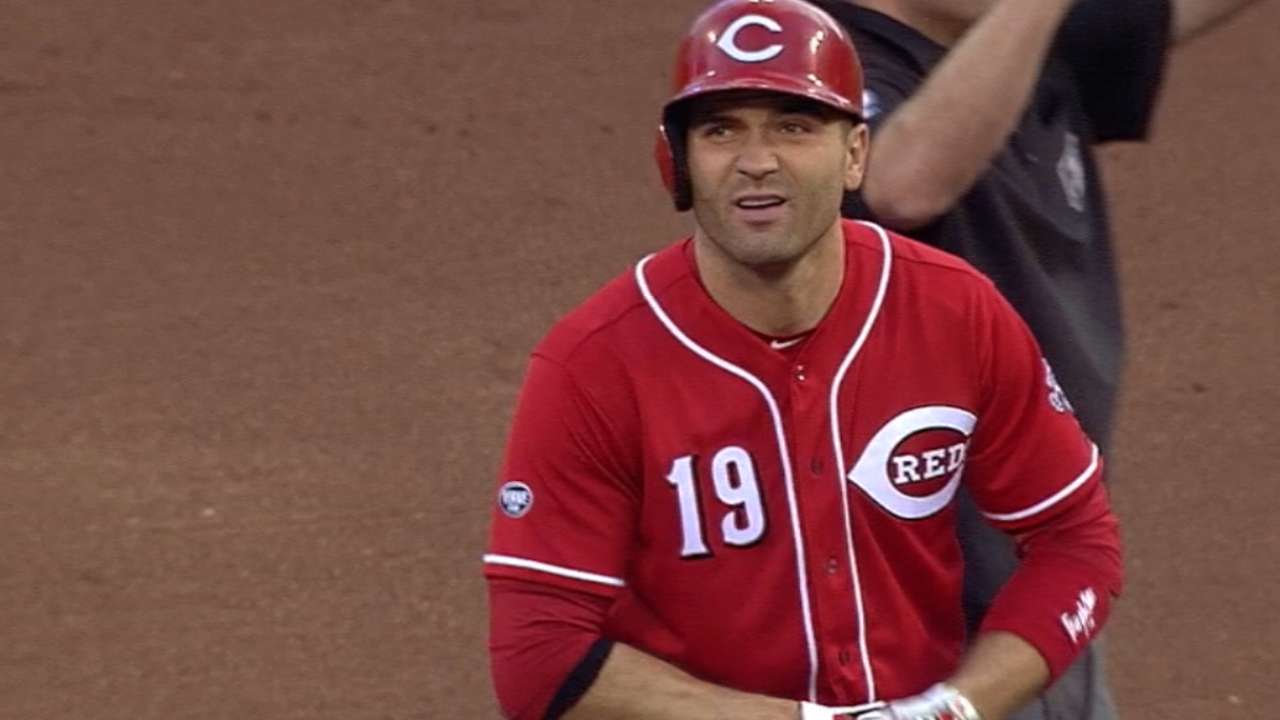 CINCINNATI -- The Reds can firmly fix their eyes on what's ahead in 2017.
Cincinnati finished 2016 with a 68-94 record, four more victories than in '15. But after going 32-57 before the All-Star break, the Reds' second-half record of 36-37 was a winning percentage increase of .133 that was second highest of any Major League team in that span. It not only provided the club with optimism for next season, it also secured manager Bryan Price and the coaching staff an extension.
Based on how this season ended, Year 3 of the rebuilding program should bring an incremental increase of expectations. While a postseason berth in a tough National League Central could be a tall order, fielding a competitive team is not -- especially if the squad stays relatively healthy, and with some of the younger players having more experience.
OPPONENT
The oldest team in professional baseball, the Reds will continue their tradition of opening at home when they begin the 2017 season on April 3 at Great American Ball Park. For the second straight year, their first opponent will be the Phillies.
The Reds swept all three games from the Phillies in the first series this year, then dropped two of three contests in May at Citizens Bank Park. Based on Philadelphia's current roster, Jeremy Hellickson is a good candidate to start his second straight opener if he returns to the Phillies. Working opposite Raisel Iglesias, Hellickson pitched six innings with one unearned run allowed and three hits, but he got a no-decision as the Reds emerged with a 6-2 victory. Also in rebuilding mode, the Phillies finished 71-91 this year after a decent start.
OPENING DAY STARTER
Don't be surprised if the Reds hand the ball to Anthony DeSclafani, who would have had the honor this year had he not sustained an oblique injury late in Spring Training. DeSclafani finally debuted on June 10 and went 9-5 with a 3.28 ERA in 20 starts over 123 1/3 innings while giving a boost to a rotation that was beaten up badly over the season's first two months.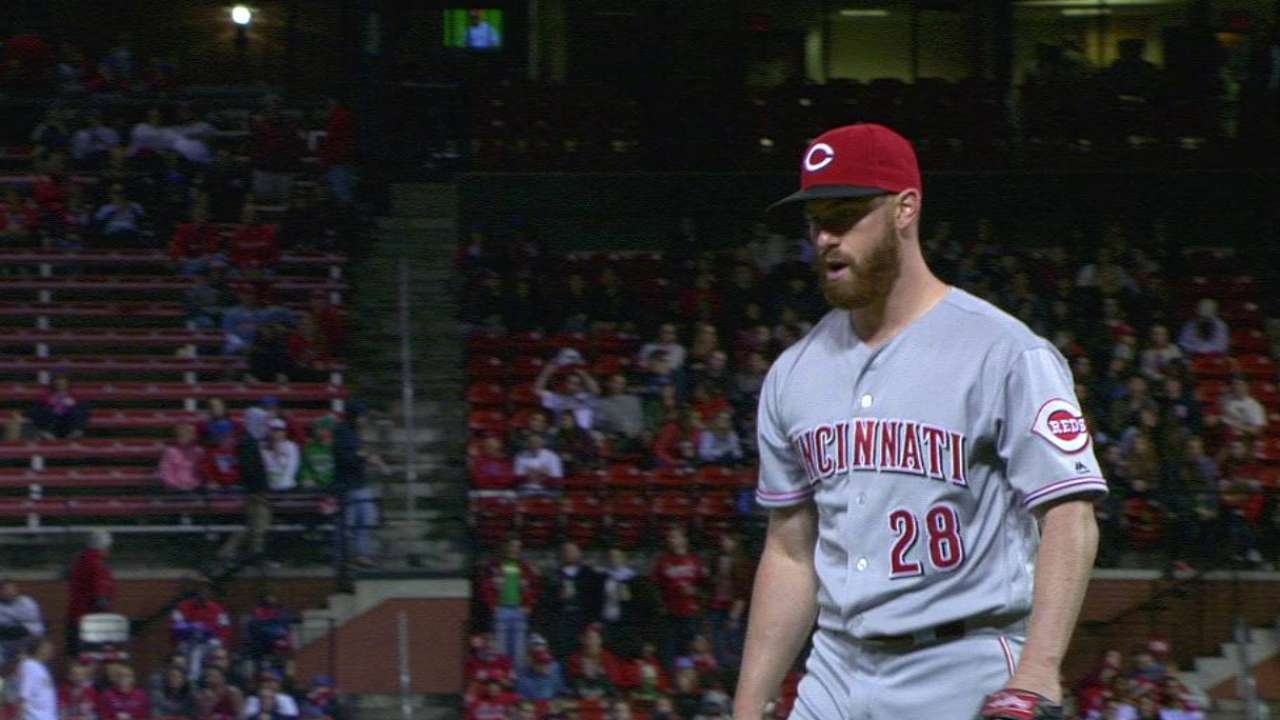 OPENING DAY LINEUP
1. Billy Hamilton, CF
2. Zack Cozart or Jose Peraza, SS
3. Joey Votto, 1B
4. Adam Duvall, LF
5. Brandon Phillips, 2B
6. Scott Schebler, RF
7. Eugenio Suarez, 3B
8. Tucker Barnhart, C
9. DeSclafani, P
There are definitely variables that would alter the look of the Reds' lineup. Cozart, who is expected to recover from right knee tendinitis that caused him to miss most of September, could again be a trade candidate this offseason. The Reds would like to find a regular spot for Peraza after he showed he could produce while playing nearly every day down the stretch.
Phillips is entering the final year of his contract, and the club could take another look at trying to move him -- if he provides permission, since he has full no-trade protection. His exit would also clear a spot for Peraza or summer acquisition Dilson Herrera.
Barnhart gets the nod at catcher, for now, since Devin Mesoraco has been limited to 39 games and 18 starts the last two seasons. Mesoraco, who underwent surgeries on both his left shoulder and right hip this year, is expected to resume catching drills in mid-to-late January.
THREE REASONS TO BE EXCITED
• Expected to be healthy, Hamilton turned a corner offensively in the second half and could become the dynamic leadoff hitter the Reds need.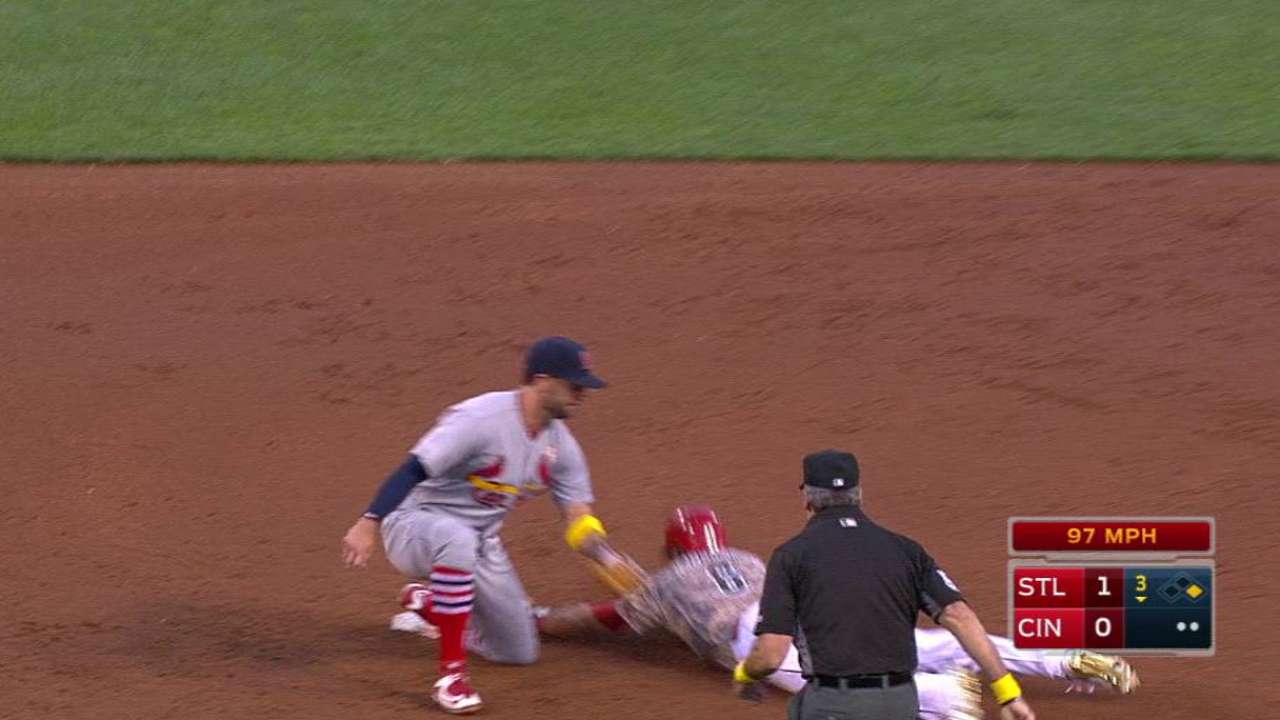 • Votto had historic second halves the past two years. If he can provide a full season of what he did after the All-Star break, Votto becomes an automatic NL MVP Award candidate.
• A healthy rotation could boast four pitchers capable of working 200 innings in DeSclafani, Homer Bailey, Brandon Finnegan and Dan Straily.
Mark Sheldon has covered the Reds for MLB.com since 2006, and previously covered the Twins from 2001-05. Follow him on Twitter @m_sheldon and Facebook and listen to his podcast. This story was not subject to the approval of Major League Baseball or its clubs.