Opening Day could mark new era for Twins
With Falvey joining club after Series, Minnesota will rely more on analytics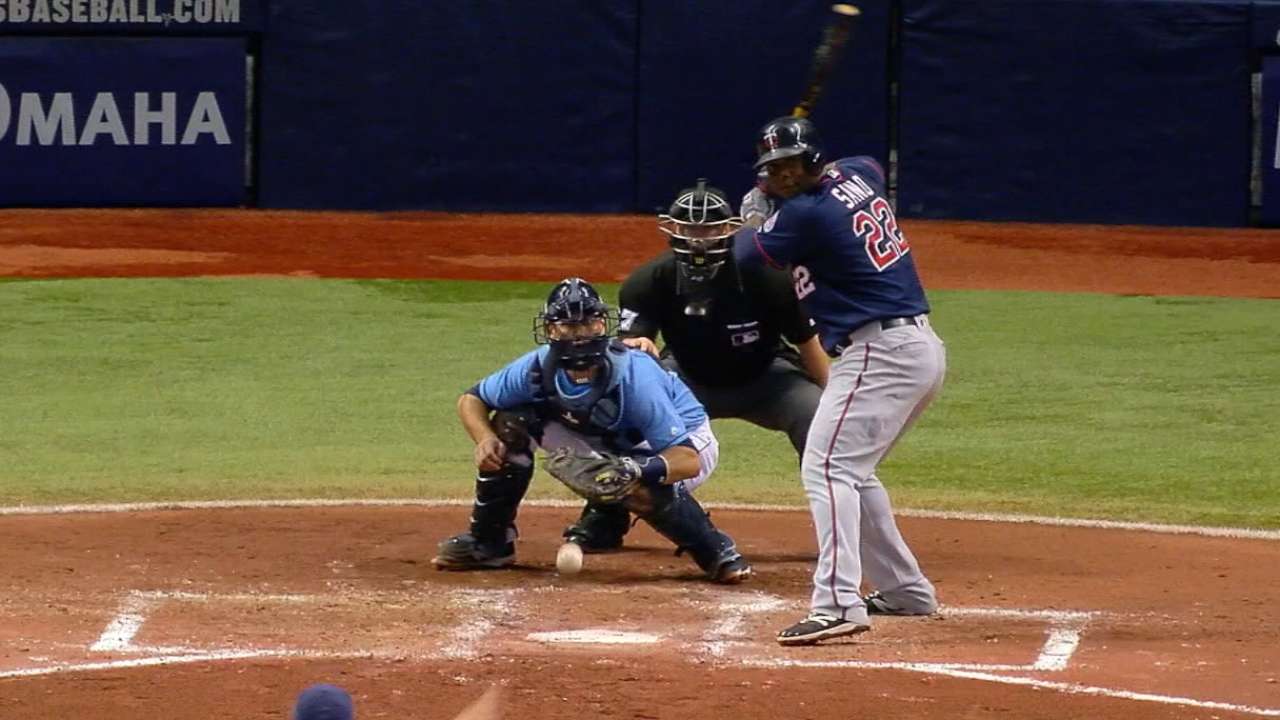 MINNEAPOLIS -- With the way the 2016 season went for the Twins, they're more than ready to move on and are looking toward a brighter future that begins under a new front office led by former Indians assistant general manager Derek Falvey.
The Twins, who had planned to compete after their surprisingly strong 2015 campaign, finished with the worst record in the Majors and dismissed long-time general manager Terry Ryan in July. It's the dawn of a new era for the Twins, who will shift from their old-school ways to incorporate more advanced statistics into their evaluation of players.
• Twins' 2017 regular-season schedule
The Twins will lose only catcher Kurt Suzuki to free agency this offseason, but the roster is expected to be in flux, and it's hard to predict what the new front office will do. Despite last year's struggles, it's an exciting time for the Twins to see what Falvey and his staff can accomplish.
Minnesota opens the 2017 season against the Royals on April 3, and here's an early preview of what's to come.
OPPONENT
The Twins open at home for the second time since Target Field opened in 2010, and they will face the Royals, who dominated the season series in 2016. Minnesota went 4-15 against Kansas City last season. The Twins haven't had a winning record against the Royals since 2012.
OPENING DAY STARTER
Barring an offseason trade, right-hander Ervin Santana is essentially a lock to be the club's Opening Day starter for a second straight season. Santana, 33, was by far Minnesota's best starter in 2016, posting a 3.38 ERA in 30 starts. He's expected to be back next year unless the new front office decides to rebuild and trades him for younger pitching. Santana has two more years and $27 million left on his deal, plus a $14 million option for '19.
OPENING DAY LINEUP
1. Brian Dozier, 2B
2. Jorge Polanco, SS
3. Joe Mauer, 1B
4. Miguel Sano, 3B
5. Max Kepler, RF
6. Byungho Park, DH
7. Eddie Rosario, LF
8. Byron Buxton, CF
9. John Ryan Murphy, C
THREE REASONS TO BE EXCITED
• The Twins have a young team led by players such as Sano, Buxton, Polanco and Kepler. They form the young core of the lineup and should get better with more experience. Buxton could be primed for a breakout season after his impressive September that saw him finally showcase the power he displayed in the Minors to go along with his elite speed.
• The roster could look much different next year, as Falvey has a lot of work to do after the Twins lost 103 games last season. Falvey, 33, has a lot of experience on the pitching side, which bodes well for the Twins, as starting pitching remains their weakness heading into next year. But they'll also look to upgrade at catcher.
• The Twins will have plenty of power again next year, as they reached 200 homers in 2016, which was the third-most in franchise history. Dozier is coming off a season that saw him hit 42 homers, and he's established himself as one of the game's elite second basemen.
Rhett Bollinger has covered the Twins for MLB.com since 2011. Read his blog, Bollinger Beat, follow him on Twitter @RhettBollinger and listen to his podcast. This story was not subject to the approval of Major League Baseball or its clubs.