Russell rewarded as Gold Glove nominee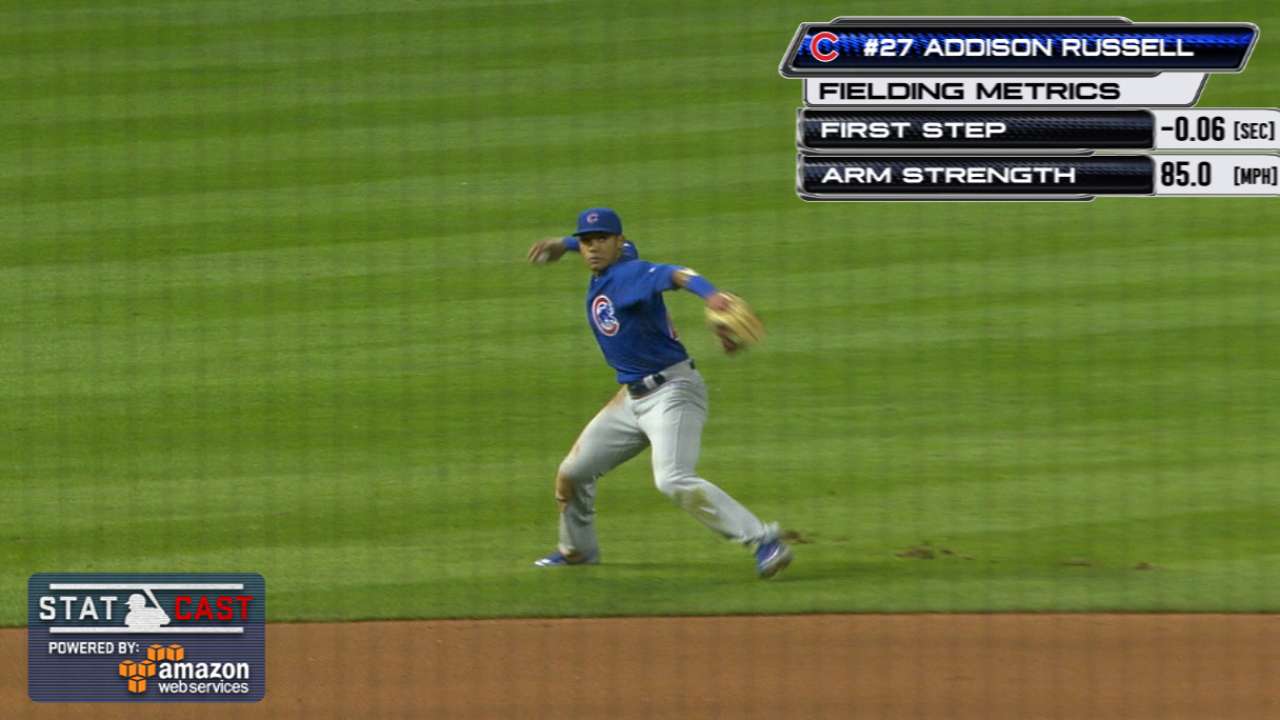 CHICAGO -- It's been quite a year for Cubs shortstop Addison Russell. He was named a starter on the National League All-Star team for the first time, he is now playing in the World Series, and, on Thursday, he was named as a nominee for a Gold Glove Award.
Russell, 22, was one of four Cubs players who were nominated, joining first baseman Anthony Rizzo, right fielder Jason Heyward and pitcher Jake Arrieta. Heyward is the only one of the quartet who has ever won the top defensive award, doing so in 2012, '14 and '15.
"It's something I've wanted ever since I was a little kid," said Russell, who posted a .975 fielding percentage, committing 14 errors in 141 starts.
"You definitely have to put in a lot of work," Russell said. "You're not going to get a good sense of the talent I have or my presence until you watch a few games. If you watch over the course of the year, I think that's where I kind of excel."
• Shop for Cubs World Series and NL champs gear
Major League managers and coaches, voting only within their league and unable to vote for players on their own teams, account for 75 percent of the selection process. The other 25 percent goes to the sabermetrics community. The winners will be revealed Nov. 8 on ESPN.
The Cubs' last Gold Glove winner was second baseman Darwin Barney in 2012.
Arrieta, the D-backs' Zack Greinke and the Cardinals' Adam Wainwright are the National League nominees at pitcher; Rizzo was named along with the D-backs' Paul Goldschmidt and the Padres' Wil Myers; and Heyward's competition will be the Rockies' Carlos Gonzalez and the Braves' Nick Markakis. Russell is a nominee along with the Giants' Brandon Crawford and the Phillies' Freddy Galvis.
"It's all coming in my first full year," Russell said.
Timing: Game 1 of the World Series took 3 hours, 37 minutes and Game 2 was even longer at 4:04. Cubs manager Joe Maddon, however, isn't checking his watch between innings.
"You get so involved in the moment, I had no idea," Maddon said of the lengthy games. "As the game gets deeper, too, you really get like right here just thinking about your pitching, primarily, maybe pinch-hitting. Like coming back to the National League side, there is more to think about in the game in progress. On the American League side, there is a lot less to think about. So really a game, the deeper the game gets, the less you're aware of time, as far as I'm concerned.
"I know what time the bus was last night," Maddon said. "I got on the bus at 12:30 [a.m. ET], I know that. I got back to my place at 3:00 in the morning. I do know that. But regarding length of the inning, length of the game, how much time a guy's taking between pitches, I have no clue."
Superstition: When Arrieta was holding the Indians hitless through 5 1/3 innings on Wednesday at Progressive Field, rookie reliever Carl Edwards Jr. was in the bullpen, sticking to a routine.
"Every inning we were hitting, I would walk up to the fence, and watch, and if we got a hit or an out, I'd always walk back to the heater for a little bit," Edwards said Thursday. "If we got a hit or an out, I'd walk back to the heater and then walk back. If he was pitching, I'd walk in a circle, and then I'd sit there and watch. I just kept doing it."
What's funny is that Edwards didn't even realize Arrieta had a no-hitter until the fifth inning.
Good luck charm: Ever since the fifth inning of Game 4 of the National League Championship Series, Rizzo has been using one of Matt Szczur's bats. He hit a home run leading off the fifth inning with the bat, and continued to use the same one through the NLCS. He also has held onto the same bat for the World Series.
"He feels good with it, and he'll run with it until it stops," Szczur said. "If it breaks, he's going to ask for another one. He won't have to ask. I'll put one there for him."
Szczur knows the bat isn't really making the difference. Just don't tell Rizzo.
"It helps build confidence," Szczur said. "If that bat is helping Riz do what he's doing now, it's building his confidence, and then he could use a broomstick up there and he'll be fine."
Carrie Muskat has covered the Cubs since 1987, and for MLB.com since 2001. She writes a blog, Muskat Ramblings. You can follow her on Twitter @CarrieMuskat and listen to her podcast. This story was not subject to the approval of Major League Baseball or its clubs.