Twins' English provides pop in Fall League comeback win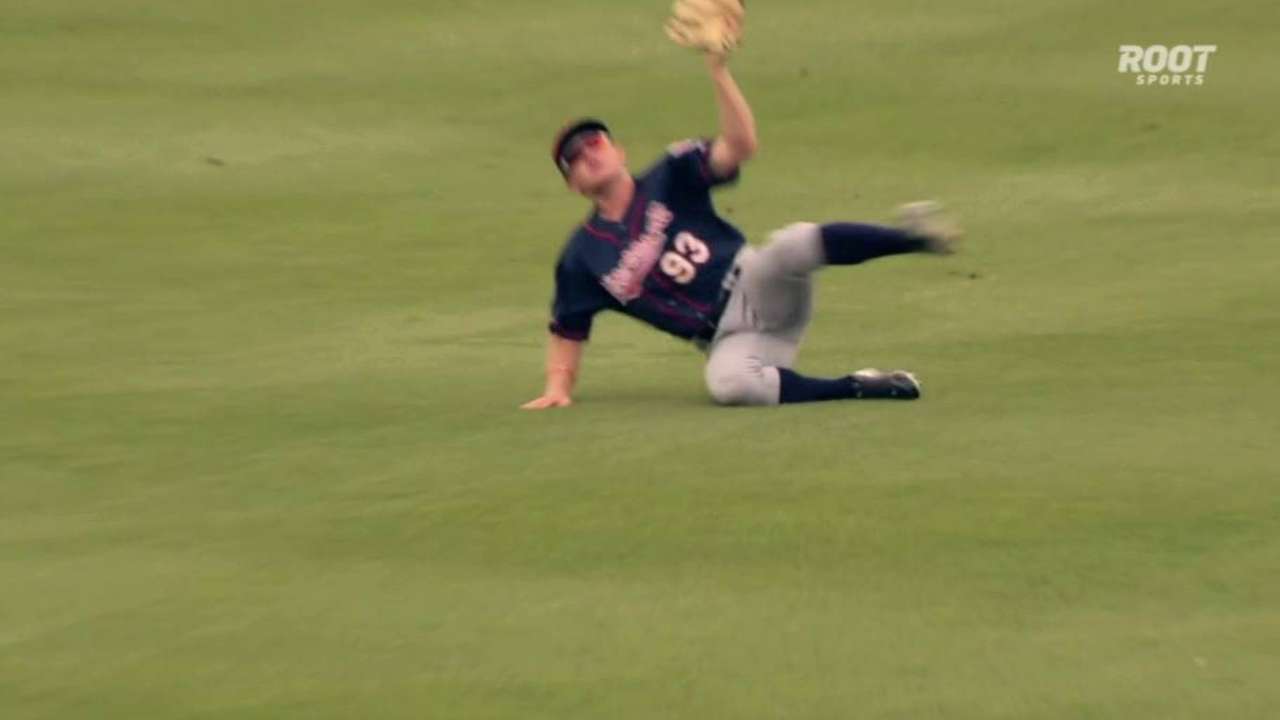 PEORIA, Ariz. -- Entering the ninth inning Thursday, the Surprise Saguaros trailed the Peoria Javelinas, 4-2. But a five-run Saguaros rally, highlighted by a two-run home run from Twins prospect Tanner English, carried Surprise to a 7-5 victory at Peoria Stadium.
The game was firmly in the Javelinas' grasp, but Orioles prospect Jimmy Yacabonis blew the save in the top of the ninth as he walked two batters and gave up three hits en route to Surprise's five runs in the frame.
• Gameday
English had struggled in the game leading up to his ninth inning at-bat, but he put all that to rest with a shot down the left field line that left no doubt.
"I had been struggling a lot recently. I was just trying to be simple and not try to do too much, which I tend to do sometimes," English said. "Today, I was just trying to see the ball and just put it in play and give myself a chance."
His home run came on a 2-2 pitch. Yacabonis had thrown him four fastballs at 95-96 mph, but English wasn't necessarily looking for the same pitch on the next delivery.
"I wasn't really looking fastball," English said. "I was just trying to see the ball. I ended up seeing it, and he gave me a pitch I could put the barrel on."
Although English's home run came after Surprise had already taken a 5-4 lead, it provided insurance that the Saguaros would end up needing. Peoria put together a rally of its own in the bottom of the ninth.
Mariners prospect Tyler Marlette, who hit a home run in the fifth inning, led off the bottom of the ninth with a first-pitch single up the middle, and Reds prospect Zach Vincej worked Royals prospect Eric Stout for a walk. Marlette scored and Vincej moved to third base on a double down the right-field line by Orioles prospect Adrian Marin.
However, the top of the lineup was unable to cash in on the two runners in scoring position. Rays prospect Kean Wong popped out, Padres No. 10 prospect Michael Gettys lined out softly and Orioles No. 12 prospect D.J. Stewart grounded out to end the game.
The Saguaros were in striking distance entering the ninth thanks in part to Mauricio Doubon, the Red Sox's No. 12 prospect. He went 2-for-4, scored a run and drove in another.
Aside from English's home run, Doubon had the only other extra-base hits in the game with his third inning RBI triple and his double in top of the sixth.
"I'm just trying to hit the ball hard, that's what I've been trying to work on," Doubon said. "I'm not too worried about the results so far. I've been hitting the ball hard so far, including some hard outs, but it is what it is. Eventually they will fall."
Doubon is looking to become the first Honduran-born player to reach the Major Leagues.
"It would be awesome being that person -- to be the first of anything," he said. "It would be an unreal experience for me and my people. This is all just a blessing."
Brendan Kennealy is a senior sports journalism student at Arizona State University. This story is part of a partnership between MLB.com and ASU's Walter Cronkite School of Journalism and Mass Communication. This story was not subject to the approval of Major League Baseball or its clubs.