MLB.com Columnist
Alyson Footer
Wrigleyville abuzz with WS history at hand
Fans enjoying atmosphere prior to first Fall Classic game played at Friendly Confines in 71 years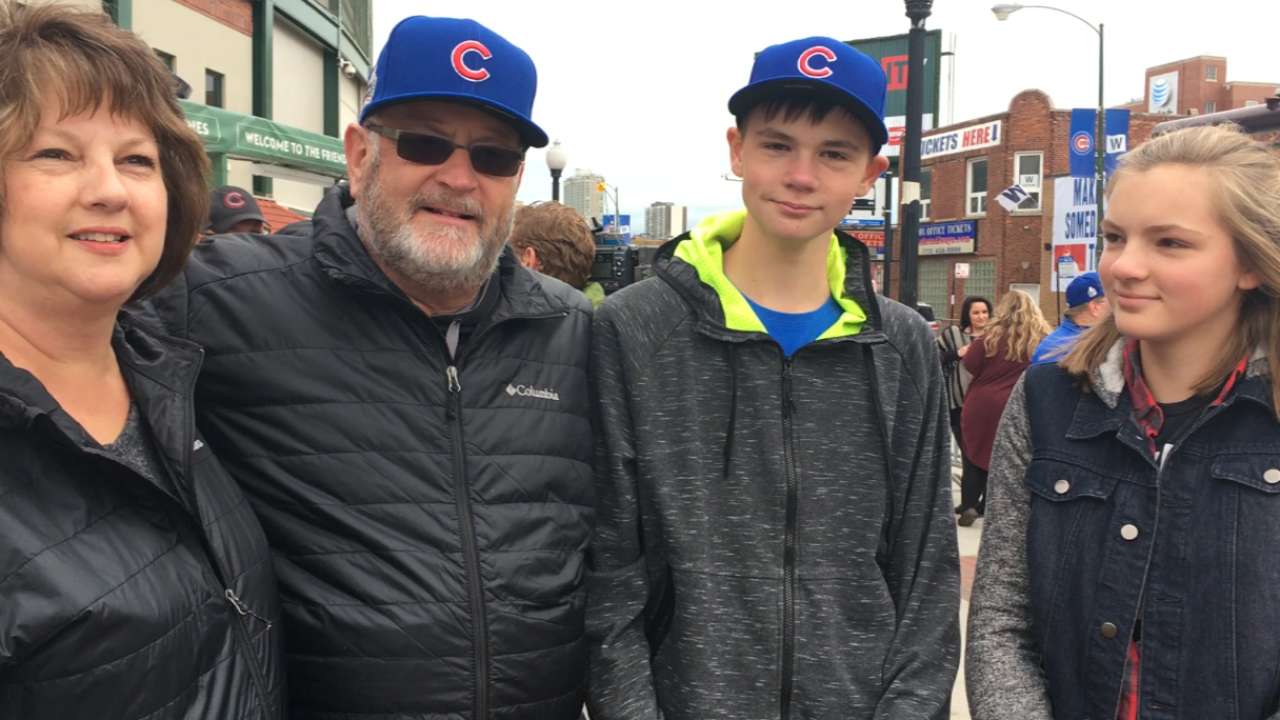 CHICAGO -- Even on non-game days, Wrigleyville is a lively place. Given the number of apartments, homes, bars, restaurants and shops that are crammed into the relatively modestly-sized neighborhood surrounding charming Wrigley Field, it's common for the streets to be teeming with locals, regardless of whether the Cubs are hosting a game.
Now, multiply the amount of hustle and bustle you'd find on a typical Thursday afternoon by about 100, and that was the scene outside Wrigley Field, on the eve of the first World Series pitch to be thrown at the Friendly Confines in more than seven decades.
The crowd assembled early and grew with every passing hour. Clearly, the party is already starting.
"I've been a Cub fan all my life," said 65-year-old Steve Cramer. "We knew this was going to be a historic moment. We did not want to miss out."
• Shop for Cubs World Series and NL champs gear
Cramer and his wife, Carol, and their grandchildren, Skylar and Clara, made the three-plus-hour drive from Galesburg, Ill., simply to walk around Wrigleyville and take in the scene. They considered the visit to Wrigleyville on Thursday their way of experiencing a possible once-in-a-lifetime moment together, as a family, before heading home to watch the World Series on FOX.
"We did not have tickets, but we didn't want to miss out on a little piece of history," Steve Cramer said. "We're here taking pictures and just trying to be a part of the atmosphere."
That was a sentiment that could be heard everywhere, especially around the statue of late broadcaster Harry Caray. Located on the corner of Waveland and Sheffield, just across from Murphy's Bleachers, Caray's statue is as much a tourist attraction as anything a fan could find tooling around Chicago.
Since the postseason began, a steady stream of onlookers have stopped to pose in front of the Caray statue, now adorned with a modern-day Cubs jersey.
"I'm so happy that the Cubs are in the World Series," said Chicagoan Yasukazu Tomimitsu, a fan for more than 40 years. And what will he be doing during Game 3?
"I'll be drinking beer, watching it on TV," he said. "I want to be here [at Wrigley], but too much money. So I'll watch it from home."
Even non-Cubs fans are soaking in the scene. Four friends hailing from Miami, on their way to Notre Dame for the Hurricanes game on Saturday, stopped at Wrigleyville for some selfies and group shots around the historic ballpark.
"Hopefully, our grandkids will see this someday and say, 'Wow, they were here. They watched history,'" said Steve Alcin, adding that they're Marlins fans. "This is amazing. A great time in history."
Added Marc Docteur: "The people are fun, the community is great. I see cheerfulness and love everywhere. This is great for the whole city.
"The way the community has come together, with all of the W's on the windows, it's just fascinating. It's going to be great."
Alyson Footer is a national correspondent for MLB.com. Follow her on Twitter @alysonfooter. This story was not subject to the approval of Major League Baseball or its clubs.