Oct. 27 Mike Napoli workout day interview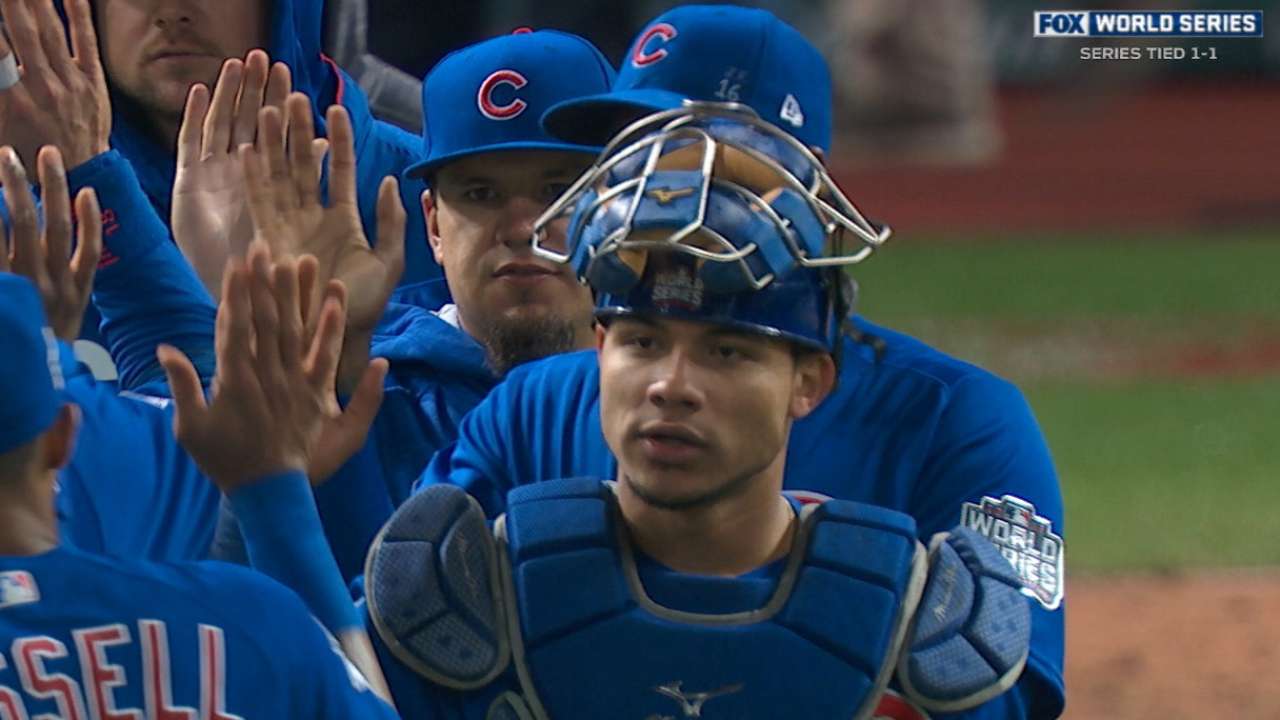 Q. You've been to this stadium before, what do you think? And I know you're the opposition and they aren't your fans, but at the same time you're a baseball person. What do you think it's going to be like here, the atmosphere tomorrow? And is it good for baseball that Wrigley finally has a World Series after many, many years?
MIKE NAPOLI: I mean, it's going to be unbelievable. Going into this, watching the National League play, I wanted to play against the Cubs because I knew the atmosphere would be unbelievable. Early in my career I got to come here and just so much history. It's a park you want to come to and play.
So tomorrow's going to be unbelievable. I watched when they clinched to go to the World Series and how crazy it was and seeing the fans in the streets where they had to have police escorts. You could just see the crowd just part ways.
So it's going to be fun. It's something that I wanted to be a part of, and thought that it would be an unbelievable World Series.
Q. In that kind of electric atmosphere, can any of that help you guys, too?
MIKE NAPOLI: We played in some pretty crazy places getting to this point. So, I mean, for me personally, I love it. It's just something that gets you going, even though you're in a visiting park. But how loud they get, it's to the point where you can't even think, and it's just crazy. It's just a cool moment to take in and be a part of. So I know it's going to be crazy, and I'm looking forward to it.
Q. I just want to know how you felt about the mood of the team? I know last night was rough, but I would assume you're as loose as ever?
MIKE NAPOLI: Yeah, it's not our first loss in the postseason. We were able to bounce back after we lost to Toronto. So we knew coming into this it wasn't going to be -- we weren't just going to steamroll the Cubs. We have a lot of respect for them. They're a great ballclub. They won over 100 games. So, we knew it was going to be a tough series. We knew it was going to be a good one, and we'll see what we're made of tomorrow.
Q. Tito was talking about how big the plane was. Was this the biggest plane you've flown on all year?
MIKE NAPOLI: There were a lot of babies on it, I'll tell you that. I think we had two of them. But, yeah, it was a rather large plane. Flying in that weather was a little bit of a knuckleball express, the landing was pretty interesting. But, yeah, it was pretty big.
Q. You've played with a couple different managers. What is it with Francona that he's able to bring out the best in you guys?
MIKE NAPOLI: I mean, Tito's just so genuine. Everything that comes out of his mouth, he means. He wants you to do well. All he wants to do is talk about you, brag about you. You know, you come in, and I mean, I play Cribbage with him every day. I just got done playing with him before I came here.
You can go into the office and talk to him about anything. It's not just baseball, life and whatever's going on. He makes you feel really comfortable. He gets the best out of everybody. Me coming into this year I got to talk to Pedroia about him a lot, so there was a high ceiling already, and it definitely exceeded what I heard about him.
Q. What is it about Tomlin's makeup that gives you guys confidence that he can handle the atmosphere that's going to be here tomorrow night?
MIKE NAPOLI: The competitor he is. He's not scared. I mean, he goes out there with 89 and hits corners, throws his cutter, control. I mean, he's got a big heart. I guess I could put it that way in a PG way.
But, yeah, it's fun playing behind him. When you play behind somebody that you know cares so much and cares about his teammates, wants to do good, it's nice playing behind them.
Q. Tito said that he's considering putting Carlos out in left field. Have you seen him shag some balls out there? How does he look to you?
MIKE NAPOLI: I mean, I saw him taking fly balls our first workout before the series started. So he's going to try to find a way to get us both in there. So coming to a National League park is kind of tough. You're limited to trying to get your regular lineup out there.
So Tito's been able to pull the right strings. So we have all the trust in him that whatever decision he makes, we're going to be all right.
Q. You didn't volunteer?
MIKE NAPOLI: No, it was a circus last year with me out there (laughter), so I wouldn't go out there in this situation.
Q. One way or the other there's five games left, I guess. How do you manage that and not try to do too much or not try to -- how do you just stay moment to moment?
MIKE NAPOLI: Yeah, just like you said, we're going to worry about tomorrow, and that's it. Then whatever happens, you move on and whatever task you have to do, you follow it. It's a best-of-five series now. You've got to win three games before they do. They've got great players, great pitching staff, so do we. I think we match up well, and think it's going to be fun.