Oct. 27 Theo Epstein workout day interview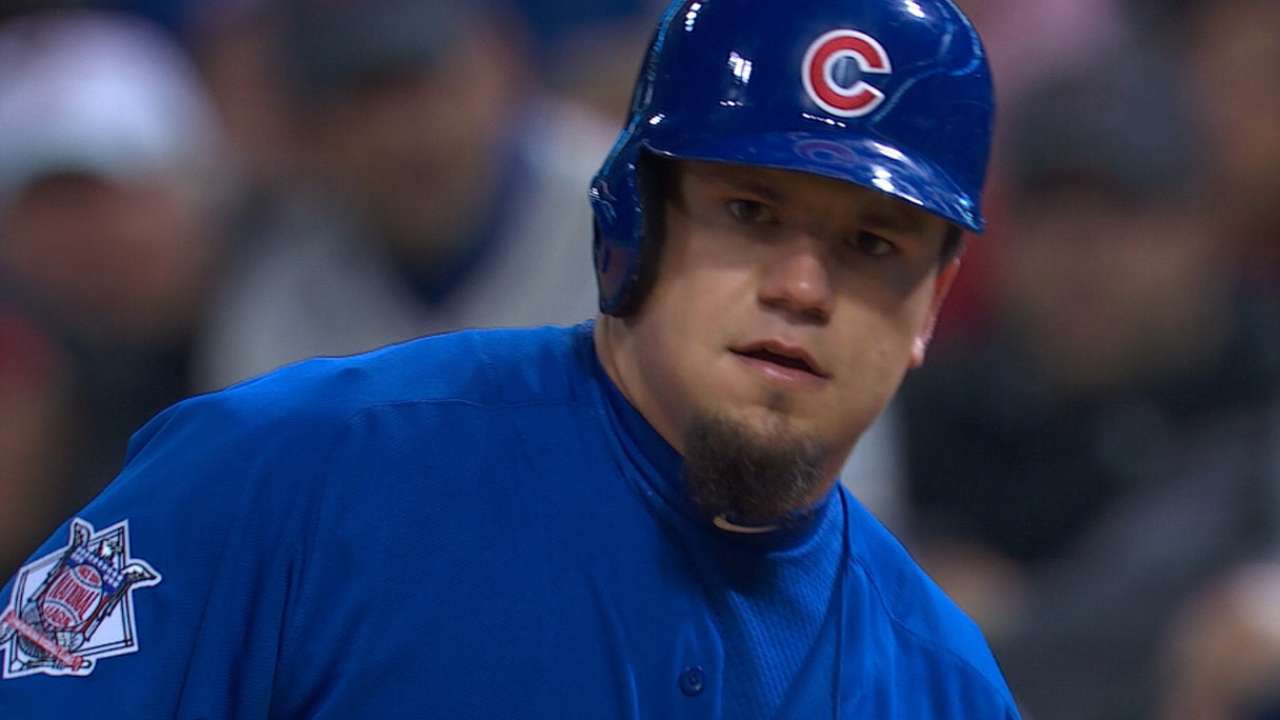 THEO EPSTEIN: We had lengthy phone conversations today with Cubs Dr. Stephen Gryzlo and Dr. Daniel Cooper, who operated on Kyle six months ago, and, unfortunately, Kyle has not been medically cleared to play the field, so he will not be in the lineup the next three games. But we do look forward to him impacting the game as a pinch-hitter for us, and certainly should the series return to Cleveland, he'll be eligible to continue as a designated hitter.
Q. What's the reasoning? He can run the bases, what is the reason medically why he can't be cleared?
THEO EPSTEIN: Yeah, medically the doctors were very convicted that there's just too much risk in playing the outfield because of the dynamic actions involved, the instantaneous reactions, the need to cut in the outfield, the dynamic, athletic movements that are unanticipated in the outfield, your instinct in reacting to balls that just aren't the case when you're running the bases.
The history here is this was not just an ACL tear, this was a complete blowout of his knee, multiple ligament. An eight-month expected return-to-play, best-case scenario. When he saw Dr. Cooper at six months, Dr. Cooper was impressed and surprised at the stability of the knee and understanding what was at stake and Kyle's incredible work and desire to play, Dr. Cooper cleared him to hit and run the bases, and that was an aggressive clearance. And we respect Dr. Cooper and followed his judgment on that. But at that time and again today, he was clear about the fact that he was not approving him to play the field. There is just too much risk associated with playing the field at this time, and we have to look out for Kyle's long-term interests.
We have a lot of confidence in other guys, too. We won 103 games. We have all the faith in the world in our other outfielders, and on top of that, we now have Kyle off the bench to take maybe the most important at-bat in the game at a given point.
So we're going to respect the doctors. They're the professionals here and move forward. Kyle understands that. He wants to play, he's the ultimate gamer, but he understands that the doctor's judgment has to rule the day in this case.
Q. Are you disappointed?
THEO EPSTEIN: Of course. Of course. We're all disappointed. We'd love to see Kyle out there getting four-plus at-bats a game. But I think it was important to talk to a medical professional, who's objective and detached from the situation.
I think we're all wrapped up in seeing how well Kyle swung the bat and how it impacted us and the stage that we're on and our desire to win, that there is the possibility of us getting carried away and throwing caution to the wind. But that's why you have to consult the doctors and follow their professional judgment. I'm sure Dr. Cooper wants him to play, too, but he could not clear him based on the timetable and based on the risks involved in playing the field.
So I think we're all disappointed, but we're all really excited about his opportunity to impact the game as a pinch-hitter in a big way, and fully confident in the other 24 guys on the roster to go out there and help win us some ballgames.
Q. How did Kyle take it?
THEO EPSTEIN: He understood in the end. He's a tremendous competitor and has worked extremely hard and feels great at the plate. So he pushed back at first and had a lot of questions for the doctor and did a lot of rationalizing. In the end, he accepted the judgment, and I think appreciates that the doctors and the organization and everyone around him, we're all looking out for his long-term interests and balancing it against the short term.
And there is risk associated with hitting and running the bases, but in the doctor's professional judgment it was minimal compared to playing the field. Kyle is willing to take any risk, but he understands he has to follow doctor's orders.
Q. Is this specifically about his knee or does personality play into this, where you can't tell this specific player, "By the way, let the ball fall. We need you playing." Or any player would not have been cleared?
THEO EPSTEIN: Yeah, I think there would not have been a player to be cleared under this scenario. But that said, if we had been able to clear him only under the condition that he only go 60%, A, I don't think Kyle knows how to go 60%, especially in a World Series-type game; and B, at 60% you're such a tremendous defensive liability, it's probably not worth the offense that you get on the other side anyway.
But that wasn't the case. It was black and white. He simply is not medically clear to play, regardless of his effort level.
Q. Were you surprised at all how good he looked at the plate?
THEO EPSTEIN: Yeah, that's the story. The story is that it's just absolutely remarkable what he did over those first two games, given the fact that he'd only seen live pitching for four days. We didn't expect him to be at this point. He went out there against some of the best pitching in the world and had incredible at-bat after incredible at-bat, got on base and drove in runs and helped us win a big ballgame.
So I'm in awe of what he did, and really excited about what he's going to continue to do to impact the series.
Q. What do you make of the kind of larger-than-life persona he's taken on since last year in the playoffs until now? He's become so popular.
THEO EPSTEIN: Yeah, he's always had that type of personality. I mean, if you go back and talk to people he played with in high school, that's the way he was in high school on the baseball field, on the football field, in the school choir, dance choir. That's the way he was in college. He and Sam Travis helped turn that program around. He's had a magnetic personality. People just gravitate towards him because he wants to win, and he does it in a really fun way. He's just, for all the right reasons, becomes the center of attention.
We saw it here in the Minor Leagues with us, and it quickly happened at the Big League level, too, where he was instantly accepted and started to become sort of at the epicenter of our club from an emotional standpoint. That's something we expect to continue.
He's not alone. There are a number of guys like that that sort of represent the heartbeat of our club in our clubhouse, but he's certainly one of them. At a young age, that's impressive to see. But it's nothing we did. It's nothing that is really surprising. It's just in his DNA. That's who he is. He's totally authentic with it. He doesn't try to be a leader. He just wants to win and loves his teammates, and people respond to that.
Q. Do you have some thoughts about what it might sound like tomorrow night when his name is called?
THEO EPSTEIN: I'll let it speak for itself. I mean, we were here on Opening Day when he walked out with one crutch, and it was deafening. I think our fans also have a special connection with Kyle, and I'm sure they'll take advantage of the opportunity to let him know how much they appreciate him tomorrow night. Hopefully during the game, too.