Unlike some, White Sox still remember 2005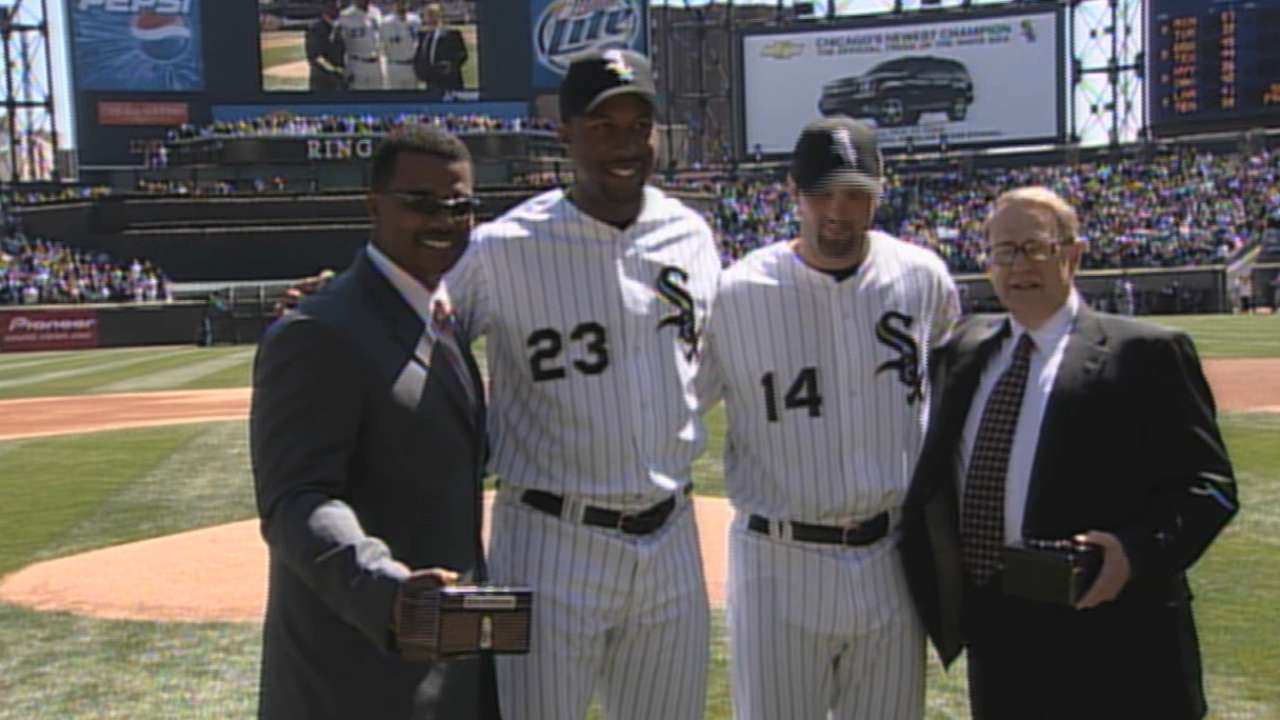 CHICAGO -- Eleven years and one day ago, at approximately 3:30 a.m. CT on Oct. 26, 2005, I ate at a Denny's in Houston with MLB.com national writer Barry Bloom.
We didn't partake in this meal because of insomnia or to get a birthday discount, although it was Barry's birthday. We didn't eat at this late hour because of a chance meeting in Texas.
This well-past midnight snack/early breakfast followed a 7-5, 14-inning White Sox win over the Astros in Game 3 of the 2005 World Series, punctuated by Geoff Blum's home run off of Ezequiel Astacio. The victory was saved by Mark Buehrle, who started and pitched seven innings in Game 2.
Later that night, Freddy Garcia pitched the White Sox to a 1-0 win and four-game sweep of Houston for their first World Series title since 1917. I can verify it happened. I was there.
So were Aaron Rowand, Cliff Politte, and White Sox chairman Jerry Reinsdorf, celebrating outside the frenzied visitor's locker room after the trophy presentation. World Series Most Valuable Player Jermaine Dye was there, as were captain Paul Konerko, Juan Uribe and Willie Harris, who scored the game-winning run in the eighth inning of Game 4 and now is managing in the White Sox Minor League system.
"It's still huge," Harris said during a recent Instructional League interview in Arizona. "We were talking about that World Series in the locker room, and we pulled it up on YouTube and watched some of it. It was an amazing year. I'm just grateful to be a part of it."
That historic, amazing 2005 White Sox season has been somehow overlooked this week, while some media outlets were teasing the historic, amazing run to the World Series by the crosstown Cubs, marking their first World Series appearance since 1945 and in search of their first title since '08. One ESPN graphic featured titles in Chicago and Cleveland since '65, including six for the Bulls, three for the Blackhawks and one for the Bears.
No White Sox. The oversight was explained and apologized for, but that didn't quell the angry fans. Remember, we are talking Grinder Rules, the first baseball title in Chicago in almost 90 years.
CBS This Morning tweeted a picture of Wrigley Field, prepping for a World Series event Chicago hadn't seen in 71 years. It's true the White Sox played only two games at U.S. Cellular Field in the 2005 Fall Classic, but it's hard to overlook Konerko's dramatic grand slam in Game 2 or Scott Podsednik's walk-off blast in the 10th. Ask then-Astros relievers Chad Qualls or Brad Lidge -- they happened.
Similarities exist between the '05 White Sox and the current Cubs. Both teams dominated during the regular season. Both teams relied on strong starting rotations without a definitive ace and added a hard-throwing closer in-season: Bobby Jenks for the White Sox from the Minors and Aroldis Chapman was added to the Cubs via trade from the Yankees.
Both teams were run by charismatic, bold managers in Ozzie Guillen and Joe Maddon, whose ability to fill a reporter's notebook with great quotes shouldn't override their high level of baseball knowledge. They stand as the only World Series runs of my lifetime in Chicago and should each be celebrated without having to take down the other.
To date, only the White Sox have won a World Series crown in the last 100 years, with the Cubs and Indians tied at 1-1 as they come to Wrigley for the next three games. It was sparked by an 11-1 White Sox run to close the playoffs, featuring eight straight victories, and a 16-1 mark to end the season. It truly stands as a piece of family history for the devoted fanbase and is deserving of the place in their hearts.
And deserving of recognition, too.
Scott Merkin has covered the White Sox for MLB.com since 2003. Read his blog, Merk's Works, follow him on Twitter @scottmerkin, on Facebook and listen to his podcast. This story was not subject to the approval of Major League Baseball or its clubs.