Merritt's competitiveness instilled as a kid
Scout says rookie has will to succeed; Tribe lefty cites Tomlin as inspiration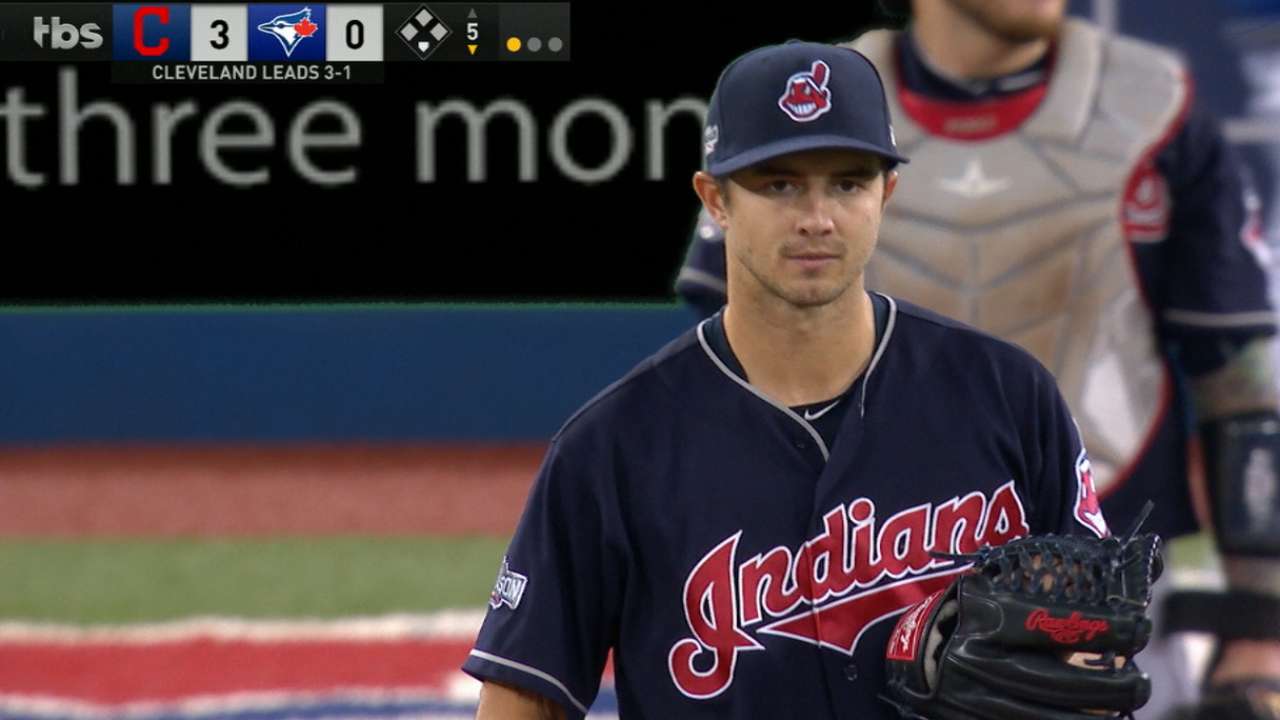 CHICAGO -- Before each pitch, Ryan Merritt extended his arms skyward, collecting himself before shifting into his delivery. Watching from his home in Frisco, Texas, Kevin Cullen could not help but be reminded of when he first scouted the Indians lefty and saw a mix of nervous ticks.
Back when Merritt was pitching for McLennan Community College in Waco, Texas, he would continuously tug at the brim of his hat, or pull at sections of his jersey, while on the mound. On the night Merritt became a cult hero in Cleveland, and an overnight sensation across the country, Cullen saw a study in development and a pitcher who had found a way to channel any nerves he was experiencing.
"You could tell everything was pretty under control," Cullen said.
Merritt's rapid rise to stardom among Indians fans culminated in his incredible performance in Cleveland's clinching win over the Blue Jays in Game 5 of the American League Championship Series. As of now, the left-hander is not expected to start for the Indians in the World Series, but he helped get them there, which was enough to turn a virtual unknown into a player stopped on downtown streets for autographs and photos.
• Shop for Indians World Series and AL champs gear
It has all been a bit overwhelming for Merritt, the softspoken, small-town Texas kid who rides his dad's tractor in the offseasons. For those who know Merritt -- like Cullen -- what the lefty did in Toronto on Oct. 19 (4 1/3 shutout innings) was no shock. Underneath Merritt's calm demeanor exists an intense competitive fire, and that convinced the club to take a chance on him in the 16th round of the 2011 MLB Draft.
"There's a lot of things that gave you clues that he would have a chance to handle it," said Cullen, who is now a regional supervisor in the Indians' scouting department. "When you have what he has, and you've gotten to the point that he's gotten to in a relatively efficient period of time, it kind of tells you that, yeah, maybe this guy does have a chance to go out there and do it, because he believes in what he's doing."
Belief is half the battle. Just ask Josh Tomlin.
Tomlin was on the edge of his seat for Merritt's performance in the ALCS, because the veteran pitcher sees a lot of himself in the rookie. Tomlin was a non-prospect taken in the 19th round of the 2006 MLB Draft by the Indians. Merritt went to high school in Celina, Texas, while Tomlin grew up in the small town of Whitehouse in the same state. Neither pitcher cracks 90 mph on the radar gun.
"Conviction to me is a heck of a lot better than stuff," Tomlin said.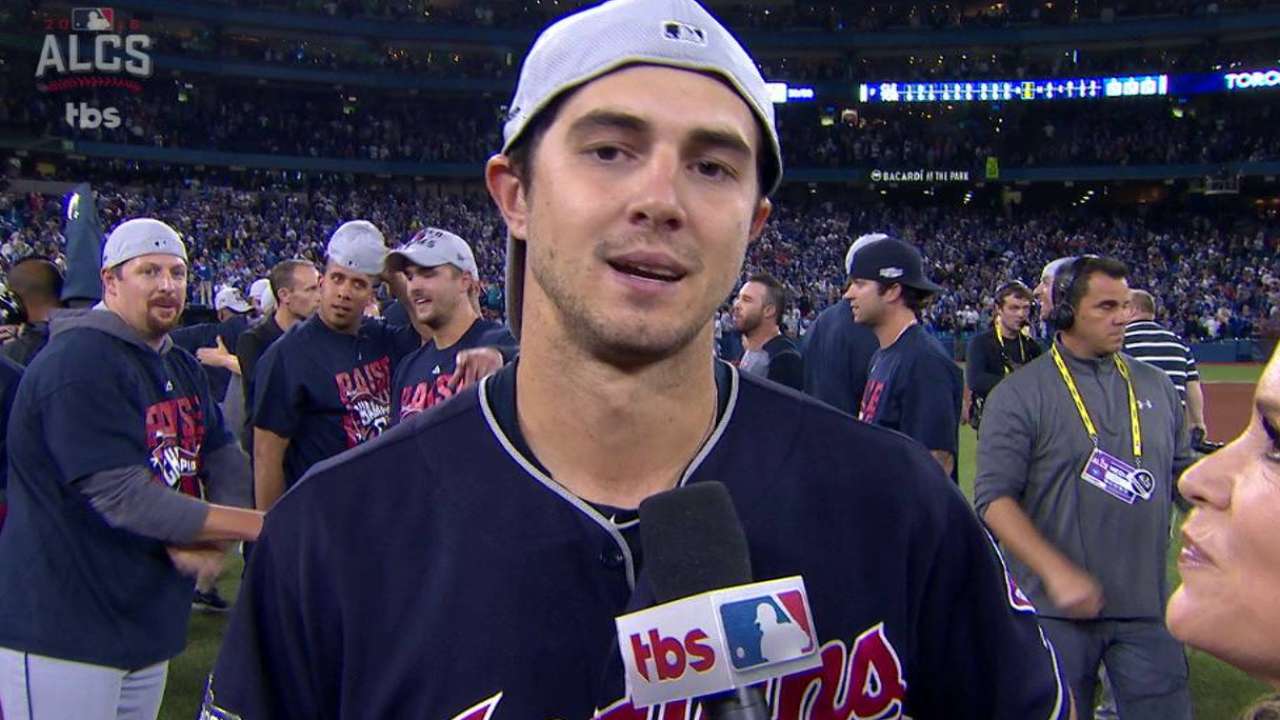 Tonight, Merritt will watch from the first-base dugout at Wrigley Field as Tomlin takes on the Cubs in Game 3 of the World Series. The 32-year-old Tomlin holds the distinction of being the longest-tenured player in the Indians' organization and he has been stellar in this postseason, picking up two wins with a 2.53 ERA. While Tomlin sees himself in Merritt, Tomlin also gives Merritt a possible glimpse of his future.
Every year, Cleveland holds a fall development program for some of its prospects who are knocking on the door of the big leagues. The players come to Progressive Field, get a chance to work out in the Major League facilities and have an opportunity to meet some of the Tribe's players. Every year, Tomlin speaks to the group, serving as the living, breathing embodiment of the kids' big league dreams.
If Tomlin can make it, who among the Minor Leaguers can say they don't have a shot?
"Josh is definitely an inspiration to so many people, especially in the Minor Leagues," Merritt said. "It just goes to show you, and it proves, that hard work and dedication and consistency and good routines, it can trump straight talent. You can make it to the Major Leagues by working hard. You don't have to have the best stuff in the world."
Told of Merritt's comments, Tomlin cracked a smile.
"It's nice that people would say that," Tomlin said. "To be able to go out there and not have the sexiest stuff on the radar gun, or the overpowering stuff, and you still work hard and try to hone your craft and you're able to achieve your dream and get to where you want to get to, it's pretty special."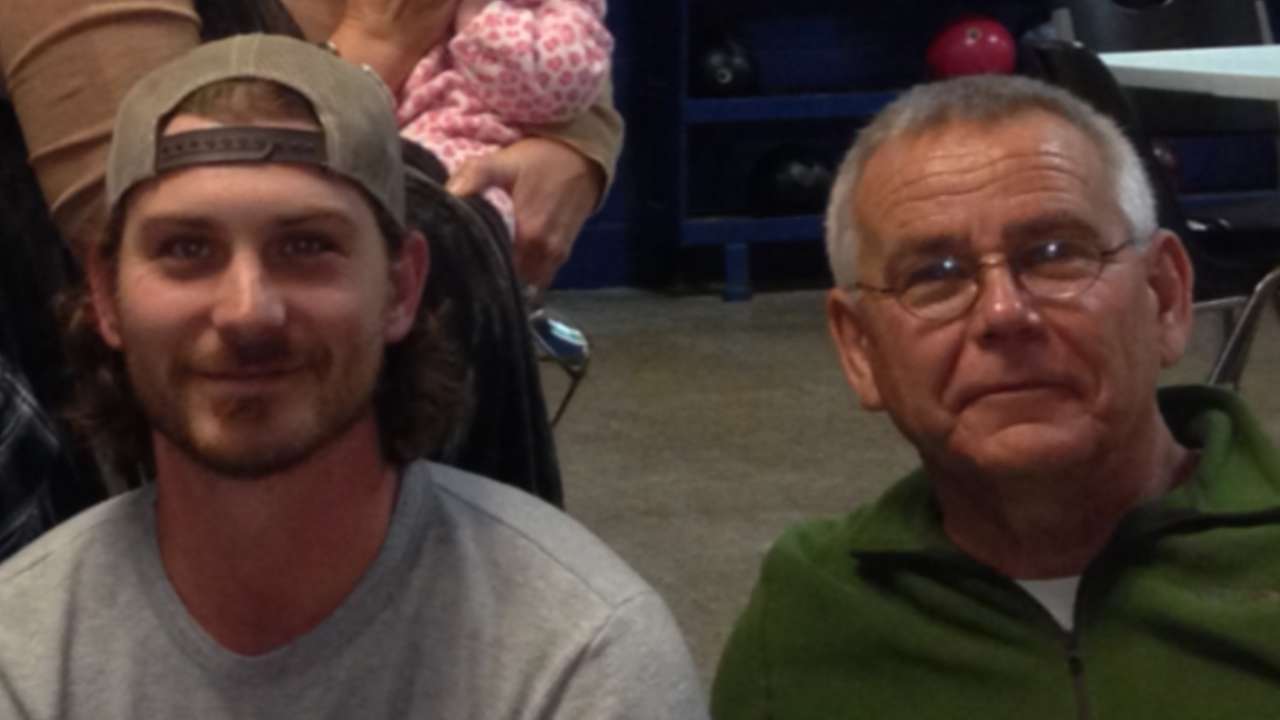 Merritt is now living that dream as well.
Cullen, who was an area scout for Cleveland when Merritt was drafted, sent the left-hander a text ahead of his start against the Blue Jays last week. They keep in contact and meet at least once a year over the winter for dinner, just as they did ahead of the Draft so many years ago.
"Go out and keep doing what you do."
Merritt did just that, stifling a Blue Jays lineup in a raucous environment that has rattled plenty of pitchers. In the wake of the win, Cullen enjoyed the photos of Merritt -- at the urging of his teammates -- holding up his boots in the champagne celebration. The day before Game 5, Toronto's Jose Bautista said that the rookie would probably be "shaking in his boots" during his start.
Cullen also laughed when he heard Indians pitching coach Mickey Callaway quip that Merritt probably did not even know the names of Toronto's hitters.
"That makes me chuckle still," Cullen said. "That's a little bit of it with him. He's never really known any different and he doesn't really have another choice. He's not going to be somebody he's not."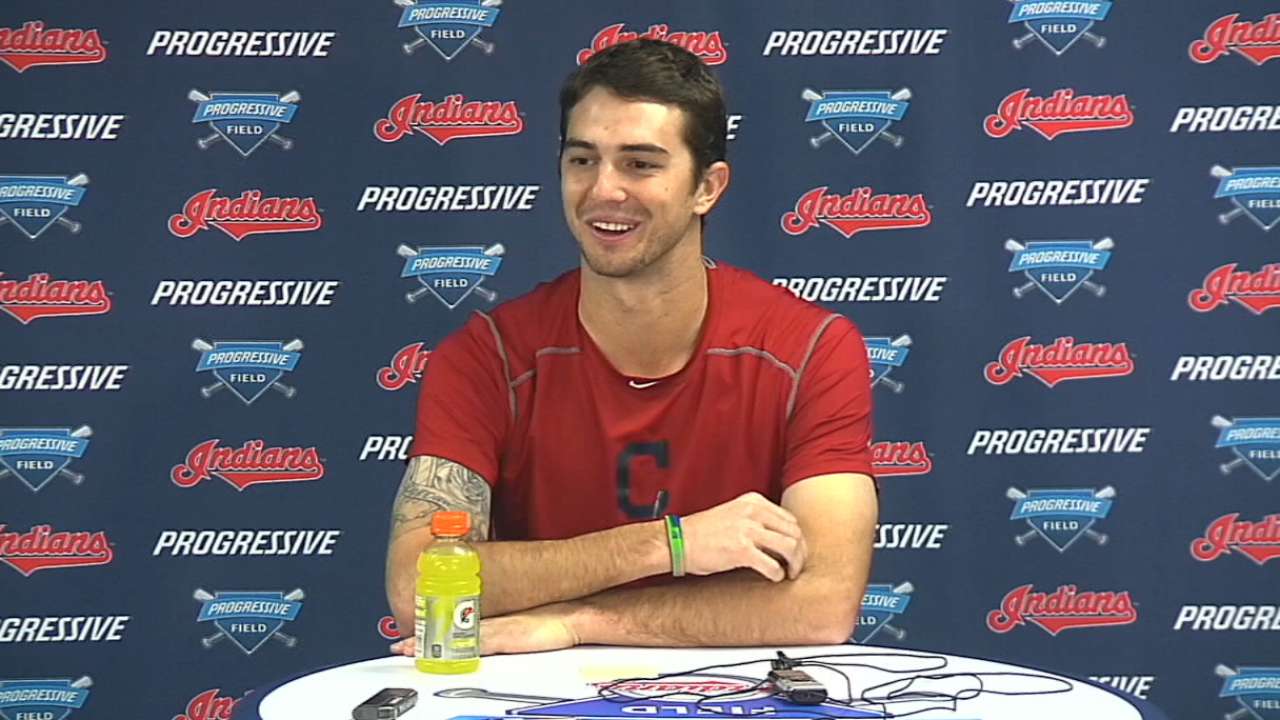 As for the competitiveness that Cullen and other evaluators in Cleveland's system have always recognized in the young pitcher, Merritt said it probably comes from his youth. He played football in a town obsessed with the sport, and did labor with his dad. He was also the middle child among five siblings, with a pair of older brothers, and a brother and sister behind him.
"I had to fight for attention and it made me who I am," Merritt said. "I don't like to take, 'No,' for an answer and I don't like to lose."
Merritt has come a long way from the twitchy kid Cullen first scouted.
"He has kind of had to work to get where he is," Cullen said. "He's kind of a rare case. He absolutely deserves everything he gets."
Jordan Bastian has covered the Indians for MLB.com since 2011, and previously covered the Blue Jays from 2006-10. Read his blog, Major League Bastian, follow him on Twitter @MLBastian and listen to his podcast. This story was not subject to the approval of Major League Baseball or its clubs.