After first steps, a full slate for Baby Bombers
Yankees eager to improve in 2017 with youth movement in place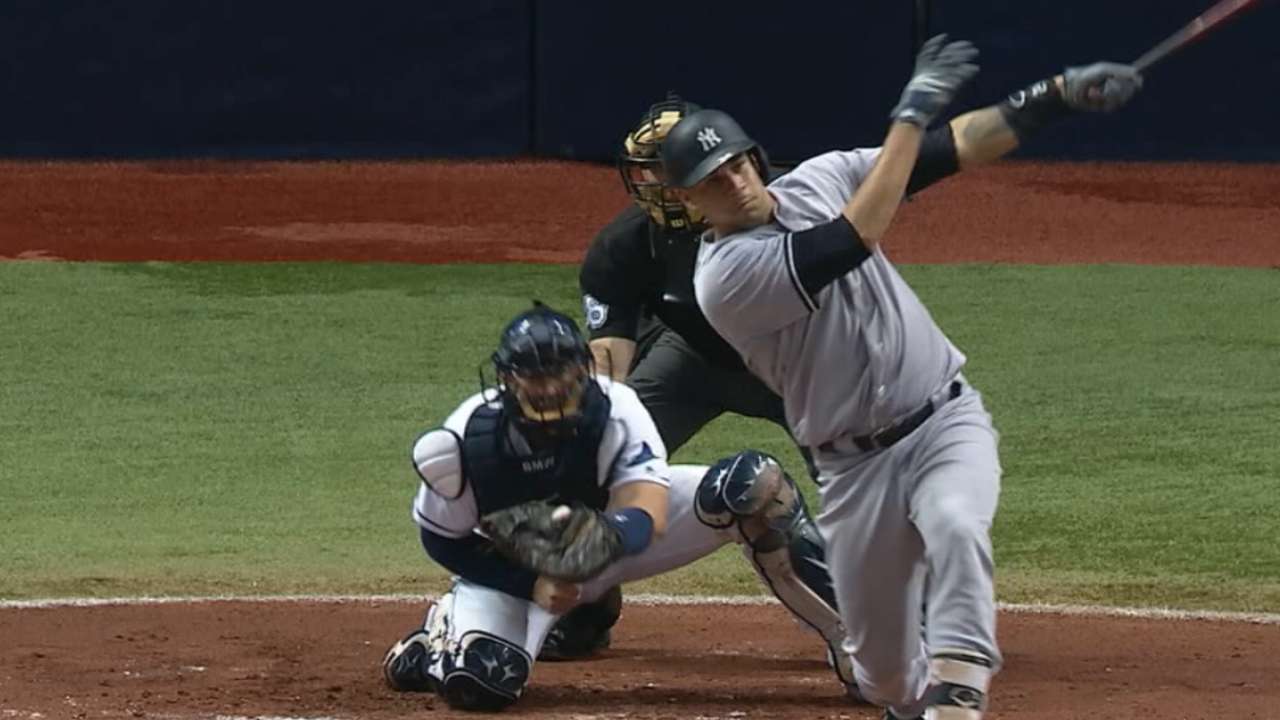 NEW YORK -- There is a famous quote attributed to Yogi Berra in which the Hall of Fame catcher is purported to have said, "When you come to a fork in the road, take it." The Yankees reached one in late July 2016, as managing general partner Hal Steinbrenner was forced to decide if his roster was good enough to compete for a title.
Berra was directing a visitor to his home, as the story goes, and that statement made sense because both roads led to his driveway. For Steinbrenner and the Yankees, they knew that leaving their normal path of championship-or-bust might improve their franchise's chances in 2017 and beyond.
"It was a series of twists and turns this year," general manager Brian Cashman said. "It was a mixed bag. It was a very frustrating and difficult process in the first three months of the season and then I think it was a very exciting dynamic that transpired in the final three months of the season."
Rather than waiting until next spring to begin incorporating promising young talent, the Yankees were able to give players like Gary Sanchez, Tyler Austin and Aaron Judge a chance to play regularly on the big league stage, while also taking closer looks at the likes of Luis Cessa and Chad Green.
Banking heavily on veterans, the Yankees had started the season 9-17 and battled until June 10 to get back over the .500 mark. They remained in the postseason chase into late September and finished the year with 84 victories, marking the franchise's 24th consecutive winning season.
They'll be aiming higher in 2017, looking ahead to having a combination of Greg Bird and Austin at first base, joining an infield that has been solidified up the middle by Starlin Castro and Didi Gregorius. Sanchez has grabbed hold of the starting catching job and Judge will have an opportunity to earn playing time in the outfield.
"I think there are some good things that happened this year," manager Joe Girardi said. "We just didn't reach our goals. But there are some good things that took place where you saw some players come up and do some good things and get some valuable experience, and that should help us moving forward."
Cashman said that the Yankees need more offensive consistency and to fortify their pitching, particularly middle relief. He has already made contact with nearly every Major League club to seek potential matches on the trade front, and so the upcoming General Managers' meetings, as well as the Dec. 5-8 Winter Meetings, promise to be busy.
"Every decision is designed to get us closer to being the last team standing," Cashman said. "That's the approach that's got to be taking place. Can it happen in 2017? That's the goal. But every decision has to be with ultimately being a world champion in mind. That's the approach."
OPPONENT
The Yankees were swept in a three-game series by the Rays at Tropicana Field on July 29-31, convincing Steinbrenner that his club was more playoff pretender than contender. That put the wheels in motion for the youth movement, and a retooled Yankees roster will return to the scene to open the 2017 season on April 2. New York was 11-8 (.579) against Tampa Bay in 2016.
OPENING DAY STARTER
Barring an unforeseen acquisition or injury, the Yankees will have Masahiro Tanaka on the mound for the season opener, beginning Tanaka's fourth season in the Majors. Tanaka turns 28 on Nov. 1 and is coming off a season in which he was 14-4 with a 3.07 ERA in 31 starts, working 199 2/3 innings. He ranked third in the American League in ERA, fifth in WHIP (1.08) and fifth in winning percentage (.778). Right-hander Chris Archer is likely to start for the Rays.
OPENING DAY LINEUP
1. Brett Gardner, LF
2. Jacoby Ellsbury, CF
3. Gary Sanchez, C
4. Brian McCann, DH
5. Starlin Castro, 2B
6. Greg Bird, 1B
7. Didi Gregorius, SS
8. Aaron Judge, RF
9. Chase Headley, 3B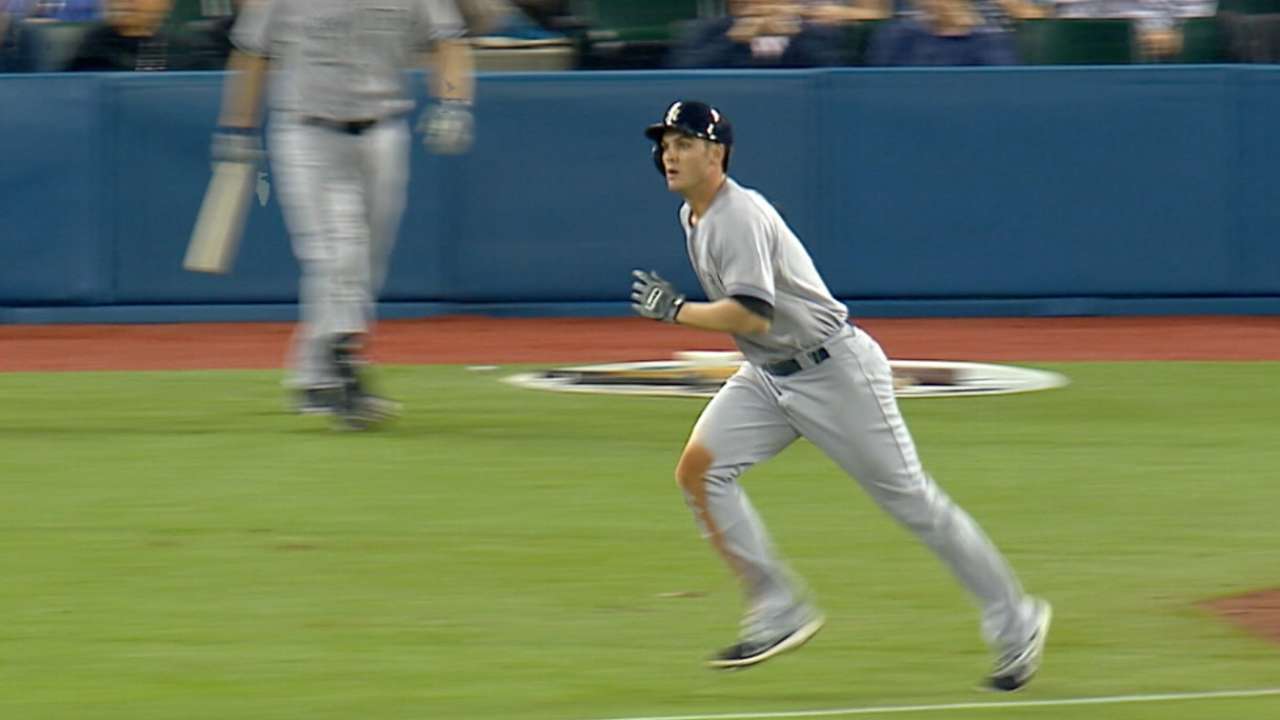 Cashman will try to tweak a lineup that produced a negative run differential in 2016, scoring just 680 runs. The Yankees are likely to entertain trades involving Gardner, who is owed $23 million through 2018, as well as McCann, who has been supplanted behind the plate by Sanchez and has $34 million remaining on his deal through '18.
THREE REASONS TO BE EXCITED
Sanchez will be looking to follow up on the historic start to his career, having tied Wally Berger's 86-year-old Major League record by hitting 20 homers in just 51 games. The Yankees can't wait to see what he can do with a full slate.
Castro and Gregorius clicked almost instantly up the middle, showing as much on-field chemistry as they did in their spring video spoof of the movie "Step Brothers." Amazingly, no Yankees double-play combination had hit 20 or more homers in a single season before they came along.
There's more promising talent on the way. Outfielder Clint Frazier came from the Indians in the Andrew Miller trade and is ranked as the Yanks' No. 1 prospect by MLBPipeline.com; he'll be in big league camp and could make his debut in 2017. Infielder Gleyber Torres, who came from the Cubs in the Aroldis Chapman deal, has been raking as the youngest player in the Arizona Fall League.
Bryan Hoch has covered the Yankees for MLB.com since 2007. This story was not subject to the approval of Major League Baseball or its clubs.