MLB.com Columnist
Jim Callis
Royals in AFL: Dominant Staumont sharpening command
MLB Pipeline checks in on KC's prospects participating in the Arizona Fall League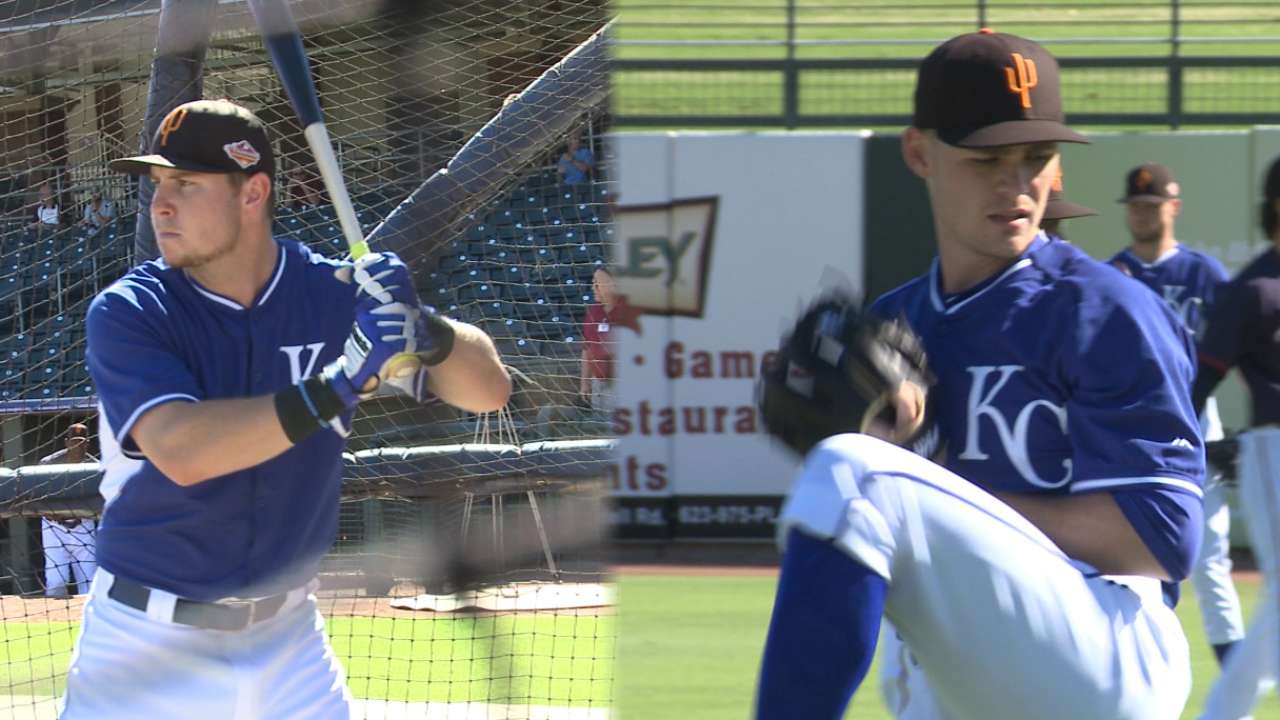 Few Minor League starters can approach Josh Staumont in terms of sheer velocity. The Royals right-hander, ranked No. 10 on the Royals' Top 30 Prospects list, had the hardest fastball in the 2015 Draft and has routinely worked at 93-98 mph while pitching out of the rotation in pro ball -- and he has sat in the upper 90s and hit 102 mph in shorter stints.
The highest pick ever (second round) from Azusa Pacific (Calif.), an NCAA Division II school that has produced seven big leaguers (including Kirk Nieuwenhuis and Stephen Vogt), Staumont has overpowered pro hitters. He led the Rookie-level Pioneer League in strikeouts per nine innings (14.6) in his debut and the entire Minors in the same category (12.2) in his first full season while also ranking second in whiffs (167).
• Complete Arizona Fall League Coverage
But as nasty as Staumont's fastball is, it doesn't always find the strike zone. The quality run-and-sink that makes it even tougher to hit also makes it difficult to command. He also topped the Minors with 104 walks this year, matching the total of hits he allowed in 123 1/3 innings, and contributing to his 4-11, 4.23 record between Class A Advanced and Double-A.
So Staumont's top priority in the Arizona Fall League is obvious: work toward harnessing his stuff, which also includes a hard downer curveball and a changeup with splitter action. He showed improvement late in the season at Double-A Northwest Arkansas, pitched well in the Texas League playoffs and has continued to do so with the Surprise Saguaros.
Staumont has surrendered just one run in his first three AFL starts, earning league pitcher of the week honors in the second week. He has given up five hits and four walks in 10 1/3 innings while striking out 11.
"I just want to continue making strides," Staumont said. "It's the end of my year, I've already thrown [a lot of] innings, so it's kind of winding down. At the same time, this is the crunch time for us. This is something where you want to succeed on an everyday basis."
"Failure, even though it kind of makes you better as a person and a player, it isn't something you want right now. Next year, I just want to keep in the same direction as I'm going. Every day is another step."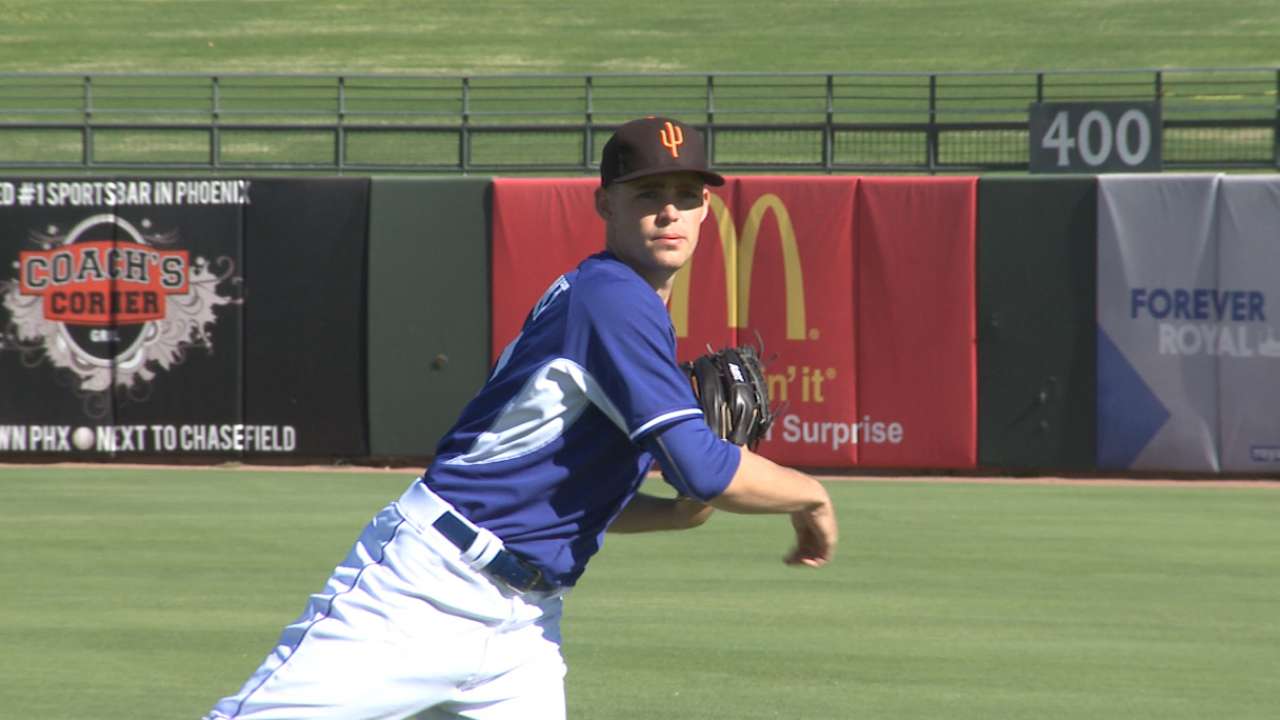 Staumont has a relatively easy delivery, so effort isn't the issue. But he struggles to repeat his mechanics, resulting in below-average control and even worse command. The strides he made at the end of the regular season -- he walked just eight in 22 innings over his last four starts -- encourage the Royals that he'll be able to make it as a starter.
Royals hitters in the Fall League
Alfredo Escalera, OF
Ryan O'Hearn, 1B/OF
Mauricio Ramos, 3B/1B
Corey Toups, 2B/SS
The nephew of former big leaguer Nino Escalera, Alfredo became the youngest player ever drafted (17 years and not quite four months) when Kansas City took him as a Puerto Rican high schooler in the eighth round in 2012. He has a chance for average tools across the board, though he's still raw at the plate after hitting .272/.320/.357 with 10 steals in 123 games between high Class A and Double-A in 2016.
The Royals made O'Hearn an eighth-round pick from Sam Houston State in 2014, in part because they thought he could unlock more power with a more aggressive approach. They were right, as he won Rookie-level Pioneer League MVP honors in his pro debut, led the Class A South Atlantic League with 19 homers in his first full season and slammed 22 homers this year between Class A Advanced and Double-A.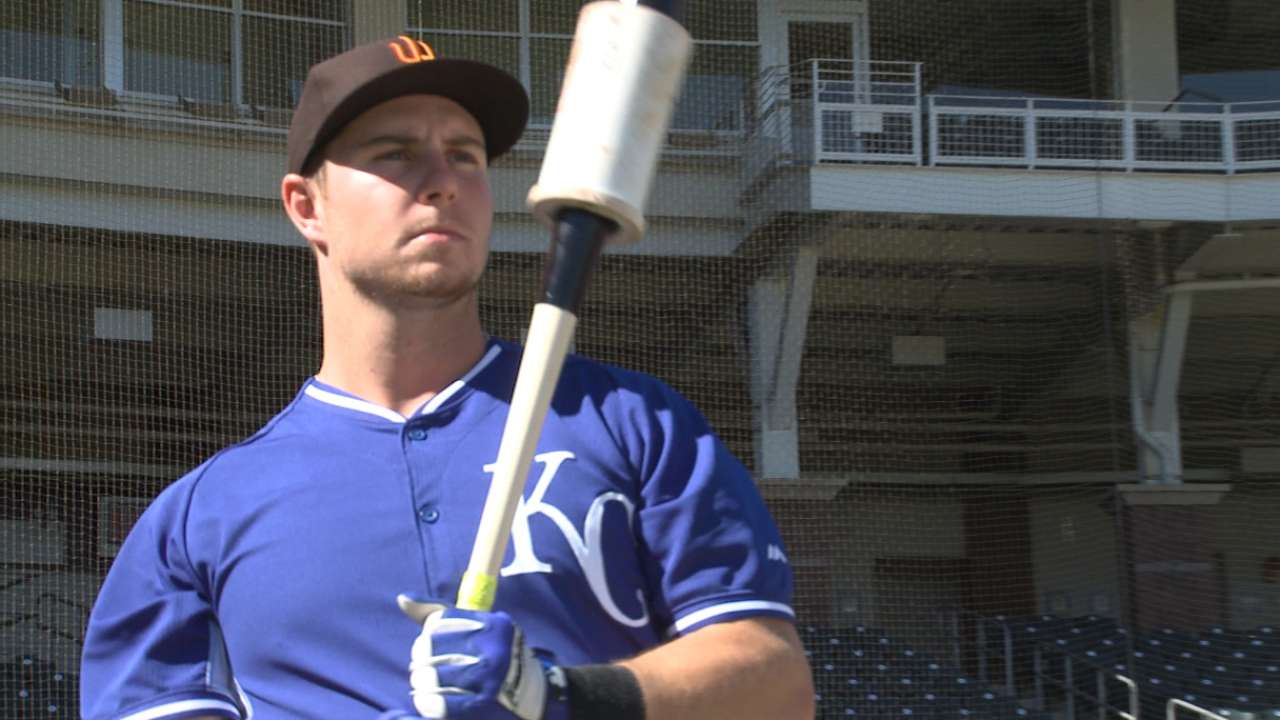 Signed out of Colombia in 2010, Ramos is one of the better hitters in the Royals' system, but he must demonstrate more power and on-base ability to profile as a regular on a corner. He finished third in the Double-A Texas League in hitting in 2016 while batting .288/.326/.406 with a career-high nine homers in 125 games.
Another find from Sam Houston State in the 2014 Draft, Toups doesn't have a plus tool but he does have good feel for the barrel and a knack for getting on base. He hit .268/.356/.440 with 12 homers and 22 steals in 127 games between Class A Advanced and Double-A this year.
Royals pitchers in the Fall League
Evan Beal, RHP
Jake Newberry, RHP
Eric Stout, LHP
Kansas City failed to land Beal when it drafted him out of a Virginia high school in the eighth round in 2011, but signed him three years later as a 21st-rounder out of South Carolina. A reliever who works with a low-90s fastball and a curveball, he pitched at three levels in 2016 (mostly in Double-A), posting a combined 3.33 ERA and 59/27 K/BB ratio in 73 innings.
A 37th-rounder from a San Diego high school in 2012, Newberry is a righty reliever with a 91-94 mph fastball and a slider. He divided his season between two Class A stops, with a 2.56 ERA and 62/18 K/BB ratio in 66 2/3 frames.
A left-hander reliever, Stout was a 13th-round choice out of Butler in 2014. Using a 90-94 mph fastball and a slider as his primary pitches, he had a 3.86 ERA and 69 strikeouts in 72 1/3 Double-A innings this year.
Jim Callis is a reporter for MLB.com. Follow @jimcallisMLB on Twitter. This story was not subject to the approval of Major League Baseball or its clubs.