MLB.com Columnist
Phil Rogers
Even as PH, Schwarber still a factor
Slugger's bat off bench is too valuable to risk playing defense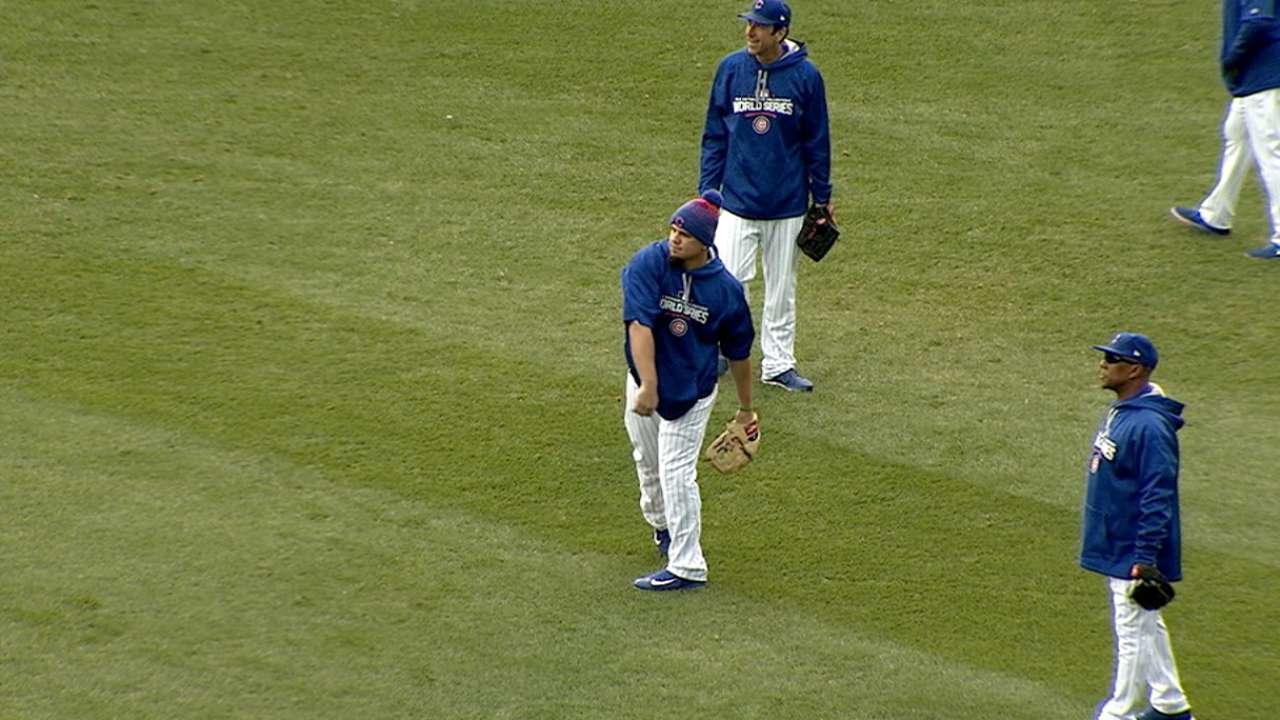 CHICAGO -- As quickly as Kyle Schwarber had worked his way back into the Cubs' lineup, he is out of it again.
There goes the World Series parade, right?
Uh, no. Not even close.
With doctors declining to give Schwarber medical clearance to play the outfield in these middle three games of the Series, the Cubs are right back to where they were before Tuesday -- a 103-win team with the deepest starting rotation in the Majors and the best fielding unit, one that won't be compromised by Schwarber's uncertainty.
• Shop for World Series and NL champs gear
As badly as Schwarber wanted to give left field a try after collecting two singles and a double as a designated hitter in Cleveland, even he seemed to sense that the Cubs should be just fine without him.
"It's good, man,'' Schwarber said late Thursday afternoon, after a workout at Wrigley Field. "I mean, I remember going through some interviews [during the season], I'm like, 'Man, these guys are doing just fine. I'll just stay out of the way.' I've got a lot of trust in this whole team, just watching it throughout the whole year. These guys played unbelievably. It was fun to watch.''
While Schwarber will cast a long shadow from the bench, awaiting his turn to contribute as a pinch-hitter, the Cubs should be more fun to watch on Friday night than any time in the last 71 years.
The Cubs will be playing the first World Series game at Wrigley since 1945, tied with the Indians at one win apiece after games at Progressive Field. The designated hitter rule allowed Schwarber to jump into the starting lineup after missing the last 159 games of the regular season with torn ligaments in his left knee, but it's not permitted in the National League park.
Cubs president of baseball operations Theo Epstein seemed physically pained that he could not talk doctors into clearing Schwarber. He was dazzled by how Schwarber put together quality at-bats against Corey Kluber, Andrew Miller and four other Cleveland pitchers, going 3-for-7 with two walks, two RBIs and one run scored.
"We're all disappointed,'' Epstein said. "We'd love to see Kyle out there getting four-plus at-bats a game. But I think it was important to talk to a medical professional, who's objective and detached from the situation. I think we're all wrapped up in seeing how well Kyle swung the bat and how it impacted us and the stage that we're on and our desire to win, that there is the possibility of us getting carried away and throwing caution to the wind.''
Schwarber said he had no idea he would even be able to DH until a week ago. The Cubs should count their blessings he got up to speed as a hitter as quickly as he did, and that he didn't do anything to re-injure his knee swinging the bat or running the bases.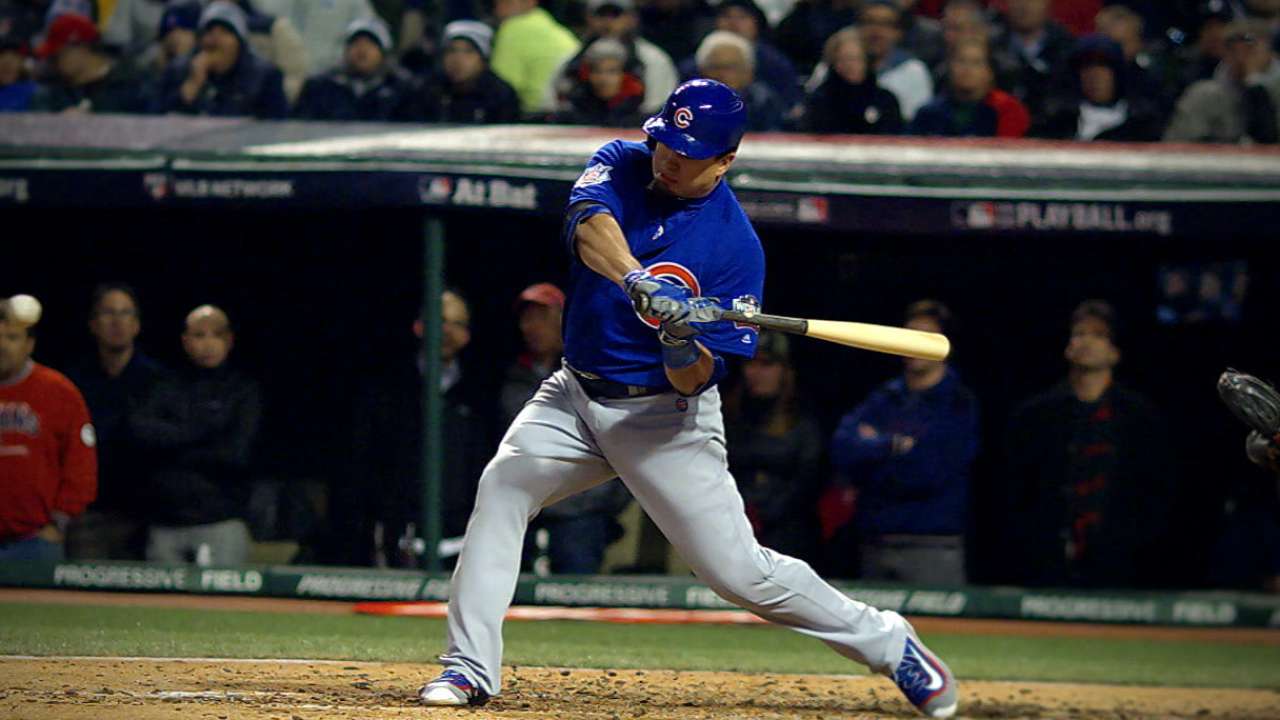 As popular as it would have been to start Schwarber in left field, it's a sucker bet after his two hugely impressive games as the DH. Also, there's no need for it.
While Schwarber's bat improves the lineup, he's a huge question mark in the outfield, and the nature of manager Joe Maddon's team is to catch every ball put in play. That's how he got hurt in the first place, smashing into Dexter Fowler at Chase Field in Arizona in April.
The Cubs essentially won 110 games without Schwarber, and while it's great to have him back, they should put their best defensive team on the field behind NL ERA leader Kyle Hendricks.
Defense matters in October. The Cubs haven't surrendered an unearned run in the postseason; the Indians have given up only two, one apiece in the two games they've lost.
The wind's expected to be blowing out on Friday night, possibly with force, and that argues for Ben Zobrist in left and Jason Heyward in right.
Maybe Zobrist in left and rookie Albert Almora Jr. in right, if you don't think the former can work a count or two to get himself on base. Almora's a right-handed hitter, and Indians starter Josh Tomlin is a reverse-split guy -- meaning he has more success against same-handed batters -- like Game 2's Trevor Bauer.
Almora is an interesting option. He's considered a Gold Glove-caliber fielder, and while he has played mostly center field, he made a terrific running catch on the right-field line to take extra bases away from the Giants' Buster Posey in the NL Division Series, even turning a double play with that catch. His strong throw to Anthony Rizzo arrived ahead of Brandon Belt.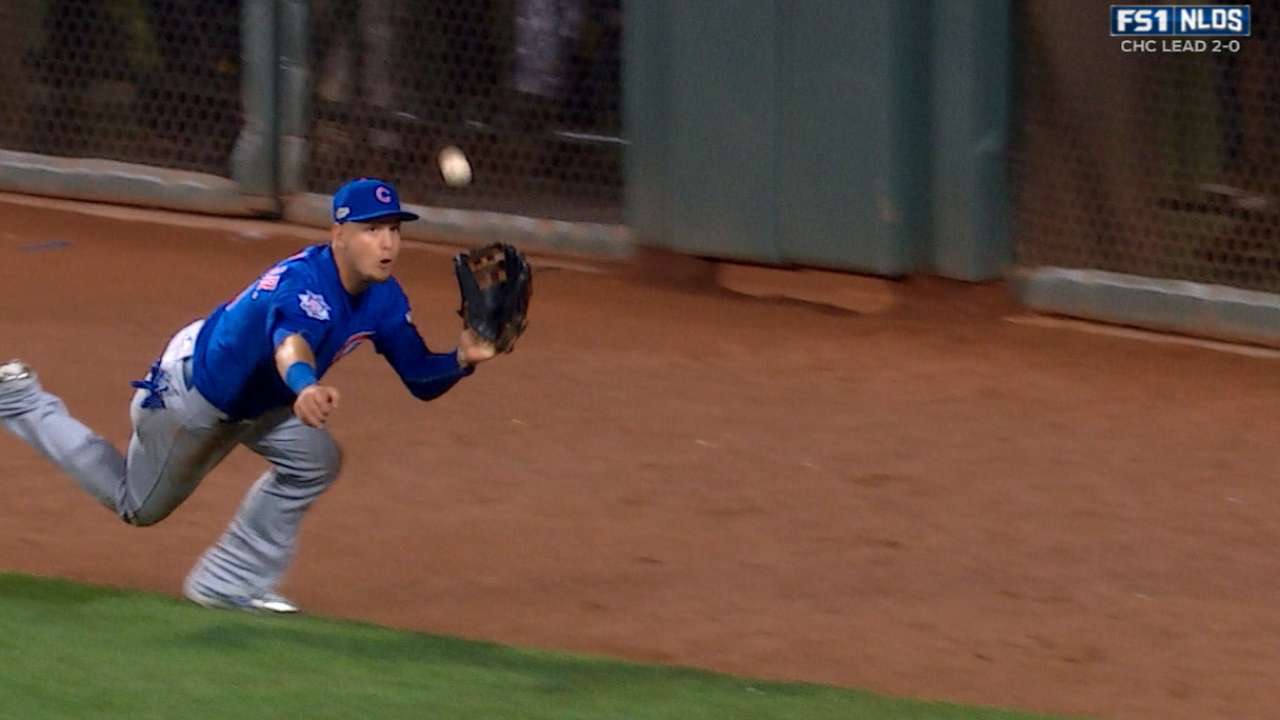 Jorge Soler will tempt Maddon, given his proclivity to launch fly balls. He could run into a homer against Tomlin, although his 0-for-October (0-for-10, really) performance makes that a risky move.
No matter what, there's no need for the Cubs to double down on Schwarber.
"I think we're all disappointed, but we're all really excited about his opportunity to impact the game as a pinch-hitter in a big way,'' Epstein said. "[We're] fully confident in the other 24 guys on the roster to go out there and help win us some ballgames.''
If you're looking for Schwarber this weekend, check the new underground batting cage. He'll be in there whacking baseballs and waiting for Maddon to pick a spot for him.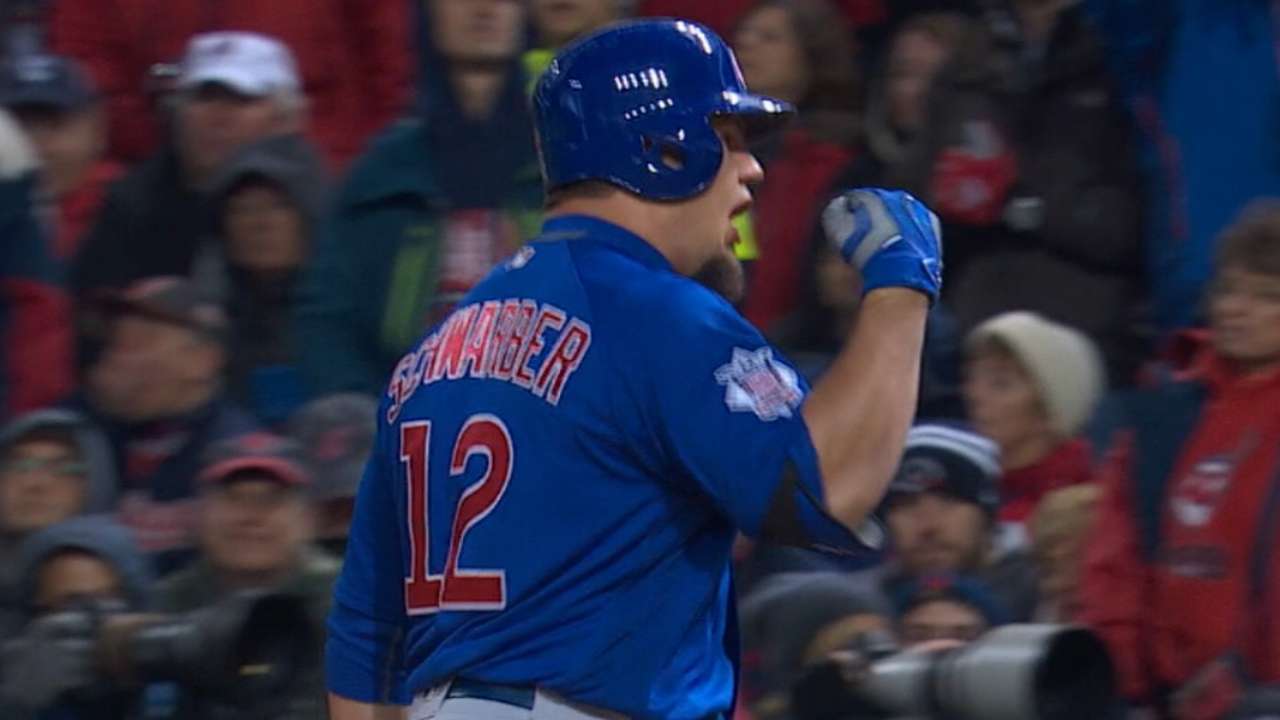 "There is no being sad about [this],'' Schwarber said. "There's no nothing. I know my role now, and I'm going to embrace it.''
It's the right role for him for now, as he works to get all the way back from surgery. He's got a huge future ahead of him, possibly as soon as the late innings of Game 3.
Phil Rogers is a columnist for MLB.com. This story was not subject to the approval of Major League Baseball or its clubs.