Gold Glove Award finalists revealed
Cubs, Tigers each have four up for defensive honors; Molina in line for record ninth straight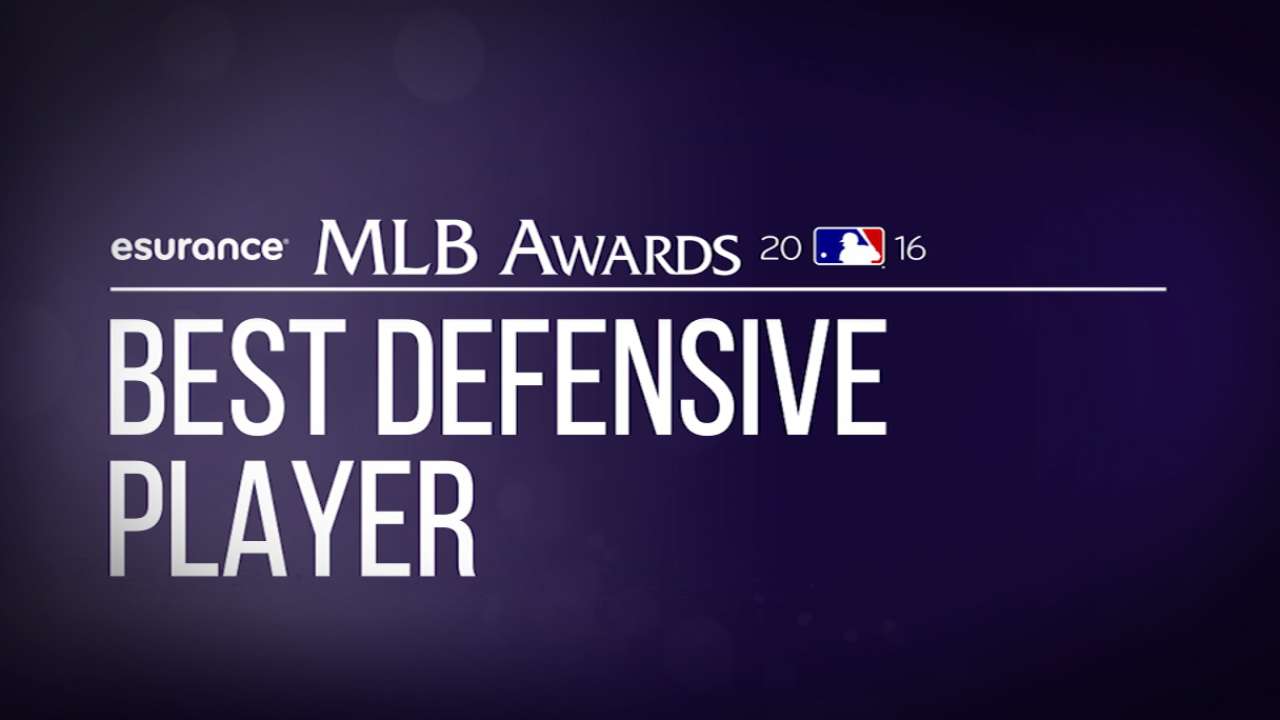 More than perhaps any two teams in baseball, the Cubs and Indians have used stellar defense to buoy their other skills and send themselves rolling toward a historic World Series. So it should come as little surprise that both teams, one of them set to snap a championship drought that's spanned decades or even more than a century, flexed star power when the finalists for this year's Gold Glove Awards were announced on Thursday.
The Rawlings Gold Glove Awards have honored defensive excellence since 1957. On Thursday, 54 finalists for the 2016 awards were named. The winners will be revealed Nov. 8 at 8 p.m. ET on ESPN.
• Vote for Best Defensive Player in MLB Esurance Awards by Nov. 11
The Cubs and Indians, who are tied at a game apiece in the best-of-seven Fall Classic that resumes play on Friday at Wrigley Field (8 p.m. ET on FOX), have a total of five finalists.
Pitcher Jake Arrieta, first baseman Anthony Rizzo, shortstop Addison Russell and right fielder Jason Heyward give Chicago four finalists, tied with the Tigers for the most of any team in the Majors. All are seeking their first Gold Gloves except Heyward, who could win his third straight and fourth overall.
Cleveland's finalist is All-Star shortstop Francisco Lindor, who is seeking his first Gold Glove in his second Major League season.
The Tigers' finalists are pitcher Justin Verlander, catcher James McCann, second baseman Ian Kinsler and shortstop Jose Iglesias. All are seeking their first career Gold Gloves.
Eight teams feature at least three finalists, including last year's World Series-champion Royals. First baseman Eric Hosmer and catcher Salvador Perez are both looking for their fourth consecutive Gold Glove selections, while left fielder Alex Gordon seeks his fifth overall.
Overall, 12 of 2015's Gold Glove winners are back, including past Platinum Glove winners Yadier Molina of the Cardinals and Andrelton Simmons of the Angels. Rangers third baseman Adrian Beltre and Red Sox second baseman Dustin Pedroia are up for their fifth career Gold Gloves. Rockies third baseman Nolan Arenado could win his fourth straight, which would be a record for a third baseman in his first four MLB seasons.
Longtime batterymates Molina and pitcher Adam Wainwright are the Cardinals' two finalists. Another Gold Glove would give Molina his ninth consecutive award, one shy of the MLB record for catchers, held by Ivan Rodriguez and Johnny Bench.
Major League managers and coaches, voting only within their league and unable to vote for players on their own teams, account for 75 percent of the selection process. The other 25 percent goes to the sabermetrics community.
AMERICAN LEAGUE
PITCHER
R.A. Dickey, Blue Jays
Dallas Keuchel, Astros
Justin Verlander, Tigers
CATCHER
James McCann, Tigers
Carlos Perez, Angels
Salvador Perez, Royals
FIRST BASE
Chris Davis, Orioles
Eric Hosmer, Royals
Mitch Moreland, Rangers
SECOND BASE
Robinson Cano, Mariners
Ian Kinsler, Tigers
Dustin Pedroia, Red Sox
THIRD BASE
Adrian Beltre, Rangers
Manny Machado, Orioles
Kyle Seager, Mariners
SHORTSTOP
Jose Iglesias, Tigers
Francisco Lindor, Indians
Andrelton Simmons, Angels
LEFT FIELD
Brett Gardner, Yankees
Alex Gordon, Royals
Colby Rasmus, Astros
CENTER FIELD
Jackie Bradley Jr., Red Sox
Kevin Pillar, Blue Jays
Kevin Kiermaier, Rays
RIGHT FIELD
Mookie Betts, Red Sox
Adam Eaton, White Sox
George Springer, Astros
NATIONAL LEAGUE
PITCHER
Jake Arrieta, Cubs
Zack Greinke, D-backs
Adam Wainwright, Cardinals
CATCHER
Jonathan Lucroy, Brewers (traded to Rangers on Aug. 1)
Yadier Molina, Cardinals
Buster Posey, Giants
FIRST BASE
Paul Goldschmidt, D-backs
Wil Myers, Padres
Anthony Rizzo, Cubs
SECOND BASE
DJ LeMahieu, Rockies
Joe Panik, Giants
Jean Segura, D-backs
THIRD BASE
Nolan Arenado, Rockies
Anthony Rendon, Nationals
Justin Turner, Dodgers
SHORTSTOP
Brandon Crawford, Giants
Freddy Galvis, Phillies
Addison Russell, Cubs
LEFT FIELD
Adam Duvall, Reds
Starling Marte, Pirates
Christian Yelich, Marlins
CENTER FIELD
Billy Hamilton, Reds
Odubel Herrera, Phillies
Ender Inciarte, Braves
RIGHT FIELD
Carlos Gonzalez, Rockies
Jason Heyward, Cubs
Nick Markakis, Braves
Joe Trezza is a reporter for MLB.com based in New York. Follow him on Twitter at @joetrezz. This story was not subject to the approval of Major League Baseball or its clubs.