Doc's orders: Schwarber a pinch-hitter in 3-4-5
Cubs slugger unable to play outfield as World Series shifts to Wrigley Field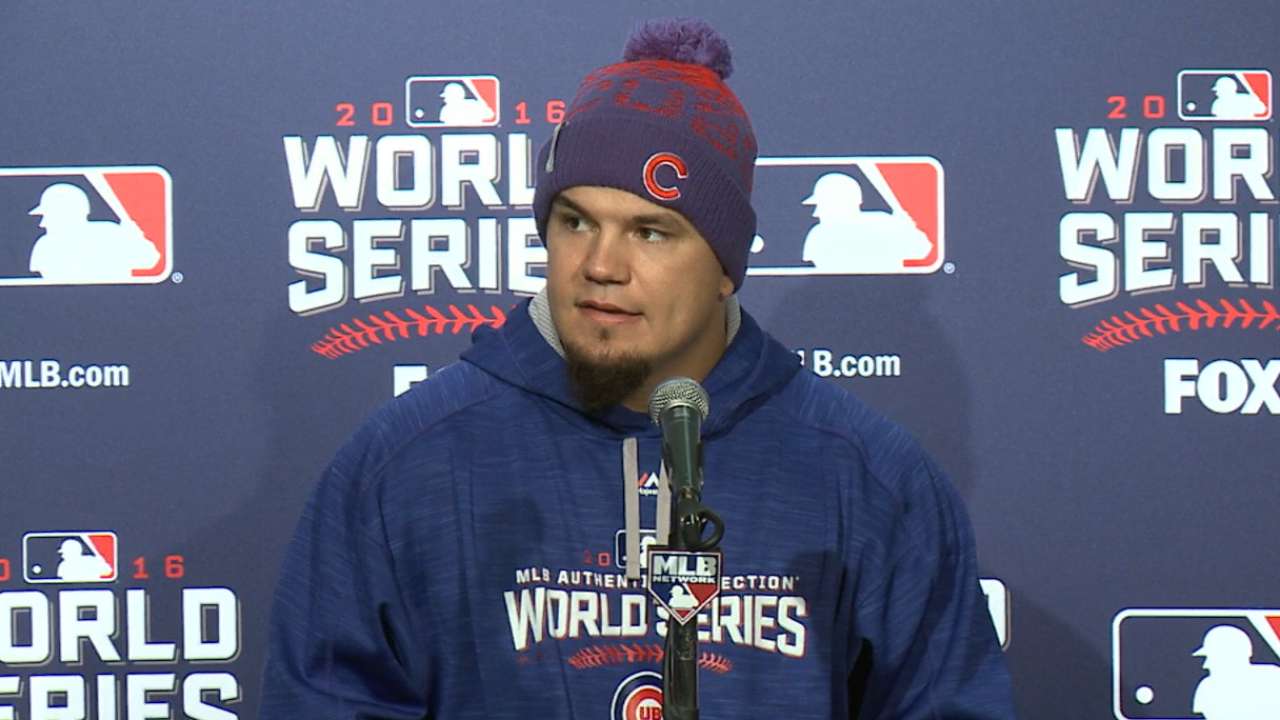 CHICAGO -- Before the six-month checkup with the orthopedic surgeon who repaired Kyle Schwarber's left knee, the Cubs outfielder was asked to fill out a questionnaire. On the bottom of the page, Schwarber wrote, jokingly, "World Series?" The doctor surprised the Cubs and Schwarber by giving him permission to hit and run the bases. However, Schwarber was told on Thursday that he could not play the outfield as the Series shifts to Wrigley Field with no designated hitter.
"It's not disappointing at all," Schwarber said after a brief workout. "It was a long shot at the most. Obviously, I want to be out there with my teammates, but facts are facts. I just can't physically do it. I'll be ready any time during the game to be out there to pinch-hit.
"This was a, 'What if?'" Schwarber said. "I wanted to give it a shot. We've got to respect the opinion of the doctor."
Dr. Daniel Cooper, who performed the surgery on Schwarber's knee in April, and Cubs orthopedic specialist Dr. Stephen Gryzlo talked to the outfielder and team president of baseball operations Theo Epstein on Thursday. Epstein said the doctors felt there was too much risk in playing the outfield because of the actions involved and instantaneous reaction needed.
• Shop for Cubs World Series and NL champs gear
"This was not just an ACL tear, it was a complete blowout of his knee and multiple ligaments, and an eight-month expected return to play, best-case scenario," Epstein said. "When he saw Dr. Cooper at six months, Dr. Cooper was surprised at the stability of the knee, and understanding what was at stake and Kyle's incredible work and desire to play, Dr. Cooper cleared him to hit and run the bases. That was an aggressive clearance."
Schwarber tore the ACL and LCL in his left knee in a collision in the outfield with Dexter Fowler in the third game of the season on April 7. The injury was expected to sideline him for a minimum of eight months, and Schwarber was not expected back until 2017. But Cooper gave Schwarber the go-ahead to hit and run the bases, and he went to Mesa, Ariz., to get some at-bats in two Arizona Fall League games.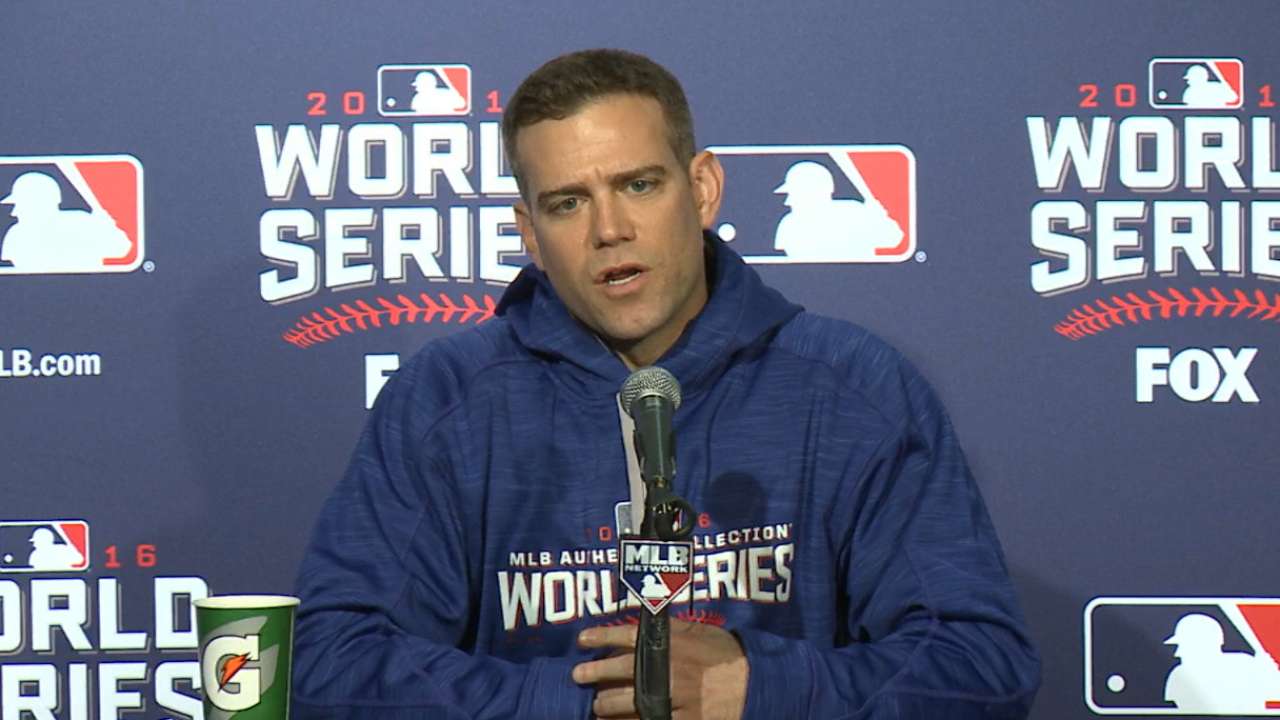 The Cubs were able to take advantage of opening the World Series in an American League ballpark for the first two games and start Schwarber at designated hitter, and he responded well, going 3-for-7 with a double and two RBIs.
Now that the Fall Classic has shifted to Wrigley Field where the Cubs and Indians will play National League rules, Schwarber would have to start in the outfield to get multiple at-bats in a game. Now he'll be limited to pinch-hit duties.
"Deep down in my heart I wanted to play, but there are obviously doubts," Schwarber said. "Not many people get this opportunity right now, and I'm embracing this opportunity that I've got."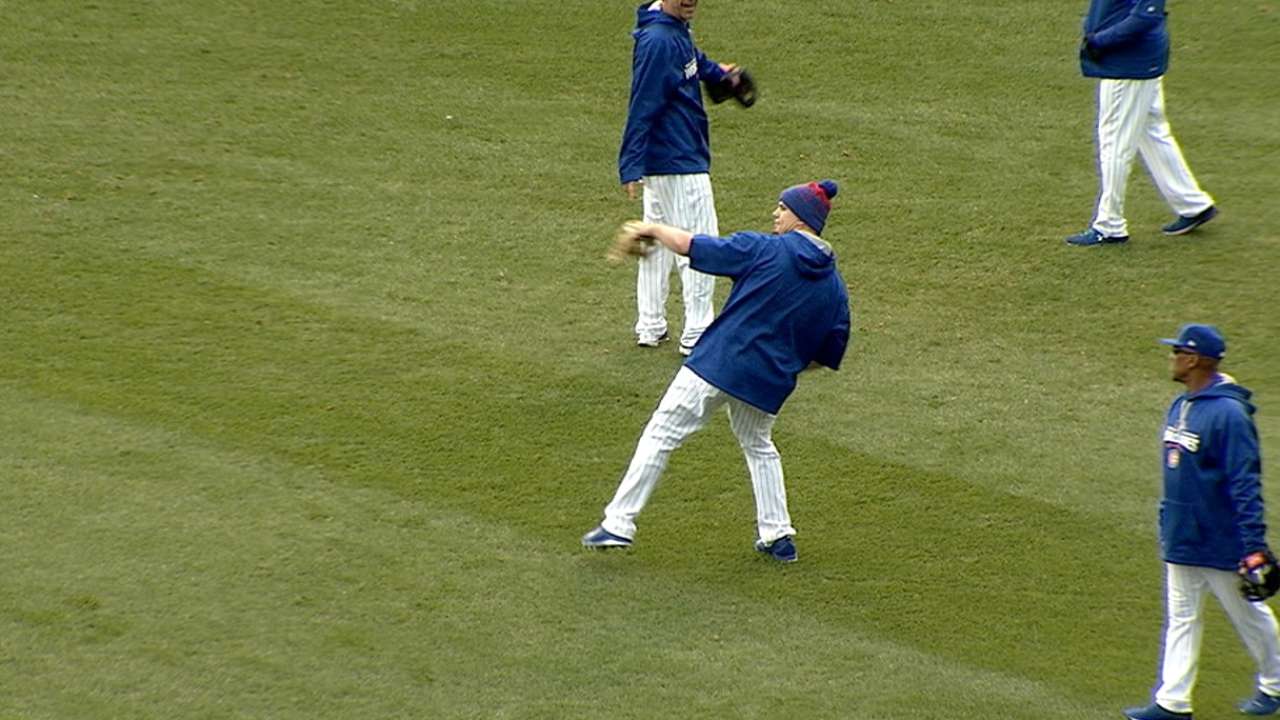 Schwarber took batting practice on Thursday and then stood in left field, flanked by coaches Dave Martinez and Mike Borzello. But he wasn't out there to prep to play the outfield and didn't test his knee.
"I just kind of stood out there," Schwarber said. "I didn't really do anything to say it was tough or it wasn't tough."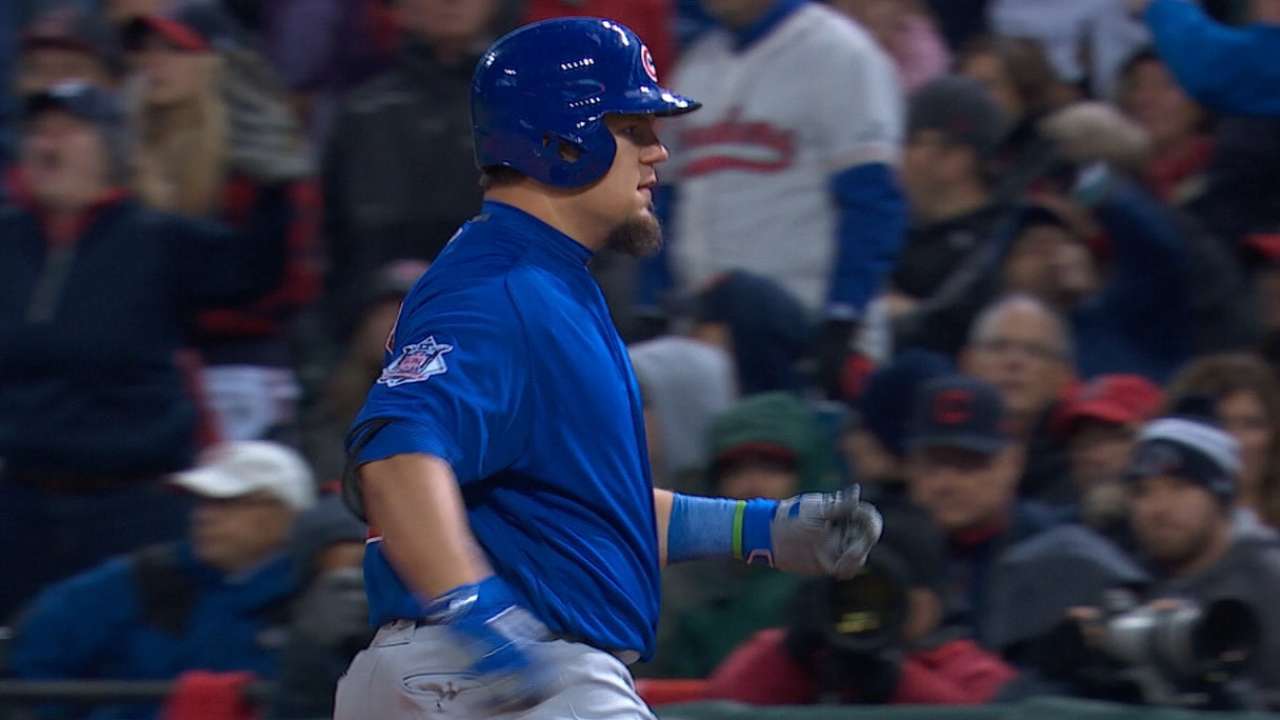 Epstein said they needed to talk to the doctors, who are more detached than anyone connected to the Cubs might be after watching how Schwarber provided a spark.
"Seeing how well Kyle swung the bat and how it impacted us and the stage we're on, there's the possibility of us getting carried away and throwing caution to the wind," Epstein said. "That's why you have to consult the doctors. Dr. Cooper wants him to play, too, but he could not clear him. We're all disappointed, but we're all really excited to have him as a pinch-hitter and fully confident."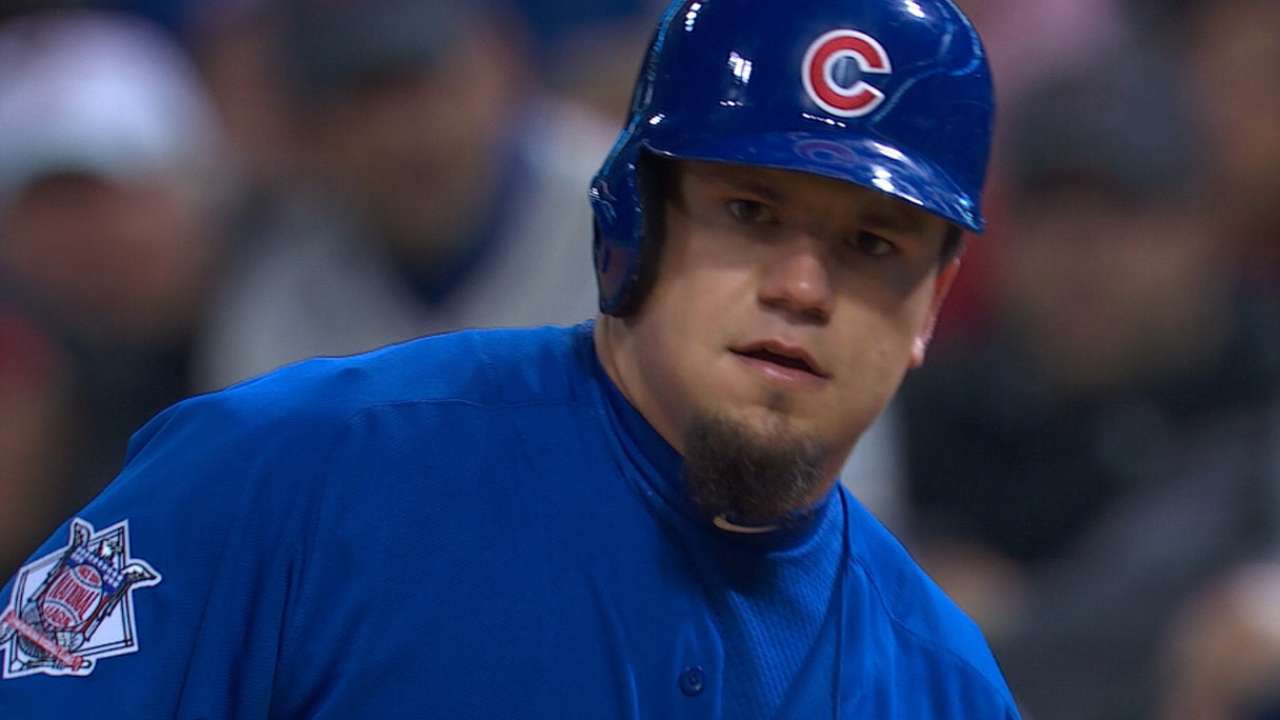 During the playoffs last year, Schwarber started in the outfield in eight games, and he recalled having to warm up by hitting off a batting tee at one end of the old clubhouse. Now the Cubs have batting cages and he can prep that way. He'll be ready.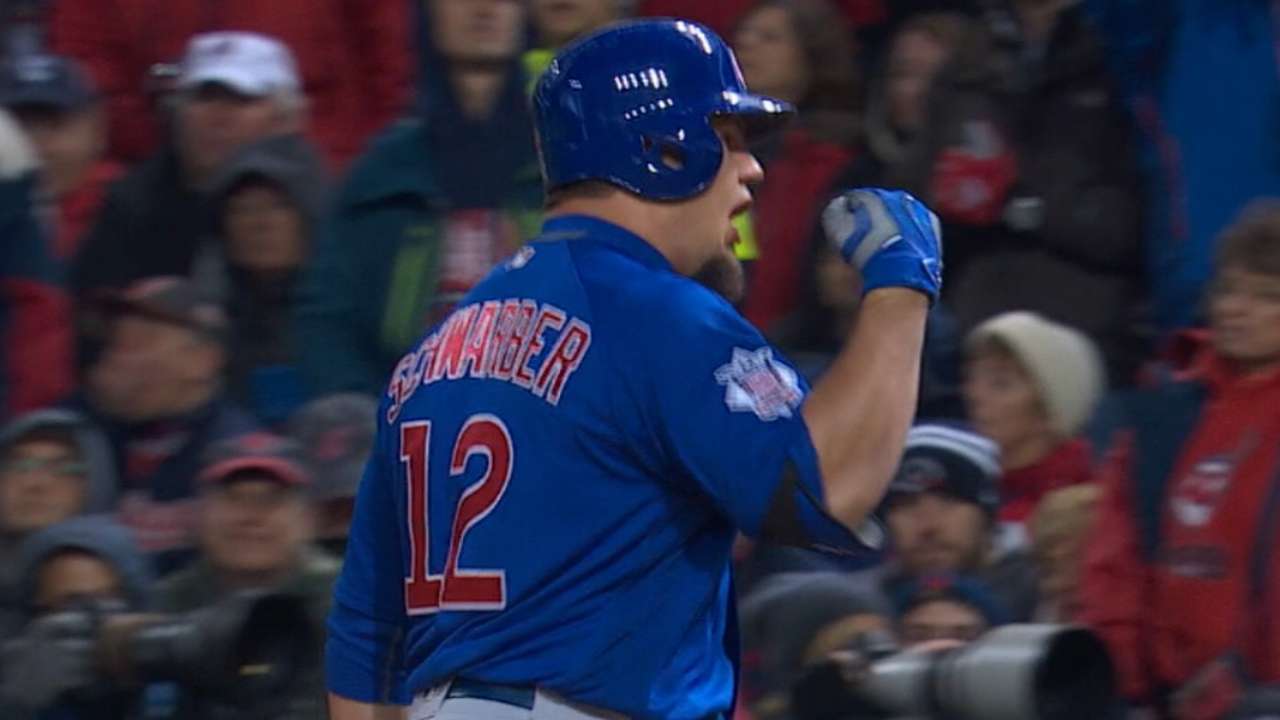 Expect Schwarber to receive a loud ovation when introduced before Game 3. The home run ball that he hit on top of the right-field scoreboard in the NL Division Series last year is encased in plexiglass up there. For the Cubs' home opener on April 11, Schwarber joined his teammates along the third-base line, but he needed one crutch to get there and received a loud cheer. At the start of the playoffs this year, before he knew he could return, the crowd greeted him with a deafening roar.
"It's going to be awesome," Schwarber said. "It's the World Series at Wrigley Field. It's going to be electric, and a fun atmosphere. I'm definitely going to soak it in."
"The story," Epstein said, "is that it's absolutely remarkable what he did after only seeing live pitching for four days. We didn't expect him to be here at this point. He's facing the best pitching in the world, and had incredible at-bat after incredible at-bat [in the World Series] and got on base and drove in runs and helped us win a ballgame. We're in awe of what he did and excited about what he could do in the Series."
Carrie Muskat has covered the Cubs since 1987, and for MLB.com since 2001. She writes a blog, Muskat Ramblings. You can follow her on Twitter @CarrieMuskat and listen to her podcast. This story was not subject to the approval of Major League Baseball or its clubs.