Padres in AFL: Gettys, Cordero building on success
MLB Pipeline checks in on San Diego's prospects participating in the Arizona Fall League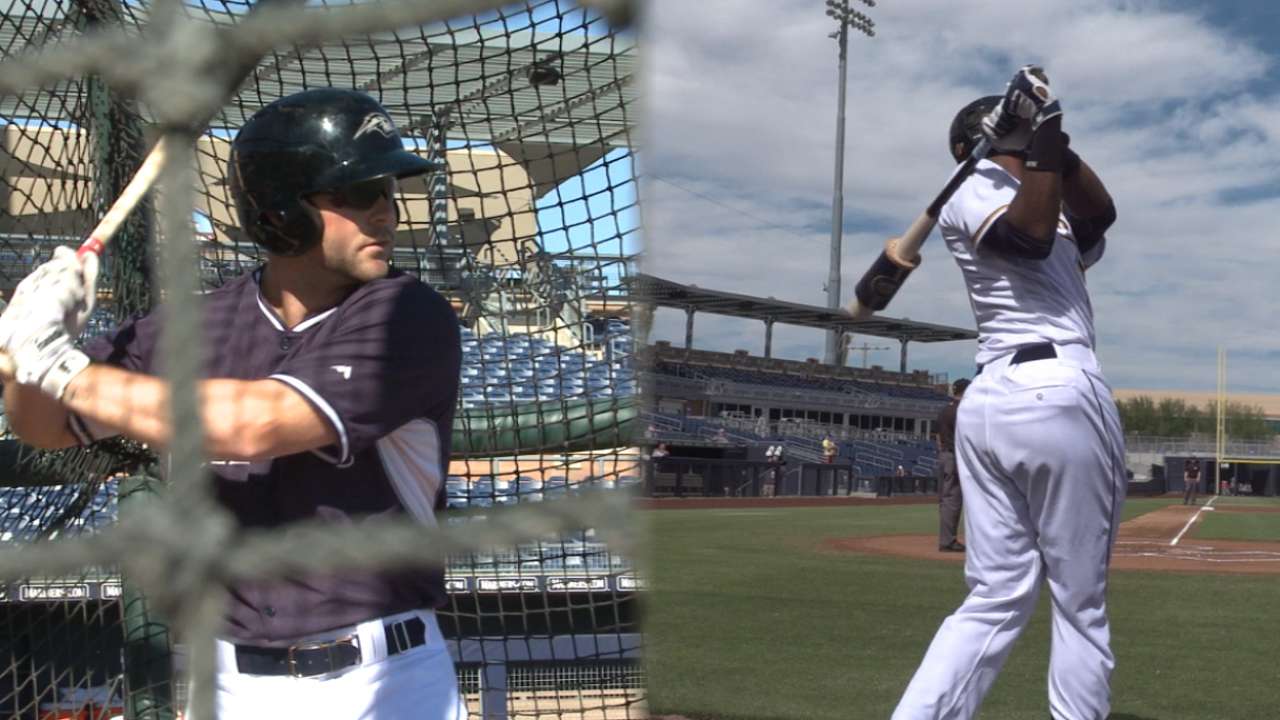 After a challenging full-season debut at Class A Fort Wayne, Michael Gettys wasn't exactly eager to return to the Midwest League this year for a second tour.
"No one ever wants to repeat a level," said Gettys, "but I didn't play very well last year, and there were some things I just didn't handle well."
The Padres' No. 10 prospect batted just .231/.271/.346 over 122 games in his first go-round with the TinCaps.
Now, after a breakout campaign that included a strong second-half at Class A Advanced Lake Elsinore, the 21-year-old outfielder has a better perspective of the whole situation.
"Going there was good," said Gettys. "It was cold in the Midwest League to start the year and it's not a very good place to hit, but still it taught me a lot of stuff and I started to believe in myself, and that carried over into the second half in High-A."
• Arizona Fall League coverage
The Padres promoted Gettys to Lake Elsinore on June 23 after he had batted .304/.369/.416 in 68 games at Fort Wayne. He improved on those numbers in the hitter-friendly California League, where he posted a .306 average with an .823 OPS and nine home runs over 60 games. All together, Gettys batted .305/.363/.442 with a career-high 12 home runs and 33 stolen bases.
One of the biggest challenges for Gettys has been controlling the strike zone and making consistent contact, two aspects of his game that worried scouts when he was an amateur and ultimately caused him to fall from potential first-round Draft pick to second-rounder. He struck out in 28.3 percent of his plate appearances in his professional debut, and that number jumped to 30.6 percent last season when he paced the Midwest League with 162 strikeouts.
This year, however, Gettys trimmed his strikeout rate to 26 percent. More significant, he did so without it detracting from his ability to impact the baseball.
"I swing hard; I'm going to strike out," Gettys acknowledged. "But even when I struck out [this year], I'd work the count to 2-2 or 3-2 rather than punch out on 0-2. People see that I punched out, but they don't see that I went 10 pitches and then the guy made a good pitch."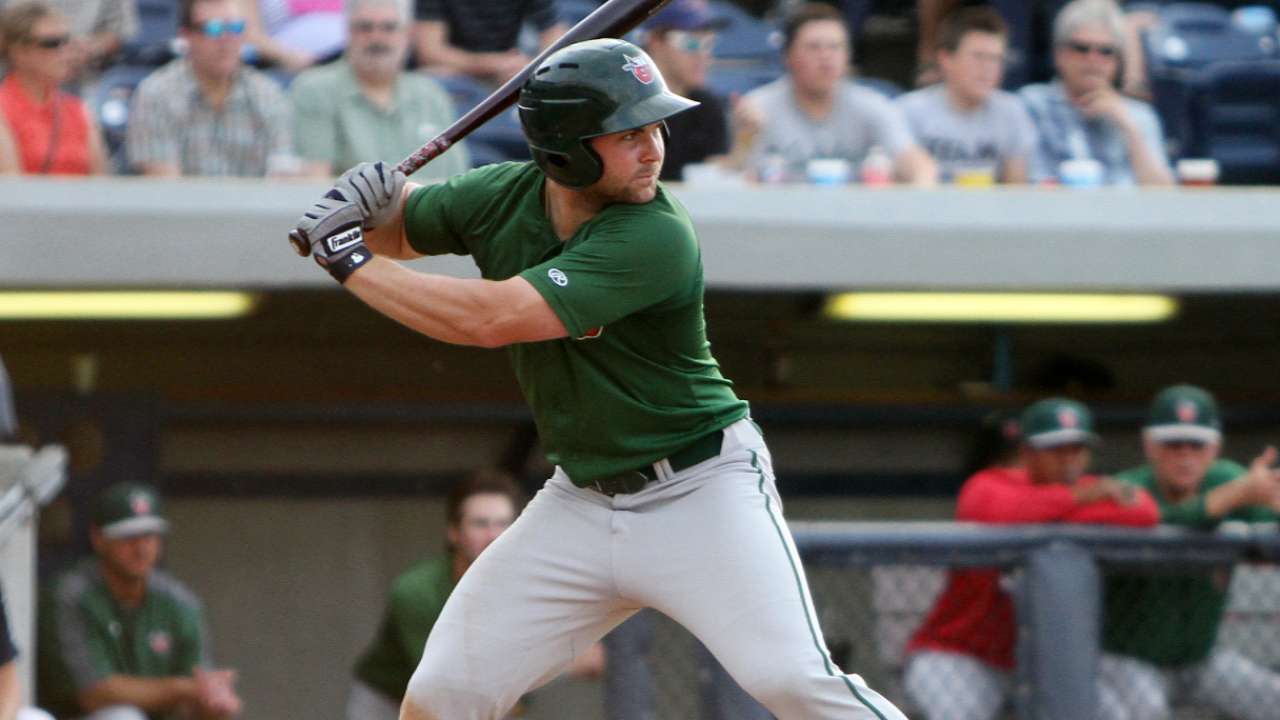 On the other side of the ball, the 6-foot-1, 203-pound Gettys possesses the plus-plus speed and arm strength that one day could make him a dynamic big league center fielder.
"I've always been really aggressive in the outfield. I want to throw people out," said Gettys, who recorded 15 outfield assists this season after tallying 21 in his full-season debut. "But this year, after talking with my coaches, I was better at knowing when to throw it and when not to throw it."
Now playing for the Salt River Rafters in the Fall League, Gettys is continuing to showcase his immense physical tools as he works to refine his overall game against mostly older competition. And while he's scuffled at the plate in the early going, tallying eight hits in 39 at-bats across nine games, Gettys has collected a hit in eight of those contests, including three doubles and one home run.
"It's a privilege to play in this, especially when you're younger," Gettys said. "You can't say no to that. It's privilege to play here against great competition."
Padres hitters in the Fall League
Franchy Cordero, OF
Gettys
Josh VanMeter, 3B/2B
After scuffling in back-to-back years, Cordero climbed the Minor League ladder in a hurry in his age-21 campaign as he began the season at Lake Elsinore, moved up to Double-A San Antonio at mid-season and then on to Triple-A El Paso ahead of the Pacific Coast League playoffs. Overall, he batted .290/.344/.450 with 11 home runs and 23 steals across the three levels.
"You know, I wasn't expecting it," said Cordero about his late-season promotion to Triple-A. "Thank God I adapted quickly to what it is to move from High-A to Double-A to Triple-A, and that's what we worked for during the offseason last year."
VanMeter, the Padres' fifth-round Draft pick in 2013, received his first taste of the Double-A level before reporting to the Fall League, where he's posted a .333 average with more walks than strikeouts in nine games for Salt River. The 21-year-old stands out most of his strike-zone discipline and overall feel to hit, although questions remain about whether he'll develop the power needed to profile as a big league third baseman.
Padres pitchers in the Fall League

Jason Jester, RHP
Phil Maton, RHP
Kyle McGrath, LHP
Brad Wieck, LHP
Before wearing down following a promotion to Triple-A, Jester excelled over 34 appearances out of San Antonio's bullpen, recording 14 saves to go along with a 2.54 ERA and a 53-7 strikeout-to-walk ratio in 39 innings. The 25-year-old right-hander has already tallied two saves in four appearances in the Fall League, where he's shown a lively 95-96 mph fastball as well as a pair of effective breaking balls.
Maton opened eyes in his first full season, as the Padres' No. 30 prospect posted a 1.74 ERA and a 78-11 strikeout-to-walk ratio in 38 appearances (51 2/3 IP) while holding opposing hitters to a .173 average. Five of his appearances came with El Paso after he was promoted directly from Lake Elsinore in late August. The 23-year-old righty pitches mostly with his fastball, which sits at 94-95 mph with a high spin rate that helps him to generate whiffs within the strike zone, and he also knows how to keep hitters off balance with his curveball.
A 36th-round pick out of Louisville in 2014, McGrath pitched to a 0.93 ERA and 0.75 WHIP in 2016, compiling 78 strikeouts and 10 walks in 67 2/3 innings (45 appearances) between Lake Elsinore, San Antonio and El Paso. Now working as a starter in the Fall League, the 24-year-old lefty has permitted one earned run on five hits in three starts for the Rafters.
Maton and McGrath both had remarkable years, but Wieck turned in one of the better statistical seasons of any Minor League reliever. Appearing in 41 games for Lake Elsinore and San Antonio, the 6-foot-9 left-hander registered a 1.17 ERA over 61 1/3 innings during which he struck out 93 -- 37.4 percent of all the hitters he faced -- and limited hitters to a .202 average without allowing a home run.
Mike Rosenbaum is a reporter for MLB.com. Follow him on Twitter at @GoldenSombrero. This story was not subject to the approval of Major League Baseball or its clubs.